As an Marketing agency, are you still hiring content writers to write your blogs?
Well, if you do, then it is time to wake up. Because in this modern era, as compared to manual content, you could get better-written articles or reports by AI writing assistants tools.
These artificial intelligence tools automated copies offer better quality than manual human written articles. Don't believe us?
Therefore, we present you with an ultimate comparison of two renowned AI writing tools, ✅Copy.ai Vs. Conversion.ai.
These two happen to be the best copywriting tools that provide unique copies that every copywriter can use. So, not just you get amazing content from different niches, but also you do not have to drain your money in the content writer's wages!
You even do not have to worry about article due dates and content plagiarism. Both the tools will make your copywriting part much more effortless!
We will compare Copy.ai and Conversion.ai on their features, tools, pricing plans, and other essential attributes. The final decision will be in your hands by the end of the article.
So, without further due, let us get started with what you came for!
But first, you must know what AI is and how it could benefit your business better than manual writing.
---
What is an AI Writing Assistant?
AI writing assistants help you through different stages of writing an article or a blog. Those attributes include research, grammar, tone checking, and localization.
To generate a unique copy, you do not have to do anything on your end. You only need to come up with different titles. Or if you don't want to, then an AI assistant is happy to that as well on your behalf.
The most crucial thing these AI tools do is leveraging natural language processing (NLP).
The copies generated by them will exactly sound like a human tone (Not robotic at all.)
---
Copy.ai Vs. Conversion.ai: Overview
While we have already talked about Conversion.ai in our previous articles, it is our first time with Copy.ai.
While marketing is pretty much complicated on its own, the advertisement part makes it a bit more complicated. Many marketers already struggle to come up with unique advertising techniques for different ads. Therefore, writing creative blogs is an essential aspect of engaging your audience.
Some experts write perfect copies and have years of experience in their fields, but their expertise is sometimes insufficient.
Therefore, Chris Lu and Paul Yacoubian came up with a better solution. Instead of dismissing human intelligence, they developed an AI tool to enhance it.
These two created Copy.ai, which uses OpenAI's GPT-3 Artificial Intelligence to build unique content. Copy.ai is designed for small agencies, who cannot hire a content writer or an SEO writer.
Just like this, Conversion.ai was also created to achieve better things in the mind.
Conversion.ai has been helping many marketers and companies through the years to come up with upgraded marketing tactics. They offer tons of online courses to ease their customers up, along with some excellent services.
---
Copy.ai Review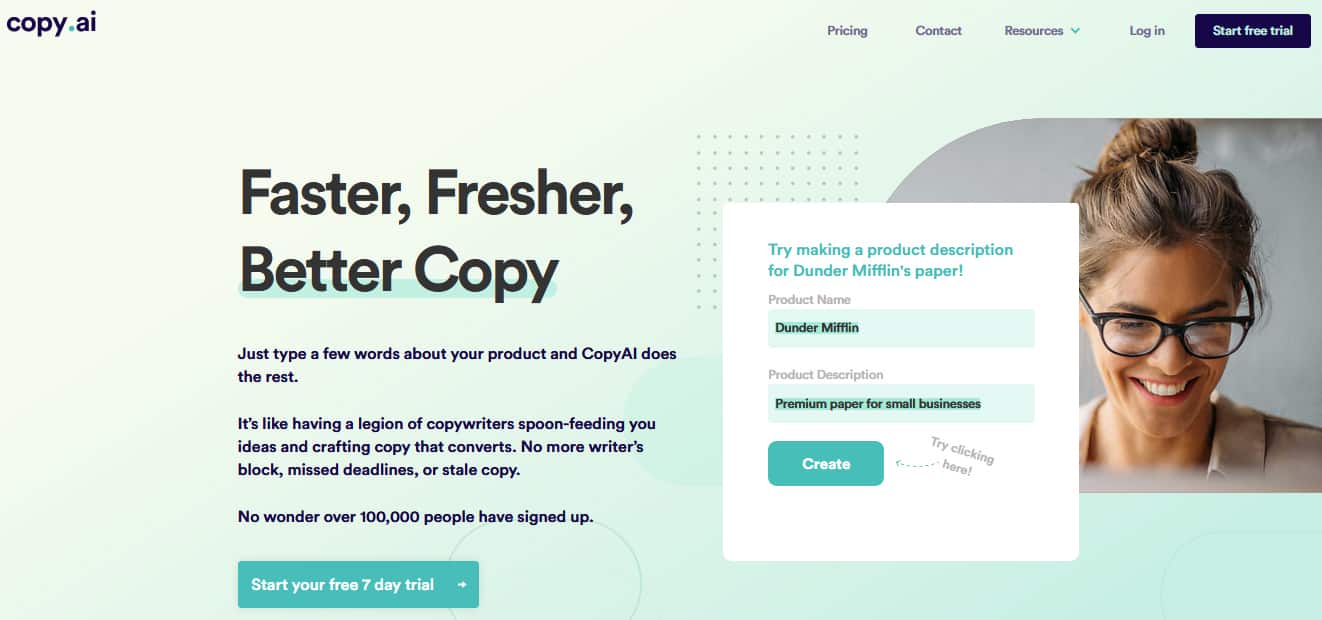 As we already said before, Copy.ai is a copywriting service that uses the AI model language GPT-3 to provide unique content copies.
At present, you can create the following by using Copy.ai:
Digital Ad Copy
Website Copy
eCommerce Copy
Sales Copy
Apart from the above services, this platform offers much more once you sign up. First of all, no matter what your content type is, Copy.ai will generate unique content that could help you increase your conversion rate.
Copy.ai does all the things of a freelance writer. However, if you do not want to get stuck in hectic conversations with a freelance writer or a marketer, Copy.ai is ideal for achieving that.
Once you sign in, you could choose which copy type you want from their list of templates.
After that, you need to provide your company name and the types of services you use, and you are all set!
---
Conversion.ai Review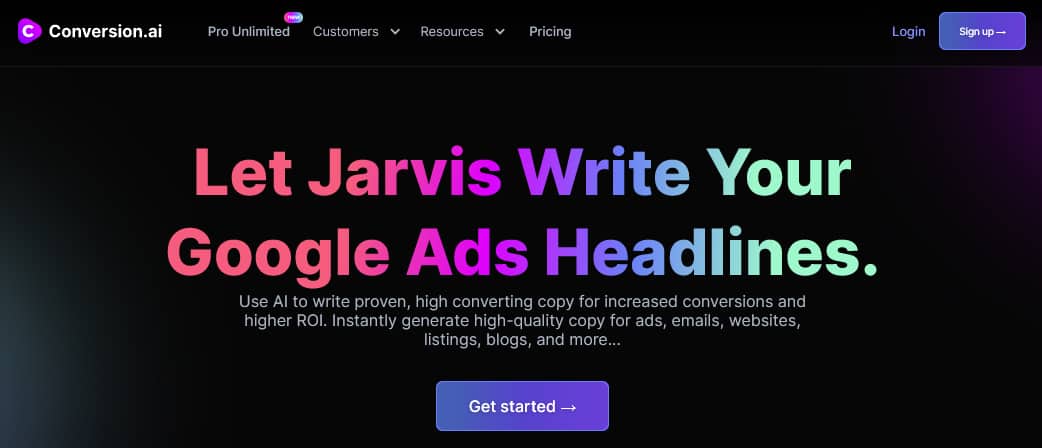 Conversion.ai says that they are 'Your AI assistant that writes better copy.' Well, let us see how much truth that claim has.
Like Copy.ai, Conversion.ai also uses artificial intelligence to create unique content copies. So if you are facing some issues with the content creation part, then Conversion.ai could assist you. Also, some ready-made templates on their website could come in handy for beginners.
The UseProof company created this service. Their ultimate motto is to increase lead conversions and sales of their customer's websites. Once you logged in to their tool, you need to fill in some basic information about your company and its products. And all the services are ready to use.
Conversion.ai helps you make engaging mail subject lines, framework, SEO blog posts, including the title and meta descriptions, product description, blog topic ideas, etc.
Now it is time to get to know the critical features of both of these tools.
Also read: Conversion.ai Review: Is it the Best AI Copywriting Tool?
---
Copy.ai Vs. Conversion.ai: Features
Copy.ai Features
Copy.ai features are pretty simple to understand. But, first, you need to provide a glimpse of your content type and get the exact copy you want.
This platform could create any content type you want. For instance, if you are a writer and having writer's block, Copy.ai will help you overcome all your hurdles.
If you face some issues in coming up with unique product descriptions, or even email headlines, Copy.ai will create them in seconds.
Note that you only have to provide the title, and Copy.ai will automatically create your desired content copy. Additionally, you can attach few relevant samples of your copy type. That will help Copy.ai create more relatable content.
Here's what Copy.ai could do for you:
Blogs intros, meta descriptions, and even titles.
Email subjects and bodies.
Sales copy
Product descriptions
Social media post, introductions, or captions
Ad copy & headlines
Content for landing pages
Copy.ai creates excellent and most relatable sales copies. Using the Copy.ai service, you can make sales copies, including Pain-Agitate-Solution, Before-After-Bridge, and Feature-Advantage-Benefit.
Even if you want some constructive ideas on your recent launch, you could rely on Copy.ai for any content variety. You can also use the tone feature to change the context of your content. From friendly, relaxed, bold, witty, persuasive, you could select any tone you want. And you will get an exact copy suiting to your needs.
Conversion.ai Features
As compared to Copy.ai, Conversion.ai offers more features. However, even if you are a beginner, then you could get started with Conversion.ai's expert tutorials to have a gist.
The AIDA is one of the oldest marketing frameworks in the world. This golden feature helps the users to generate content copy in seconds.
Conversion.ai uses 4 simple steps to give you what you want. Attention, Interest, Desire, Action. and that's it, your work is done!
Problem-Agitate-Solution (PAS) Framework
PAS is a valuable framework that creates new marketing copy ideas in seconds. If you often struggle in coming up with unique copy ideas for your website, then PAS is the traditional way to deal with that.
This tool can assist you with catchy headlines, sub-headlines, and content for your advertisements. Both Copy.ai and Conversion.ai offer some excellent features. But they are ideal for different usage, If you run an eCommerce store, then Copy.ai will come handier.
If you have a website with multiple pages, we may have to give the edge to Conversion.ai in this one. The different copy types you can create with the help of Conversion.ai are as follows:
Product description
Content improver
Creative story
Blog post topic ideas
Blog post outline
Blog post intro paragraph
Sentence expander
Feature to benefit
Facebook Ad headline
Personal bio
Facebook Ad primary text
Company bio
Google Ads headline
Google Ads description
SEO – title and meta descriptions
Amazon product features (bullets)
Real estate listing – Residential
Amazon product description (paragraph)
Engaging questions
Ridiculous marketing ideas
Marketing angles
Short social posts
Video topic ideas
Email subject lines
Video script outline
Video script hook and introduction
Video titles
Explain it to a child
& Many more
---
Copy.ai Vs. Conversion.ai: Ease of Use
It is time to see what these tools offer to the newbies. Well, the user interface of both of the platforms is pretty easy to deal with.
Both Copy.ai and Conversion.ai use GPT-3 by OpenAI technology. However, Conversion.ai goes with Jarvis's name for its GPT-3 technology, which is nothing but a fancier name.
If we talk about both applications' user interfaces, then Copy.ai happens to use only forms on its interface. But, on the other hand, Conversion.ai integrates both forms and editors so that you can create unique content.
Also, what worth noticing is that Copy.ai features 80 commands, and Conversion.ai features only 28 of them.
---
Copy.ai Vs. Conversion.ai: Supported Languages
Copy.ai offers its services in the following languages:
German, Spanish, French, English, US and British, Italian, Japanese, Dutch, Chinese, Portuguese, Polish, and Russian.
Conversion.ai offers its services in the following languages:
Japanese, Russian, Chinese, Polish, Dutch, Portuguese, Italian, Spanish, German, French, and English.
But the sad part is, neither of the tools offers a plagiarism check. But, as both of them on AI, they form their content word by word and not sentences.
So, it is pretty sure that the copies created by them are 100% plagiarism-free.
However, you can always use third-party plagiarism checkers like quetext for a detailed confirmation.
---
Copy.ai Vs. Conversion.ai: Pricing Plans
Copy.ai Pricing
Copy.ai offers:
7 days of a free trial
Solo @ $35/month ($420 Billed Yearly)
Custom (Billed yearly)
Conversion.ai Pricing
Conversion.ai offers:
Starter @ $29/month
Pro @ $190/month
Unfortunately, Conversion.ai does not offer a free trial like Copy.ai. So, if you wanted to first test the waters with Conversion.ai before going for the paid version, it is impossible.
---
Copy.ai Vs. Conversion.ai: Support
Both of the tools offer excellent customer support.
While using Copy.ai, if you have any complaints, you can easily reach them via tickets. And the customer executives will get back to you in the minimum possible time.
On the other hand, Conversion.ai offers a ticket system along with live chat support. And also, the customer support executives get back to you on your tickets in just a few hours! Moreover, the staff is always supportive when you reach up to them with any issue.
---
Copy.ai vs. Conversion.ai: Pros & Cons
Copy.ai
Pros
Value for money
No credit card needed for the free trial
No attempt at long-form content
Cons
Not works as it claims
Too much Input Required
Too many content templates make selection confusing
User Interface is not much effective
Conversion.ai
Pros
It generates 99.99% original content.
Excellent customer support.
AI copywriters community access.
Has an academy for learning SEO strategies and social media marketing.
7-days money-back guarantee other companies take an average of 30 to 90 days.
Cons
Human editing is needed to make the copy perfect
Sometimes generates irrelevant content
---
🌟 Copy.ai Vs. Conversion.ai FAQ
✅What is Copy.ai?
It is the leading AI copywriting tool based on AI model language and GPT-3. Copy.ai is the 10x writing tool that helps you to create a fresh and better copy.
✅What is Conversion.ai?
Conversion.ai is also an artificial intelligence-based copywriting tool that helps its users to generate highly converting copies. Thus, one can use Conversion.ai to create copies that increase conversions and ROI.
✅Does Copy.ai offer a free trial?
Yes, Copy.ai offers free 7 days trial to all its new customers that allow you to explore its 70+ tools. So start Copy.ai free trial that does not require a credit card and take your business to the next level.
✅Does Conversion.ai offer a free trial?
If you are looking to try Conversion.ai for free, you can start with its free trial that provides only a 20,000 words creation limit.
✅Can I get any active Copy.ai coupon code?
If you want to save money on its pricing plans, use the above-mentioned Copy.ai coupon code and get an attractive discount.
✅Does Conversion.ai offer any coupon code?
If you are looking for a working Conversion.ai discount coupon, click here to activate our exclusive Conversion.ai coupon code and save money on its major plans.
---
Conclusion: Copy.ai Vs. Conversion.ai 2023 | Which is the best tool for Copywriting?
Well, as we told before, both Copy.ai and Conversions.ai are excellent AI writing assistants. However, if you own a website, then Conversion.ai is a better choice because you will handle multiple pages with it.
Or, if you own an e-commerce store, then Copy.ai would come up with a more relevant content type.
If we talk about the pricing plans, then both the tools have justified plans. A customer can always go with the unlimited plan for better usage. Also, they can opt for the annual billing plan to save some more bucks.
With this, we will end our classic battle of Copy.ai Vs. Conversion.ai.
We hope that our review will help you come up with a better selection. Suggestions or doubts are welcome in the comment box below.🙂