Are you looking to get started with Copygenius? Look no further than our CopyGenius review for legit information about this AI Copywriting tool! What do you think is the hardest thing about writing? Beginnings right? I know first-hand how hard it can be to find the right start to kick off your blog. But what if I told you, you didn't have to and that there is a tool that can help you do just that and a whole lot more? Let's take a look at CopyGenius, an AI copywriting tool with solutions to almost all your writing problems.
What is CopyGenius? CopyGenius Review
CopyGenius is an AI copywriting tool that can create high-quality content for blog posts, social media posts, product descriptions, long-form content, and various other content types with ease. The tool can generate original content based on a few inputs provided and can even create content ideas that be converted into an original piece of content. CopyGenius AI can even write content in a different tone of voice to find your brand's unique identity. The AI tool can make the content creation process easy and with top-notch content results.
How to Use CopyGenius? A Step by Step Guide to begin with CopyGenius!
CopyGenius is easy to understand
Step 1: Choose your goal from the button that offers various templates like email, ads, product descriptions, blog posts, and more
Step 2: Enter the details of your product. This gives the AI an idea about your product. You can also choose the tone and the language of the content.
Step 3: Choose the number of outcomes you want to generate. This will help you to generate multiple outcomes and choose the best one based on your content needs.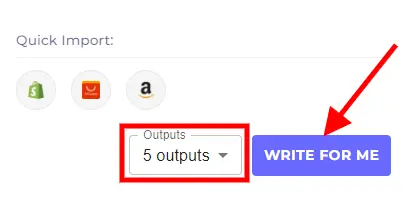 Step 4: Wait for results, you won't have to waste very long as the results generated are quick.
Features of CopyGenius AI | What does CopyGenius has to Offer?
The CopyGenius AI has a lot of features and templates you can explore based on different writing styles, tones, and requirements. The tool has content-writing capabilities for websites, email, social media, e-commerce, and more. Here is a closer look at the different features and templates of AI for a better understanding.
Genius Editor Tool: This CopyGenius tool understands you through your writing tone and style and can generate sentences and paragraphs. Amazing right?
About Us writer: As the name suggests, this feature helps you write the story of your company, in the right tone to make it more appealing to your audience. The way this works is that you provide basic details like the name of the company or brand and the category and voila! the AI generates results based on your preference.
Article writer: Imagine if all you had to do was think of a title for an article and the rest would be taken care of by magic. Well, CopyGenius does not offer magic but its article writing is nothing short of that. You can generate articles of various lengths just with the title!
Blog Introduction: Need an engaging start for your blog or article? CopyGenius's blog introduction tool can help you to write the perfect intro for your blog based on the title. The way it works is that you just add the blog title and select the number of outputs and sit back and let the AI do its magic.
Blog Conclusion: Just like beginnings, figuring out how to end your article can be tough too. You're required to connect the right threads and make sense of it all and create impact too. CopyGenius' Blog conclusion tool can do just that. With just the blog title, the AI can generate perfect endings for your blog.
Blog Outline: The blog outline tool helps you to figure out how to write a blog on a certain topic and what aspects you should cover in the article. The way it works is, you add the title of the blog and choose a type of outline, it can be basic or detailed. Based on that the AI generates the outline for your blog.
Blog Section: This CopyGenius tool can complete your thoughts, no it's not romantic, it's just the power of AI. Kidding aside, the blog section tool can help you generate a section of the blog that you are struggling with. All you have to do is enter the topic of your blog and a brief description of the paragraph. Pretty amazing right?
Call to action: This CopyGenius tool can help you to write the perfect CTA for your brand, whether for social media posts or email. This tool is the best way to workshop ideas for the right call to action for your brand, based on your needs. All you need to do is write the name of the brand and briefly describe the brand and click write for me.
Catchy Email Subject: As a content or copywriter it is hard to come up with new and attractive email subject lines every time, that's where this tool steps in. The catchy email subject tool helps content writers to generate attractive email subject lines to maximize open rates for marketers.
Creative product Titles: Need a title for your new product? Then this tool is made for you. The creative product title tool by CopyGenius can help you to generate a unique and creative title for your product and save a lot of time. All you have to do is describe your product and click on write for me!
Customer Persona: Before launching a product it is important to know the need of the market and who is your ideal customer. The Customer Persona tool by CopyGenius can help you do just that. This tool can help you figure out your ideal customer which can help you to create ads and campaigns based on that. How does it work you ask? Just add the name of your product and the key features.
Customer Review Response: If you are running an online business, you know how important customer service is, customer service has now become the second most important part of the product in the online arena. It can not only help with consumer retention but also help build trust that can bring in new business. The customer review responder is your best friend in that case. It can help you to reduce response time, and inaccuracy on consumer reviews and automate it.
Google Keywords: This CopyGenius tool can help you to find the right google keywords for your next google ads campaign. All you need to do is write a short description of your product for input.
Hashtag Generator: Hashtags help your post or content reach relevant channels and audiences. It is important to find relevant hashtags for your product or service that are popular. The Hashtag Generator can help you with that by giving you a list of hashtags relevant to your product or service based on a brief product description.
Idea to Paragraph: The idea to Paragraph tool can help you if you're stuck on a paragraph. This tool can help you finish your paragraph or thought just as well as you. All you need is to enter your sentence or thought.
Listicle Ideas: Listicles or List Articles have become popular in recent years as they provide information differently. This tool can help you to generate lists based on your needs, all you need is to add the idea for your blog post.
Performance Evaluation: This CopyGenius tool can save a lot of your time by converting customer reviews or feedback into a performance evaluation so you get a better understanding of points of improvement. This is a useful tool for B2C e-commerce businesses that can improve their performance based on performance evaluation.
Product Description: This CopyGenius tool can help you to write product descriptions for your product. You can choose to write longer or shorter product descriptions with this tool. All you have to do is add the name of the product, and its key features and select the desired length for the description.
Product Review: This CopyGenius tool can write product reviews for your product. All you need to do is add the name of the product and its key features and that's it. You can choose from several results.
Song Writer: If you ever dreamed of becoming a Rockstar, here is your chance! With the CopyGenius Song writer tool, you can let the AI write a song for you. All you need to do is write a brief description of the song and the AI will generate a song for you.
Suggest Improvements: This Copygenuis tool can help you by suggesting improvements in your content. All you need to do is add the text and select your goal. The AI will suggest improvements based on your goals.
Write an Email: How many times has it been that you need to write an email but you just forget or you don't know how to address the person or you just want to draft a quick email without a hassle, this tool is perfect for that. All you need to do is write the topic of the email and that's it!
Video Script: Have you ever thought of starting your YouTube channel? CopyGenius' Video Script tool can help. This can write the script for your next YouTube video. All you need to do is describe the kind of video you want to make.
Who is CopyGenius AI For?
CopyGenius tool has multiple capabilities and can be used in many different ways, as a result. This tool is a game-changer for marketers, freelancers, professional content writers, or people who just want to explore the creative limits of AI. This tool can be used for work and fun! It can generate different types of content and can be a great tool to learn more about content and copywriting too.
Advantages of CopyGenius AI
CopyGenius AI has various capabilities as we have seen in the previous section. However, what are the advantages of this AI content generator that make it a better choice than its competitors, let's have a look.
CopyGenius was created by a team of conversion experts and copywriters that have condensed their years of experience to give you high-quality content and make the content creation process easier and faster.
They have several unique templates that can generate short-form and long-form content in a short period and with efficiency.
Their Genius Editor tool uses the full power of AI allowing you to generate more content easily and quickly.
Disadvantages of CopyGenius AI
There are some disadvantages to using the tool as well. Let's have a look at things you need to keep in mind while using CopyGenius AI.
This AI tool is not perfect. What this means is that you will have to edit the long-form AI-generated content because sometimes the AI might generate irrelevant content
Lack of language options in comparison to other tools.
You cannot run a grammar check inside the software itself.
How is CopyGenius AI Better than its Competition?
CopyGenius AI has many features and capabilities some things make this tool even more appealing to professionals and businesses like
They have an amazing free option with a word limit of 500 words, in the trial you also get unlimited logins and access to 100+ languages. You get all this without giving any credit card details.
Another good reason to choose CopyGenius is its incredible support team. Coygenius has an amazing support team that is available all day every day 24/7.
CopyGenius Pricing Plans: Does CopyGenius Offer any Free Trial?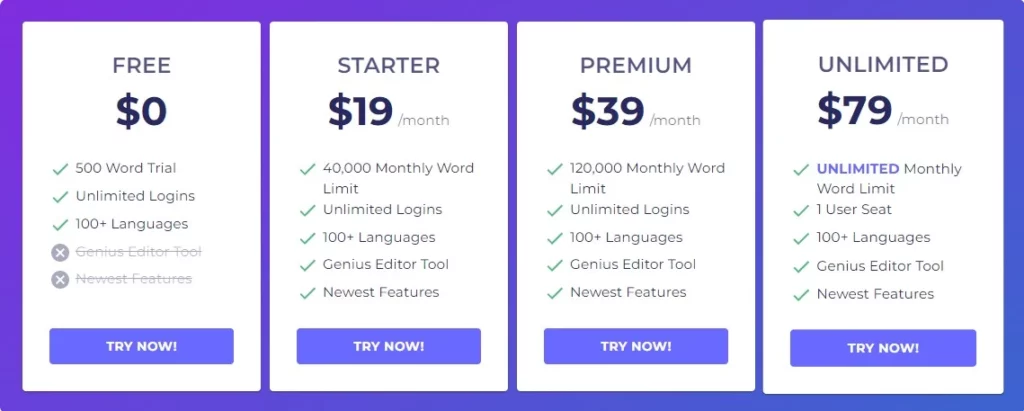 CopyGenius AI is a powerful tool that can be used in many ways. Different professionals will have different uses for the tool. Keeping that in mind, it is important to choose the right price plan for you.
Copygenius Starter Pack
The Starter Pack comes at a price of $19 per month and offers features like a higher word limit and more. The starter pack has a word limit of 40,000 words each month, along with the features of the free trial that is, unlimited logins and more than 100 languages, it also includes the Genius Editor tool and you can even access the newest features with this pack.
Copygenius Premium Pack
The Premium Pack comes at a price of $39 per month and offers a higher word limit than the starter packs with a 120,000 monthly word limit, unlimited logins, more than 100 languages, the Genius editor tool and you get access to the newest features.
Copygenius Unlimited Pack
The Unlimited pack comes at a price of $79 per month and offers unlimited words, 1 user seat feature, more than 100 languages, the Genius editor tool, and access to the latest features.
Copygenius Free Trial | The Genius for Free!
If you are someone who likes to experiment with new tools without paying for them, you are in the right place. Copygenius offers a free trial with features you can try. The free trial includes features like a word limit of up to 500 words, more than 100 languages, and unlimited logins!
Top FAQs on CopyGenius Review 2023
Does CopyGenius have a Free trial?
Yes, there is a free trial available for the AI tool. You just need to create a free account and the credits will be added to your account to use the features. You do not need a credit card to access the free trial.
Does CopyGenius write factually true content?
The AI is designed to write creatively, not factually. That being said, it does not mean it cannot write factually accurate content. The AI model behind the CopyGenius has been trained on 10% of the internet, so it has a good grasp of many concepts. The names and citations written by the AI are generally not accurate and so it is recommended to cross-check any articles before publishing.
How can I get more word credits than my plan allows?
If you want a higher word limit, you can either upgrade your current plan or purchase one-time refill credits. Refill credits are available until the end of your current billing cycle.
Can AI content rank on Google?
Can AI write Plagiarism free content?
Yes, the CopyGenius AI can produce Plagiarism free content. The Ai uses its own perspective and tone that is completely unique and plagiarism free.
Conclusion | CopyGenius Review: Is CopyGenius worth a shot?
The CopyGenius tool is a lifesaver for content professionals and marketers who are looking to level up their content game. The AI tool has plenty of interesting features that can be used for different purposes. The tool has its limits but can help content professionals a lot by saving their time in writing various types of content and providing unique ideas.
Affiliate Disclosure: This post may contain some affiliate links, which means we may receive a commission if you purchase something that we recommend at no additional cost for you (none whatsoever!)