Are you a marketer looking to break into the crypto market? The choice of the right crypto ad network is indeed a crucial decision to make since most of the renowned and globally acclaimed social media platforms (Facebook, Instagram, Twitter, etc) and search engines (Google) have strictly prohibited advertisements related to crypto, still, the sea of opportunities is unexplored!!
Whether you're interested in exploring new advertising models or seeking to optimize your campaigns for a crypto-enthusiastic audience, there's a platform tailored to your needs.
🪙 But which crypto ad network to choose?
With hundreds and thousands of ad networks in the whole industry, getting your chosen one is like searching for a needle in a haystack. Whether you are a newbie or someone who has been in this industry for years, the right choice can result in exponentially increasing your revenue.
So, let's hop into the list of best crypto ad networks and help you in making the wise decision of choosing the right one for you!!
List of 20 Best Crypto Ad Networks for Publishers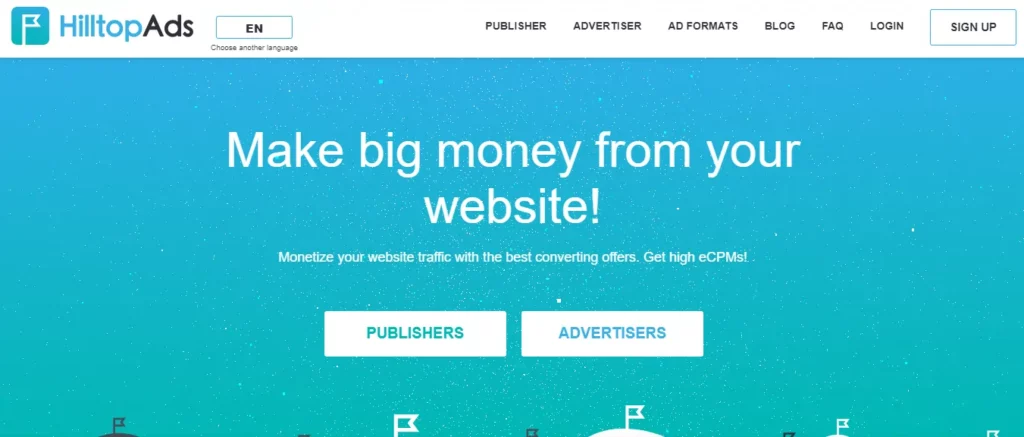 As a publisher, finding the right ad network can be a daunting task. However, HilltopAds, securing the 1st spot in our list of top-tier crypto ad networks, has proven to be a reliable choice. With a staggering number of impressions under its belt, HilltopAds has made its mark in various verticals.
HilltopAds is renowned for its proficiency in pop advertising, offering a wide range of CPM offers. This allows users to fully leverage impressions, while also providing the flexibility to request CPA/CPC offers from a dedicated Personal Manager.
Moreover, HilltopAds takes pride in its commitment to an exceptional user experience. It achieves this by maintaining a fill rate of up to 100% without any blocked impressions. This unique feature is designed to optimize user revenue by ensuring ads are served seamlessly.
Key Reasons to Choose HilltopAds
Welcomes websites with both mainstream and non-mainstream content, thereby attracting a broad range of high-quality traffic.
Guarantees up to a 100% fill rate without any blocked impressions, aiming to optimize user revenue.
Offers competitive pricing and weekly payouts through various platforms including PayPal, Bitcoin, Wire Transfer, Webmoney, Capitalist, and Tether (USDT).
HilltopAds operates on an impressions-based billing model, known as Cost Per Mille (CPM), ensuring you only pay for the actual views your ads receive.
The platform is a specialist in pop advertising and presents a diverse array of CPM opportunities. Moreover, it provides the flexibility to request Cost Per Action (CPA) or Cost Per Click (CPC) offers from dedicated account managers.
The CoinZilla crypto ad network helps you obtain the exposure your project needs. By showing crypto and financial adverts on their website, publishers may earn more money. A variety of ad types, such as native, banner, and others, are available to help you monetize your website. Regardless of traffic location, a 99 percent fill rate is assured.
Multiple payment options are accepted, including bank transfers, bitcoin, and Ethereum. The CPM model is supported. High-quality banners to ensure that your users do not fade away. Payments are made daily, ensuring that cash is always available.
Key reasons to consider Coinzilla
Coinzilla has delivered over 16,000 campaigns and generates over 1 billion impressions and 1.8 million+ clicks per month.
Unlike other Crypto ad networks, Coinzilla offers weekly/monthly payout options as well as automatic payouts.
Coinzilla allows you to manage and customize your display campaigns with ease. Marketers can also achieve their advertising goals without breaking the bank with Coinzilla's campaign optimization tools.
Coinzilla offers full control over campaigns, allowing advertisers to create eye-catching crypto ads, target their ideal audience, and manage budgets based on real-time results.
Adsterra, a leading player in the crypto ad network space, has firmly established itself as a go-to platform for publishers. Since its establishment in 2013, Adsterra has grown exponentially, and now partners with over 33,000 entities across 248 GEOs. This dynamic ad platform serves a staggering number of impressions, making it a powerful tool for brands, agencies, solo marketers, and media buyers.
Adsterra's platform is a gateway to high-quality CPM, CPC, and CPA traffic from a network of over 20,000 direct publishers and 12,000+ advertisers. The platform's commitment to security is commendable, employing a three-tiered system that blends innovative in-house and reliable third-party fraud detection systems, supplemented by human checks, to ensure a secure experience.
Key Reasons to Consider Adsterra
A diverse range of traffic sources, including desktop and mobile website traffic, social and mobile app traffic, and URL shortener/domain parking traffic.
Quick 10-minute approval process for new publishers, with a 100% fill rate from over 12,000 advertisers.
A wide array of monetization options, such as popunder ads, native banners, social bars, direct links, and VAST video.
A three-level security system that includes innovative in-house and reliable third-party fraud detection systems, as well as human checks.
A self-serve platform for those who prefer to work without a manager, fully automated for an easy-to-use experience.
Various payment methods for publishers, including PayPal, Wire, and Paxum.
Three anti-Adblock options can increase revenue by an average of 35%.
Over 20 targeting settings, delivering your ads to the best-matching audiences. It provides genuine traffic that converts and robust ad formats with CTRs of up to 30%.
Bitmedia is a Bitcoin advertising network that is both safe and adaptable for publishers and advertisers. It is compatible with high-performing ad formats such as display advertisements, video ads, and rich media.
Publishers can easily withdraw funds at any time. Conversion-focused ad types assist you in increasing income. Earn a lot of money by promoting bitcoin advertising. After registering, you may begin monetizing your website immediately. CPC and CPM models are both supported.
Key reasons to choose Bitmedia
Bitmedia offers a variety of ad formats that are known for their high performance. These include rich media ads, HTML5 ads, and display ads. These formats are designed to grab attention and provide a high level of interaction with the audience.
Bitmedia's smart banners are adaptable and designed to make your Bitcoin ads more attractive. They offer greater interaction with the audience, sourced via our Bitcoin advertising network.
Bitmedia offers customized targeting options. This allows you to reach a particular crypto audience of any kind, and many other targeting settings will make your ads reach the right customer.
Bitmedia has served over 30K campaigns and reaches over 1B monthly impressions and a 20M+ monthly global unique audience.
Adshares uses ADS Blockchain technology to link publishers and advertisers. Publishers may monetize their websites by displaying any content on any device. With Adshares' decentralized ad servers, publishers may monetize adblock traffic. It is an open ecosystem that eliminates the need for a mediator between advertisers and publications.
As a result, commissions would be reduced. Payments from advertisers to publishers are processed every hour. Even if your website has little traffic, you may join Adshares' decentralized advertising network.
The platform's open-source SDK is a boon for developers, allowing them to seamlessly integrate the entire blockchain ecosystem. This integration enhances transparency in ad campaigns and effectively eliminates bad actors that are often prevalent in the ad industry.
Key reasons to choose Adshares Ad Network
Adshares' open ecosystem offers low fees, making it a cost-effective choice for advertisers.
Adshares provides instant payments from advertisers to publishers, improving cash flow and reducing waiting times.
The platform is censorship-free, ensuring freedom of expression and diversity of content.
Adshares offers real-time settlement instead of bidding, providing immediate results and reducing uncertainty.
A-ADS is the first cryptocurrency and bitcoin advertising network that allows you to customize your advertising bundle. Integrate HTML code into your website with ease and earn up to 10% referral commissions if you recommend others. Every ad is manually moderated.
Key reasons to choose A-ADS
Provides targeting options using site categories, GEOs, and quality range, ensuring ads reach the intended audience.
Offers a no minimum deposit policy, and its Premium Crypto Package starts at a competitive rate of $44.32 CPM.
Accepts a variety of cryptocurrencies as payment, catering to the diverse needs of users in the crypto space.
Serves a global audience but sees a majority of its traffic from English-speaking countries, making it a preferred choice for advertisers targeting this demographic.
Boasts an extensive selection of cryptocurrency traffic sources, making it an ideal platform for promoting ICOs, currency exchanges, cloud mining, and more.
Offers CPD, CPA, and CPM advertising models, providing advertisers with flexibility in their payment options.
Easy integration with HTML code embeds, making it a breeze for publishers to incorporate into their platforms.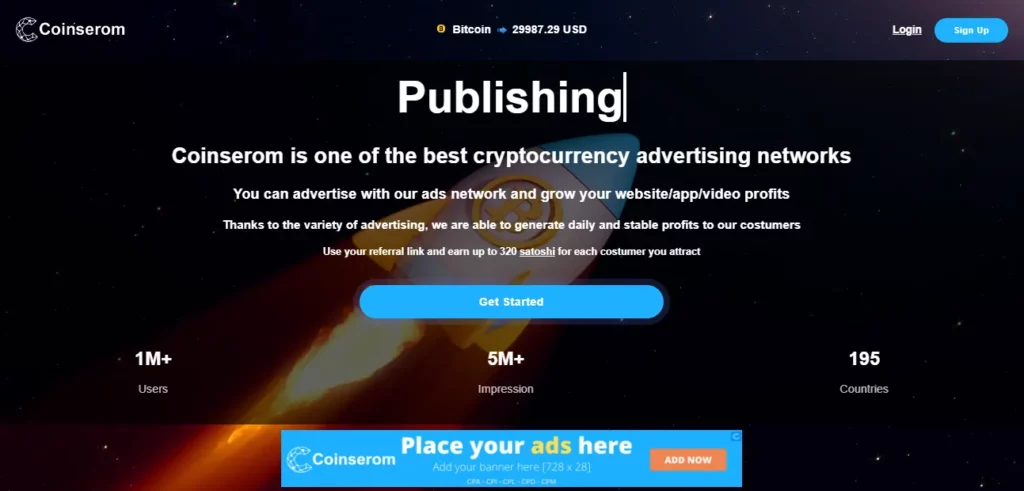 Occupying the 7th spot in the top crypto ad networks, Coinserom has become a powerhouse in the crypto advertising realm. With a robust portfolio encompassing over 2,700 websites, it serves as a commanding platform for those aiming to broaden their influence in the crypto industry. Coinserom caters to a diverse array of crypto-related websites, such as crypto mining, ICO token, casino games, crypto faucets, and trading websites.
The Coinserom Crypto ad network presents a comprehensive array of advertising solutions, including custom advertising campaigns in CPC, CPM, and pop-under ads. This versatility enables advertisers to customize their campaigns to align with their specific objectives. The network also takes pride in its innovative anti-bot system that guarantees 100% authentic traffic, effectively eradicating bots and fraudulent accounts. This feature ensures that advertisers maximize their ad reach while attracting only relevant traffic.
Key Features of Coinserom
With Coinserom, advertisers can benefit from lower ad costs, making it a cost-effective solution for crypto advertising.
Coinserom respects the privacy of its users, offering anonymous management of accounts.
Coinserom accommodates multiple forms of crypto payment, including Bitcoin, Ethereum, and 28 other cryptocurrencies, making it an incredibly versatile platform for advertisers globally.
Coinserom provides a completely transparent registration process, simplifying the network joining process for new users.
In terms of numbers, Coinserom boasts around 1 Million+ users, along with 5 Million+ quality impressions and coverage across 195 countries, making it a truly global ad network.
Unlike other Crypto ad networks, Coinserom offers some excellent rewards for signup which is around 1000 satoshi, along with 20 satoshi for every visit that occurs through your link.
Being listed at #8 in the top crypto ad networks, Cointraffic is a significant crypto and bitcoin advertising network since many large crypto organizations trust it. Leading cryptocurrency advertising network with a focused audience. Drive a specific audience with various ad styles such as banner, native, and press release distribution.
Anti-fraud technology for combating spam and bot traffic. Performance reports that may be accessed daily. With its innovative solutions and commitment to quality, Cointraffic has become a trusted name in the crypto advertising network, making it a top choice for both advertisers and publishers.
Key reasons to choose Cointraffic
Cointraffic offers a website skin that captivates visitors, allowing brands to reach a larger audience in a short span of time. The skin can be placed on the right and left-hand side, as well as above the top of the screen. The supported formats are JPG, PNG, and GIF, which are both creative and visible.
The sticky footer and header cover 100% width of the screen, allowing visitors to view the banner at all times, regardless of whether the page is scrolled up or down.
Cointraffic banners are placed in premium positions with detailed reporting for each banner. It also allows for A/B testing, making it a simple and efficient platform for advertisers.
Cointraffic offers native advertising, a promising marketing strategy for crypto businesses. Native advertisements can be created in minutes and are published on known sites, bringing organic traffic to your website instantly with a high click-through rate.
Unlike most of the crypto ad networks on our list, you may run adverts for a specific audience by joining the CoinAd.media crypto advertising network. You may monetize your website by displaying ads from the top bidders. In less than two minutes, you can launch an advertising campaign. The unique selling proposition of CoinAd.media lies in its ability to launch an advertising campaign in a mere two minutes. It also offers a wide array of payment options, including Bank Transfers, invoices, USD, EUR, BTC, ETH, LTC, XRP, BNB, USDT, and USDC.
CPC and CPM models with online help are available 24 hours a day, seven days a week. Target your audience using any platform, including desktop and mobile. You may reach a specific audience by sharing your PR story as a guest article.
Key reasons to join CoinAd.media
Unlike other platforms, CoinAd.media do not operate on an auction basis for advertising bids. All banners from the advertisers are displayed in rotation, ensuring fair visibility for all.
Offers both CPC (Cost Per Click) and CPM (Cost per 1000 impressions) models. The cost starts from as low as $100, making it affordable for businesses of all sizes.
With the CoinAd.media platform, you can target your audience based on GEO, device type (desktop or mobile), and time of day for banner impressions.
CoinAd.media allows advertisers to share their PR story (Guest posts, Press release, Article, Review, News, etc.) across 50 crypto-related websites, effectively reaching their targeted audience.
AdEx, unlike other advertising networks, generates income immediately for publishers. You may begin earning money from the very first impression. A safe platform that removes intermediaries and fraudulent advertisements. Set your inventory with no fees and increase your earnings. There is no withdrawal limit so that you can take funds immediately. You have total authority over your advertising area.
With AdEx, publishers can set their inventory without any fees, thereby maximizing their earnings. Furthermore, AdEx grants publishers complete control over their advertising space, ensuring that their content and advertisements align perfectly.
Key reasons to choose AdEx
AdEx offers real-time reporting, allowing publishers to analyze their advertising traffic quality in detail. Publishers can customize their reports based on traffic source, campaign, and any combination of custom parameters.
AdEx provides a fraud alert system that triggers notifications via messenger or email when suspicious traffic is detected. This feature enables publishers to respond promptly to potential threats.
AdEx offers several implementation options that ensure a flawless user experience and no delays in page load time.
Publishers can submit specific traffic sources or campaigns with suspicious activity for detailed research performed by AdEx fraud detection analysts. This service provides solid leverage for business defense when a refund is needed.
Mellow Ads is a straightforward bitcoin banner and pop-under ad network. With over 8.2 billion impressions supplied in a month, it is a massive bitcoin advertising network.
There are no contracts or setup costs. Geo-targeting allows you to target a specific audience in any country or region. Get real-time information on variables like views, clicks, pops, and more. Campaign models based on CPM and CPC.
Key reasons to choose Mellow Ads
Mellow Ads operates with complete transparency, with no setup fees or contracts. This means there are no hidden costs, allowing you to manage your budget effectively.
With Mellow Ads, you have the power to target your ads to specific countries or regions. This ensures that your ads are shown to the most relevant audience, increasing their effectiveness.
Mellow Ads offers excellent customization control, allowing you to upload multiple ad banners and create your own text adverts. This gives you the freedom to design ads that align with your brand and message.
Mellow Ads provides instant access to performance statistics, including the number of views, clicks, and pops for each active campaign. This allows you to monitor your campaign's performance and make necessary adjustments.

AdBit is a high-efficiency Blockchain-enabled advertising network. Its sophisticated bidding mechanism, among other distinguishing qualities, distinguishes it. Account activation and high-quality ad distribution are both instants. You may manage your advertising by using filter settings. Payments are made automatically depending on current market pricing.
Key reasons to choose Adbit
Adbit leverages the power of blockchain to provide a high-efficiency advertising network. This allows for instant account activation and high-quality ad distribution.
Adbit's "smart bid" system ensures the best value for your ads. Set your maximum bid per click, and the system optimizes to give you the lowest possible price, adjusting as necessary due to competition.
While the cost per click is in USD, Adbit encourages ad credit purchases in Bitcoin (BTC) or other cryptocurrencies. Your deposit is converted into USD ad credit at purchase, using the latest average market rates.
Setting up with Adbit is straightforward. Register your website domain, wait for approval, create ad units in various standard sizes, embed the code on your platform, and start earning.
Coinbound is an advertising network that goes further than your typical ad forms, such as display advertisements. It also focuses on influencer marketing. Coinbound is basically more into the social media aspect and works as a leading crypto influencer marketing agency, is your go-to platform for promoting your brand in the Web3 space. With a vast network of influencers across various platforms like Twitter, YouTube, TikTok, Instagram, and more, Coinbound has successfully launched hundreds of campaigns for crypto brands, reaching millions on social media.
This means you may promote your cryptocurrency project using celebrities from YouTube, Twitter, TikTok, and Instagram. Coinbound also offers SEO, social media marketing, and blog management.
Key reasons to choose Coinbound
Coinbound's partner, Coinscribble, offers guaranteed coverage with top Web3 media, with a combined network audience of over 300M.
Coinbound helps brands connect with the biggest names in the Web3, cryptocurrency, blockchain, and NFT space. If you know an influencer, chances are, Coinbound works with them.
Coinbound assists crypto companies in attracting organic traffic through strong content and backlink-building strategies. They have helped brands like SoulSwap rank on the first page of Google for their preferred keywords.
Coinbound manages paid ads campaigns on platforms like Google, Twitter, Reddit, and more, resulting in scalable and reliable growth and acquisition.
Coinbound offers the services of experienced Web3 marketing executives who can run your marketing, develop strategy, and more on a part-time basis.
Monad Plug– a rapidly growing online platform launched in 2015 that offers the highest possible revenue via creative and clever ways of working. They want to significantly increase your monthly earnings with Web Push Notifications, Native ads, and numerous inventive ways.
MonadPlug's experienced staff is constantly researching to develop new and better profitable strategies. They are always looking for methods to provide more and more cash options to marketers, bloggers, and publishers.
Key reasons to choose MonadPlug
MonadPlug uses advanced artificial intelligence for ad optimization. This system provides personalized content that is carefully tailored to match the needs of your website's visitors, enhancing user experience and engagement.
MonadPlug features a custom RTB protocol that is the main driving force behind its extremely high RPMs. This protocol facilitates ad inventory auctions in milliseconds, bringing more value to both publishers and users.
MonadPlug offers fully customizable ad formats. Publishers can personalize their widgets, blend them with their website's design, and create a more homely and user-friendly environment for their visitors.
The firm was created in 2011 and has quickly become well-known in the advertising market. It is mainly developed to address advertisers' and publishers' concerns about Crypto Ad sites. It has a vast publisher network that offers them real-time traffic from numerous sites and devices. They generate over 1 billion impressions every day and hundreds of campaigns each month.
The PropellerAds network offers a variety of ad formats, including Popunder, native push notifications, and Native Interstitial 2.0. The minimum deposit is $100, a meager amount to begin working with an efficient network. Real-Time Bidding is accessible for both mobile and desktop platforms.
Key reasons to choose PropellerAds
PropellerAds is renowned for its traffic quality, which is considered the number one advantage for 97% of its partners.
With PropellerAds, you can reach any business goal with 120,370 ad impressions per second, ensuring maximum visibility for your ads.
PropellerAds works across various industries including mobile utilities, software, e-commerce, mobile apps, lead generation, and finance, making it a versatile choice for advertisers.
PropellerAds helps reduce conversion costs through better targeting and ad customization, enhancing the performance of your ads.
PropellerAds uses AI-powered algorithms to boost conversions, save time, and budget, making your ad campaigns more efficient.
As a publisher, your primary goal is to monetize your traffic effectively. AdsTargets, a top-tier traffic monetization platform for publishers, is your ideal partner in this endeavor. With a daily reach of over 25 million unique users, AdsTargets is a powerhouse in the digital advertising industry. It boasts over 7,000 active campaigns and more than 2,000 active advertisers, making it a lucrative platform for publishers to maximize their ad revenue.
AdsTargets provides an extensive range of tools and strategies to help you monetize your traffic. It offers multiple ad formats and pricing models, allowing you to choose the options that best suit your audience and content. With over 25 million unique users per day, AdsTargets provides a massive audience for your ads.
Key reasons to choose AdsTargets
Choose from a variety of ad formats that best suit your content and audience.
The platform provides a flawless integration process, making it easy for you to start monetizing your traffic or launching your ad campaigns.
For publishers, receive your profits instantly with a minimum payout of just $35.
AdsTargets' advanced Anti Adblock technology ensures your ads reach even those users who have adblockers installed.
AdsTargets' automated ad optimization tools ensure your ads perform at their best.
Over the course of 8+ years, SmartyAds has developed a comprehensive programmatic infrastructure that caters to both advertisers and publishers. This full-stack solution includes a Demand Side Platform (DSP), Supply Side Platform (SSP), Ad Marketplace, and White Label Solutions, all designed to streamline the advertising process and help businesses achieve their goals swiftly and efficiently.
SmartyAds is not only simplifying advertising but also making it more secure and efficient. This makes it a preferred choice for many in the digital advertising space.
Key reasons to choose SmartyAds
With SmartyAds, users gain access to a vast inventory from premium suppliers. This allows for profitable deal closures and an automated record of every transaction.
The data stored in the digital ledger is shared among network members and is immutable, ensuring the integrity of the information.
The decentralized nature of the network eliminates the possibility of failure, making it incorruptible. All members joining the network are first approved and verified, creating a fraud-free ecosystem.
For added security, digital signatures, known as DSC, are implemented. Cryptographic hashes are used for digital inventory and impressions, ensuring a secure and protected environment.
SmartyAds offers customizable solutions that allow businesses to scale up and forward. This includes DSP, SSP, Ad Marketplace, and White Label Solutions.
Adsonmedia, a leading player in the advertising industry, offers a unique solution for publishers seeking to monetize their sites. Regardless of the origin of impressions, Adsonmedia ensures high volumes and attractive rates, making it a preferred choice for many publishers. With its innovative approach, Adsonmedia helps publishers generate income from the very first impression.
Adsonmedia understands that publishers are a crucial part of an ad network, along with advertisers and campaigns. Therefore, it strives to provide the best service available in the market to help publishers reach high-performance levels effortlessly. It offers all the necessary tools for publishers to achieve their goals, with a team of account managers ready to cater to every need.
Key reasons to choose Adsonmedia
Adsonmedia provides access to premium advertisers, ensuring high-quality ads for your site.
With Adsonmedia, publishers can enjoy a 100% fill rate, maximizing their potential earnings.
Adsonmedia offers competitive rates, making it a cost-effective solution for publishers
Adsonmedia provides exclusive market advice and dedicated account managers to help publishers optimize their ad performance.
Adsonmedia offers real-time reporting, allowing publishers to monitor their ad performance and make data-driven decisions.
With Adsonmedia, publishers can enjoy easy and timely payments, enhancing their cash flow management.
With its innovative approach, Ambire AdEx has successfully eliminated intermediaries, thereby reducing unnecessary fees and enhancing user privacy. This platform has been designed to generate income for publishers from the very first impression, ensuring a seamless and profitable experience.
Ambire AdEx's platform is user-centric, enabling users to set up their accounts and start running their ads or earning as publishers in just a few clicks. The platform's real-time reporting and transparency features provide users with a clear understanding of which channels are most effective for their needs, allowing them to detect ad fraud early on.
Key reasons to choose Ambire AdEx
Ambire AdEx prioritizes user privacy, storing all user information in the user's browser's local storage, and ensuring compliance with privacy regulations like GDPR and CCPA.
The platform offers transparent real-time reporting, enabling users to understand which channels are most effective for them.
Ambire AdEx empowers a self-governed ad marketplace with no censorship, giving users full control over their advertising space.
The platform supports the most popular formats for display advertising, accounting for more than 85% of all display ads served.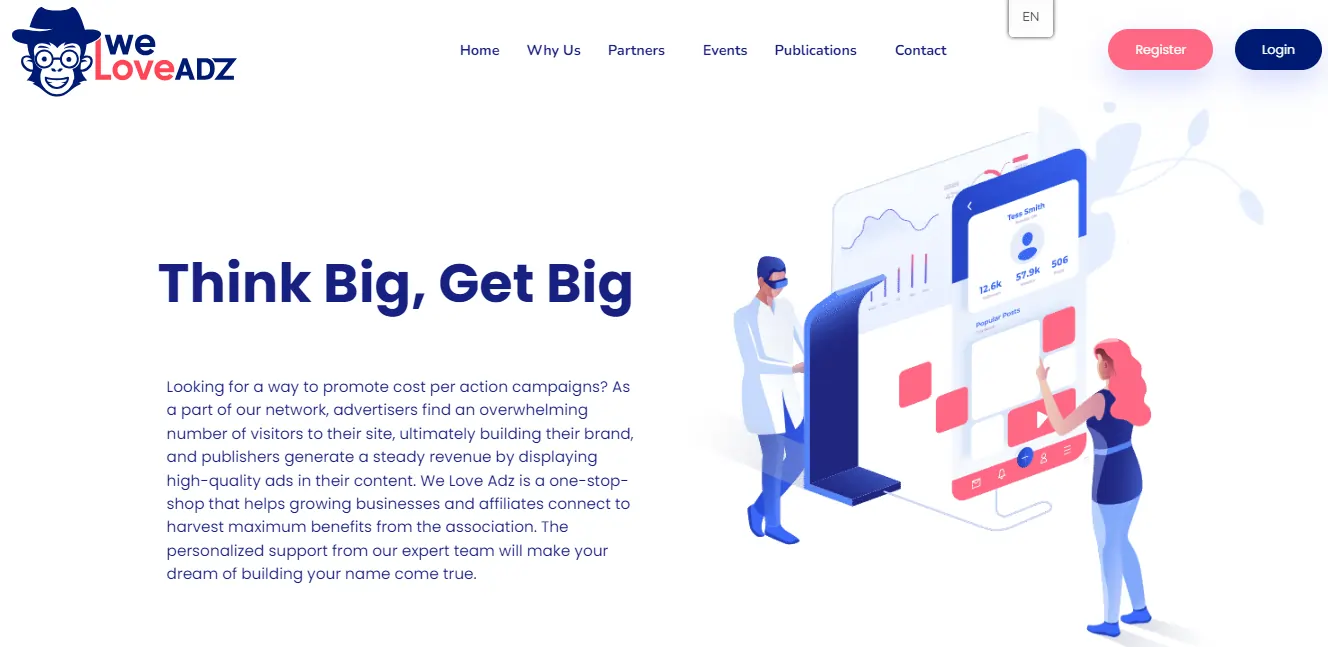 WeLoveAdz, ranked at #20 in the list of top Blockchain ad networks, is a platform that is committed to delivering exceptional results for publishers. With a team of professionals who are passionate about their work, WeLoveAdz ensures that publishers are always informed about the progress of their campaigns.
The platform is designed to help publishers improve their Earnings Per Click (EPC) through simple optimizations to their existing assets and campaign methods. This approach helps drive higher profits and achieve greater success in the marketing space.
WeLoveAdz understands that the internet moves fast and trends on social media are constantly changing. Therefore, they provide resources to help publishers assess their advertising goals and target audience, and optimize their promotions to fit different social media platforms.
Key reasons to choose WeLoveAdz
WeLoveAdz offers special payouts with increased Cost Per Mille (CPM) and high payouts, ensuring that publishers get the most out of their campaigns.
The platform offers non-incentivized campaigns, allowing publishers to run campaigns that are not influenced by incentives.
WeLoveAdz offers competitive revenue channels, ensuring that publishers have access to the best opportunities to monetize their content.
🌟 Crypto Ad Networks FAQ
How do crypto ad networks target specific audiences?
Crypto ad networks use a variety of targeting options to reach specific audiences. These may include location-based targeting, device targeting, and interest-based targeting. For example, an advertiser can choose to display their ads to users from a specific country, users who access the internet from a particular type of device, or users who have shown interest in certain types of cryptocurrency.
What types of ad formats do crypto ad networks offer?
Crypto ad networks typically offer a wide range of ad formats to cater to different advertising needs. These may include display banners, native ads, sponsored articles, pop-up ads, and more. The choice of ad format can significantly impact the success of an advertising campaign, so it's important to choose the format that best aligns with your marketing goals.
How can I track the performance of my ads on crypto ad networks?
Most crypto ad networks provide detailed analytics and reporting tools that allow advertisers to track the performance of their ads. These tools can provide insights into metrics like impressions, clicks, conversion rates, and more. This data can be invaluable for optimizing your advertising campaigns and maximizing your return on investment.
Are crypto ad networks only for promoting cryptocurrency products?
While crypto ad networks specialize in promoting cryptocurrency and blockchain-related products, they are not limited to these types of products. Many networks will also accept ads for other types of products and services, as long as they comply with the network's advertising policies.
Can you run ads for crypto on any ad network?
While you can run ads for crypto, it's important to note that some platforms may have restrictions for crypto businesses. Therefore, it's recommended to use crypto ad networks that specialize in this field to ensure your ads reach the right audience.
Conclusion: 20 Best Crypto Ad Networks for Publishers 2023
I guess, you might have got some ideas about which crypto ad network might be the right one for you. From my experience so far in the industry, choosing the right crypto ad network can depend on different aspects like geos, products, services, analytics, reporting tools, fill rate, etc. In addition to that few other factors like impressions, clicks, etc. are also worth considering while choosing the right one.
It can be said that the best crypto ad networks provide comprehensive solutions, from detailed analytics and reporting to a wide range of ad formats. They offer the flexibility to target specific audiences, such as crypto investors, traders, and enthusiasts, and the ability to handle both crypto and fiat payments.
Since the whole crypto industry is changing at a regular pace, learning and adapting is the only way to stay ahead of the game. Remember, the key to success lies not just in choosing the right network, but in understanding how to use it effectively.
So, how will you leverage the power of crypto ad networks to reach your target audience and achieve your goals?
Affiliate Disclosure: This post may contain some affiliate links, which means we may receive a commission if you purchase something that we recommend at no additional cost for you (none whatsoever!)