Have you ever thought about what would happen if you forget your password for a primary account or document?
Frustration, disappointment and annoyance. Yes, this happens when you lose or forget an essential password that changes your life, and your life becomes miserable.
No more frustration, disappointment, and annoyance. There's a much better idea not to forget your passwords when you need them more than anything.
How great it would be if you could save all your different passwords in one place safely and securely and retrieve those passwords whenever you require them the most. Its Dashlane, The best premium password manager with the highest b security and auto-login on all websites.
Do you know that last year almost 2.6 billion accounts were hacked? Yes, that's a huge figure. If you don't want to be one of them, stop thinking and choose the fastest lane to protect your passwords with Dashlane securely.
The best way to protect your identity and account information is to use unique and different passwords but remembering so many passwords is tough. But now, you can remember your unique passwords with Dashlane that provides a simple and secure way to manage unlimited passwords.
---
DashLane Review: Is it the best premium password Manager?
Dashlane has made the digital life of an average person owning multiple accounts stress-free and straightforward.
Our virtual life is too complicated and can sometimes lead to a financial loss if proper measures are not taken. One of the actions to secure your passwords is if it gets hacked or compromised by the bad guys can incur a huge loss in your business & productivity.
Dashlane provides a secured digital locker that can be accessed by only you with a unique master password, and all the other passwords can be located at your fingertips. It doesn't matter which device you are operating, may it be a laptop, a tablet or a smartphone; your password is at your fingertips just one click away.
Dashlane is being used by over 9 million users across 150 countries worldwide. It is estimated to achieve $13 billion in e-commerce transactions and 2.5 billion forms filled on 6.5 million websites.
You can access any website seamlessly and also fill out forms and payment information at just 1-click. Log in anywhere by synchronizing your work and personal devices and get the ease of access.
---
Reasons to Choose Dashlane for your passwords Management:
If you have any doubts about Dashlane, then here are the reasons that clarify why Dashlane is the best password organizer and protector, which eases your online working by automatically logging in to websites on your personal computer or mobile phone.
It lets you save unlimited passwords, check security, and automatically change passwords periodically, which is always secure.
🔐 Highest Security
Dashlane uses strong encryption methods to protect your passwords and personal information leading its way in the industry.
Due to its highly secured architecture has earned a US Patent, which is very rare for other password-protected tools. It also saves passwords only on your device, So you only have access to it.
Security is the highest concern with Dashlane. It guarantees that all your passwords are secure and no other have access to it.
🔏 Complete privacy
You have a master key to unlock all your passwords, and that master key is a master password to log in to Dashlane, which even Dashlane doesn't know.
The master password is not saved on Dashlane's server or anywhere on your computer. It is known only to you and hence offers complete privacy.
Employing the strongest master password requirement ensures that only you are allowed to reset the master password and not by any robot. This makes it easy for you to remember only one password and reset it whenever you feel like it.
🛅 Authorized only for you
Every time you log in to Dashlane, it requires you to log in to an authorized device, ensuring that it's you and not fake bots.
If you try to log in with a new device that Dashlane does not recognize, it will ask you first to confirm a unique code and then, after confirmation, gives you complete access to your passwords.
Google authenticator and U2F Yubikeys are some of the mobile authenticator apps and devices supported by Dashlane.
With a 'trust no one approach, it ensures not to disclose your data to any server or person and keep it secured to be accessible only by you.
Every time you log in to Dashlane, it requires you to log in to an authorized device, ensuring that it's you and not fake bots.
If you try to log in with a new device that Dashlane does not recognize, it will ask you first to confirm a unique code and then, after confirmation, gives you complete access to your passwords.
Google authenticator and U2F Yubikeys are some of the mobile authenticator apps and devices supported by Dashlane.
With a trust no one approach, it ensures not to disclose your data to any server or person and keep it secured to be accessible only by you.
🏅 Features for Everyone
A password protector can have multiple features, just like any other application or software. And guess what! These features are powerfully secured for everyone for free. It comes with a powerful, robust application for all operating systems like iOS, Mac, Windows, Android, etc.
🔑 The perfect password manager
Whether you use your password once a day or once a week, or maybe even once a year, you have complete access to keep track of your password. The best part is that you don't need to enter the password manually. Just get it typed for you immediately.
It allows you to create unique passwords for different accounts, saves them in your memory and remembers to enter them correctly whenever you need them for an account online. You can save the password even while browsing through any site and keep track of it.
🎯 Passwords & Address AutoFill
You can save a lot of time by Dashlane's important autofill that types your password for an account online. Storing important contact information on your browser is not a good idea, and hence, Dashlane allows you to store your vital information and then get it typed instantly.
Filling out long forms is quite mundane, but with Dashlane, it becomes fun and time-saving. It quickly fills out details like names, addresses, emails, phone numbers, and any payment methods.
Account creation on any new website becomes comfortable with autofill and allows you to work hassle-free. A Dashlane user saves almost 50 hours per year by using form autofill.
Just add as much information as you want in Dashlane and choose anyone when creating a new account and filling up the required forms. No need to create new profiles every time for a new report.
You can use autofill even on your smartphone. Just download the Dashlane mobile app or use its extension in Chrome or Safari.
💻 Dashlane Digital vault
It takes quite a bit of time to check out on any website, but with Dashlane's digital wallet, you can quickly checkout by choosing any digital wallet. Only you are authorized to access your digital wallet.
Dashlane has facilitated over $10 billion transactions by its digital wallet, making it one of the fastest and secure ways to check out on any website.
There's no limitation on storing payment types, including Debit/ Credit card, PayPal, and other wallets. All your payment information is safe by its patented security architecture.
You can track multiple accounts hassle-free as Dashlane links every payment type with its own unique information like name displayed on the card, billing address, and expiration date.
📏 Strong password generator
One strong password for each account is not sufficient as there are chances that if your password gets hacked, then all your accounts will also be breached. To avoid this, use Dashlane's unique password generator for each account that minimizes the chances of the breach with a strong password.
Whenever any of the sites on which your account is activated is exposed to any breach, it instantly sends security alerts to your computer.
🔀 Auto Change passwords in single tap
Change your passwords as many times as you want without any restrictions. It is always safe to keep changing your passwords regularly to avoid any breach of your accounts. Save the passwords to Dashlane and get them typed for you when you visit any website.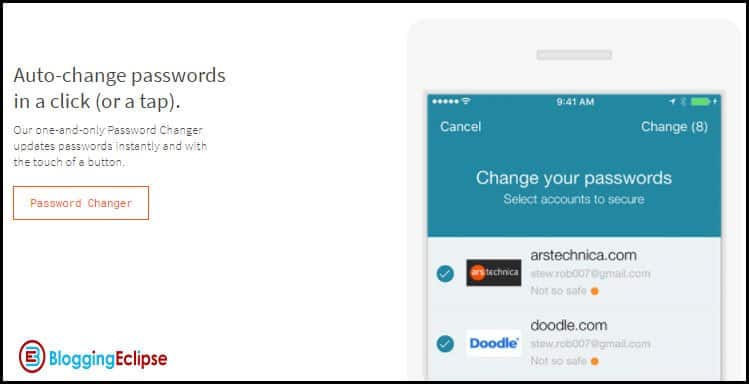 Password Changer is a free feature provided in Dashlane that changes the old passwords to new unique ones and stores them to remember when required to log in to any accounts.
Dashlane security score indicates how vulnerable your accounts are with your old passwords. So, instead of changing the old passwords, Dashlane does it for you and takes your security score from 0 to 100 in seconds.
---
Dashlane Plans & Pricing
Choose any of the three Dashlane plans as per your requirement. If you want to use it for a single device, then start using its impeccable services for free.
But if you want to run it on multiple devices, choose the Premium plan at just $3.33/mo and manage passwords on unlimited devices from anywhere. The business plan costs $4/mo and includes all the features of the Premium plan plus some more advanced features suitable for business users.
Dashlane offers 30 days free trial on all premium plans. So you can try it for free before going with the premium plans. If you don't subscribe to the premium plan after the free trial period, Your plan will revert to the free version, So you don't lose any saved password or data.
For any more information you can contact its support team, and their dashing staff will help you out in every manner possible.
The pricing is also very cost-effective can be afforded by anyone. The longer the billing term you choose, the better discounts get applied.
---
How Dashlane can be a lifesaver for Affiliate Marketers?
Affiliate marketers have several CPA Accounts, traffic sources, websites, and different tools when it comes to internet marketing and making money online.
It is always a tough job to remember the names of so many affiliate networks, their email address, and passwords. Hence, many of the marketers earlier used to maintain excel or spreadsheets for the same but thanks to such ultra-secure password manager.
It lets you save all highly sensitive passwords of your networks, Bank accounts, PayPal, Payoneer, etc. It's a lifesaver as you can log in to your affiliate networks from anywhere without remembering long passwords and check your earnings or stats.
Hundreds of pro online marketers have started using password managers to organize their lives better and save plenty of time, So it's your time to try it.
---
🌟 Dashlane FAQ
What is Dashlane?
Dashlane encrypts all your data, so you don't have to worry about security. This password manager will protect all your data, from passwords to personal info.
Can I try Dashlane for free?
Yes, you can get started with the Dashlane free trial that allows you to access all its features for free.
Are my passwords secure with Dashlane?
Yes, As we all know, protecting all data has never been easier. It uses zero-knowledge and U.S.-patented security architecture to ensure all of your data can be accessed only by you.
Why should I go for Dashlane?
Dashlane is the best secure password manager that's easy to use, syncs across all devices, and automatically logs you into your favorite sites.
Is there any working Dashlane coupon code?
If you are looking for a massive discount on its subscription plans, click here to activate our latest Dashlane discount coupon.
---
Conclusion:
Dashlane is always an excellent choice to store your passwords and autofill for any website that saves your time and is hassle-free. Dashlane is the only password changer that replaces old passwords with unique new ones reducing the chances of a hack, thereby keeping your account safe & secure.
Download Dashlane now for password protection and sleep peacefully without worrying about remembering multiple passwords.
There is so many different passwords manager like LastPass, 1Password, etc. They all offer almost the same features but what matters is the user interface, robust performance and easy-to-use features with the latest update. Dashlane has all of it. Its user interface is much better than all other alternatives.