Are you concerned about the internet harming your privacy? Don't want your data to be sold without your consent? We're sure many people have wondered how social media companies and other internet giants make so much money despite their services being essentially free.
A common understanding developed among people these days is that these websites make money from targeted advertising. This is partly true. The whole truth is that social media companies and many other websites you might visit daily collect a lot of your personal data.
This data is sold or collected by broker sites or an online data broker who, in turn, sells it to advertisers and other interest groups. Advertisers use this data to manipulate you into purchasing their products or use them for many other malicious purposes. If this information is worrying to you, then don't worry. We have a solution for you. Check this full ✅DeleteMe Review that includes detailed information, including benefits, pricing, pros & cons, etc.
DeleteMe is a tool that can remove all the data these sites have of you directly from the broker databases. Many such broker sites are increasingly persistent and will try to steal your data repeatedly. Still, DeleteMe keeps track of this and deletes the information as it appears on the broker websites.
DeleteMe has developed under the parent corporation Abine, whose sole purpose was helping Internet users to lead a private life while actively using the Internet.
You can see that we are very impressed with this tool, and by the time you finish reading our detailed DeleteMe review, we're sure you will be too.
---
Detailed DeleteMe Review
We're sure many of you must have tried to increase the amount of privacy you have while using the internet. Making your accounts private, not allowing cookies, not clicking on phishing sites, and many more home-grown ways to be more personal on the internet.
The problem is these broker websites are run by people who know they're not going to find any data worth selling on such a basic level. They steal your data in very intricate ways, which someone without a technical background can't avoid on their own. This is the reason DeleteMe was created. You can see which of your data is part of the public record and delete it in a single action.
---
Why do you need to keep your data secure from broker sites?
It is an unfortunate reality that no matter how many ways you have tried to avoid your personal information leaking out, it is listed on several people-search sites or is in possession of someone amongst the biggest brokers.
By collecting small bits called personally identifiable information, these organizations often create entire listings and profiles on people. These listings often include details starting from your full name to even your current and past home addresses. Even if you put in an opt-out request, the number of data brokers is constantly growing, so your data will still be in someone's unauthorized hands at any point in time.
A significant chunk of the data is taken from self-reported information, i.e., surveys, mailing lists, and social media. Minimizing your activity on these mediums is a partial solution. The largest portion of this data is collected from government records and registrations for government facilities. You, of course, cannot run away from getting your government-issued ID proofs and other documents.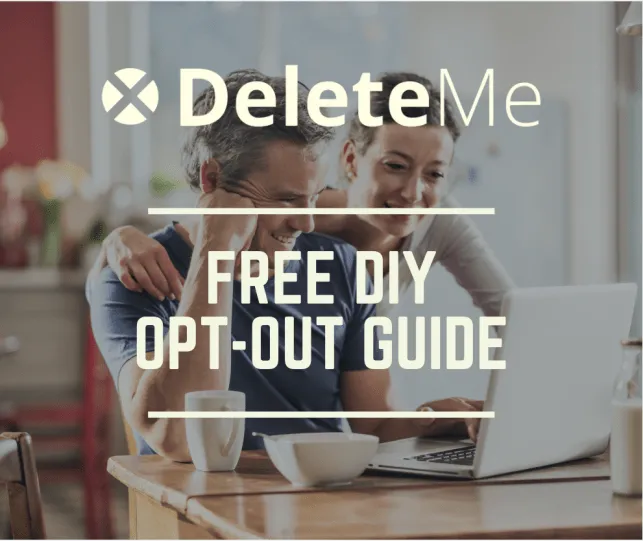 To prevent your data from ending up in the hands of anyone from an advertiser to a criminal for as low a cost as $25, you have two options. You can go through the opt-out procedures of every website, which take days or even months for every website while the possibility of identity theft continues to exist for you. Or you can join DeleteMe and never think about these problems again.
---
How does DeleteMe work?
It may seem ironic to some users, but the first step to getting your privacy back with DeleteMe is providing them with your complete information.
This is done as the data brokers opt-out process requires proof of authenticity, so DeleteMe cannot put in a removal request on your behalf without your data. We were skeptical about the tool when we came to know about this, but after reading their privacy policies, we were relieved. They and their parent company, Abine, have a firm company policy based on privacy rights, and they maintain a clear vision of protecting your privacy.
These terms of service are backed up by the fact that you are given a warrant canary. This legal statement explicitly lays out that the company has not received a FISA warrant, secret or otherwise demanding any information.
You have to provide your full name (you can add alternative names that you may use or refer to). DOB, email address, phone number (alternate phone numbers can also be added along with past contact numbers), gender, and current & past addresses.
To complete sign-up, you have to scan and submit any government-issued ID. You can black out your phone and license number (in case of driving license; you can blackout other numeric IDs from other documents). Your data cannot be deleted from many broker databases without DeleteMe providing direct ID proof in your opt-out requests.
Additional options to add data on relatives, employers, ethnicity, and political affiliation are available, but these are optional and only required if you want specific data deleted. After you complete the sign-up process, the DeleteMe dashboard gives you a real-time look into the level of privacy you have at that moment. DeleteMe constantly opts you out of more and more data-broker ventures as you use them, so your dashboard metrics also keep changing.
The overview metrics include the number of brokers who breached your privacy, the total number of records under review to check if they contain your data, and the net number of brokers being tracked by DeleteMe at that time.
You can see detailed, informative charts and privacy reports below, which show the total number of records they reviewed and removed. A pie chart encapsulates the different kinds of personal data which were leaked.
Their team is constantly adding more broker sites to their removal service. Still, if you find a website where your data is listed despite using DeleteMe, then you can reach out to them in the Privacy Advisor panel. They will make a detailed study of that particular website, work to get your data removed on a priority basis, and they may even add the broker site to their permanent list of websites to scour through.
It should be noted that post the passing of the California Privacy Rights Act, 2020, every time DeleteMe adds a new broker to their list, you will get a mail asking you if you would like to opt-out of that broker's database well.
This goes a long way in maintaining the legitimacy of your removal requests which is why even before it was legally required under the concerned act, DeleteMe had this way of working.
---
DeleteMe Privacy Reports
An initial report is provided soon after creating an account. This gives you a list of sites showing you the number of tracked blockers holding your information and the status of your opt-out request.
DeleteMe mostly has automated systems to remove data from people finder sites. Still, for some particularly tough to deal with websites, they engage a real person from their team of privacy experts to remove your digital footprint.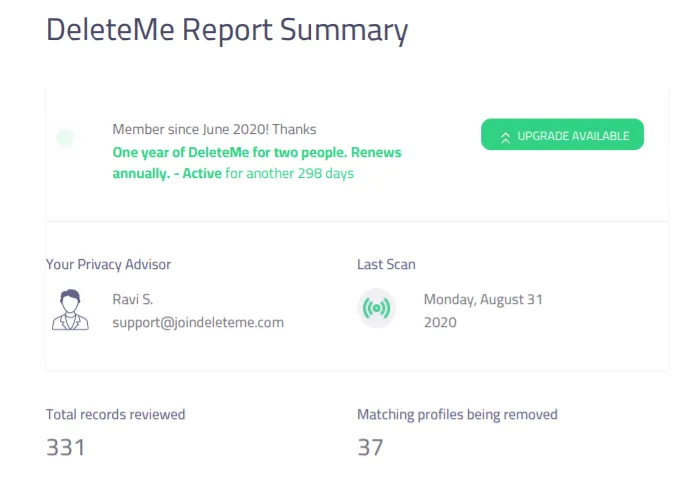 DeleteMe is upfront about the fact that many sites are much slower than others, so it might take a while to remove it from some sites. Most responsive sites get checked for your data regularly, and a complete scan of all websites is done every quarter. Your quarterly report contains info on all kinds of sites and what DeleteMe is doing to keep you safe from them.
Some users might have to wait sometime for their first quarterly report, but it is a smooth delivery process after that. All past reports are stored automatically. As reports are delivered in PDF form, you can also store them yourself. A letter is included in the detailed report explaining how DeleteMe dealt with your identity thieves that quarter, along with huge amounts of data showing all your information leaks.
The broker who had the leaked info, the status of your request, and the amount of time it would have taken you to do the same task.
---
Can I get DeleteMe for free?
You can achieve the same results as you would after purchasing DeleteMe for free by checking out their opt-out guides.
These are extensive DIY manuals for users who want to secure their data on their own and contain detailed instructions on how to deal with every significant people search a site like White Pages and massive data brokers out there on your own.
It should be noted that according to some user reports that we studied, to check even a small number of, say, 3000 records across brokers and removing it would take nearly a total of 24 hours from you.
---
DeleteMe Pricing Plans
DeleteMe offers multiple variations of their annual subscription by the number of users and time period. These are listed below:
1 Person 1 Year: $129/year ($10.75/month)
Full-scale DeleteMe protection for one person for the full year. This is an automatically renewing subscription only for US residents.
2 People, 1 Year: $229/year ($19.08/month)
This is their most popular offering as you get the same range of services as the earlier plan, but you can save some money by buying this one and protecting your loved ones as well.
2 People 2 Year: $349/2 years ($14.54/month)
An enterprise or business version of DeleteMe is also available if you contact their executives. You have to explain your requirements to get a quote.
You can protect your whole staff or say some of your employees whose sensitive data could hurt the company. There is not much difference on the user side, but the business owner, i.e., you, gets a full tracking and management system in this plan. Saving your employees from phishing attacks if you're in a competitive industry can make a massive difference to your company.
The business plan is particularly popular among media professionals.
---
DeleteMe Pros & Cons
Pros
Removes data from all major broker sites
Monitors all sites on a regular basis and repeats removal requests as many times as needed
Completely Free if you are up to doing the process yourself
Custom Removal Requests are attended to very quickly.
Human intervention as and when needed.
Cons
It might seem expensive to some users.
Reports don't contain direct links to data brokers.
---
🌟 DeleteMe FAQ
🙄What is DeleteMe?
DeleteMe is a subscription service that removes you from data broker sites without you having to do anything. Removing personal data from data broker websites decreases your internet footprint and protects you and your family.
🤔Is DeleteMe trustworthy?
DeleteMe has a 4.76-star rating based on 709 reviews, showing that most customers are happy with their purchases. DeleteMe is the most popular privacy website.
🔎How does DeleteMe work?
Submit personal information for removal from search engines.
DeleteMe expert will find & remove your personal information.
You will receive a detailed DeleteMe report in 7 days.
❓Is DeleteMe real?
DeleteMe safeguards a separate aspect of your personal life. Its human operators aggressively opt you out of the most active and egregious personal data aggregators and then keep an eye out for those that collect your information again.
💲How much does DeleteMe cost?
A yearly subscription for two people costs $229, while a family package for four people costs $329.
---
Conclusion: DeleteMe Review 2023 | Should you really go for this platform?
Data is defining to all activities in the 21st century. Holding more information than whoever you're up against is what decides who will end up ahead in the end. This makes it clearer why your data has to be protected against these data brokers.
If you think that it doesn't matter who has what information about you, you are not aware of the level of criminal activity which a malicious mind can do with the information as mundane as your past addresses.
DeleteMe stands true to its claim that it will remove your data from every major data aggregator. It performs this task to perfection, and the list of data sites which it protects you from keeps growing.
Doing the process yourself is an option, but given how broker websites repeatedly take up your data, again and again, to ensure complete security of your data from anyone you don't want to share it with, paying $10 every month seems like a good idea.🙂
Affiliate Disclosure: This post may contain some affiliate links, which means we may receive a commission if you purchase something that we recommend at no additional cost for you (none whatsoever!)