Are you looking to impress your clients and visitors with a compelling logo? If yes, then designing a custom professional logo for your website or any other purpose is easy and requires only minutes with DesignEvo.
But how to design an attractive and stunning logo that would attract millions is a big brain question?
For designing a logo, you might pay to a designer and even after paying you might not get what you expected. Better to design a logo yourself by drag & drop rather than paying a designer and depending on the designer's ability.
Moreover, a designer would ask you for some time to design a logo, and if he has loads of work, then chances are that your logo might take a long time to be furnished and delivered to you.
DesignEvo Review: 100% Free most convenient online logo maker

Why waste your money and time for a designing a logo when you can do it on your own. It simple and easy and saves your time and money. The place where you can get exclusive custom logo's for your website is: DesignEvo.
In this post, you can see how DesignEvo helps you design custom logo's with ease within minutes. Let's take a world tour of what DesignEvo has to offer to its customers.
About DesignEvo (Company Info)
DesignEvo is a product of PearlMountain which has always focused on providing graphic design software since 2006. It strives to provide photo editing and graphic design capability accessible to millions around the world.
Its software is designed with blood and sweat and spreads across 200 countries worldwide.
With so much of trust from millions of users worldwide, it started to think about launching software that makes designing a logo online easier for startups, small and individual businesses.
A logo symbolizes a company's stature, position, 1st culture and gives them brand recognition.
Hence, utmost care should be taken when designing or choosing a logo. Crafting a logo is not as easy as it seems to be and requires spending a lot of time. Sometimes when you start designing a logo manually but are not satisfied with your efforts, you end up paying a huge amount to a third party or a designer.
Simplified logo Designing:
DesignEvo has made your logo designing life easier by consuming less time and requires an only little bit of efforts for editing a pre-designed logo. With a design team working with dedication over the past 10 years on this software, you are ensured to get the right logo for your company in less time and also cost-effective.
Whether you are a novice with no expertise in designing a little logo or an experienced designer, DesignEvo has pre-built logo's tailored to everyone's needs.
DesignEvo is one its kind that provides more than 4000+ ready-made templates to design a logo of your choice by customizing it accordingly and feel tranquility.
Reasons to Choose DesignEvo for your logo Designing needs
There are several reasons to choose DesignEvo for selecting a logo for your brand. Let us take a roller coaster ride for the reasons that would lead you to choose DesignEvo the next time you plan to change your brand logo or design a new logo for redefining your company.
#1. Abundant Templates
Using keywords, you can find specific logo's that suit your needs and meet the requirements of symbolizing your company with a professional grade logo. There are numerous categories available to choose from over 4000+ custom built logo's. Just select the right type and start customizing to meet the end results in minutes.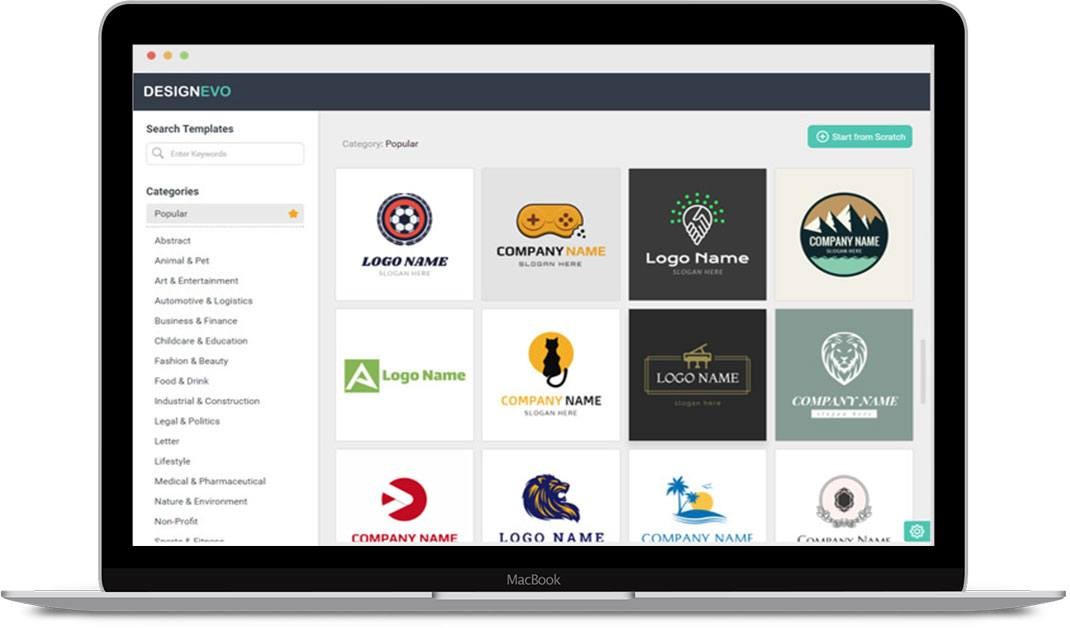 There are over 34 different categories with popular choices like restaurants, technology, blogging, fashion and many more. Easily browse any group with the keyword and choose the right logo with the quality theme for brand exposure.
#2. Stylish fonts and icons
Be one step ahead of others by choosing beautiful icons and fonts to give an elegant look to your logo. Choose from over 100+ stylish icons and compete with the millions to stay one step ahead of your competitors.
A vast collection of vector icons, shapes, and word art allows you to customize your logo at 1-click. Make a unique identity by choosing the right options and make your day blissful.
#3. Customize your way
All the professionally appealing logos are customizable and ready for you to be touched by bringing out the inner creator within yourself. Customize any logo as you want it to look like or resemble anything that you like the most.
With a comfortable editor WYSIWYG editor you can quickly change the color, size and shape of the logo, change the background and generate layouts automatically. Giving a unique look to your logo requires just one click and mojo! It's like the para of unimaginable logo's.
#4. Free Usage
Unlike other designing software, it does not require you to register yourself or pay at first. Use it for free without wasting any time to download the software. Customize it online and then download it to save in your laptop or desktop. This saves a lot of time and also your wallet.
---
Where can DesignEvo be used?
DesignEvo can be used for designing & developing a professional logo's for multiple streams by anyone for any purpose. Following are the areas where DesignEvo can be used to create unique logo's and make it awe-inspiring.
Company & Organization logo
Stand apart from your competitors with a stunning and beautiful logo. It has tons of premium templates and designs for numerous business categories. Apart from the pre-defined templates, you can always start from scratch to build complete unique logos by using vector, shapes, fonts and in-house icons.
The website has become essential for every business nowadays and hence a logo on the website is necessary as it signifies its culture and brand value. If you are having a blog, Coupon website, eCommerce portals or Affiliate website, There are dozens of premium Logo templates for this category. I am sure you will fall in love with the stunning design collection they have.
Profile Logo's for Social Media Accounts
Social media platforms have become a unique part of everyone's life to stay connected with friends and also for promoting business.
A unique logo set as a profile for different social media platforms like Facebook, Instagram, YouTube, Twitter, Google+ and more can create a good impact and help you grow your connections.
Logo's for Software & Apps
If you have designed your own software or an app, then that app or software will be recognized by others in the form of a logo. Users will click on the logo and then download it for personal or business use. Designing a unique logo for your software or app can make it famous and recommended.
One of the unique ways to promote one's products is by offering t-shirts and backpacks. Displaying a logo on the t-shirt or a bag will definitely attract visitors and give your company brand exposure.
Creating a beautiful logo for your travel or tour business is much easier with DesignEvo. With tons of travel logo templates and beautiful icons like Airplanes, Voyage, globe, beaches, Your logo will surely attract travelers to your business.
---
DesignEvo Plans & Pricing:
Although the online cloud-based tool is free to use the free version comes with some limitation like low resolution and PNG with a background. To get more features, you need to upgrade your plan and go for the paid programs. There are two paid plans viz. Basic and Plus.
Basic Plan: This plan costs $19.99 with features that include high resolution of 5000 x 5000 px, PNG with transparent background, print ready, edit multiple times and re-download and free lifetime support.
Plus Plan: This plan costs $39.99 with more advanced features including the features of the Basic program. Some of the advanced features included in this plan are Vector pdf and SVG files and copyright ownership.
---
Conclusion:
DesignEvo can be used for multiple purposes with easy and fast service. A logo once designed can be immediately downloaded once purchased, and in case you are not satisfied you can request a refund.
Copyright logos can be used for the business card, website, and social media, etc. Both the paid plans require an only one-time fee to be paid and after that, the software can be used for a lifetime. You can also re-edit your purchased logo and re-download it for implementing better ideas.
Design your logo today with super jet logo designing service at DesignEvo.