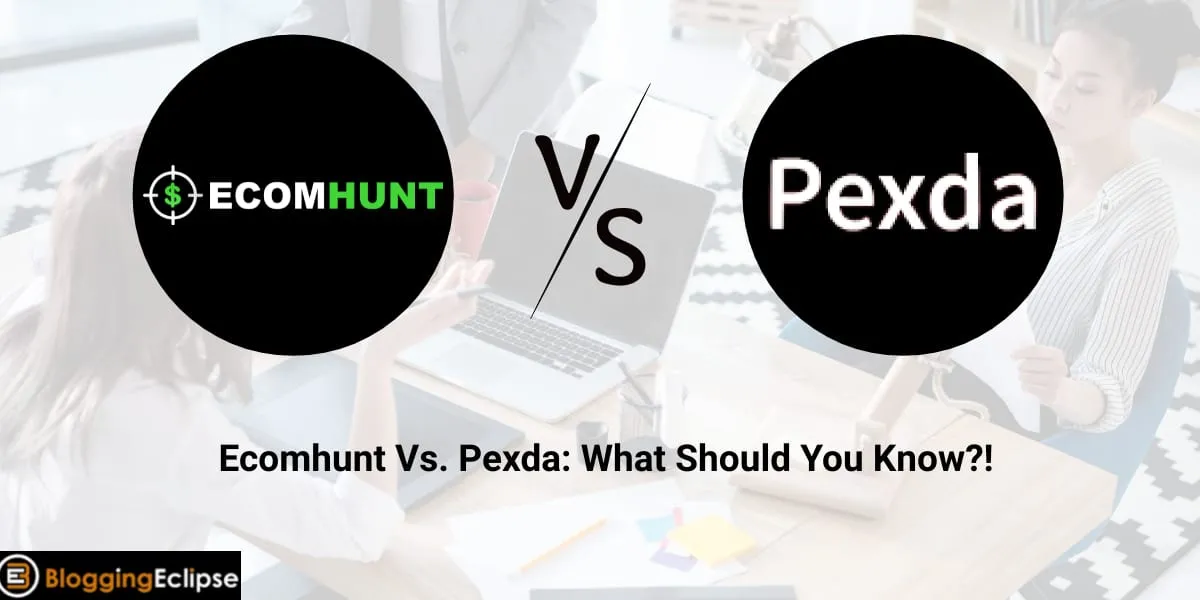 There are many dropshipping tools in the market to choose from, all offering some stellar features, but you have probably heard of the two most talked-about tools, i.e., Ecomhunt and Pexda. Want to be sure which tool is the best for you? Well, you have come to the right place! Read this Ecomhunt Vs. Pexda reviews to choose the best dropshipping tool that suits your needs.
---
Ecomhunt Vs. Pexda: The Ultimate Comparison
What is Ecomhunt?
Ecomhunt is a product research tool essentially made for dropshipping products. It helps you find winning products that will make you the most profit in just a few clicks, find niche products, and more. It saves you the hassle and time of spying on competition and product research. New products are added on a daily basis so that you stay updated on the latest market trends. All the products come with all the information you need, including descriptions, images, and more. Know everything about how a product performs with detailed social engagement metrics, performance analytics, and more.
Also check: Ecomhunt Review | Find winning products? (Ecomhunt Coupons & Promo Codes)

Access to all features

Ecomhunt free trial

Access to all features
What is Pexda?
Similar to Ecomhunt, Pexda is a product research tool that saves you the time and effort of finding new products to sell for your dropshipping business. It acts as both a spy tool and a product hunting tool. Find highly profitable products that are up to date with a hot product list available every week. All products come with performance analytics to make sure you are choosing the best most profitable products.
Also check: Pexda Review: 50% OFF Coupon Code | #1 Product Hunt Tool

Unlimited products per day

Great for starting a new business

Great for starting a new business
---
How are Ecomhunt & Pexda Different?
Before we start our Ecomhunt vs. Pexda comparison, let's see all the features that make each tool unique.
Ecomhunt
Ecomhunt also offers many unique features such as tools for influencing Instagram and an active Facebook Community. The Instagram influencing feature gives you all the tools you might need to succeed when promoting your product on Instagram.
This feature is especially useful for people who are new to social media promotions. Another feature worth mentioning is Ecomhunt's Facebook community. It helps you communicate with like-minded people, share your experiences, gain more insight into the industry and learn from others. Once you have your Ecomhunt account set up, you will receive an email that will contain a link to join their exclusive Facebook group.
Stop wasting money on bad products? Click here to get started with Ecomhunt for free and discover winning products.
Ecomhunt offers an extensive learning platform that includes the following: Masterclasses with 14 chapters and over 70 easy to understand videos, eBooks that help you learn everything there is to know about opening your own online store, a YouTube channel dedicated to success, dropshipping eCommerce, etc., A podcast and a thriving community. Ecomhunt also has a unique community called the winners club that consists of its top sellers. All you need to achieve to be eligible is to have at least $5000 in sales with the use of Ecomhunt products, and the company then awards you a place on their winners' wall and a complimentary t-shirt in good faith.
Pexda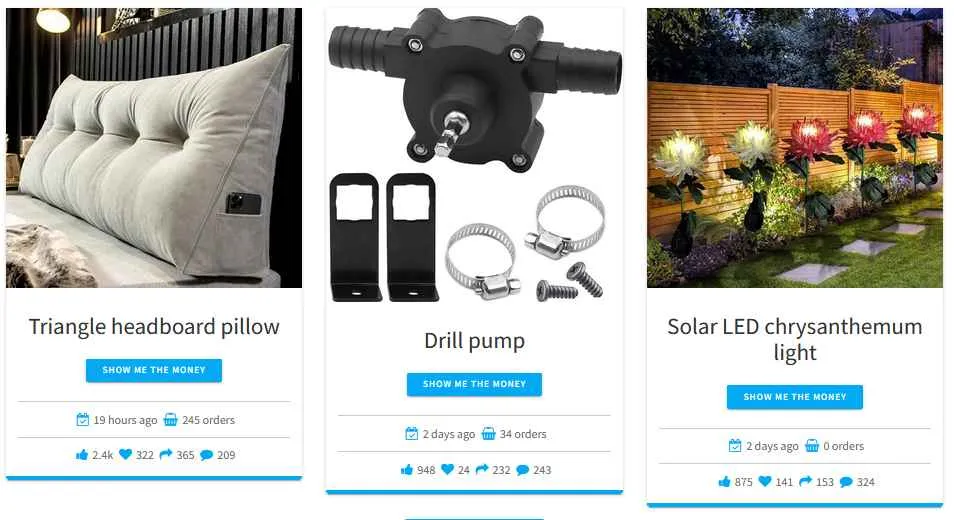 Pexda offers features such as advanced product categorization and ad insights that Ecomhunt lacks. The product categorization offered by Pexda is very organized and detail-oriented. It makes finding products an easy task. There are many different categories and subcategories, including health and beauty, family, animals, pets, toys, and more.
Another feature offered by Pexda is its ad insights. A professional team approves and gives valuable insights into any product ad. You can we actual creatives of ads and see what is working and what is not.
---
Ecomhunt Vs. Pexda: Detailed Comparison
Let's put both these dropshipping tools head to head and see which one comes on top!
Ecomhunt
Pexda
Best for
Ecomhunt is also for marketers (like you) that help them find products to sell online, saving their hours of research. With its real-time data, one can easily find the best-selling products.
Pexda is a one-stop tool for online marketers which offers the winning products to sell online. It listed all the profitable products you could ever wish for.
Features
Product profits & analytics.
Facebook Ads & targeting.
It offers an AdHunter tool.
Webinar & tutorials for newbies.
EcomHunt Facebook community.
Unlimited products per day.
Complete Facebook Ad report.
Target audience.
Ad Insights: Proven Ads Copy.
Category-based products list.
Ease of Use
Ecomhunt provides a user-friendly interface that makes it very convenient for people to navigate on a dashboard easily. At the same, it updates winning products on a daily basis so that one can easily find new products.
Pexda also offers a very clean and user-friendly interface that makes it easy to discover winning products. With Pexda, you'll never miss out on a trending topic or spend hours searching for something you might be interested in.
Chrome Extension
One can easily install the Ecomhunt Chrome extension to find sponsored Ads and your competitor's Shopify stores.
One can also install the Pexda Chrome extension to hunt winning products.
Discount Offer
Use our Ecomhunt coupon code to get 41% off on all its annual plans.
Grab our special Pexda discount coupon to get 50% off on all its pricing plans.
Customer Support
24/7 Support
24/7 Support
Price
$14.95
$20/mo
Official Site
👉 Visit site now
👉 Visit site now
Ecomhunt Vs. Pexda: Ease of Use
Ecomhunt
Equipped with a user-friendly and easy-to-understand interface, Ecomhunt is very easy to navigate and comprehend. All the trendy and winning products show up on your dashboard daily, so you can access them easily and stay up-to-date. If you have a free plan, you will only be able to view a limited number of products. With Ecomhunt, you can create your own niche get access to all relevant data in a single click. The tool does not have a learning curve and is easy to set up.
Pexda
Pexda is dedicated to providing an easy-to-use tool to its users. It has a very clean UI and is very organized. All the features in products are displayed in a very systemic manner; this makes products easy to find. Pexda also has useful filters that let you see all the latest products and help you stay on-trend.
Verdict: Both tools have a very easy interface and are easy to operate. Both tools take the cake in this aspect.
---
Ecomhunt Vs. Pexda: Product Reports & Analysis
Ecomhunt
Ecomhunt's detailed and analytical reports are all you need to keep up with new trends and ways to promote your products. these reports cover all the necessary data related to your products. Ecomhunt also provides many other resources that cover important topics such as Facebook analytics, explainer videos, promotion of products, competition analysis, and more.
Pexda
Pexda helps you analyze all your product and sales data in just a click. It helps you see what is working and what is not. Pexda provides real-time data along with detailed reports of Amazon and AliExpress along with Facebook targeting, trend reports, and much more. The reports help you scale your business and find out effective ways to promote your products.
Want to hunt winning products? Click here to get started with Pexda for just $1.95/14 days.
Verdict: Both Ecomhunt and Pexda offer a very detailed analysis of products, and each tool offers a little extra when it comes to data reports.
---
Ecomhunt Vs. Pexda: Chrome Extension
Both the tools are equipped with very useful Chrome extensions that add value to their overall user experience. Let's take a closer look at what each Chrome extension can do:
Ecomhunt
The Ad Hunter tool by Ecomhunt can be used by both its free and paid users. It helps you track and monitor the Facebook ads of all your competition with ease. You can view any Facebook ad and look into its key performance factors like countries targeted, traffic, duration, and more. It's a very useful feature that gives you a detailed insight into the ads of your competition and helps you get a leg up.
Pexda
Pexda also offers a Chrome extension to all its members that helps them keep track of all kinds of trending current ads on Facebook. It lets you keep track of viral, high-converting ads. This helps you find the best strategies that you can use for your own campaigns as a template. The Pexda extension comes completely free with your subscription. It also monitors ads on the basis of multiple metrics such as comments, shares, and more. This lets you choose ads on the basis of metrics you value the most.
Verdict: It's another tie, folks! Both Chrome extensions add extra value for their users. Although we personally might lean more towards Ecomhunt on this one as it offers this in its free plan as well, nonetheless, both extensions, when compared exclusively, give unique advantages to the user. Thus it ultimately depends on what you require in the end.
---
Ecomhunt Vs. Pexda: Pricing Plans
Ecomhunt
Ecomhunt has two plans, wherein one plan is free while the other is paid. The free plan only lets you see two products a day and gives you very limited data for each. It also does not include any support or community features, you also only get to save five products, and there is a three-day delay in new products. The Pro Plan, on the other hand, is priced at $29 per month; it offers unlimited product searches and saves. It comes with exclusive community access and lets you use all its data and features.
Pexda
Pexda has three paid plans, the Standard version, Premium Version, and Ultimate Version. The Standard version is priced at $14.95 per month but has an introductory price of $1.95 for 14 days initially. This plan does include a three-day delay on new products but offers unlimited Facebook Ads reports and additional eBay, AliExpress, Amazon, and individual sales reports. It also includes the Chrome Extension.
The Premium plan is priced at $24.95 per month and comes with everything mentioned in the Standard plan with no delays in new products, so you can stay up-to-date on all the latest trends. The Ultimate subscription is for $99.95 per month and includes all of Pexda's advanced features, and is best for big players in the game.
Verdict: Both plans have unique advantages. While the Econmhunt plans are much more affordable and straightforward, the plans offered by Pexda offer the user more variety and control over the features they want.
---
Ecomhunt Vs. Pexda: Pros & Cons
Every product is bound to have some advantages and disadvantages. Let's take a look at the merits and demerits of bot Ecomhunt and Pexda.
Ecomhunt Pros & Cons
Pexda Pros & Cons
---
🌟 Top FAQs on Ecomhunt Vs. Pexda
✔What services does Ecomhunt provide?
Ecomhunt is the best product research tool that allows you to discover winning products. All the products are hand-picked by professionals and are updated on a regular basis by Ecomhunt. The products data offered by Ecomhunt includes Profit, Product Video, Facebook Targeting, Analytics, Links, Facebook Ads, Engagement, and Offer type.
✔Is Ecomhunt free?
Yes, Ecomhunt provides a free version that gives you access to all its profitable products. The free version of Ecomhunt is available with limited features, and also it takes more time to give you access to the new products.
✔Which ecommerce marketplace does Ecomhunt support?
You can use winning products provided by Ecomhunt in different ecommerce marketplace such as eBay Amazon. You can even use Ecomhunt products on your online store using Shopify or Woocommerce.
✔How often does Ecomhunt update its products list?
Ecomhunt updates its products list every day. The products listed by Ecomhunt depend upon the quality of the products, not the quantity. According to Ecomhunt, all the products should match the criteria of winning products.
✔How much does Ecomhunt cost?
The pricing plans of Ecomhunt are very affordable so that one can easily start using Ecomhunt. It also offers a free version with minimum features. The paid plan of Ecomhunt will cost you $29 monthly. Use our special Ecomhunt coupon code that helps you to get 30% off so that you can use Ecomhunt for just $20 monthly.
✔Does Ecomhunt offer a Chrome extension?
Yes, one can easily install the Ecomhunt chrome extension to discover Facebook ads and your competitor's Shopify stores. Ecomhunt Chrome extension enables you to view other stores' product pages and view the latest active ads running on Facebook feed.
✔Is Pexda worth it?
Pexda is the best product research tool that helps you to easily find high-quality products that you can sell on your online store. This is important because the wrong products used can lead to mistakes that you'll regret later on. With Pexda, you can hunt a profitable product for your business with a few clicks.
✔Can I access the Pexda Chrome extension?
If you are looking to find the perfect product to sell online, then Pexda is the most advanced and user-friendly product research tool that enables you to search through thousands of products in an easy way. You can easily install the Pexda Chrome extension that helps you to find the sponsored ads on Facebook so that you can make good money.
✔What makes Pexda better than other products research tools?
There are many benefits why one should choose Pexda over others.
1. The tools offered by Pexda are completely functional and user-friendly.
2. It offers a Chrome extension to find winning products. Pexda Chrome extension also enables you to find sponsored ads to make good money.
3. They offer remarkable customer support to solve your queries.
4. You can use its auto hunt option to find profitable and winning products in just a few simple clicks.
✔Does Pexda offer any discount coupons?
Yes, it offers a special discount coupon that helps new users to enjoy huge discounts. Click here to activate the Pexda coupon code and get 50% off on all pricing plans.
✔How can I use the Pexda coupon code?
Using the Pexda discount coupon is very simple as you just need to visit its official site and choose your desired pricing plans. After choosing the plan, click on the Signup button and fill in all the details. In the end, you will be asked, "Have a coupon?". Enter the above-mentioned Pexda coupon code and complete the signup process.
---
Final Verdict: Ecomhunt Vs. Pexda | Which dropshipping tool is worth it?
After a detailed comparison of both tools on many different aspects, it's clear that both tools perform very well and have unique features that make each tool worth its salt.
At the end of the day, it depends on what you value the most. What gives Ecomhunt a leg up is its exhaustive resources that add value to you as a seller and its inclusive community features, whereas Pexda is superior when it comes to clear and niche-specific data and analytics. Both tools give each other solid competition and are great standalone tools. Which one would you prefer to purchase? Let us know in the comments below!
Affiliate Disclosure: This post may contain some affiliate links, which means we may receive a commission if you purchase something that we recommend at no additional cost for you (none whatsoever!)