Are you looking for the perfect tool to help you optimize your product listing on Etsy? Well, we have just the tool for you! In this EtsyHunt review, we will show you a tool that will help you make more sales and help your Etsy shop reach new heights!
Best part… It's absolutely FREE!
So without further ado… Let's jump into a detailed EtsyHunt review and get to know more about this Etsy SEO tool!
Detailed EtsyHunt Review
EtsyHunt is a product research tool specifically for Etsy. It doesn't just include product research; it involves so much more than that. It includes lots of data, which can be used for statistical analyses. Currently, it shows you approximately 30 million items from Etsy. For each product, there's detailed data analysis, including total product sales, weekly sale numbers, product review scores, etc. It's easy to get this data from EtsyHunt.
With so many items available at EtsyHunt, there's plenty of room to inspire your creativity. Each item listed in Etsy has its own detailed listing in EtsyHunt. Here you can view the label, category, or historic price for the item. EtsyHunt is an amazing 100% free Etsy research tool.
*Enter code DROPTWEAKS at checkout.
It includes the basic features needed by any Etsy SEO tool, including:
EtsyHunt Features at a Glance – What is EtsyHunt used for?
1. Product Research
With the EtsyHunt product research feature, you can access an up-to-date database with over 50 million top-selling products on the platform, from which you can select the best one for yourself.
You get detailed filters by which you can find exactly the products which you want, along with their price ranges, average reviews, shipping origins and much more. Plus, you can also view these listings individually to get an even more in-depth breakdown, including categories, descriptions and also performance breakdown by price, sales favorites and reviews.
2. Keyword Research
Keyword Research of EtsyHunt provides you with the top searches to find the exact keywords or tags which you can use for your Etsy listings. In this keyword research tool, you get a more detailed interface, headlining along with a summary of week trending tags which are also constantly updated.
After searching for your desired keyword, you get a complete analysis of it, starting with the essential information first, the number of views and sales the keyword generates, along with the amount of competition you will have if you use it.
Further, you also have a keyword analysis feature where you can see a google search trend chart that shows you the keyword's search interest over time on both normal Google Searches and Google Shopping Searches.
You also get a country distribution that gives you a breakdown of where exactly these Google Searches are coming from. The page also gives you a huge list of keywords that is similar to the one which you choose to research, along with the option to export this list to a spreadsheet that can help you with further analysis.
Next is another helpful feature called the 'Hot Word Cloud', where you get a colorful compilation that contains the most frequently used keywords that are related to the ones you researched. This is another helpful feature that helps you find out what your prospects are also searching for, giving you an idea of other products you can sell in your store.

You also get an analysis of the products that use your searched keyword, including their average price, main category, the number of shops you will be competing with and much more. You can use this information to see how competitive your niche is and which you are planning ahead to get into. This is important to be a new merchant on Etsy as it can be tough for a new one if you initially get into an already established market.
You also get an entire section that is dedicated to shipping which is very useful if you are looking for new ways to improve upon what these stores are already selling by shipping quicker than them. If you are a free EtsyHunt User, you only get 10 keyword searches per day, but if you can upgrade to the basic plan, this limit is further removed.
3. Shop Analyzer
The next feature from EtsyHunt is the Shop Analyzer, which provides you with more profound research and insight into the marketing strategies of top Etsy sellers, which helps you to see what is going well for them and also you can see the lapses and check out how you can outperform them.
This feature is kind of similar to the Product Research feature, but here it lets you look at the data in a listing format before you move down to a specific store. The listing features basic filters like Category and Country along with a few more advanced ones like reviews, sales figures or customer favorites.
This feature is actually more helpful, and you can see what stores are topping Etsy in your country. You can also check out the complete product list for each of the stores that give you some inspiration for products to sell in your own store. You can also export this to a CSV file to analyze this data further.
4. Etsy Reviews
You get personalized templates to manage your Etsy Reviews in time and also keep track of your orders. You can create an account on EtsyHunt and connect your Etsy account.
You can better manage your reviews and ideas through the EtsyHunt platform. Another useful feature is the Follow Up Reminder, by which you can check in with your customers by sending a message via a template to retain them effectively. However, this feature is currently a demo version but also features filters to target your audience more accurately.
5. EtsyHunt Toolkit: Etsy Tags Extension
Etsy another tool that you can add to your inventory is the Etsy Tag Extension. This is actually a Chrome extension that allows you to scan and check your competitor's product tags directly on Etsy. You can start to scan from the homepage, a product page, a specific category page, or a competitor's shop page. These product tags are added to the products of store owners to give them the chance to show up on Etsy searches. And, of course, you should use the keyword research tool mentioned earlier in the review to find the best keywords.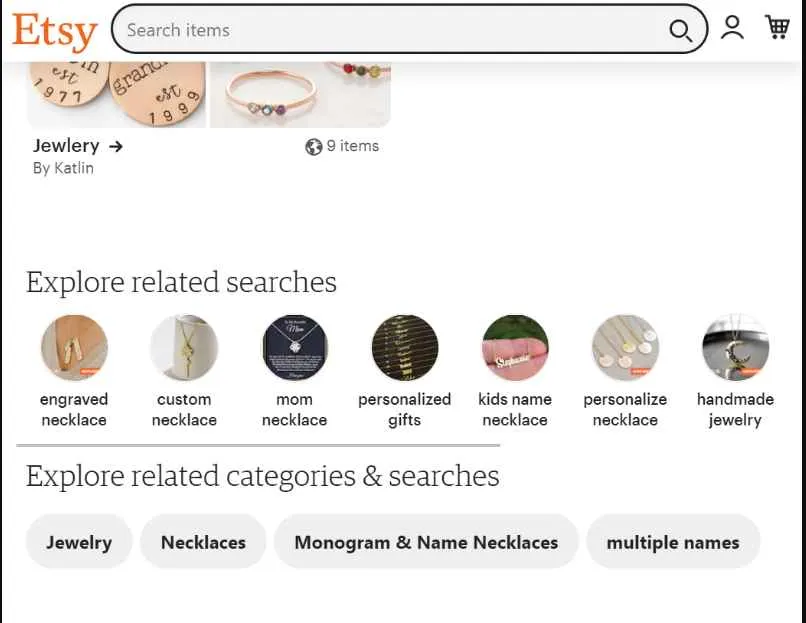 And the best part about this extension is that it is available on Microsoft Edge as well.
How to Create an Etsy Account in 5 Simple Steps?
And now, if you are ready with your decision that you want to use the Etsy platform, the very first step of how to start selling on Etsy is by opening an Etsy shop. And if you already have an Etsy account, you can use it to become a seller.
If you are new to Etsy, you have to create an account before proceeding. This does not take too long, and only a few details are required to get started. Following is a step-by-step guide to help you get started:
Step 1: Click "Register" at the top of the Etsy home screen.
Step 2: Fill in your first name, email address, and password in the form.
Step 3: Ensure you've read Etsy's Terms and Conditions and Privacy Policy.
Step 4: Submit the form.
Step 5: To complete the account setup, wait for a verification email and click the link in it. This should only take about five minutes. Check your spam or trash folders before contacting Etsy support.
The email address which you use to sign up will be linked to your shop. You can also sign up with your Google, Facebook or Apple account.
How to Use EtsyHunt? – How to Use Etsy Extension for Shop Owners?
You can follow the below-mentioned guidelines to help yourself begin to use Etsy. You will get benefits like displaying information centrally on product listing pages, detail pages, and shop detail pages which can improve the efficiency of product selection on the Etsy website.
First install the Etsy Rank Analysis Extension, which comes both for Microsoft edge and also for chrome.
After installing the extension, visit the official Etsy page to use it directly. It can take one minute to load after the first installation.
Now check the information according to your needs.
Extended Location 1: Product Listing Page
You get support for weekly sales, total sales, total views, and release time of data expansion
Click on the button in the top left corner to view historical sales trends for your product at EtsyHunt.
Extended Location 2: Product Details Page
Here, you get to view products: main category, release time, Tag words, and price.
Also, Total sales, weekly sales, total views, total reviews, weekly reviews, total favorites, and weekly favorites.
Plus, Whether shipping is free, customizable, with or without Best Seller tags, with or without Etsy Pick tags, product type and shipping location.
Extended Location 3: Shop Details Page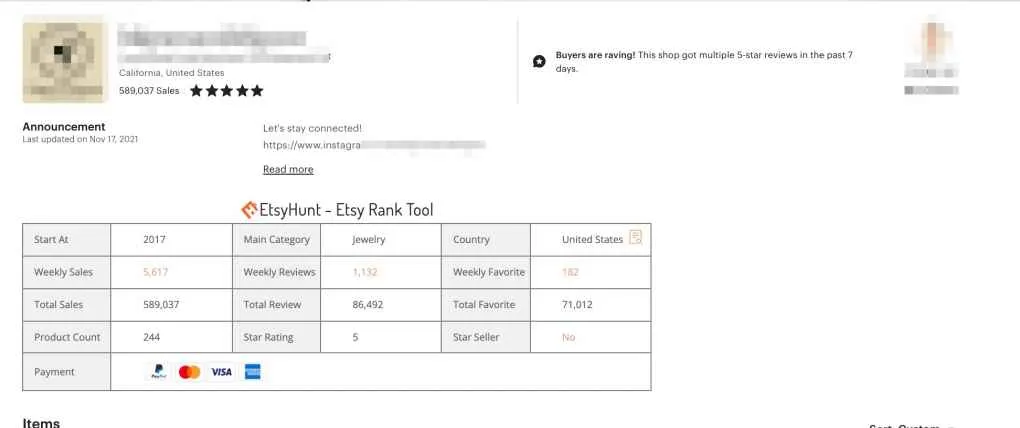 Here, you get to see when the shop was created, the main category, the country.
Also Total and weekly changes in sales, reviews, favorites.
Along with the number of items for sale, shop rating, whether you are a star seller, and payment methods supported.
How to Start Selling on Etsy? – How to Set Up Etsy Shop?
Next, in this EtsyHunt Review, we will discuss how you can open an Etsy shop.
Step 1: Prepare Personal Information
Following is the information you will need later.
Name, Phone, SSN
Photo ID ( ID card/driver's license/passport etc.)
Bank card number, ABA Routing Number, SWIFT/BIC Code (US)
Credit card number, security code and expiration time.
Step 2: Do a Market Research with EtsyHunt
So before you open a shop on Etsy, you have to do a little research on it. This will help you to understand your buyer's problems, pain points, and desired solutions by which you can properly make your product or service appeal to them naturally.
You can do research that can help you to get ideas on EtyHunt
EtsyHunt has data on 38,000,000 Etsy products which gets updated regularly, so you don't miss any niche products.
You can use the Etsy product research tool that supports four major trends of historical sales, prices, collections and reviews to help you check out the secrets of top Etsy Products.
On the product detail page, you get to see basic product information and trend graph information along with the title, price, sales, reviews, favorites, store information, etc.
By doing so, you can find answers to the following questions:
Who makes up your market, and what are their challenges?
What is trending in your industry and in the eyes of your buyer?
What influences purchases and conversions among your target audience?
Step 3: Launch Your Etsy Shop
These 5 points are key factors to consider before you launch your Etsy shop.
When you enter your Etsy shop, make sure you enter your default language and the currency in which you'll describe your items. This will not affect your store whether you plan to work full-time or part-time.
Next, you have to enter the name of your shop. You can choose any name that you like, but it should conform to Etsy's guidelines.
4 to 20 Characters.
No trademark infringement.
No names are already in use by another Etsy seller.
No profanity.
No spaces or special characters.
So before you open your shop, you have to create your first listing on Etsy. This includes one photo, a title, item category, description, price, shipping cost, available quantity etc.
Setting up your Etsy payment preferences.
You have to set up how you will get paid when you make a sale. This includes PayPal, money orders or checks and other Etsy payments, which are the primary way sellers get paid.
You also have to set up billing, which depends completely on your country. This fee is used to cover any cost which is incurred through Etsy, like advertising or shipping fees.
Congrats!! You have successfully started your Etsy Shop. Now with your shop open, you can further customize it and start selling.
How to do Etsy Product Research by Using EtsyHunt?
#1. Search & Filter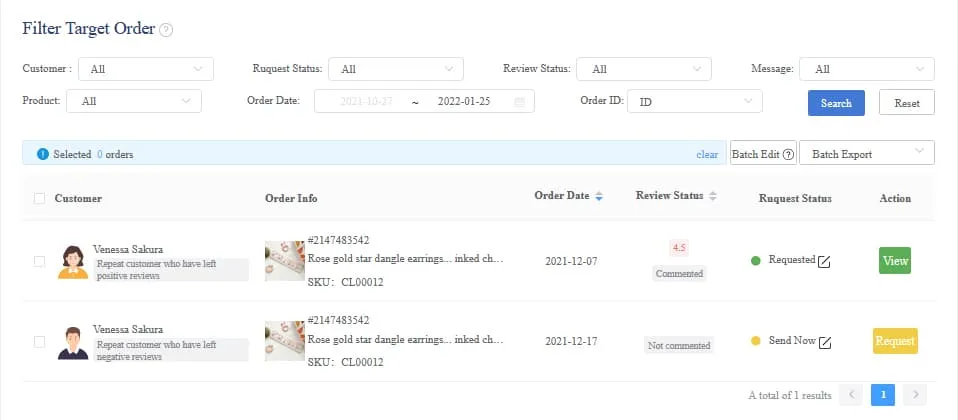 Common Filters: Supports filtering by categories, prices, dates, and totals.
Advanced Filters: Supports filtering by products' shipping locations, types, collections for the past seven days, and overall sales volume.
When choosing products with high sales and ratings, you can filter them by these labels:
Raving: Raving reviews and ratings
Etsy Pick: Picked by Etsy experts
Top seller: This product has been selling well for the last six months
Release Time: Find out when products were posted.
#2. Listings & Detail Pages
On the listing page, there's an overview of the product, including its core data: Sales, ratings, and favorites from the past week; tag words (hover over them to view all tags); ID (you can simply click on any word to get additional info); price; release date and official label.
It allows you to create lists that support exporting them into Excel files so they can be used for further processing and analysis.
Sort by the last seven-day review count (descending) and sort by the last seven-day favorite count (descending). So that you can quickly see which products had recently received lots of positive feedback from their buyers.
Besides the above-listed page data, the details pages support additional badges for products which include pictures, videos, etc.
To help you understand the pricing strategy of competing products, it shows you discounted prices, discounts strengths, and original prices.
Basic Information Display: Shop Name, Total Sales, Comments – You can easily see which shops sell similar products by looking at their names, totals, and a number of reviews. It's easy to tell if they're worth checking out.
#3. Selecting Message
You get two built-in copywriters: One for new users and another for repeat users.
Customizable product descriptions, allowing sellers to use smart tags to automatically populate their products' description fields with relevant info from Amazon's database, making them easier to update than ever before.
#4. Order Selection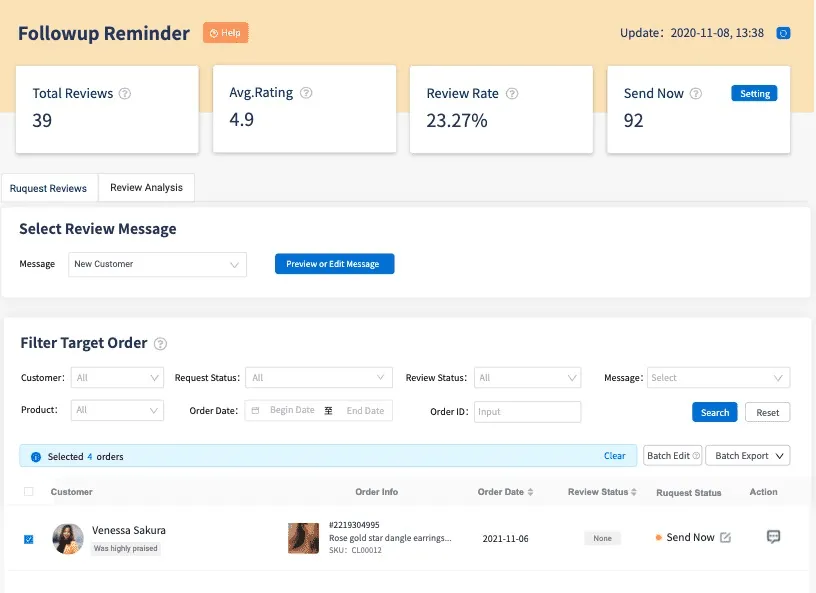 Screening potential target users and selecting appropriate texts for claims can significantly increase the likelihood of successful claims.
To get a higher percentage of reviews completed for each customer: Select repeat customers who've already reviewed your service and ask them to leave another one.
To get new customers: Filter for new customers who are new users and select the "New User Invitation" text to invite them to leave feedback.
You can choose from different types of products and then pick one particular product to ask for a review.
If someone has left a negative review already for one of your products, filter their order by clicking "Bulk Edit" and setting it to "Ignore." You may then be able to avoid receiving future reviews from them.
Customer type: Repeat customers who have posted positive reviews; repeat customers whose comments were neutral; new customers who have bought their products for the first time; and repeat customers who did not leave any feedback yet.
#5. Shop Listings
It displays various types of statistics related to its business performance, including total sales, number of reviews, number of favorites, etc., allowing you to quickly identify shops with an increase in their sales volume. At the bottom, there's a button for jumping directly into the shop's products page; clicking on it opens up a new tab that shows the entire range of available items.
EtsyHunt Browser Extension for Product Research
Benefit from EtsyHunt's browser extensions for both Chrome and Microsoft Edge to make product research a breeze. Instantly analyze key metrics such as prices, tags, reviews and more, find out which products are trending and top-performing in a single click! EtsyHunt's browser extension makes competition analysis as easy as pie. You can now discover all you need to know about your competition, such as reviews, revenues, prices, featured products, ratings and more.
The browser extensions are free and available at the Chrome and Microsoft stores, and you can avail of the benefits with just a click!
Optimize Etsy Shop Follow-Up Management
Choose regular customers who have left good reviews for every order they've placed through Etsy.
AI messaging: Easily import customer information from Etsy messages into the message box using smart tags in just one click.
Batch-edit: You can batch edit all Etsy order statuses at once. Track them easily.
Daily update: New order status updates help you decide whether to accept or decline them quickly.
1. Google Search Trends
Currently, there are two main kinds of search trends: Google web search, which shows what people are looking for online using the Google search engine; and Google Shopping search, which shows what people want to buy from retailers who use Google Shopping.
You can use the trend chart to see whether there's any kind of seasonal pattern for the product so you can plan ahead to avoid running out of inventory during the high-demand period.
If you look at the graph for each individual month, you can see whether there has been an upward trend from one year to another.
You can filter by country, so you know which items people want most from each country. Then you can use these results to decide where to place your products.
2. Similar Keywords
During the actual operation process, there may be times when we struggle to find competitive long-tail keywords and core keywords to optimize the listing. A similar keyword feature gives suggestions for you to save time a lot of words to find links.
You can copy-paste text from any page into Word without having to go through each individual paragraph.
You want to target terms with high search volumes, low competition, and good conversions. However, if you're willing to give up some search traffic for better conversions, then go ahead and use them.
3. Hot Word Cloud
Clicking on the keyword for each product shows which words people use when searching for similar items. You can then choose the best-performing ones.
4. Top 100 Best-Selling Products Analysis
Analyze the top 100 selling products by looking at their sales performance for each product category (e.g., clothing) and then look at the keywords used within these categories.
To see whether there is a monopoly in any given category, sort products by their total sales from left to right. Then use this method to identify potential new product opportunities. Finally, use these insights to develop a competitive strategy.
If there's no match between the target keyword and the target product, then go back up one level and look for another related subcategory.
To determine whether you can gain an edge by offering a lower price or quicker shipping, refer to the average selling prices and average delivery times for similar items.
The number of relevant stores refers to how many stores sell the most popular products; fewer stores mean more monopolies and more competition among them.
Select your path to the shelf by using popular categories.
To see whether there is an advantage in terms of logistics for certain types of products, refer to the shipping times of their competitors' products.
Visual Analysis in Etsy Reviews Effects
The Etsy official APIs are the safest and most reliable way to get started. EtsyHunt's built-in Etsy templates follow Etsy's guidelines, so they're safe to use without any risks. At present, there's only one way for an Etsy seller to bind their store to their own personal account—no risk of associating multiple shops under one account. If requesting feedback doesn't work out, you can always unbind from them later.
EtsyHunt Pricing – Is there any EtsyHunt free trial?
There is no EtsyHunt Free trial, but you get an EtsyHunt Free plan which you can use to check out all the features of this tool.
With the EtsyHunt Free Plan, you get to experience the product, keyword and shop analysis which is limited, but still, you can use them to get a feel of this platform.
Product Search: 10 Daily
Product Chart: Partial
Shop Search: 10 Daily
Shop Chart: Partial
Keyword Search: 10 Daily
Favorites: Up to 100
EtsyHunt Basic Plan – $3.99/mo
If you are a single shop owner, this is the plan to go for!
Product Search: Unlimited
Product Chart: Unlimited
Shop Search: Unlimited
Shop Chart: Unlimited
Keyword Search: 100 Daily
Favorites: Up to 1000
ListingOptimize: 50 Daily
FollowupRemind: 150 Daily
Shop Analysis: Upcoming
EtsyHunt Pro Plan – $19.99/mo
If you are a multi-store seller, the advanced selections in this plan are definitely for you.
Product Search: Unlimited
Product Chart: Unlimited
Shop Search: Unlimited
Shop Chart: Unlimited
Keyword Search: 200 Daily
Favorites: Up to 2500
ListingOptimize: 100 Daily
FollowupRemind: 500 Daily
Shop Analysis: Upcoming
Amazon Handmade: Unlimited
Inactive Products: Unlimited
Multi-Store Binding: 10 shops
How to Leave a Review on Etsy?
First, head to Etsy and log in to your EtsyHunt account.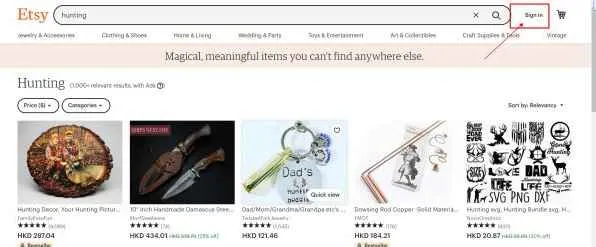 Then click on the account and select "Purchases and Reviews" in the drop-down box.
Then select your order and you can opt to rate the order.
Try to leave your review of at least 5 words of the order and also your experience with the seller.
If you have five-star reviews, you can also upload photos by clicking on the camera icon and improving your review performance.
What Can You Sell on Etsy?
Etsy offers a massive space that can accumulate millions of items. You can simply know which products you sell on it and have a considerable advantage in increasing your sales. Following is a list of the most sold items on Etsy:
Jewellery
Craft and Supplies
Party and Planner Supplies
Clothing
Home and living
Accessories
Wedding Decor
Vintage Items
Art
Handmade Items
What Can You not Sell on Etsy?
Following is the list of prohibited items that cannot be sold on Etsy:
Alcohol, tobacco and drugs, which also include references to drugs and medical drugs
Dangerous items like hazardous materials, weapons and recalled items.
Any type of animal products and human remains
Hate items such as items that promote, glorify or support hatred.
Illegal items like the ones that promote illegal activities and highly regulated entities.
Those items that are Internationally regulated
Violent items like the ones which promote, glorify or support violence.
Pornography and mature content.
Etsy Selling Fees
One aspect that the new sellers on Etsy tend to underestimate about how to start selling on Etsy is its fees. Etsy charges a variety of fees which are calculated differently. And most importantly, it has a direct impact on your profit margin. So following are a few of the common facts about Etsy fees.
Listing fee: It is $0.20 per listing.
Transaction fee: It is 5% of the total item cost in your selected listing currency.
VAT (Value Added Tax): Both the processing fees and seller services are chargeable. And your local regulations will determine the sales tax.
Etsy deposit and payment processing fees: This comes for all the transactions, and deposits made via Etsy Payments are subject to processing fees.
Deposit currency conversion: If payments from listings are to be converted into another currency before entering your bank account, you will be charged a 2.5 percent fee.
💡 How to Boost Etsy Sales? – Few Tips for Sellers
The competition on Etsy has grown over the past few years and has become highly competitive. Also, according to recent statistics, Etsy has become a famous platform for crafters, artists and collectors, with over 90 million active buyers. But don't worry; you can use the following few tips to boost your sales on this vast platform.
Focus on Keyword Research
By comprehensively focusing on keyword research, you can increase sales on Etsy. Using the right keyword to rank your product on the Etsy search engine.
You can use the exact keyword to title and tag your products
You can target longer keywords as they have lower competition and are easier to top rank
Use Etsy Boost to boost your growth.
Etsy advertising is among the fastest ways to increase your sales on Etsy. It does cost money, but the results are certainly worth it if you follow the proper strategy.
Use Etsy SEO to get Etsy Search Ranking
Using Etsy SEO is another aspect critical for your sales to grow on Etsy. The SEO can fetch you more traffic from natural, free and other potential search engines. You can use ways to optimize your Etsy research, including using relevant keywords for listing your product and using tags and a product description containing at least 3-5 keywords. Other factors which Etsy determines are Customer Reviews, Shipping prices, shop age and more to optimize your products.
Do consider the Etsy Fees when pricing
As described earlier in this EtsyHunt review, there is a fee that Etsy levies. So at times, when you are looking to boost your sales, you will come across low pricing. And if you do not consider expenses like the Etsy fee, shipping and packaging while applying low pricing, you may even lose from every sale.
Offer free shipping to get more Etsy sales
According to many surveys conducted, the main shopping trend is generally being on the free shipping side. And Etsy has changed its algorithm from 30th July 2019 for US search by prioritizing the product listings that come with Free Shipping over $35 or more.
Earn Etsy star seller badge
The Etsy Star Seller Badge is something that gives you identification for sellers who have managed to maintain and implement certain standards of customer care. Though Etsy Star Seller Badge does not directly improve your ranking, it has highlights like top Star seller to the customers, which makes it easy for them to connect.
EtsyHunt Alternatives that You Should Try in 2023!
EtsyHunt Vs. Seller-Way
Sellers-Way is an Etsy analytics tool that includes a lot of features that can be used by Etsy sellers for performing relevant data analyses. Sellers usually use seller-way for Etsy product research, store analytics, keyword analysis, store comparisons, and finding design ideas.
EtsyHunt & Seller-Way Comparison
Features
EtsyHunt
Seller-Way
Etsy Products
Yes
Yes
Listing Optimization
Yes
Yes
Top Store Ranking
Yes
No
Products Detail
Yes
No
Keyword Research
Yes
Yes
Daily Update
Unlimited
Limited
Etsy Competitors Analysis
Yes
No
Store Search
Yes
Yes
Pricing
FREE
$19.99/month
Official Site
👉

Visit Site

👉

Visit Site
EtsyHunt Vs. Alura
It is a product research tool that lets you explore products sold on Etsy, so you know which ones sell well and which ones don't. Alura's core functionality is keyword research, product research, listing optimization, of which the keyword research and product research features are quite appealing for Etsy sellers.
Comparison of EtsyHunt & Alura
| Features | EtsyHunt | Alura |
| --- | --- | --- |
| Product Research | Yes | Yes |
| Listing Optimization | Yes | Yes |
| Keyword Research | Yes | Yes |
| Store Search | Yes | Yes |
| Product Trend Chart | Yes | No |
| Top Shop Ranking | Yes | No |
| Filter by Label | Yes | No |
| Daily Update of Products Data | Yes | No |
| Price | FREE | $13.99/month |
| Official Site | 👉 Visit Site | 👉 Visit Site |
EtsyHunt Affiliate Program
Earn at least 20% lifetime commission by promoting EtsyHunt, which is already used by thousands of sellers worldwide.
Perks of the EtsyHunt Affiliate Program
EtsyHunt provides a better commission structure, a more professional data team, and faster conversion speeds. Here are some of its many perks:
Lifetime Earnings: For every month that a new customer makes their first purchase using an affiliate link provided through your site, you'll receive 20 percent of the total sale price for that transaction.
No Approval Process: You don't need any approvals from EtsyHunt before starting to promote its products.
High Conversion Rates: About 80 percent of new subscribers decide to subscribe within the first day they register for an account.
More Intuitive Data Reporting: There's a special commission panel for letting you know when there are new sales opportunities available.
How to Close an Etsy Shop?
If a seller has made up his mind about closing the Etsy shop, you can follow this closing procedure. Here is how it works:
Head to Etsy.com, then to Shop Manager.
Go to Settings and select Options.
You can refer to the Close Shop tab.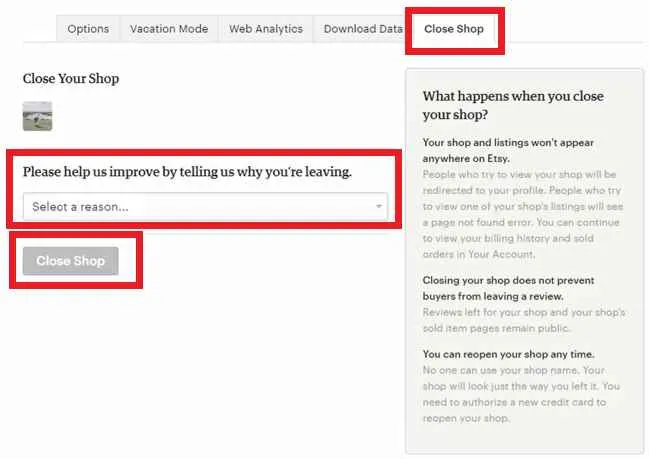 You can finish it by clicking on Close Shop and filling in a short survey about your probable reason for closing your shop on Etsy, as the company wants to know why you are exiting the system.
FAQ related to EtsyHunt
What is EtsyHunt?
EtsyHunt is the leading Etsy rank analysis tool that can help you optimize your Etsy shop and make ranking in the Etsy search engine easier. With access to over 38 million product listings, the right keywords, and tags, this tool will improve your shop rank and visibility.
Can I try EtsyHunt for free?
Yes, EtsyHunt allows its user to create a free account. One can easily start using EtsyHunt for free and test all its features for free.
How often does EtsyHunt update its data?
On a daily basis, EtsyHunt processes around 5,000,000 popular Etsy product listings. Depending on these product listings, EtsyHunt updated their data weekly.
How much product data does EtsyHunt have in total?
Currently, EtsyHunt has 38,000,000+ listings of Etsy. On the other hand, EtsyHunt added around 3,000,000 Etsy products to their database every day.
Can I try the EtsyHunt Chrome extension for free?
Yes, Etsy sellers can easily use the EtsyHunt Chrome extension to discover winning and profitable products that they can sell on Etsy. The Etsy sellers can use the EtsyHunt Chrome extension for free and improve their product research efficiency by 200%.
Who owns Etsy?
Etsy is an American e-commerce company that was founded by entrepreneur Rob Kalin and partnered with Chris Maguire and Haim Schoppik in 2006. The company has its headquarters in Brooklyn, New York.
How frequently does the EtsyHunt Data get updated?
EtsyHunt contains more than 5,000,000 product listings which are updated daily depending on these listings; also, the other data metrics like weekly estimated sales are also updated.
Is EtsyHunt beneficial for your store?
If you combine the EtsyHunt tools and services, you can really boost your store's performance and have the edge over your competitors. EtsyHunt does offer you all the resources to learn from the top-performing stores from you can you learn and improve your stores.
When should you upgrade your EtsyHunt free account?
EtsyHunt's free plan is an excellent way to check out all the features of this platform, as it gives access to almost all of the tools it offers. After that, if you like the tool and are serious about your Etsy store and audience, you should consider subscribing to at least the basic plan, which will give you access to more excellent usability of the EtsyHunt tools by which you can grow your store.
How to validate whether an EtsyHunt store is legit or not?
Well, always do your research and check out the seller's profile, Etsy History and reviews and see if they have got seller customer feedback, solid return policy and quicker shipping times and validate whether it is a legit EtsyHunt store or not.
Does EtsyHunt pay the shipping cost?
In most cases, the buyers pay for the shipping as the shipping cost is added to the price of the product. Most Etsy shops charge an extra and separate shipping fee on top of the product price.
Is EtsyHunt competitive?
Looking at the competition on EtsyHunt, and using it, we will say that it has grown over the past few years and is now more competitive. It has now become a global platform that has attracted a lot of shoppers, with all the categories now saturated. So you must put on your own efforts and bring your own customers with your actions and strategies.
When do you get paid in the EtsyHunt affiliate program?
The last month's commission will be paid the following month via PayPal, and the minimum payout is $50. You can also request the payout when you reach a minimum threshold of $50. Also, do remember that the company has the right to postpone the payout until at least two different users are referred to avoid self-referrals.
What is eRank Etsy?
eRank is a complete suite of SEO tools that help you to get the most out of Etsy Search. It also allows users to select the main keywords and optimize their listings depending on what real Etsy and Google Users are looking for.
How to add Google Analytics to Etsy?
It is straightforward to add Google analytics to Etsy. First, head to your Etsy Shop Manager and click on Settings. Then, in the then Options, then the Web Analytics tab. In the Web Property ID Box, Enter your Google Analytics Tracking ID and click on the Save button, and you are done.
Which are the top seller's tools for Etsy?
Following are a few of the top seller tools on Etsy:
1. Outfy
2. Ecomdash
3. PickFu
4. ReferralCandy
5. Marmalead
6. Etsy on Sale
7. TaxJar
How much does an Etsy seller make?
While doing this EtsyHunt review, we did find that the average income of an Etsy seller is $44,380, which isn't that bad but not that great as well. It is possible to make a comfortable living by selling crafts online.
How much does Etsy charges for selling items?
As you sell items, there is a 6.5% transaction fee on the sale price, which includes the shipping price you have set. If you accept payments through Etsy Payments, they collect a 3% + $0.25 payment processing fee when an item is sold.
Conclusion: EtsyHunt Review 2023 – Should you really go for this tool?
Etsy is one of several websites where people sell their goods online. It's an excellent place to shop if you're interested in buying unique products from artists who specialize in crafting things by hand. Most Etsy sellers spend lots of time and energy trying to get their shops listed among the top-selling items on Etsy with varied chances of success, but EtsyHunt makes it easier to do so by providing you with all you need to optimize your products and helping you sell better.
If you're looking to start selling on Etsy but don't know where to begin, EtsyHunt can be just the tool you were looking for to help you get started in no time and with no cost as well! You can register instantly and get started on your Etsy selling journey right away!
EtsyHunt is the powerful Etsy rank analysis tool that helps Etsy sellers enhance the visibility and rank of their Esty shop. The advanced features of this tool make it easy for Etsy sellers to research and optimize their Etsy SEO, product listings, tags. With EtsyHunt, you can save time and get access to over 38,000,000 product listings. Get started with EtsyHunt for free today.🚀
Quick Links:
Affiliate Disclosure: This post may contain some affiliate links, which means we may receive a commission if you purchase something that we recommend at no additional cost for you (none whatsoever!)