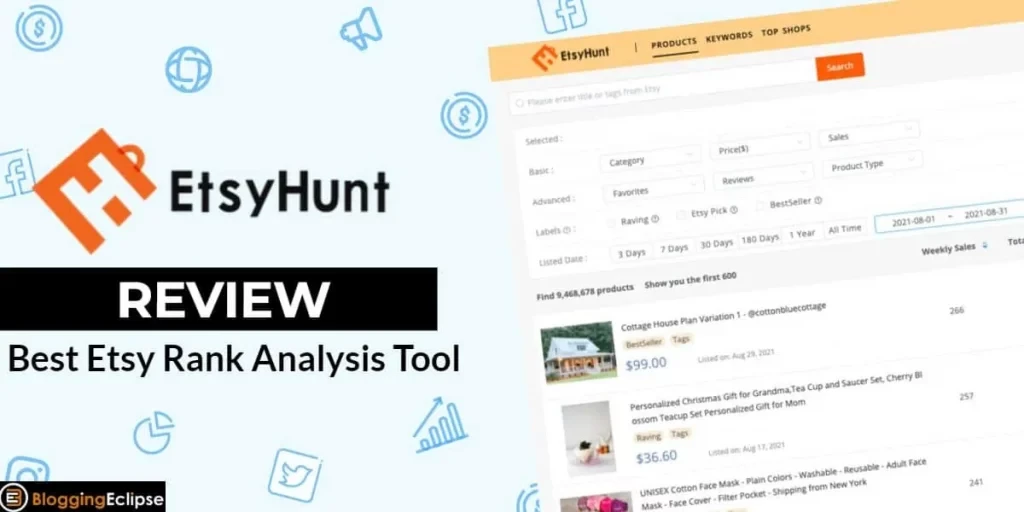 Are you looking for the perfect tool to help you optimize your product listing on Etsy? Well, we have just the tool for you! In this ✅EtsyHunt review, we will show you a tool that will help you make more sales and help your Etsy shop reach new heights!
Best part… It's absolutely FREE!
So without further ado… Let's jump into a detailed EtsyHunt review and get to know more about this Etsy SEO tool!
---
Detailed EtsyHunt Review
EtsyHunt is a product research tool specifically for Etsy. It doesn't just include product research; it involves so much more than that. It includes lots of data, which can be used for statistical analyses. Currently, it shows you approximately 30 million items from Etsy. For each product, there's detailed data analysis, including total product sales, weekly sale numbers, product review scores, etc. It's easy to get this data from EtsyHunt.
With so many items available at EtsyHunt, there's plenty of room to inspire your creativity. Each item listed in Etsy has its own detailed listing in EtsyHunt. Here you can view the label, category, or historic price for the item.
EtsyHunt is an amazing 100% free Etsy research tool.
This 100% verified EtsyHunt discount coupon enables you to get 20% off on its yearly plan.
Product Search: Unlimited
Grab this special promo code and start your EtsyHunt free trial today.
Product Search: 10 Daily
It includes the basic features needed by any Etsy SEO tool, including:
Keyword searching using product names.
Keyword research helps you understand which words people use when they're searching for products similar to yours. It tells you whether there's demand for them, how competitive the market is, and where else people might be looking online.
It lets you see the top 600 Etsy shops on any given day.
Use it to
find high-demand keywords
for which there aren't too many competitors. Because it's easy to use, it's perfect for beginners who want to get started quickly.
---
EtsyHunt Features at a Glance
#1. Search & Filter
Common Filters: Supports filtering by categories, prices, dates, and totals.
Advanced Filters: Supports filtering by products' shipping locations, types, collections for the past seven days, and overall sales volume.
When choosing products with high sales and ratings, you can filter them by these labels:
Raving: Raving reviews and ratings
Etsy Pick: Picked by Etsy experts
Top seller: This product has been selling well for the last six months
Release Time: Find out when products were posted.
#2. Listings & Detail Pages
On the listing page, there's an overview of the product, including its core data: Sales, ratings, and favorites from the past week; tag words (hover over them to view all tags); ID (you can simply click on any word to get additional info); price; release date and official label.
It allows you to create lists that support exporting them into Excel files so they can be used for further processing and analysis.
Sort by the last seven-day review count (descending) and sort by the last seven-day favorite count (descending). So that you can quickly see which products had recently received lots of positive feedback from their buyers.
Besides the above-listed page data, the details pages support additional badges for products which include pictures, videos, etc.
To help you understand the pricing strategy of competing products, it shows you discounted prices, discounts strengths, and original prices.
Basic Information Display: Shop Name, Total Sales, Comments – You can easily see which shops sell similar products by looking at their names, totals, and a number of reviews. It's easy to tell if they're worth checking out.
#3. Selecting Message
You get two built-in copywriters: One for new users and another for repeat users.
Customizable product descriptions, allowing sellers to use smart tags to automatically populate their products' description fields with relevant info from Amazon's database, making them easier to update than ever before.
#4. Order Selection
Screening potential target users and selecting appropriate texts for claims can significantly increase the likelihood of successful claims.
To get a higher percentage of reviews completed for each customer: Select repeat customers who've already reviewed your service and ask them to leave another one.
To get new customers: Filter for new customers who are new users and select the "New User Invitation" text to invite them to leave feedback.
You can choose from different types of products and then pick one particular product to ask for a review.
If someone has left a negative review already for one of your products, filter their order by clicking "Bulk Edit" and setting it to "Ignore." You may then be able to avoid receiving future reviews from them.
Customer type: Repeat customers who have posted positive reviews; repeat customers whose comments were neutral; new customers who have bought their products for the first time; and repeat customers who did not leave any feedback yet.
#5. Shop Listings
It displays various types of statistics related to its business performance, including total sales, number of reviews, number of favorites, etc., allowing you to quickly identify shops with an increase in their sales volume. At the bottom, there's a button for jumping directly into the shop's products page; clicking on it opens up a new tab that shows the entire range of available items.
EtsyHunt Browser Extension for Product Research
Benefit from EtsyHunt's browser extensions for both Chrome and Microsoft Edge to make product research a breeze. Instantly analyze key metrics such as prices, tags, reviews and more, find out which products are trending and top-performing in a single click! EtsyHunt's browser extension makes competition analysis as easy as pie. You can now discover all you need to know about your competition, such as reviews, revenues, prices, featured products, ratings and more.
The browser extensions are free and available at the Chrome and Microsoft stores, and you can avail of the benefits with just a click!
---
Optimize Etsy Shop Follow-Up Management
Choose regular customers who have left good reviews for every order they've placed through Etsy.
AI messaging: Easily import customer information from Etsy messages into the message box using smart tags in just one click.
Batch-edit: You can batch edit all Etsy order statuses at once. Track them easily.
Daily update: New order status updates help you decide whether to accept or decline them quickly.
Google Search Trends
Currently, there are two main kinds of search trends: Google web search, which shows what people are looking for online using the Google search engine; and Google Shopping search, which shows what people want to buy from retailers who use Google Shopping.
You can use the trend chart to see whether there's any kind of seasonal pattern for the product so you can plan ahead to avoid running out of inventory during the high-demand period.
If you look at the graph for each individual month, you can see whether there has been an upward trend from one year to another.
You can filter by country, so you know which items people want most from each country. Then you can use these results to decide where to place your products.
Similar Keywords
During the actual operation process, there may be times when we struggle to find competitive long-tail keywords and core keywords to optimize the listing. A similar keyword feature gives suggestions for you to save time a lot of words to find links.
You can copy-paste text from any page into Word without having to go through each individual paragraph.
You want to target terms with high search volumes, low competition, and good conversions. However, if you're willing to give up some search traffic for better conversions, then go ahead and use them.
Hot Word Cloud
Clicking on the keyword for each product shows which words people use when searching for similar items. You can then choose the best-performing ones.
Top 100 Best-Selling Products Analysis
Analyze the top 100 selling products by looking at their sales performance for each product category (e.g., clothing) and then look at the keywords used within these categories.
To see whether there is a monopoly in any given category, sort products by their total sales from left to right. Then use this method to identify potential new product opportunities. Finally, use these insights to develop a competitive strategy.
If there's no match between the target keyword and the target product, then go back up one level and look for another related subcategory.
To determine whether you can gain an edge by offering a lower price or quicker shipping, refer to the average selling prices and average delivery times for similar items.
The number of relevant stores refers to how many stores sell the most popular products; fewer stores mean more monopolies and more competition among them.
Select your path to the shelf by using popular categories.
To see whether there is an advantage in terms of logistics for certain types of products, refer to the shipping times of their competitors' products.
---
Visual Analysis in Etsy Reviews Effects
A/B Testing: Choose between two different Etsy template designs by testing their effectiveness.
Zero Negative Reviews: Timely targeting of Etsy negative review comments and quick responses.
Etsy Reviews Insights: See how Etsy reviews perform, including a number of positive/negative Etsy reviews and comment rates.
Review ratio: View the proportion of different kinds of reviews in the last three months to get an idea of the current review structure.
Etsy Competitors Research: It provides an Etsy best-seller list for different categories, including countries. If you want to get an even deeper insight into Etsy product research, you can use filters to narrow down your results.
The Etsy official APIs are the safest and most reliable way to get started. EtsyHunt's built-in Etsy templates follow Etsy's guidelines, so they're safe to use without any risks. At present, there's only one way for an Etsy seller to bind their store to their own personal account—no risk of associating multiple shops under one account. If requesting feedback doesn't work out, you can always unbind from them later.
---
EtsyHunt Alternatives:
EtsyHunt Vs. Seller-Way
Sellers-Way is an Etsy analytics tool that includes a lot of features that can be used by Etsy sellers for performing relevant data analyses. Sellers usually use seller-way for Etsy product research, store analytics, keyword analysis, store comparisons, and finding design ideas.
EtsyHunt & Seller-Way Comparison
| Features | EtsyHunt | Seller-Way |
| --- | --- | --- |
| Etsy Products | Yes | Yes |
| Listing Optimization | Yes | Yes |
| Top Store Ranking | Yes | No |
| Products Detail | Yes | No |
| Keyword Research | Yes | Yes |
| Daily Update | Unlimited | Limited |
| Etsy Competitors Analysis | Yes | No |
| Store Search | Yes | Yes |
| Pricing | FREE | $19.99/month |
| Official Site | 👉 Visit Site | 👉 Visit Site |
EtsyHunt Vs. Alura
It is a product research tool that lets you explore products sold on Etsy, so you know which ones sell well and which ones don't. Alura's core functionality is keyword research, product research, listing optimization, of which the keyword research and product research features are quite appealing for Etsy sellers.
Comparison of EtsyHunt & Alura
| | | |
| --- | --- | --- |
| Features | EtsyHunt | Alura |
| Product Research | Yes | Yes |
| Listing Optimization | Yes | Yes |
| Keyword Research | Yes | Yes |
| Store Search | Yes | Yes |
| Product Trend Chart | Yes | No |
| Top Shop Ranking | Yes | No |
| Filter by Label | Yes | No |
| Daily Update of Products Data | Yes | No |
| Price | FREE | $13.99/month |
| Official Site | 👉 Visit Site | 👉 Visit Site |
---
EtsyHunt Affiliate Program
Earn at least 20% lifetime commission by promoting EtsyHunt, which is already used by thousands of sellers worldwide.
Perks of the EtsyHunt Affiliate Program
EtsyHunt provides a better commission structure, a more professional data team, and faster conversion speeds. Here are some of its many perks:
For every month that a new customer makes their first purchase using an affiliate link provided through your site, you'll receive 20 percent of the total sale price for that transaction.
You don't need any approvals from EtsyHunt before starting to promote its products.
About 80 percent of new subscribers decide to subscribe within the first day they register for an account.
More Intuitive Data Reporting
There's a special commission panel for letting you know when there are new sales opportunities available.
---
🌟 FAQ related to EtsyHunt
🤔What is EtsyHunt?
EtsyHunt is the leading Etsy rank analysis tool that can help you optimize your Etsy shop and make ranking in the Etsy search engine easier. With access to over 38 million product listings, the right keywords, and tags, this tool will improve your shop rank and visibility.
🔎Can I try EtsyHunt for free?
Yes, EtsyHunt allows its user to create a free account. One can easily start using EtsyHunt for free and test all its features for free.
🔥How often does EtsyHunt update its data?
On a daily basis, EtsyHunt processes around 5,000,000 popular Etsy product listings. Depending on these product listings, EtsyHunt updated their data weekly.
💻How much product data does EtsyHunt have in total?
Currently, EtsyHunt has 38,000,000+ listings of Etsy. On the other hand, EtsyHunt added around 3,000,000 Etsy products to their database every day.
🚀Can I try the EtsyHunt Chrome extension for free?
Yes, Etsy sellers can easily use the EtsyHunt Chrome extension to discover winning and profitable products that they can sell on Etsy. The Etsy sellers can use the EtsyHunt Chrome extension for free and improve their product research efficiency by 200%.
---
Conclusion: EtsyHunt Review 2022 | Should you really go for this tool?
Etsy is one of several websites where people sell their goods online. It's an excellent place to shop if you're interested in buying unique products from artists who specialize in crafting things by hand. Most Etsy sellers spend lots of time and energy trying to get their shops listed among the top-selling items on Etsy with varied chances of success, but EtsyHunt makes it easier to do so by providing you with all you need to optimize your products and helping you sell better.
If you're looking to start selling on Etsy but don't know where to begin, EtsyHunt can be just the tool you were looking for to help you get started in no time and with no cost as well! You can register instantly and get started on your Etsy selling journey right away!
EtsyHunt Review – Improve your Etsy shop rank & visibility!
EtsyHunt is the powerful Etsy rank analysis tool that helps Etsy sellers enhance the visibility and rank of their Esty shop. The advanced features of this tool make it easy for Etsy sellers to research and optimize their Etsy SEO, product listings, tags. With EtsyHunt, you can save time and get access to over 38,000,000 product listings. Get started with EtsyHunt for free today.🚀
Pros
Access Etsy Official API
Powerful search filters.
It has advanced features.
It offers a 100% secure & free Etsy Chrome extension.
It gives access to Etsy's official API.
EtsyHunt – #1 Etsy Rank Analysis Tool
Join EtsyHunt for free & explore better Etsy shop ideas!