Facebook is undoubtedly the #1 social networking platform with a large number of active users. As this digital world is growing faster so are the business techniques.
One of the major techniques used by millions to grow their business is by marketing their products/services on a social networking platform, Facebook Ads automation being the most loved one.
Facebook is a global social networking platform gaining huge popularity and the most number of active users than other social media sites. This becomes an advantage for business owners to market their products in front of the largest audience.
For many, Facebook Ads has become the secret sauce of digital marketing & advertising. Marketers are utilizing this platform efficiently for boosting their online income and increasing revenues.
It sounds great to get a boost in conversions and revenues but managing your FB ad campaigns could be daunting.
This is why we came up with FB Ads automation tools in this article to ease your Facebook marketing process.
Ready… Let's go…💨
List of Top Facebook Ads Automation Tools – 2021 Edition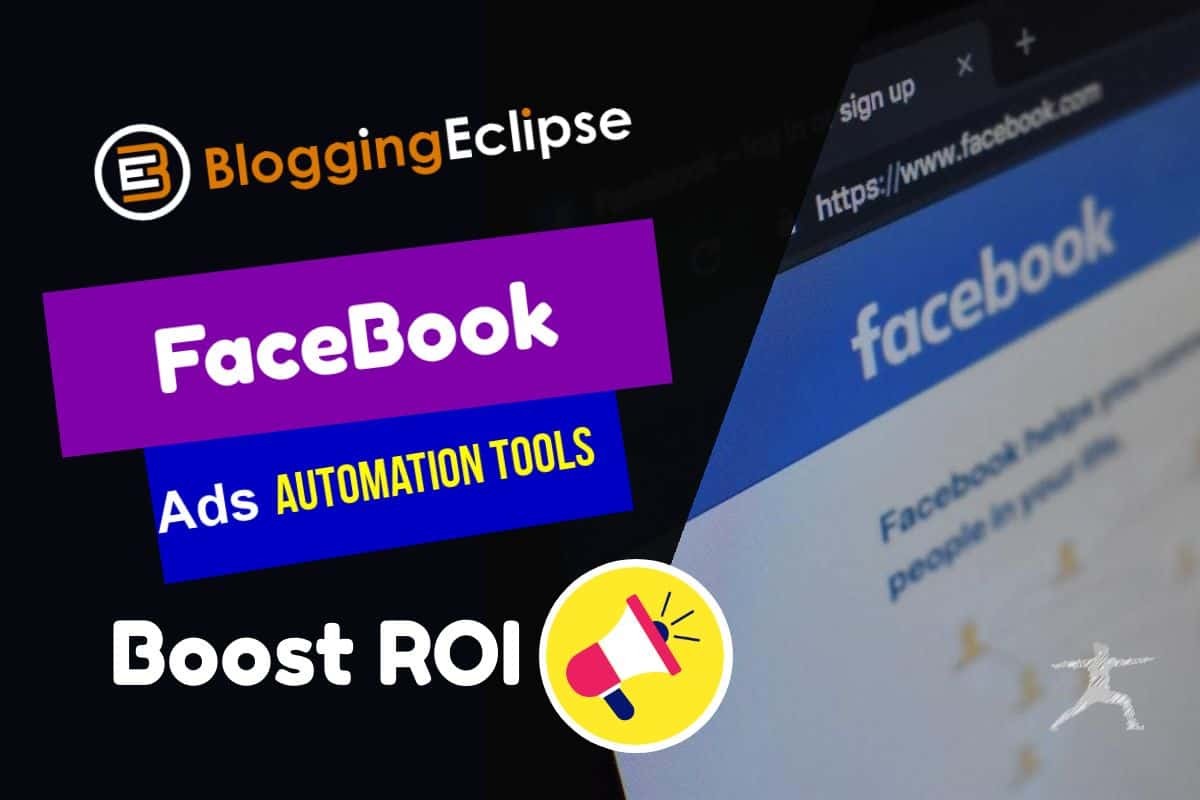 Affiliate marketing and digital advertising is incomplete without Facebook Ads and media buying. FB is one of the more profitable sources for all marketers. Due to vast targetting, low CPC and better conversion rate, No one can deny the impact of FB Ads on all level of marketing
Though Facebook Ads are the beautiful source, It can be bitchy sometimes. Due to lack of knowledge and experience on can face loss, lose money and run out of the budget with zero conversions.
And Hence..
We need some kind of AI-based tools expert services where we can optimize our campaigns better, or we can simply increase our ROI with the help of experts.
Your ROI can drop due to various factors like "Less converting creative" Multi countries campaigns, Wrong audience, wrong timings, Wrong Ads size and many more.
Hence you need some super tools that can help you to overcome all these by using their enhanced optimization services like AI-based targeting, Better ads optimization, Saves hours of time and completely automate your FB Campgins.
---
1. Revealbot
Reveal Bot is a fantastic Facebook Ads manager tool that automates all your tasks in a single interface. All this so you could have a sound sleep and focus on another important aspect of your business.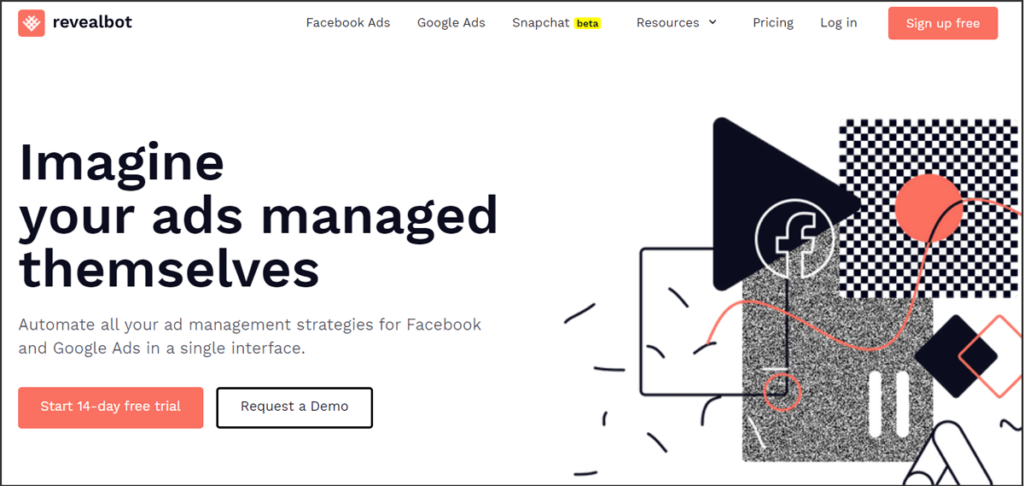 It has more than 12000 +clients and all this love showering upon them is because of more creativity that not increases ROI but also saves your hundreds of thousands of budget spend on ad management.
Start automating your Facebook Ad campaign with Revealbot with a 14-day free trial and then choose a paid plan for turning your tactics into automation.
Revealbot Key features & benefits;
S

et multiple actions under the same rule no need for managing it manually.

Full control over campaign objectives and optimization events.
Drag & drop rules to organize them and apply them to multiple Ad accounts.
Detailed targeting: look-alike and retargeting audiences based on events tracked by pixel
Automatically promote posts on the meeting of certain conditions set by you.
Boost your content and grow your following automatically, no manual following required.
A/B test to find what works best for your audience.
Keep yourself updated with notifications in Slack or email. Share your progress with your teammates in a matter of minutes.
Revealbot is complete FB & google ads automation in a single place with auto management, auto strategies top help you scale your reach in low budget. Try it free for 14 days.
---
2. Connectio
Are you tired of spending huge budget on managing Facebook Ad campaigns?
It is time to switch to automated social media campaigns that not save your hard-earned money but also sell effectively. With Connectio you can boost your sales, increase your conversions and following legally by AI infrastructure.
Save hours of time on figuring out what's going wrong with your ads, get connected with Connectio and you won't struggle to breakthrough.
Reasons to choose Connectio:
Connect as many Facebook pages as you want with no restrictions.
Unlimited boost post rules without any compromise to get the best results.
Filter out the post types you want to promote with filters like video, image or text.
Choose a time frame that would post only relevant content.
You only have to set rules and Connectio will manage everything else to maximize your conversions.
Get yourself updated with email on triggering of specific rules.
Keeps a history of every rule you have performed so you could use the same rules to enhance other ad campaigns.
Connectio has numerous of products for marketing automation. Connect Audience, connect leads, connect automate are proven tools to increase your conversions by 384% on Fb Ads.
---
3. FunnelDash
FunnelDash will help you grow your FB Ads and your struggle to generate leads will be over. It helps you attract clients with a smart agency funnel to capture quality leads and engage conversations with your prospects.
Its an ultimate agency growth funnel software designed by experts for Marketers. It helps you to capture more leads faster with its auto-optimization AI-based algorithm. It also converts quality leads into clients.
With one-click, you can qualify your leads inside Messenger based on their own ad spent instantly. With fully automation platform you can convert more leads into high-value clients. FunnelDash helps you retain your clients by showing them data including revenue & ROAS every month that matters a lot.
Reasons to choose FunnelDash:
Drive more conversations and capture clients by using keyword triggers with your Messenger Ads.
Use Messenger to start engaging with your prospects and forget email opt-ins.
Engage more with the use of pop-ups like the welcome message, floater bars, social proof pop-ups, scroll + exit intent.
Easily manage your messenger contacts to stay connected with your potential clients and increase CTR.
Get detailed information about your leads and decide which ones are worthy to work for a longer time.
Keep all your clients KPI's in a single dashboard and save your precious time.
Create easy to understand beautiful client reports and get an overview of key metrics like click-through rate or CPC.
If you are not an expert then get definite support and training. Try it free for 14 days and get your hands on to all the features.
---
4. Perfect Audience
Are you looking to re-target your FB audience? Now you can set up your retargeting advertising in minutes and let the powerful tool provide you results quickly.
Perfect Audience is an automated tool for FB re-targeting that offers $100 Free credit for trying its features. In three simple steps, you can set up your campaigns and bring your visitors back to your website or online shop with FB retargeting.
Traditional Ad banners have a CTR of about 0.1% but with Perfect Audience FB retargeting campaigns it is 200-400%. With retargeting your chances of regaining your customer increases and so does your sale.
Try running your first campaign retargeting free for two weeks!
Reasons to choose Perfect Audience
You get complete transparency and control over your campaigns. With an intuitive dashboard, you can track your campaign and measure key metrics like CTR, conversions, spend, etc.
It serves your ads on the best performing placements including Newsfeed, Mobile Newsfeed, Instagram, Sidebar, Messenger, Marketplace and Audience Network.
All your data is secure with a strong firewall. No exchange of data takes place ensuring everything to be safe.
You can target users based on actions set on your website or app.
Your visitors can be targeted across any device including desktop, mobile, and tablet.
An intuitive and easy to understand dashboard outlines every thin line of concern. You can create dynamic reports of your campaign performance.
If you re looking for something powerful on retargeting or you are not able to retain your first-time visitors, Then Perfect Audience is the #1 tool to re-target your audience using the best-optimized Ads.
Retargeting is one of the best ways to increase your leads, sales or revenues. It is highly recommended by top marketers & digital marketing events.
---
5. Zalster
Zalster offers FB automation tools to make your advertising less boring, smooth and a lot easier than doing it manually and spending hours on small steps.
With powerful machine learning and AI your marketing experience will be overwhelming and pleasurable.
With less effort and most of the tasks achieved by automation, you can now focus more on your business strategies.
As the advertising competition is increasing day by day, it is becoming essential to automate most of your tasks. Zalster machine learning provides results that beat other algorithms by par. 24×7 Real humans support to take up your issue and resolve it like your best friends.
Reasons to choose Zalster
Lean back and relax while Zalster machine learning will boost your post automatically. You just have to take out 2 minutes of your busy schedule and based upon the rules a boost will be made. In just 2 minutes you can watch your followers and revenue increase.
You only have to pay when you reach your boost limit. Once the boost limit increases you have to pay more or else enjoy automation at the same price.
Less workload and more automation! This is what Zalster believes and so takes care of your bid and budget for all your FB & Instagram campaigns.
One free tool visual reports are available to be accessed forever at sign up.
Zalster actually makes your Facebook advertising way smoother with complete automation and machine learning tools. their some of USP's are an auto-post boost, Bid and budget optimization makes it one of the most used tool in FB Ads optimization through AI. Try it free now, No credit card required.
---
6. Hootsuite
Do you want to manage your social account effortlessly?
Suit yourself with an automation platform trusted by more than 16 million users around the world.
Start your free trial today for 30 days with no risk at Hootsuite.
Hootsuite allows effortless managing of your FB account and other social media accounts from one place with a detailed view of whatever is happening around even when you are sleeping. With just one click you can reply to all your messages and comments using a single dashboard. You can track your performance and get analytical reports to improve your campaign performance.
Reasons to choose Hootsuite
It offers bulk scheduling, real-time analytics, social sweepstakes, and unlimited RSS integrations.
More features are inculcated in the Team plan along with the professional plan.
Free 30-day trial with cancel anytime guaranteed.
Distribute your work by assigning a task to your team and increase efficiency by sharing campaign analytics.
1 custom branded URL and social media certification.
Trusted by brands like MailChimp, Accor hotels, Virgin and more.
HootSuite is undoubtedly the best Social Media management tool. From Ads to organic results, hashtags, demographics, Content curation and much more. Everything is there on HootSuite.
Its simply the best way to manage social with bulk scheduling, and measure social media results in a better way. Try it free for 30 days. No risks at all!
---
Facebook Video Advertising Statics [InfpGraphics]
---
Conclusion: Suite Yourself with the best FB Automation Tools
I hope you guys liked this article about automating your FB Ads Campgians. These tools not only enable you to automate maximum Ads optimization but also help you to increase your ROI and revenue with AI-based optimization, low budget scheduling and Smart ad optimization for maximum profit.
I have been personally using some of these like Connectio Automate and revealbot which are worth subscribing. If you need to manage social media you may use tools like HootSuite, Content Studio or Socialbee.
Share your experience in media buying and FB Ads Management in the comments section below. 👇
I wish you success in automating your facebook As.😊