Are you searching for a complete and unbiased FindNiche Review? Your search stops here because we have got the right and updated details for you!
Dropshipping has become a most common business, and we can bet on this, every second person will recommend you to start dropshipping as it's easy. And let's not forget that this business requires zero investment. But is it the fact, or are we kept in the dark about the downsides of dropshipping?
Profit never comes flying to everybody's pocket, in any business. Initially, you will have to invest in social media marketing to show your presence, and then followed by a lot of e-commerce SEO stuff! However, one would still not take a guarantee that the product you chose will sell quickly on the ground level, and that's the hard reality.
We have seen several people starting up with an uber-cool dropshipping business and had ended up all within a few months. And we don't want this to happen to you. Why? Because when done any business with professional guidance, you will surely earn a lot of profits.
Let's come to the profit side of dropshipping; in the past year, dropshipping profits have increased to over $4 billion, which's roughly a 7% yearly increase. But to mark your foot, you will need to do detailed planning. A plethora of fast selling product research tools in the market can confuse you and would not end up giving you desired results.
But the good news is, some best tools in the market cost very little, and sometimes nothing to give you the best results. And the name of such a product is FindNiche.
Also, in the end, we have decided to give you a clear idea of some best alternatives to FindNiche to help you decide better!
---
In-Depth FindNiche Review
As mentioned previously, FindNiche is a popular free dropshipping niche finder tool in the market. Users can analyze profitable products within minutes and can grab massive profits on their investment. Traditionally, people search across social media to find trending products or ask other individuals about profitable and popular products.
But are these methods relevant to go for in the current situation where there is this much cut-throat competition? The market out there is very dynamic, and so is the customer's choice due to the easy availability of goods.
Also, as a business is performed globally, there are differences between people's choices due to their location. For example, a trendy product in India may not be so popular in the US.
25% OFF
Get 25% OFF on FindNiche [Exclusive Discount]
The best part about e-commerce is one can sell anything and everything, even if it's not so popular. Having said this, the FindNiche tool helps users to analyze across 2 million AliExpress products from 11,000 different niches.
The tool also covers data of 700,000 different Shopify stores. Being built up with the latest technologies, the tool is highly powerful and includes important features to meet current business needs.
Built-in the year 2019, FindNiche has come a long way and is now the first choice of any startup. The tool is available in 40+ countries and is used by prominent brands. Let's know more about FindNiche features and pricing.
---
How does FindNiche tool works?
No user will ever face complications while using the FindNiche tool, as all the features are straightforwardly displayed on the homepage. The site is compatible with a lot of device versions and has a super user-friendly interface!
Just after you have visited the FindNiche website, You'll see an option in bold "FIND NICHE FOR FREE." By clicking on this, you have to enter a valid email address and a password to register to the site.
After completing all these steps, start choosing your products, niches, and other important details. There are several options available to choose and analyze, like:
💻 Product Analysis by FindNiche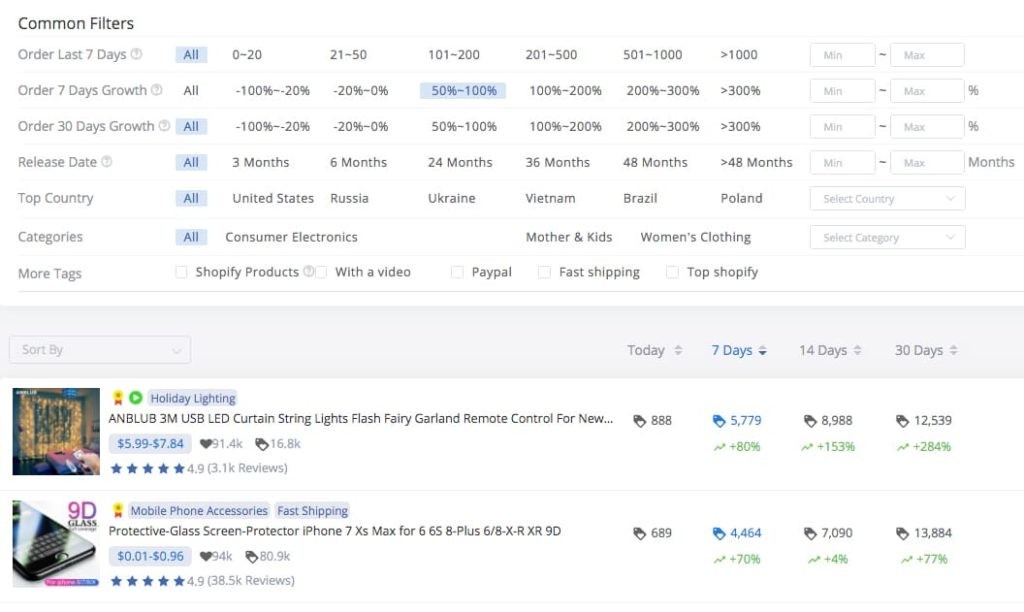 Whatever the product you want to sell to your customer, you can easily find the same through the FindNiche products page. Navigating this option is also easier. When you click on this option, you will see a drop-down list including different classifications.
Just after you have chosen a category, the tool will display detailed information regarding the same. The tool provides the product's popularity and the number of people who have wishlisted the specific product.
But keep in mind that even if the product has high demand in the market, it doesn't mean that you can grab a lot of profits from the same. To get a profitable product list, you will have to do intense research.
The next step is to select a country where you want to sell the product and explore the pricing options. Don't forget to toggle other options and get detailed reports and better analytics of the searched product. There are several filters available to help users get accurate information.
📃 Niche Analysis by FindNiche
The main factor of starting over any business is choosing a profitable niche, and the FindNiche tool is popular for that only. It helps users to analyze the best niche or stores following similar patterns you want to follow.
The results include detailed graphs and charts of several countries. As a result, you can make the best decision, whether to opt-in for a specific niche or not.
🏬 Shopify Store Analysis by FindNiche
Through the FindNiche tool, users can also analyze best-selling products from AliExpress and Shopify.
The results will contain the ranking of a specific product, the target country, number of Facebook likes, along with the ads shown. All these factors will help you to determine the ongoing competition in the market.
---
Main Features of FindNiche
Now that you are aware of what best you can do with the FindNiche tool, and our next step is to help you with understanding the best FindNiche features:
#1. Niche Research and Shop Analysis
Being a user-friendly tool, FindNiche helps users get a list of competitive products from the market and gives detailed information about best selling product niches.
But this feature is partially beneficial for free members, and with elite membership, you will get access to thousands of best products to list in your store.
#2. Extensive Data Analysis
It's quite difficult to extract data from such big e-commerce stores, and not every tool is competent for the same. FindNiche gives its users raw data to help you make the best decision before entering into the market.
And with this being said, users will also get an insight into how much to invest and what profit they can expect in the future.
#3. Smart Product Listing
Through the FindNiche tool, users can easily find hot-selling items from many products within a quick period. Also, one can analyze products having a high sales margin and maximum profit potential.
There is a smart product list available for elite members, which is updated frequently according to the changing market trends.
#4. Niching Down
There are several filtering methods available in the FindNiche tool to help you sort the best product for your business. Through this feature, you can either choose a particular category and niche down further to a sub-niche. You can constantly keep a check on profitable niches and make changes in your store!
---
FindNiche Pricing Plans
After registering to the FindNiche tool, you will get an option to choose between premium membership or the elite one. You will have to pay $29 per month for a premium membership, and for elite, you have to pay $59 per month.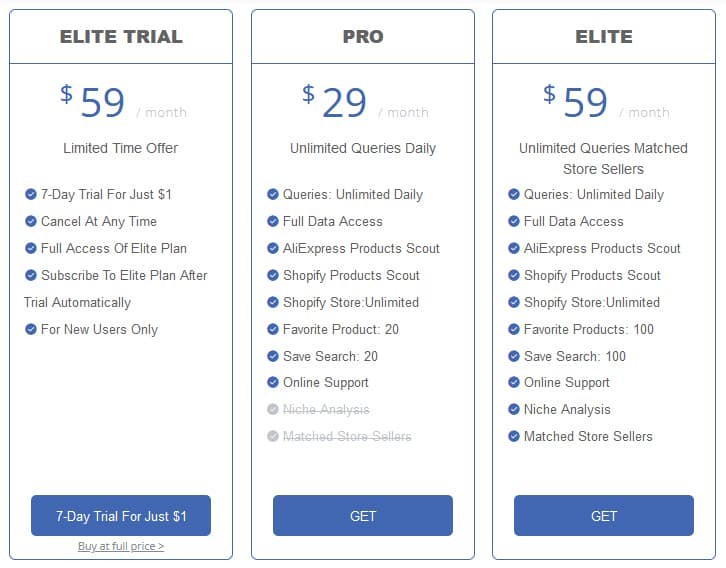 Elite membership has several best features included, like unlimited search counts and filters. Also, to get an idea of how elite membership works, you will have to pay $1 as the access fee for 2 days.
---
Pros and Cons
Pros
Extensive data: Compared to all other competitors of the tool, FindNiche has a broad number of accurate data.
Detailed reports: The reports by FindNiche includes a price on the particular platform and different stores. Details about wishlisted products and product quantity.
Blogs and Articles: For both beginners and professionals, FindNiche has a blog section to help you with any problem. Whenever the tool gets an update, the team never fails to explain the same to their users. Also, there are articles about maximizing profits in the dropshipping business and how to niche down best with the tool's help.
24/7 Online support: FindNiche provides extensive round the clock online support to their users; you can either send them a mail or contact them directly for any queries.
Cons
Expensive elite cost
Limited access to free users
---
Alternative of FindNiche
To be honest with the audience here, there are several alternatives of FindNiche available in the market. But not to confuse you, here is the superior tool, which has features similar to FindNiche and can be the best alternative you would buy!
FindNiche Vs. Ecomhunt
Like FindNiche, Ecomhunt is another popular product tool helper that helps users grab their winning products list. They can curate their comprehensive eCommerce catalog with the best use of the tool and can sell hot products online at maximum profitability.
E-commerce experts specially handpick all the products displayed by Ecomhunt to make sure the user never gets disappointed. All the products are listed according to quality, but not quantity, and that's the downside of the tool.
Also read: Ecomhunt Review 2021: Should You Buy? Discount Coupon(80% OFF)
Also read: EcomHunt Vs. Dropship Spy 2021: Which One Is Better & WHY ??
Key Features of Ecomhunt
Ecomhunt will provide its users with the actual product name along with the SEO title of the product. Through this, users will get to know about the rankings, and the products will be visible to each customer.
There's also a descriptive product title provided to help the product rank higher irrespective of search engines to boost traffic and conversions.
Apart from the product description and title, users will also be provided with a high-quality product image. Thus you can use the same in your e-commerce store or on any social media platforms.
As mentioned previously, Ecomhunt provides a well-written product description, but we will suggest you not to go for this one, as many others will have access to the same. Instead, you can take it as inspiration and write a creative one for your store that is SEO optimized.
There is an exclusive Oberlo button within the tool to automatically add the product to their store. This specific feature is best for Shopify users, as they don't have to waste a lot of time.
Through this button, users can save any product they liked in the Ecomhunt catalog and can check them later if required.
Ecomhunt Expert Consultant
There is also an expert consultant available within the tool to ask any questions. This feature acts as a resource to help you get winning products for your shop.
There are many more beneficial features of Ecomhunt, but since it's a FindNiche review, we have displayed only the best ones!
Pricing of Ecomhunt
There is a free membership plan by Ecomhunt for a lifetime. In this plan, users will get daily access to 2 products but with very limited data. Moreover, the product's updated lists will be shared with the user after the third day of release. Hence, this plan is best for beginners who don't have many investments available.
The second plan is an Ecomhunt Pro Membership subscription for $29 per month. However, users can get it at a discounted price by using several coupon codes. If the user opts in for an annual subscription, they will get a flat 41% discount, which is just $17 per month.
---
🌟 FindNiche FAQ
👉What is FindNiche?
FindNiche is a free dropshipping niches finder tool that allows its users to discover winning and profitable products.
👉How can FindNiche help me with my store?
As we all know, it is very challenging to discover trending and profitable products that make massive returns. FindNiche is a free tool that allows you to access the huge list of winning products on Shopify and AliExpress.
👉How can I find the top-selling products in FindNiche?
To find hot and winning products, you need to go to the PRODUCTS and do your search by merely putting products URL, keywords, etc.
👉How many countries does FindNiche cover?
Currently, the FindNiche tool includes 40 countries globally.
---
Conclusion: FindNiche Review 2021 | Should you go for it??
We will end this review by concluding FindNiche to be the best Niche finder tool in the market for a dropshipping business. It's best for both individuals who are professionals or are just beginners.
We will also recommend the FindNiche tool for every e-commerce startup, especially AliExpress and Shopify. There are a lot of opportunities to explore both in terms of maximization of ROI or gaining popularity. The tool has the best social media features for quick marketing.
The tool gives promising results in bare minimum time, and as it's available for free, it's a win-win situation for everyone! Use the tool, and do let us know how your experience was!
Happy Searching❗❗