If we talk about marketing in today's time, there is a cut-throat competition. It has become really difficult in the time of this electronic universe to maintain the human touch with the customers and make them believe about the sanctity of the product you are selling.
Now, how can we avoid an unsolicited call, and yet the customers can be approached? I think the answer is a video. This type of approach makes it lean more towards humanization, and most importantly, it does not sound like marketing or a sales pitch, it is watched and heard like a story.
Here we have shared ✅FlexClip Review that will give you sufficient information to get to know whether it is a perfect video maker for you.
I read a tweet sometime back that said, "Marketing is no longer about the stuff you make, but the stories you tell." Speaking of video marketing or content, FlexClip has laid hands on the genre like a tiger or a king. They have excellent tools and have provided a brilliant convenience level, even for the new video bloggers.
They have excellent tools and have provided a brilliant convenience level, even for the new video bloggers. With my in-depth research, I have a few points that I would like to bring to everyone's knowledge.
---
In-Depth FlexClip Review
First of all, I would like to inform you that Flexclip does not need any registration. You can start using it right away with your email or log in with your Facebook account. It does not just support professional video bloggers.
Even if you wish to create a video for the little one's birthday or wish to make your wedding video or a video for a social media platform, the list goes on and on. It has given a wide range of options for professional and family / personal use. All you have to do is sign in, and it will directly take you to the page where you can start making videos.
You will be able to add video clips and images. There will be help provided to you to get used to the interface, and the journey begins without any hassle. You will be able to select videos that will be made available for you; alternatively, you can also add a video from your computer.
I have also noticed that the videos which you make can only be up to a minute. You will not be able to add anything more to it. If you wish to add more, you will have to create a new video. The sole purpose of this is to make it short and simple, which is tedious to watch and is enough time to convey the message.
The screen aspect ratio needs to be selected from the "Start from scratch" option. Also, this is where you start the new project. The aspect ratio of the videos can be up to 1080p. This can be adjusted as per your requirement.
Just so you know, you can edit or convert a video, and you make slideshows and a hell lot of things. There is ample work material like stocks, photos, templates, font styles, clips, effects, etc.
---
✅Best FlexClip Coupon Codes Updated 2023 (💯 Verified)
FREE
Start with FlexClip for Free
---
Features and Benefits of Flexclip
FlexClip, in simple words, is something that makes the process of video editing easier. Let us go through the how's and what's of the process.
🎥 Trim and split
The words above are self-explanatory by themselves. The parts of the video which are not important or which are not relevant can be removed. This feature comes in handy when you want the video to show a limited number of things.
📃 Add text to the video
I agree that the videos themselves are quite expressive. However, it still needs certainty to it, which comes with a text message. There is an option in the menu bar with different text designs and font. It also gives you the option to add effects such as shadows, sizes, etc.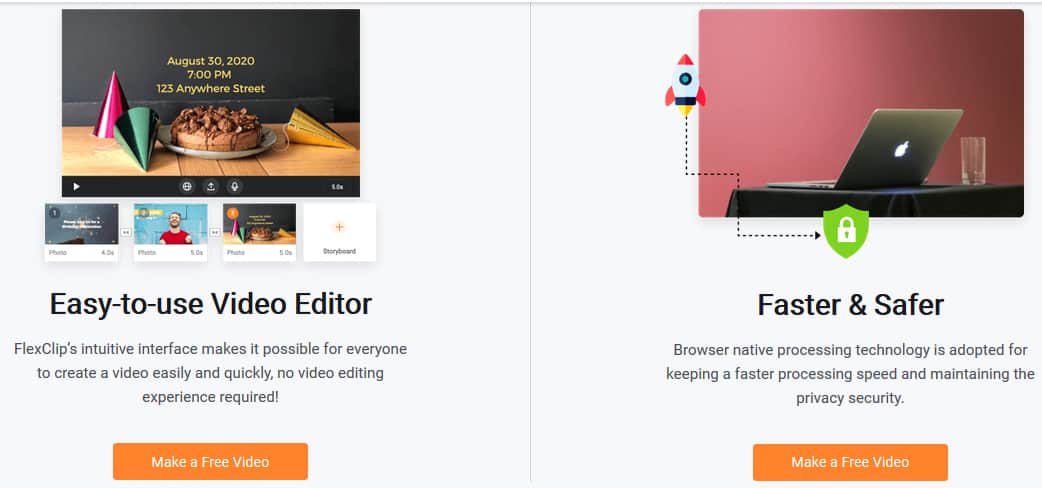 The text with these effects will add more command to it. This helps in attracting the interest of the viewer. You can make the video exclusive by adding a watermark that adds a character to the video, especially if you are into the profession of video making.
📶 Filters
This feature gives you the chance to make the quality of the video better. The adjustment can be made under the adjust option. Anything including brightness, contrast, saturation can be adjusted. The filters provided comes with no cost.
There is more than 15 more filter which can be used under the "Filters" tab. This is a unique feature that Flexclip different from others.
💻 Insert widgets and overlay
Youtube, Facebook, and Instagram widgets are also provided for the videos. It offers a few more apart from these, which adds to the beauty of the video. It acts differently and gives a better effect to the video. The filters and widgets are brought together for a better output of the video.
🚀 Video speed and transition
This is used for moving the video from a scene to another. For example, if you see a flashback in a movie, there is a fading effect added to the video to make it more dramatic. It adds discipline or rather relevance to the video.
There are quite a few effects, such as zoom, fade, wipe, cross dissolve. If we talk about the speed, it is the video's speed, you can make it slow motion or can increase the speed and make it faster.
However accurate the transition is, too much of it will make it less quintessential. The users already familiar with this will have a blast using this. It will be a little off the syllabus for new users, but you will get the gist of it just after you use it one or two times.
It also gives the chance to make something important look clearer and precise by zooming in or out. It supports a lot of video formats that eliminate the compatibility issue.
🎶 Music
Flexclip has made arrangements for music that can be added to the video, free of cost. All you have to do is give credit to the relevant person not to face any copyright issues.
You will also be able to upload music of your choice. You can give the video your voice and explain the video's content in your own words and style.
Once we have finished our edition, we can export the final result in MP4 and distribute the final file freely. With all of these straightforward features, FlexClip is a handy tool, especially for those who want to edit their videos going.
Why not try it, and give the videos a nice boost in your shape and, therefore, views. The most interesting thing is that you make an audio clip out of your own recorded voice and use it in the background just like any other musical material.
---
Customer Support
The customer support offered by Flexclip has variations to it. They lend a hand by giving out a few tutorials, facilitates you with any suggestions you may need, and if in case there is anything you doubt anything, you can ask questions.
It also gives you tips and tricks which are quite helpful when editing a video. There is an assigned part where you will find almost everything you need to know about using FlexClip.
---
🌟 FlexClip FAQ
What is Flexclip?
It is a powerful and simple video maker that easily helps professionals create fantastic marketing videos and family stories.
What devices does FlexClip support?
Currently, one can only use FlexClip on Google Chrome. One can even download its Windows version, which is compatible with Windows 10.
Does FlexClip offer a lifetime premium account?
No, FlexClip does not offer any lifetime premium account. They have three paid plans that you can subscribe that is Basic Plan, Plus Plan, Business Plan.
What are FlexClip best coupons?
If you are looking for the exclusive FlexClip discount coupon, check the above mentioned FlexClip promo code that allows you to save upto 50% OFF on FlexClip.
---
Conclusion: FlexClip Review + 20% OFF FlexClip Discount | Should you go for it?
There is no fee required to use FlexClip, and it comes with no cost but a hell lot of beneficial features. They have covered almost everything; they have given a tool that helps you edit; they provide data that helps you learn about video editing.
So, they educate and give you a tool to start experimenting with your learned skills on video editing, with no cost, believe me, people, and this is an institution in the making. They will be doing wonders in the near future.
FlexClip has a very decent and simple appearance, yet it is one of the industry's most powerful tools. If you wish to create more convincing or traffic generating videos, FlexClip is strongly recommended.😊
FlexClip Review
The freedom to edit and create videos on the go is now at your fingertips. With FlexClip, you have the power to make videos for any purpose with ease. FlexClip is the best video editor that allows creating and editing videos. FlexClip offers thousands of templates that one can use to create professional and stunning videos.🤞🤞
Pros
Offers royalty-free stock media.
Support most versatile features.
Easy-to-use video editor.
Affordable pricing plans.
Rich animated elements.
Cons
Team collaboration is a little difficult.
FlexClip – Online Video Editor
Create your stunning video with FlexClip for free today.