Are you an Amazon FBA seller? Well, if yes, this course review might be your ticket to success. This is not just our regular reviews about any random course; it's about Freedom Ticket and even Helium 10. So, do not miss out on grabbing your ticket, and as always, read till the end because a GREAT SURPRISE awaits you!
Before heading out to the review, we would just like to ask you a question, What does freedom mean to you? Or, even in simpler words, how do you define freedom?
Got your answer in your head?
Well, the majority of you guys might have answered this question and got just the same answer, that is, Freedom means doing things freely, exploring every route of a life fearlessly, or maybe doing things more creatively.
Or, in quite simpler words,
To you, freedom means to wake up in the morning stress-free, happy, and carefree, which is next to impossible for some. But what did we say to you, that there's a ticket available in the market to help you achieve the freedom you have ever desired for! Yes, you heard that right, and it's none other than – The Freedom Ticket Course By Kevin King. Explore this Freedom Ticket Course review to understand the ins and out of the course, and don't miss out on reading till the end because we will be helping you grab this amazing course all for free!!!
Quick Summary!
The Freedom Ticket Course is a premier Amazon FBA course helping Amazon sellers create the revenue of their dreams. The course had helped sellers earn over $370 million in annual sales. It's not a get-rich-quick scheme, but instead, a detailed course drafted by one of the leading Amazon sellers in the world – Kevin King. Kevin, to date, has sold millions of dollars worth of products on Amazon, and in this course, he's just spilling facts on how everyone can do it too!
---
Freedom Ticket Review – About the Course
The Freedom Ticket Course by Kevin King is an interactive guide on how to win big on Amazon by just selling products from the comforts of the home. It's not the typical training program available out there, but instead a more detailed and practical one, helping viewers walk through the journey of the whole selling process. Cutting off the unwanted steps, the course helps sellers to just do what they need to do to get to the top.
Users will have to dedicatedly give this course for 8+ weeks and execute the exercises as explained by Kevin. The course even comes with spreadsheets and eBooks, which are drafted to help sellers quickly succeed in their selling journey. Yet another best thing about this course is it is frequently updated according to the changing market demands. The videos are highly interactive and not just a boring set of slides. The learning hours are distributed properly so that viewers get sufficient time to understand the content properly.
Additionally, each module comes with written notes of whatever has been taught. Hence, if, in any case, the viewer misses out on anything, he/she can revise the whole section in the future by reading it all. The content is very much clear and up to a point; hence viewers never get overwhelmed by the amount of instruction they receive. So, before getting into the nitty-gritty of the course, why not just understand a bit more about who Kevin King is and the main point? Why should you even trust him?!
Kevin King – The Intelligent Mind Behind Freedom Ticket
Being in the industry from the year 2015 himself, Kevin King has really come a long way. He has sold hundreds of types of products on Amazon, which has helped him earn millions in total revenue. He is highly knowledgeable and has successfully cracked the code to succeed on Amazon.
Kevin is popular for his critical thinking capabilities; he simply cuts off complex ideas into digestible candid advice that can be executed easily. Last but not least, Kevin is among the leading Amazon sellers in the world. Just like others, even he started off his journey from ground zero. He knows how the right guidance plays an important role in succeeding in any business. And for that reason, Kevin, in his Freedom Ticket Course, has put up all his knowledge and expertise.
He even provides one-on-one training at the end of the course, so what are you waiting for?
---
Kevin King's Freedom Ticket Course
As mentioned previously, the Freedom Ticket Course is all about growing on Amazon. Hence, the 8 weeks of training course content revolves around what best strategies you can try to grow as a seller. From developing your own private label to starting selling efficiently, viewers will first walk through the basics and then the advanced learnings. To get started, here's what your 8 weeks will look like after starting the journey:
Week 1
The first week of the Freedom Ticket Course is all about the basics of Amazon. The whole week covers three modules, of which the first one is all about the incredible opportunity Amazon has given to sellers to make dollars and what this industry will look like in the future. The second module covers ways in which sellers have already earned money through Amazon. At the same time, the third module is all about how the future modules will look like and how you are expected to be in the coming seven weeks, from learning to execution, simply everything!
Week 2
The first week's modules were not much detailed. However, the second week is where the gameplay begins. Over here, you are expected to stay attentive throughout the sessions, starting from the fourth module to the ninth. These modules will give you an overall understanding of how much you have to invest in this business, both money and time.
Starting from Module 4, this one is all about the basic requirements of becoming an Amazon seller. Modules 5 and 6 talk about ways to sell on Amazon and what your seller journey will look like. Module 7 is all about the Amazon glossary of essential terms; you will have to learn it, obviously. Lastly, Modules 8 and 9 will give you a sneak peek into how much you will be investing in this journey and what to expect at the start of the journey.
Week 3
Now that you have stepped into the world of Amazon FBA, this week will be all about branding, money, and millions. Branding plays an essential role in any type of business, and so does it here. Hence, this week of Freedom Ticket Course is all about money and branding, all covered in seven episodes.
The 10th module covers what a $5k investment can do to your Amazon business, while the 11th module talks about branding your Amazon business the smart way. After branding comes loyalty-building, and the 12th module covers the same. The 13th module of the Freedom Ticket Course is all about cash flow, while the 14th one talks about category approval. The 15th module shows viewers an insight into what the business costs the sellers, and module 16th revisits the cash flow conversation viewers had in the previous modules.
Week 4
Week four of the Freedom Ticket Course is all about choosing a successful product to sustain in the marketplace for a long. This week covers 9 extensive modules, out of which the 17th one is quite a walkthrough video of what you would be expecting in the future weeks. Coming the 18th module talks about how the Helium 10 suite of tools can help sellers grow massively. The 19th module is all about tips and tricks to find inspiration for products, 20 is about keyword research, 21 is about evaluating the performed research, and 22 is about choosing the right products to sell.
Module 23 of the Freedom Ticket Course is about learning the Freedom Ticket product test. 24 talks about competition research and reviews, while the 25th module helps users utilize the Chinese way of thinking when selecting a product to sell.
Week 5
By now, if you have got tired of hearing the number of modules the above weeks had for you, the surprise lies here. Week five of the Freedom Ticket Course is the longest week taking a granular training approach to support, orders, and shipping. There are basically 12 modules here, with several of them coming with submodules.
Trust us, after completing these modules; you will come out as a more confident individual who knows the ins and outs of Amazon FBA.
In this week, Kevin King will also review the best way to ship products, tips to deal with the most common shipping issues, and when to use different shipping methods.
Week 6
This week of The Freedom Ticket Course is all about competing the right way and winning big! There are eleven modules here, each covering information and techniques to reach the top as an Amazon FBA seller. The week starts with information about registering your brand and brand gating and ends with detailed information about the A9 search engines. This week is more important as compared to other ones because it covers essential information like understanding patents and trademarks, key ranking factors to win on Amazon, prohibited activities to avoid, sales stopped checklist, tips to become a great seller, and so much more.
Week 7
The second last week of the Freedom Ticket Course is all about creating a high converting list; truly an exciting week! The best part of this week is going to be a much shorter one as compared to the above ones. There are just six modules here, starting from 49 and going till 54. Module 49 is simply a detailed introduction to listings.
The next module talks about writing a killer title, followed by how to write the best descriptions and product bullet points. You will even learn how to use images that convert and how to test and produce images to bring your product listing to life.
Week 8
The final week of the Freedom Ticket Course is truly a ticket that will give you lifelong freedom to earn as much as you can. This week is all about ranking, advertising, and promotions. The better you will advertise your product, the better you will get the ranking. This whole week you will learn how to use brand analytics, set up coupons and discounts, and manage a PPC campaign from end to end. The last module is a detailed wrap-up of the course, and not to mention our favorite one, because over here, Kevin King spills out some amazing and less-known facts about Amazon FBA.
After completing the 8-week course, users will unlock the certification test. This test basically covers all important topics that have been mentioned in the courses above, in the form of quizzes and games. If the user scores above 70% or higher, he/she gets a digital degree of completion from Kevin King. Basically, the user gets officially certified as a graduate of Freedom Ticket.
---
Key Features of Freedom Ticket Course
As you can see above, the Freedom Ticket Course is truly a goldmine any Amazon FBA seller would ask for. However, in addition to the weekly modules, The Freedom Ticket Course has so much more to offer that cannot be downplayed at all. So, apart from this fabulous 8-week course, here are some features of The Freedom Ticket that would help you learn more:
An exclusive handout covering popular case studies and topics related to Amazon FBA sellers do's and don'ts.
Access to a private Facebook Group that covers important topics related to Amazon FBA by sellers and Kevin King himself.
Weekly Question and answer session with Kevin to sort out issues.
Spreadsheets and templates covering detailed information about top products, top reviewers, profit estimates, and more.
Review slides of each module for quick future revision.
A weekly newsletter by Kevin King sharing strategies, tips and tricks to make some good dollars with FBA.
🔥 Want to start your profitable business on Amazon? Buy Freedom Ticket without Helium 10 for $997 and get complete access to all the modules of Freedom Ticket.
---
Freedom Ticket Course Pricing
The price of the Freedom Ticket Course by Kevin King is $997. Users can either pay this amount at a time or can pay the amount in three installments, $397 for each. With this price, you will get standalone access to the course and nothing else in addition.
If for any reason, you are not satisfied with the course content or the results after implementation, The Freedom Ticket Course comes with a 100% money-back guarantee. You have to raise a refund request to the team within 30 days of the purchase, and they will give your whole money back. Obviously, they don't ask any questions.
With $997, that is, the standalone access to the course, users get:
Access to interactive studio and classroom filmed videos, no boring slides.
15 Real walkthroughs (Kevin's live projects and how he works).
8 Weekly modules, 90+ lessons, and detailed study notes
---
Hey, You can Get Freedom Ticket Course for FREE; Check How!
Of course, $997 might seem a bit pricey to everyone out there, but what if we say that you can get access to this amazing course for free? Yes, you heard that right, and it's all possible with Helium 10. If you are not aware of what Helium 10 is, you can quickly check out our updated Helium 10 review. And if you don't have much time to go through the whole review, here's some quick information about Helium 10: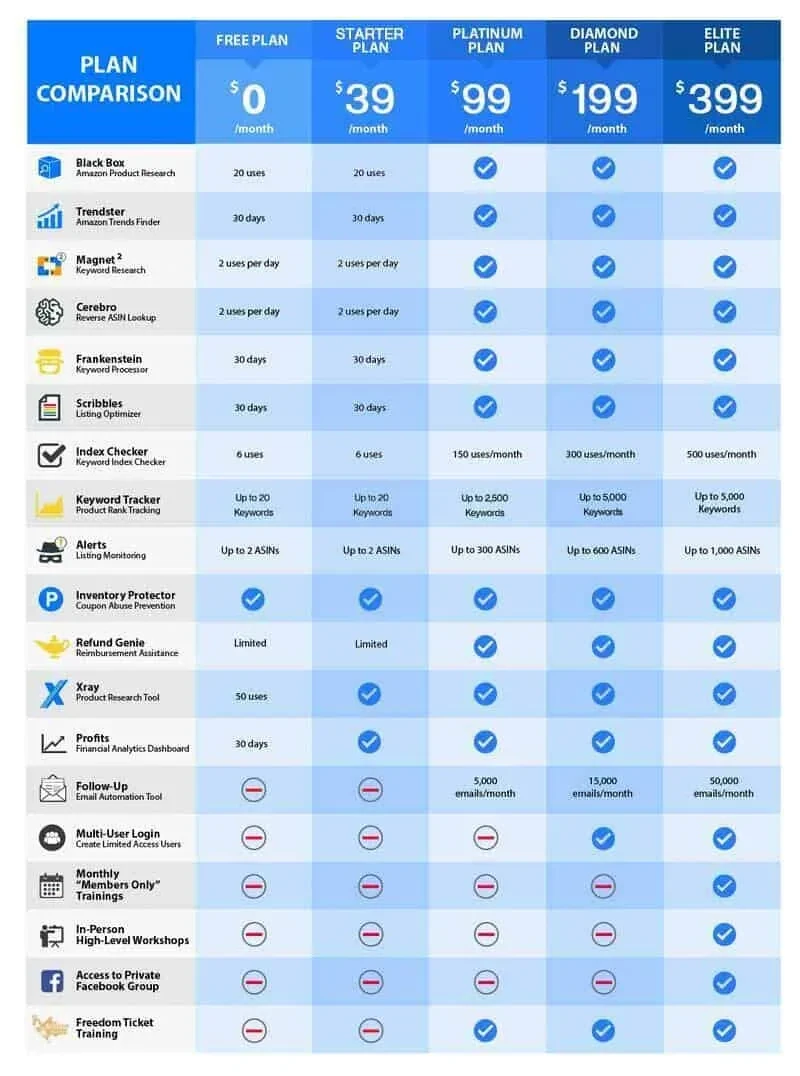 Helium 10 is a premium complete suite of tools dedicatedly built for Amazon FBA sellers, who want to start out, have just started out, or have been on the journey for quite a long time. From managing and selling products, finding keywords, identifying trends, optimizing listing, streamlining advertising campaigns, and scaling business on Amazon, Helium 10 has tools.
Long story short, Helium 10 offers sellers access to more than 20 tools and features to help them expand their business, and one such tool/resource offered by them is the Freedom Ticket Course. Since Helium 10 focuses on giving the world's best-in-class tools and features to Amazon FBA sellers, including The Freedom Ticket Course in their pricing plans is a sign that they understand how important the course is for sellers out there.
The best part, you can get access to The Freedom Ticket Course by all Helium 10 subscription plans – Starter, Platinum, Diamond, Enterprise, and the Elite plan. Here's a quick sneak peek into the most affordable plan by Helium 10 that includes the Freedom Ticket Course for free:
Monthly Starter Plan + Freedom Ticket Course – $39 per month
Full access to the Freedom Ticket Amazon business course worth $997.
Full access to Xray and Profits, the most popular tools by Helium 10.
Limited access to the 20+ tool software suites.
30-Day no question asked about the money-back guarantee.
Since The Freedom Ticket Course is an 8-week course, you will have to buy the Helium 10 subscription for two months to complete the course. And if you have done the calculation by now, you will realize that paying for two months would still be a major saving compared to the standalone price of the course. Plus, apart from the course, you will get access to some of the best tools of Helium 10 for free!
Click here to start with the Freedom Ticket course for free.
---
Student Reviews on the Freedom Ticket Course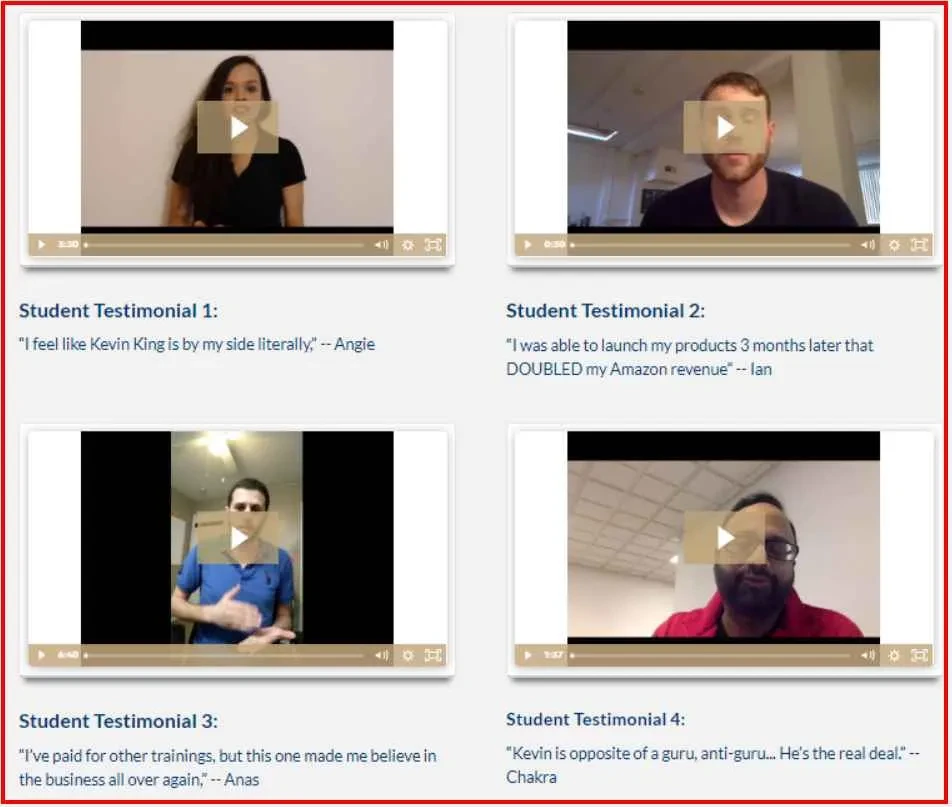 Similar to other tools and courses, over here, too, the trick, "customers speak volume for brands," applies. Having said that, let's check out whether students have really gotten many benefits with this course. While going through the testimonials, the one thing we have found common in every student is the niching down issue. Most of them were not able to pick up a specific niche. Some even faced much trouble conducting product research, which often hampered their growth rate.
According to their personal experience, this course has helped them avoid stagnation. Not just this, just the first four weeks of the course have helped users know more about Amazon, branding, money, and niching down tricks. To add more, we have even seen in the Testimonials that not every user was a beginner. Some of them were already doing quite better in the marketplace.
This shows that this course is not tailored for beginners only; people with different levels of experience can check out where they are lacking behind. Some of the common skills most of the learners have learned from the Freedom Ticket Course are:
Supplier vetting
Managing bulk orders
Tricks to optimize listing
Sourcing
Advertising and promotions
And more!
You can quickly watch these video testimonials to understand the scenario better.
👉 Who should buy the Freedom Ticket Course?
We have listed above the pros and cons of the Freedom Ticket Course. However, we understand that not every Amazon FBA seller is the same or follows the same pathway to succeed. Everyone has different perspectives about the marketplace hence to help you make a truthful purchase, the Freedom Ticket Course is for
Individuals who want to take a break from their full-time job and commit their time seriously to learn how Amazon FBA works.
Individuals who believe in the power of Amazon and have much faith in Kevin King's Amazon growth journey.
If you are ready to follow the activities given in the course and would not hesitate even a bit to explore the trial and error journey.
If you are willing to socialize much on the exclusive Facebook group to clear all the doubts and make the most out of the contacts (resources) shared.
If you aspire to earn millions of dollars and do something great in life, this course is undoubtedly for you.
Get Freedom Ticket Amazon FBA course for FREE when you join Helium 10.
👉 Who must not buy the Freedom Ticket Course?
Since we understand that not every course is suitable for every individual, in this case, Freedom Ticket is best suited for a limited set of individuals only. Having said that, you must not buy the Freedom Ticket Course.
If you are a person who wants to step into the world of Amazon FBA not as a full-timer but just as a side gig.
If you don't have much time to walk through the course, grab the learnings and seriously immerse into Kevin King's success journey.
If you wish for instant 2-day results because when it comes to Amazon FBA, things take time.
You are not willing to socialize much and have conversations in the private members-only Facebook group.
If you are not ready to explore and utilize the resources given, worth $297.
---
🌟 Top FAQs on Freedom Ticket
✔Is the Freedom Ticket course legit?
Yes, the Freedom Ticket course is very much legit, and it has helped its 2200 certified students earn $370 million in annual sales.
✔How much is the Freedom Ticket course fee?
The standalone price of the Freedom Ticket Course is $997. However, Helium 10 users can get access to this course for free with any of the plans.
✔What is the Freedom Ticket Amazon FBA?
The Freedom Ticket Course is a premier, systematic, informative, complete, easy to follow Amazon FBA course on the market available for free for Helium 10 users.
✔Who is Kevin King?
Kevin King is one of the leading Amazon sellers globally who have sold millions of dollars worth of products on Amazon and helped other sellers do so with its Freedom Ticket Course.
✔Can I use the Freedom Ticket course for free?
Yes, you can definitely use the Freedom Ticket Course for free with any of the Helium 10 subscription plans.
✔How does Freedom Ticket course by Helium 10 help me sell on Amazon?
In this ultimate Freedom Ticket course, you will learn everything from Kevin King to start selling on Amazon. In this course, he has shared his proven methods to become a successful Amazon seller. This course will provide you with downloadable spreadsheets, files, and tools to start your profitable business on Amazon.
✔Is the Freedom Ticket course for everybody?
Yes, the Freedom Ticket Amazon FBA course by Helium 10 is for everyone who is looking to start their business on Amazon. Freedom Ticket is the real course where the user will get all the modules that they will learn to succeed on Amazon.
✔Shall I go for Helium 10 Starter Plan?
If you are a beginner to the Amazon business, the Helium 10 Starter Plan is perfect for you as it will only cost you $39/mo. This plan will give you free access to the Freedom Ticket Amazon FBA course, which costs $997. You will also get complete access to Helium 10 Xray and Profits.
---
Conclusion: Freedom Ticket Review 2022
Amazon, a global fulfillment giant providing effortless shipping and logistics services under its FBA program, is here to stay. Back then, without FBA, sellers used to face so many inventory-related issues. But with FBA, sellers have access to unlimited storage space. Moreover, it does not just allow sellers to sell products to targeted customers, but it also gives access to new multi-channel fulfillment solutions, too; a great win-win, isn't it?
Given bucket loads of pros, the surprising thing that amazes us is that Amazon works like wonders for only those who use it properly. Having said that, only a few Amazon sellers have cracked the success code, like Kevin King. And being a mastermind himself, Kevin didn't keep the code secret from anyone. Instead, he's offering all of his Amazon FBA learnings in his Freedom Ticket Program.
We do understand; by now, you have at least got a slight idea (or maybe more) about this Freedom Ticket Course. But to conclude it all on a detailed note, and being a user ourselves, we found Freedom Ticket a bundle-loaded course offering its users access to multiple products and services, all under a roof.
From giving users access to powerful spreadsheets, personal bookmarks, a list of top 10k best selling products on Amazon, a weekly question and answer calls, to the million-dollar seller's guide and getting started on Amazon eBook, The Freedom Ticket Course literally is a ticket to growing massively as an Amazon FBA seller.
It's truly a key to unlocking the potential Amazon FBA has for its sellers. The videos are so lively and full of examples that a viewer completely gets immersed into Kevin's Amazon journey. As we have mentioned previously, this course is not a get rich quick scheme; you have to dedicatedly give your one to two months. And trust us, after completing the course, you will truly get the best ROI for every minute spent.
We have done our part; now it's time for you to do your part, make the most out of the Freedom Ticket Course to explore your roadmap to sell on Amazon!
Happy Selling😊
Freedom Ticket Review – Kevin King's Helium 10 Course
Freedom Ticket is the leading Amazon FBA course that helps users propel their Amazon businesses to the next level. This comprehensive course gives you everything you need to succeed on Amazon. This course includes everything from in-depth training to tools you'll need to know to set up your business, sell on Amazon, and dominate the market.
Positive
Available for free for Helium 10 members
21+ Hours of content
Money-saving tips and techniques
Three weeks of live Q&A calls with Kevin King
30+ Handouts related to sourcing, accounting, FBA mistakes, and more
30 Days money-back guarantee
Downloadable written modules are available
Access to five powerful spreadsheets about best-selling products, ultimate reviewers, and more.
Access to the private member-only Facebook group
Negatives
Time-consuming course for working professionals
Doesn't guarantee any results
Standalone course cost is pricey
Freedom Ticket – Ultimate Amazon FBA Course by Kevin King
Get started with Freedom Ticket for $39 & boost your Amazon business profitably.
Also read: