There is no doubt that the affiliate industry is growing rapidly, and so are affiliate marketers, plus people indulged in paid ads and performance marketing. Paid ads are considered among some of the best practices in terms of giving returns, and managing all these different traffic sources can be really difficult. So now, if we consider FunnelFlux, it can be helpful in managing your different parameters in a single spot. In this FunnelFlux review, we'll be looking after the features, pricing, and how it can be a valuable asset to you and your tracking operations.
Before we dive into this FunnelFlux review, it is worth mentioning that FunnelFlux offers two different options, one for the self-hosted tracker and another one for the cloud-based tracker. We'll be taking a deeper dive into that in the later sections of the article.
What is FunnelFlux? – FunnelFlux Review in a Nutshell
FunnelFlux is a tracking platform that can help you in tracking ads running across different platforms such as Google ads, Facebook ads, and email activities; one of the key features that make FunnelFlux a good-to-go option is its user interface, as you don't need to make your way around any complexities of tracking and coding. The FunnelFlux can help you in creating a simple yet complex journey in a few clicks.
It can help you in keeping an eye on page visits, clicks, conversions, and more. FunnelFlux can be an excellent tool for performance marketers, advertising agencies, affiliate marketers, and product owners.
Why Use Funnelflux? – FunnelFlux Reviews
As I have just mentioned above, FunnelFlux can help you in managing different things in the same place, the tracking of multiple platforms such as Google ads, Facebook ads, TikTok, Outbrain, and many more. As someone who is indulged in affiliate marketing or performance marketing, keeping track of every ad and keeping an eye on which platform is performing the best can be really difficult, this small but hectic practice can help in understanding which ad is performing the best and what changes are needed for better optimization of that ad and working accordingly; as a result, you can come across more conversions.
Building Visual Funnel Builder: Creating funnels of any size, scope, and scale is simple with FunnelFlux Pro's visual funnel builder. It's just like drawing on a whiteboard.
Powerful Reporting and Analyzing: With FunnelFlux Pro, you can track a virtually unlimited number of metrics. You can follow users' paths and the returns for each phase of the journey by drilling down as many variables as you want.
Integration with Multiple Platforms: All of your preferred traffic sources have been templated and are ready to go. The most flexible and powerful tracking systems of any traffic tracking company. Track users across multiple platforms and determine the true lifetime value of your advertising.
Server to Server Integration: It's pretty great that FunnelFlux Pro is constantly working on increasing its approach toward reliable S2S integrations; these include Google ads, Microsoft, TikTok, Meta, and much more.
So basically, FunnelFlux is an affiliate tracking software/platform, visual editor, and builder that can help you in multiple operations.
Who can Use FunnelFlux?
FunnelFlux can be an excellent choice for affiliate marketers and performance marketers seeking to operate all their operations in a single space. Well, the list doesn't stop here; there is a number of other use cases as well. Below mentioned are some of the people who can use FunnelFlux and get more out of it:
Performance Marketers: FunnelFlux can be an excellent choice overall for performance marketers; some of the key features include Javascript tracking, reporting limitlessly, flexible funnels and flows, and integration with multiple platforms like TikTok, Facebook, Clickbank, Optimizer, and many more.
Advertising Agencies: For what is currently offered by FunnelFlux Pro for performance marketers, advertising agencies can make their way around industry-leading javascript tracking, API access, Lifetime value tracking across funnels, and server-side webhook nodes for automation and multi-user access which are to be launched soon.
Product Owners: As someone who owns a product keeping an eye over your product, tracking and analyzing all the key factors can be really tough, so basically, FunnelFlux Pro can be a game changer for all the tracking from different sources in addition to that, if you have an affiliate program of your own, having a visual funnel builder + affiliate tracking software can lessen all your burdens for all your detailed reporting.
Using FunnelFlux as Funnelbuilder – What is FunnelFlux used for?
As I just mentioned above, FunnelFlux is not only an affiliate links tracker but also a visual tracker and editor. It is worth mentioning that FunnelFlux offers some excellent features that make it a top-tier platform as compared to what is available in the market; let's take a look into these aspects:
FunnelFlux can help in making complex funnels using visual funneling; if you are familiar with nodes, FunnelFlux basically uses these nodes and the architecture to make a complete structured funnel.
Heatmaps can be considered under some excellent features offered by FunnelFlux; these heatmaps can help in making things better for understanding which funnels or traffic sources are giving out better ROI. As a result, you can disavow the funnels that are not good in terms of ROI.
You can also choose between two different choices, such as a self-hosted tracker and the other one for a cloud-based tracker; you can choose among them. If you are someone who wants a better level of privacy, the self-hosted tracker can be a good choice to move along with. But no harm in using a cloud-based tracker; in addition to all this, it is worth mentioning that one of the popular affiliate trackers, Voluum, uses managed cloud tracker, so Funnnelflux gives you more options to explore.
As a marketer or someone who is indulged in email marketing, having a tracking tool by your side will be helpful in making things even better for all your email campaign tracking operations. As a marketer, having an overall view of all your email campaigns can be really helpful; for example, 100 people have subscribed to your newsletter, and having a 5% CTR from your email newsletters can be a potential opportunity to look after.
Now, another important factor that makes FunnelFlux even better is no-redirection Javascript tracking, where most of the tracking platforms and tools work on tracking using redirection. FunnelFlux allows you to send the audience directly to your sales and marketing funnels; these directions basically include landing pages or your offers.
Bot filtration can be really helpful when it comes to performing in-depth and precise filtration for your campaigns, the bot filtration will basically be helpful in analyzing and separating bot events from human activities and movements.
Time duration on a page, well, this can be a game changer for your operations, as FunnelFlux basically gives you an overview of how much time was spent on any of the funnels; this, as a result, can help in understanding which traffic sources need more attention, for example, a good audience group might be coming from Google ads, but might be bouncing back after a certain amount of time, so with all the data combined can be used for improvisation.
Funnel Building using FunnelFlux – FunnelFlux Reviews
After everything mentioned above, I guess you have got a clear idea of FunnelFlux, and its work as a visual builder. The funnel building using FunnelFlux is very easy and can be done in a few simple steps. In order to make a funnel, you need to create an existing campaign and create a new one; after clicking on the create new, enter the funnel name and click on the create button.
It's that simple; Funnel building using FunnelFlux is like making a flowchart and working over that campaign.
Heatmaps in FunnelFlux
I have been using multiple affiliate tracking tools like Voluum, and so far, the heatmaps in FunnelFlux can be considered as one of the best things/features so far that can be a game changer for you. Just before we hop into how these heatmaps work in FunnelFlux, let's understand what a heatmap is.
What is a Heatmap?
A heatmap is a technique that focuses on data visualization and can be helpful in a number of ways, such as showing the magnitude of a certain thing that is happening; think of this as using heatmaps for tracking different data analytics over Google Analytics which can be a bit confusing if seen by the numbers. These heatmaps can be really helpful in a number of ways as they give a clear image and understanding of which traffic sources are performing really well.
Now, if you look into FunnelFlux, the heatmap used in FunnelFlux is a color-coded overlay of visitors' movement on a landing page.
Now, if we take a deeper dive into the Traffic Split, the below-mentioned split can be seen comparing the heatmaps for revenue. The below-mentioned image shows how a certain traffic set is split under different pathways (into landers and offers).
Since I just had a mention of Lander and Offers, let's make it a bit clear on what they are.
The landers can be considered an excellent thing for creating a great impact over audiences; these are also named pre-landers; as the name suggests, the pages/landing pages are put on before someone gets over the real offer, so basically a preceded step before an offer comes up, and the offer is somewhat the final step in the process.
Now coming back to the split in conversion and direct revenue, you might be familiar with A/B split testing. Well, FunnelFlux takes that to a better extent in terms of visualization.
FunnelFlux EPV Optimization
FunnelFlux offers this excellent feature that enables you to make your way around EPV; the operation is automatic and can be helpful in a number of ways. If you are new to this ecosystem, EPV stands for Earning per Value. FunnelFlux's EPV Optimization can be really helpful in making automatic EPV optimization which, as a result, can help in streamlining and properly refining the audience group in the right way. In simple words, it basically optimizes a path that generates the highest revenue per view.
Email Conversion Tracking
As I have already mentioned earlier, FunnelFlux keeps a complete track of different traffic sources in a single go. Whether it's from Google ads, Meta, emails, or somewhere else. The email conversion tracking works in a few simple steps:
Traffic Direction: The Traffic is directed to FunnelFlux.
FunnelFlux: After FunnelFlux redirection, people are redirected toward landing pages.
Landing Page: These landing pages/pre-lander have the page where you target the audience group with the information needed.
Info needed: The info needed usually consists of the name and email address.
Redirection to an offer: The visitor is then redirected toward the offer, deal, or whatever the offer consists of.
Link Cloaking
Link cloaking is a very common practice when it comes to marketing and specially affiliate marketing. The FunnelFlux basically shortens the link, and this helps in creating a better impression over your audience; think of this as bitly links but in a more organized and presentable way.
Now that we have covered up all the key features offered by FunnelFlux, it's time that we take a look at the pricing plan.
FunnelFlux Pro Pricing Plans – FunnelFlux Discount Coupon
The FunnelFlux Pro offers 2 different options to explore around; these include the FunnelFlux Self-Hosted System and the Cloud-Based System; well, if you seek to have more privacy and related features, the self-hosted system can be the right choice for you.
FunnelFlux Self-Hosted Plan
The FunnelFlux Self-Hosted Plan starts from a cost of just $99/month on 1 license, which is a great deal overall. Looking into the features, you get access to unlimited traffic, lifetime data retention, and automatic free updates, with an excellent offer to get a FunnelFlux trial at just $1 for 1st month.
FunnelFlux Cloud-Based Plan
The FunnelFlux Cloud-based plan is subdivided into 3 different plans, including the Core Plan, the Growth Plan, and the Scale Plan.
Core Plan: $99/month
The FunnelFlux cloud-based Core plan costs $99 per month and gives access to 2 million+ events per month and an additional cost of $40 per extra million events. In the core plan, you can use 10 custom domains which sound like a sweet deal overall.
Growth Plan: $199/month
The FunnelFlux cloud-based Growth plan costs $199 per month and gives access to 5 million events per month. As compared to the core plan, the growth plan is $30 per extra million events and offers 20 custom domains overall.
Scale Plan: $299/month
The FunnelFlux cloud-based Scale plan costs $299/month and gives access to 10 million events per month, as compared to what was offered in the Core or Growth plan; the additional million events cost in Scale Plan is just $20 with 30 custom domains.
Note: If you are looking forward to adding any more custom domains, the cost is just $2 per domain.
FunnelFlux Reviews & Customer Testimonials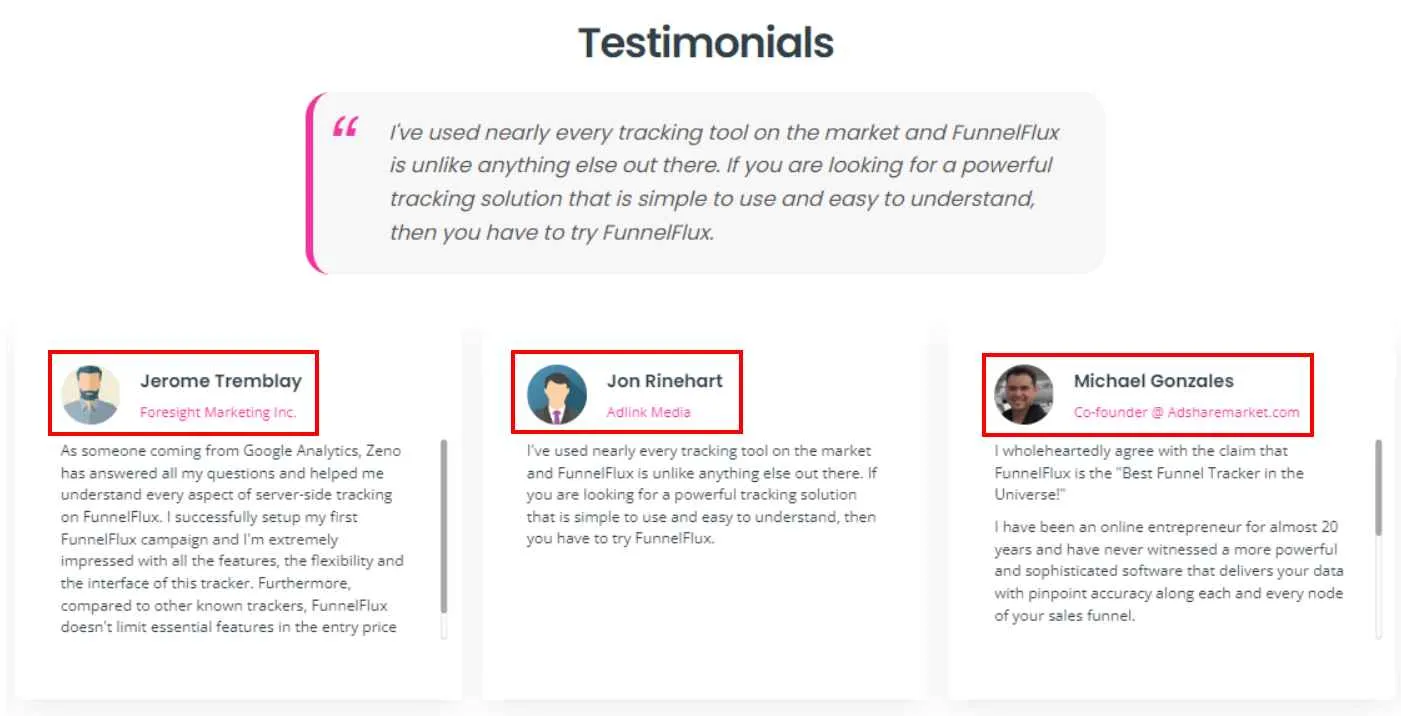 FAQs on FunnelFlux Review
Is FunnelFlux a link tracker software?
Yes, FunnelFlux is a link tracker software that works on the visual nodes and tracking across multiple platforms like Meta, TikTok, Google ads, and much more.
Does FunnelFlux offer integration with Optimizer?
Yes, FunnelFlux offers integration with Optimizer, and webhooks nodes are soon to be released.
Is there any FunnelFlux free trial available?
Yes, FunnelFlux offers a 14-day free trial which is a great way to make your way around the features and user interface.
Is there any bot filter offered by FunnelFlux?
Yes, FunnelFlux offers a bot filter that can help in managing multiple traffic sources overall while distinguishing between human and bot traffic.
Final Verdict: FunnelFlux Review – Is FunnelFlux the right choice for you?
If you are an affiliate marketer, performance marketer, product owner, or someone who has to manage multiple traffic sources, FunnelFlux can be an excellent choice for you. As FunnelFlux focuses on making things better and managing all your traffic sources accordingly, now, on the brighter side, it is worth mentioning that FunnelFlux offers a cloud-based system and self-hosted tracking, which gives a better security option for users seeking it.
Another major thing that makes FunnelFlux a good-to-go choice is its visual tracking, as most of the similar link tracking tools, like Voluum, ThriveTracker, etc., are a bit complicated in terms of visual node building and tracking. If you are new to this ecosystem, it might take some time to make your way around the tool, but it will be fruitful overall.
Hopefully, this FunnelFlux review has cleared some of the common queries on who can use it, how to use it, pricing plans, etc. might be clear by now to some extent.
FunnelFlux Review – Track advertising performance from anywhere with FunnelFlux!!
Too many marketers find it hard to track their campaigns. And too many companies neglect this important part of their marketing activities. It's the right time to take your marketing efforts to the next level with FunnelFlux. FunnelFlux helps you track your advertising campaign; so you can create more successful campaigns in less time. Get started with FunnelFlux today and get access to the most up-to-date features, rich functionality and an outstanding support team at the best price.
Positive
The Visual nodes and tracking offered by FunnelFlux are excellent.
Multiple API integrations offered.
Self-hosted server tracking is available.
Custom Domain Tracking is available with multiple options.
Quick response FunnelFlux support team.
Negatives
It might take some time to get known to the ecosystem.
FunnelFlux – Tracking Made Visual
Start your FunnelFlux 14 days free trial and test all its features for free.
Also read: