If you are new to the marketing business, you must have already faced the fierce world. Most marketers are like vultures jumping at every opportunity they get. You may feel a little lost in the beginning, Keeping track of the metrics and the number is not an easy job. Plus, you are expected to get them to rise constantly.
So how do we get those statistics growing?
Funnelytics is here to solve many problems for you. If you are yet to grasp the metrics and the analytics, then funnelytics got your back. Read this complete ✅Funnelytics Review that includes detailed insight about this amazing funnel mapping software.
Mikael Dia founded it in 2017. He is an entrepreneur from Toronto and has used his skills to create a tool that can track, map and forecast the potential of a sales funnel.
With hundreds of applications and tools launching every day, it is supposed to make your life easy. But on the contrary, it happens to throw you in a pit of confusion. That is why we have brought you a Funnelytics review that will help you understand the concept of Funnelytics. Therefore, with proper knowledge, you will identify your needs and how this tool can fulfill them. We will dig within the features and point out some unique areas as well.
---
Detailed Funnelytics Review
The tool has been known to help out a lot of young entrepreneurs who have just started. Many start-up companies prefer this tool and have reviews for it. Before we break down the details of using this platform to make your business more efficient, you should know the essential thing. Funnelytics primarily works on three aspects: Mapping, Tracking, and Forecasting.
The regular version has only the mapping facility. To avail of the complete benefit, most people go for the premium membership. Additionally, it has the lifetime benefit that provides the ultimate support.
---
How do Funnelytics Benefit Your Company?
Let us know to go into a little detail about the three ways you can facilitate this tool to your advantage:
#1. Mapping
What is mapping? This is where we plan. Before any execution, planning is the more important bit. It makes sure that everything will be in place and avoid red flags.
It has a drag-and-drop mapping feature. With multiple page icons inbuilt in the system, you will have a visual picture of how your interface will appear. Undermentioned are some of the quirks that the mapping facility comes with:
Within the mapping feature, you will find a library of pages that you can customize and categorize according to your needs.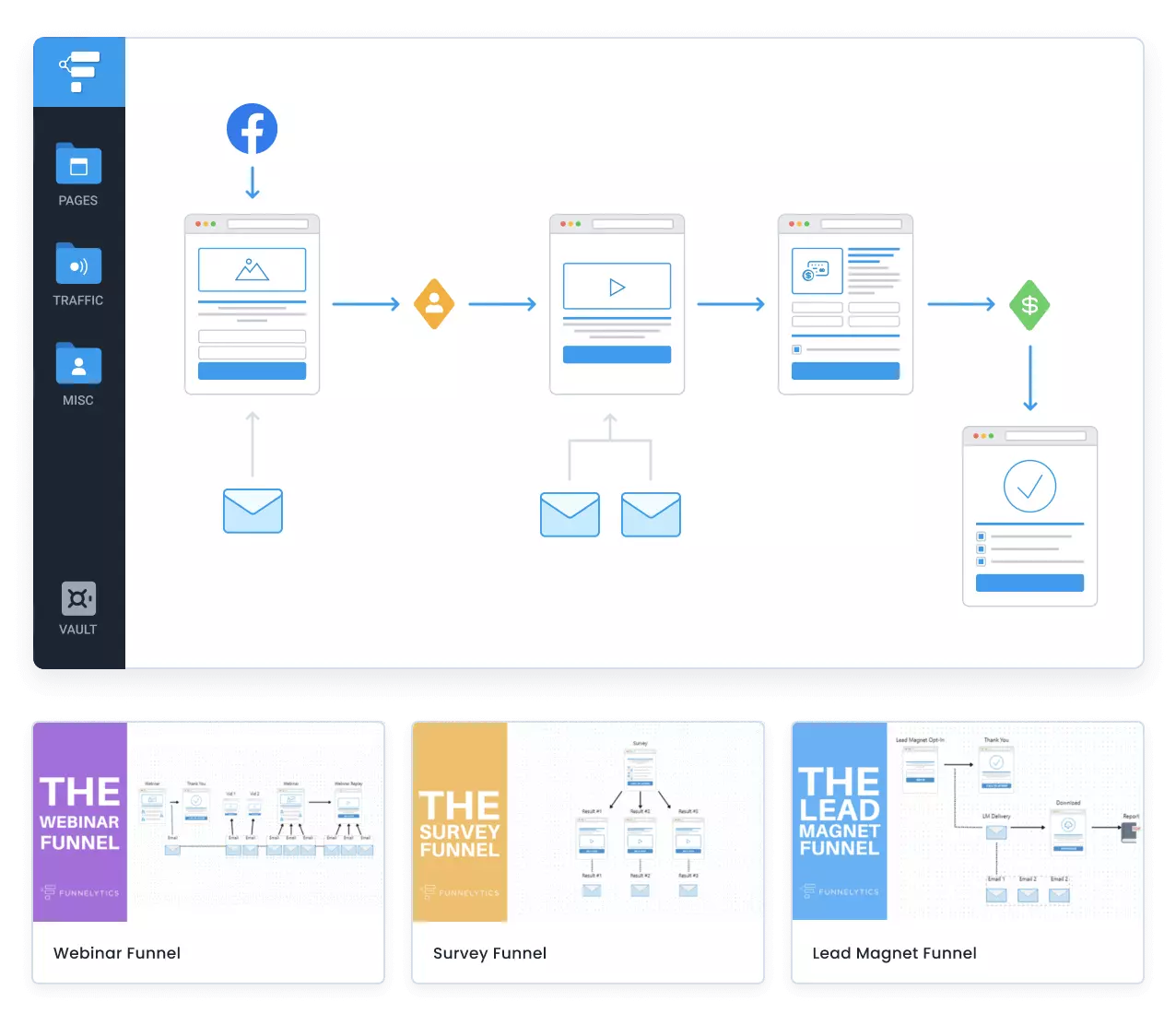 Every step is visually represented in a page where you can fit in live URLs and virtually see your business building. Additionally, you can add labels and stack them in whatever sequence you deem fit.
A number of steps all punched together in the form of folders do not provide a clear idea of where. The mapping facility shows all the plans on one page. Therefore it is easy to track these folders with the help of the visual representation they provide. You will be able to upload your customized icons to help you remember their link.
The feature of mapping is drag and drop. Therefore you will get a set of icons and applications wherein you can just drag and add anything. You can add your favorites to the sidebar that will provide easy access. It is a unique way to showcase your plans for better understanding.
#2. Forecasting
Marketing is all about making the brand famous and popular, providing a good flow of revenue for the company. The Forecasting feature in the tool gives you an idea of the amount of traffic you can create and its cost. The feature also provides a brief idea of the conversion rates in the middle of the funnel stages. This bit is available to only the pro members of Funnelytics. With the lifetime deal of pro membership, you should grab it as soon as you can to get access to such wonderful ways.
Forecasting of funnelytics will give you a report on how much revenue and traffic can your company generate based on the current premises. Hence you can easily impress your clients by presenting a solid plan so they know you come prepared.
Additionally, you can set goals for yourself in the page modules. The more detailed it is, the better you have an understanding of the estimation of your sales profit. The feature also is inclusive of forecasting traffic and actions.
With the pro version, you will be able to add your traffic to your forecasting interface. This will help you give an idea or estimation of where you stand and how much money you will earn. You will be able to add your traffic number by following the steps mentioned below:
Enter the number of 'clicks to step' on the forecasting page
Then add the amount of money spent under the 'Ad spend' box
This will generate the number of CPC you get. You will have a breakdown of the cost that you will face according to the number of clicks.
There are many users in the platform of your funnel. Therefore you should mark your forecasts by adding a KPI in the tracking section. This will save your forecasting values separately. Hence you can always come back to it without getting confused.
#3. Tracking
This is where the Funnelytics platform shines the most. With the tracking feature, you get to live traction in your sales in real-time. It shows the calculated amount of flow that you will gain in your sales with the conversion rates and the revenue numbers.
This can be done simply with just a tracking script or an HTML signup of the google tag manager. once you add these, you will be able to unlock different features of tracking. This is where you can trace the various aspects of your funnel. Below are the set of guidelines helping you to set up the tracking interface.
This feature enables you to track pages and then turn them into KPIs. It is an extremely simple process. All you have to do is add & checkbox on any icon and mark if the visit on your page is a lead or a sale.
Funnelytics uses UTM parameters to track pages and traffic. Therefore all you have to do is update your UTM and then create your social media posts. You can also create advertisements that will help you grow your business. Once you add the URL to a page, it will be added to your UTM parameters and create a bridge in your funnel account. If you want, you can copy-paste this link and use it as a primary tracking URL that will provide a unified platform for your ads. You may not even require to generate a UTM link.
The platform also provides a history of the actions that were conducted within. Therefore we can go back and see for you what others have been up to and vice versa. This helps you and your colleagues to keep track and have a streamline of motion. You will stay up to date with your work and your associate's actions. Ultimately you will be able to generate a sales report based on your pages and actions.
#4. The Aftermath
So now everything is set up, and the wheels are in motion. Add some final touches like switching on the numbers and flow option. The stage is set, and all we have to do is say action. Now you provide a date range and hit refresh, and you will be presented with an organized flow of conversion rates, the tracking numbers. The most fun part will include the live traffic of your sales.
You will also be able to pinpoint where the traffic is coming from and any gaps that you can fill. This will add a boost to your traction. The sidebar will show you your live KPIs and the amount you are spending on your funnel platform. You will get a comprehensive report on the revenue you are earning as well as your profits. You will get all of it in one single page in an integrated and fun interface.
---
Advantages of Funnelytics | Funnelytics Review
We have discussed much thoroughly about the mechanism of Funnelytics. But why is it so preferred by the people and most people in business? As well as being an integrated platform that gives you everything at once, it also comes with a list of advantages. The quirks only make it better, and you will know why?
With its setup, the platform provides a certification from Funnelytics that stamps over the marketing upgrade. This enhances the credibility and trust of the client.
Expert sessions every week. Our agents came with a great solution to ease the learning process. We provide a weekly session with experts that educate you on the ways you can unlock more magic.
The reports are so accurate that it shows your present and future in one page. Therefore you have a complete plan for your clients and other stakeholders.
A huge library of templates gives you an unlimited supply of ideas.
You can analyze client performance with shared client funnels and get a visual idea.
One-on-one boarding call that helps you simultaneously work together and have all your doubts cleared. This helps you to stay on the same page, thus minimizing any confusion.
---
Top 5 Features of Funnelytics
There are primarily five features that are under the three major umbrellas that we discussed earlier. These features enhance the tool even more and have a great preference by the consumers:
Mapping of pages and adding traffic icons
Link wheel is the URL that you create to track your actions
Customized page thumbnails to identify your necessary applications
The Vault inbuilt in the tool gives you huge storage for your database
Easy to share and keep up with the video conferencing and linking.
---
Funnelytics Pricing Plans
One of the great things about Funnelytics is it gives you the option for the trial. The application has a 14-days free trial.
There is the pro mode as well, which comes with additional features of tracking and forecasting. You can avail of all this at $99 per month. If you pay annually, it will come down to $79 per month. You can also avail of the lifetime plan wherein you can purchase the application at an amount. This will give you the application as lifetime access to its features. Therefore it is so worth the value.
---
🌟 Funnelytics FAQ
✔What is Funnelytics?
Funnelytics is platform-agnostic, allowing you to rapidly and efficiently collect the marketing data you want.
✔Is there a lifetime deal available from Funnelytics?
Funnelytics no longer sells lifetime subscriptions and instead offers yearly plans.
✔Does Funnelytics display live analytics?
Yes, Funnelytics can help you with that. Just click on the 'Numbers' button, you'll be able to extract accurate, live statistics from the time you install the tracking script! You may also use our Forecasting tool to perform simulations.
✔Is Funnelytics free?
The Funnelytics beginning plan is a free sales funnel mapping tool. You may use the mapping tool to graphically draw out your funnel, just as you would on a whiteboard.
✔Is Funnelytics right for my business?
Whether you are a beginner or an experienced marketer, Funnelytics is a fantastic tool. Whether you provide marketing services (freelance job, agency owner), are a coach/consultant, or work as a marketing manager for a firm, there are many ways to use the tool to your advantage.
---
Conclusion: Funnelytics Review 2023 | Should you go for this funnel mapping tool?
Whenever you try to learn something new, you may feel it a little tedious of a task. Funnelytics may seem a little overwhelming at first, but when you are through with the learning process, you unlock so much potential that makes the time and effort worth it. With Funnelytics, you'll be able to explore all of your data sources in one place, without limits. Funnelytics gives you the freedom to connect to any marketing effort, so you can always have the marketing insights you need at your fingertips.
With Funnelytics, you'll have an extensive range of data that will help your marketing efforts. Whether you're managing a campaign, launching a new product, or simply looking for new ways to generate revenue, Funnelytics will empower you with actionable insights. Start exploring your marketing data now with Funnelytics.🤞