Internet users are increasing every day; the count has reached up to 3.9 billion, out of which 3.1 billion are active social media users. Isn't it amazing and profitable to get under such an industry that is not just growing but has lots of reaches?
But how to upgrade your skills to make money out on the internet? If this is the question horrifying you, then GenM is all that you need!
In this article of detailed ✅GenM Review 2023, we will cover all the benefits of the app, and as we don't want to keep you in the dark, we have listed down some cons.
Being a newbie, it isn't easy to get an apprenticeship in this vast market. Moreover, it's more challenging for a business to find the right candidate and not someone who ghosts around after selection.
Each small business needs a person who can add value to their venture and make the most out of the opportunity. GenM apprenticeship offers beginners amazing opportunities to connect with industry professionals and boost their career in digital marketing.
---
Detailed GenM Review
GenM is a platform made for beginners to get an apprenticeship to gain vast experience and exposure by learning different skills from industry experts. The apprenticeship at GenM is from popular businesses to discover new and updated marketing skills.
GenM is founded by three passionate individuals from Ottawa, Ontario, and all of them are renowned entrepreneurs. They have lots of favorable reviews in their bucket because of this exciting platform they have built for everyone.
The only motive of the three entrepreneurs of GenM was to provide free education and access to courses to the ones in need. As digital marketing is a booming profession, they have created excellent courses and training platforms all under GenM. It covers social media marketing, email advertising analytics, content marketing, and many more.
---
How does GenM Apprenticeship work?
If you run a business, create a free account at GenM by going to their official website or through an affiliate link. You will be quickly asked several questions so that you don't get confused while using it.
Complete your profile by adding your photo, educational qualification, interests, email address. Don't forget to connect your social media to GenM, as it increases the chance of grabbing an opportunity.
If you are a business, try to put maximum efforts while displaying your achievements because then only you will be the right candidate.
---
GenM for Business
If you want some passionate and young individuals for your business, GenM offers the best apprentice and freelancers. You can hire anyone for three months by looking after the candidate's skillsets and academics.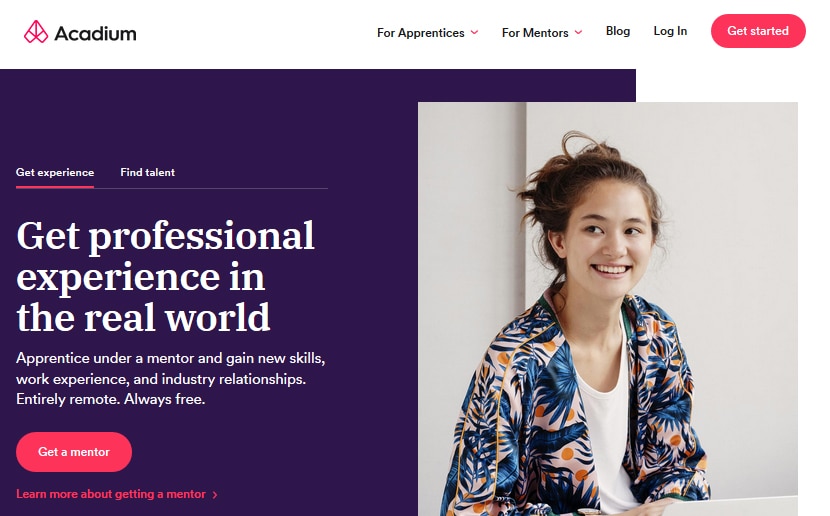 You can also develop new management skills with the help of courses and grow your business organically. GenM offers free support to businesses throughout the hiring period.
The cost of membership for GenM Business is $49 per month. You get lifetime access for the referrals and free credits too.
---
GenM for Students
If you are looking forward to kicking start your digital marketing journey, then GenM offers a lot of courses along with a 3-month apprenticeship that you can use in your resume.
Many courses like SEO and content marketing can help you earn good money quickly after the apprenticeship. The curriculum or the lessons are made according to the industry standards.
Just after you complete a course, a mentor will guide you by 1 to 1 session. You will get an apprenticeship for three months, wherein you can work a minimum of 5 hours and a maximum of 10 hours. The team provides full support to the students until the end.
---
Hire Freelancers for Business
If you don't want to look for an apprentice and wish to work with a trained professional, then GenM has many freelancers on their list. You can hire a freelancer, depending on the project, for a bare minimum cost of $20.
The experiences and demands of freelancers are listed in their profile and the reviews to help you get the best person.
Benefits for the Freelancers
Just after you have completed four apprentice programs from GenM, you become eligible for freelancing. But if you have more than 6 months of experience in digital marketing, the team will review your resume and preferences and would allow you to join as a freelancer.
The minimum cost you can earn as a freelancer on GenM is $870 for a month. And if you are an expert and can spend 40 hours per week, you can bag $6952 in a month. The freelancers are categorized into three levels, beginner, intermediate, and expert.
---
Courses Offered by GenM Apprenticeship
GenM offers multiple digital marketing courses to its users. Some are free, while for others, you need to pay a little penny. The cost of digital marketing courses are highly affordable, and the content it covers gives in-depth information to aspiring marketers. Here is a list of GenM courses you should look after:
If you are looking forward to getting an extensive knowledge of content marketing, then the GenM content marketing course has many insights about blogging, videos, etc. The course covers 19 lessons, including the basics of content marketing.
Through this course, you will not just learn about the basics of email marketing, but also you will understand more about content optimizations and email content. There are altogether 14 lessons in the course.
You will learn the most basic and advanced social media marketing skills through this course. It is divided into five parts, Yelp, twitter, Facebook, Google business, and Instagram. There are altogether 31 lessons.
It's the best course by GenM as paid advertising covers four important factors. You will learn in detail about online advertising like Facebook ads, Google ads, ad networks, and landing pages in 23 lessons.
Learn on-page and off-page SEO with the GenM course in just eleven lessons for better optimization and ranking.
---
Why should you choose GenM over other competitors?
GenM has a dedicated app for their users to make the learning and hiring process easier. Apart from this, there are some more benefits of GenM you should look after, as we have compared it with the best competitors in the market:
24/7 extensive customer support team to help the user with any problem.
Multiple digital marketing courses for significant exposure to the industry
Maximum freelancing opportunities for budding freelancers from top businesses
Beneficial for businesses to find the right candidate by onboarding them according to the skill and academics
Useful for students to earn through apprenticeship and get more knowledge about the work area
---
Pros & Cons
Pros
Free courses and resources for beginners
No hidden cost, transparent pricing
Extensive management skills under a roof
Lifetime access for free
A cheap and qualified tool
Variable courses for digital marketing
Round the clock customer support system
Cons
You can't hire a full-time employee, and can't have more than one apprenticeship with a single person.
Emerging and new platform
---
🌟 GenM FAQ
🤔What is GenM?
It is one of the popular online platforms that offer students hands-on marketing experience to grow their business. Students can easily take online courses created by industry professionals and gain professional experience in the real world.
🙄How long does it take to find an apprenticeship from GenM?
If you have mentioned your skills, education, and achievements properly in your profile, then the chances of getting the right apprenticeship increases. The business will look after your interests and the type of work they need from you and instantly contact you.
🔎Are free courses available on the GenM apprenticeship?
Yes, GenM apprenticeship offers many courses and training programs for students eager to learn marketing skills. You can quickly go through the course list and start up the course for free.
🧐Is GenM apprenticeship worth the time?
GenM is the best platform for businesses, freelancers, and students. The best part is it offers amazing courses for free, which is a big deal nowadays, so stop questioning more and take the right step towards learning new marketing skills from industry experts.
---
Conclusion: GenM Review 2023 | Should you go for it?
Yes, GenM is a legit program you should have right away if you are looking to put in your feet in internet marketing. GenM is a unique platform that connects businesses, students, freelancers, and educated people under a roof. It does not just provide in-demand courses but has excellent features to help the user get the best within a short period.
If you are a beginner and looking forward to building a digital marketing career, you get certification without paying a penny and an apprenticeship in return.
In all, GenM is a must-needed platform, and it is appreciated by Harvard, Google, Shopify, and lots of other digital agencies across the globe. The detailed review of GenM apprenticeship covers each core aspect you must know before using it; we hope this read finds value!😊