Do you have a business? But lack an audience? You have no clue how to promote and market your services?Tried emails? And found it a waste of time and resources? Are you looking for help to create enticing, high-quality content and advertisement? And drive your target customer/audience to action?
In this post, we will explain how you can generate the best ✅Google Ads Copy with Jarvis.ai that help you to drive more conversion.
An advertisement should invoke the following among the target audience or potential customer.
Attention
Interest
Desire
Action
Artificial Intelligence is pro-efficient in creating original and attractive content with human touch. The content helps the user to achieve the expected results through promotion at Google search engine. Before we proceed, let me explain;
---
What is Google Ads & How it Works?
You might have come across the top section of the Google result page, which includes the Ads for the products and services related to the queries and keywords in the search bar. These ads are published and pinned to the search result page based on the quality of the content. These advertisements are named either Google Ads or Sponsored Results.
Hence, to tap into this arena to promote the service and product you are offering is brilliant. These search results pages are a very agile and innovative way to connect to your target audience through running Ads.
But creating content that is relevant and attractive for your audience and that content that complies with the system of Google can be tricky. To make your ads effective, that content must contain queries and keywords that will help Google display them at relevant search result pages.
Google Ads finds relevancy between the keywords, queries entered in the search bar, and the advertisement. Therefore, the Ads must contain keywords for optimization. Knowing the pattern of how the audience or potential customer searches for products and services on Google is vital. The Ad Campaign requires data input from the user to start publishing and appearing on the search result pages.
---
In-Depth Jarvis.ai Review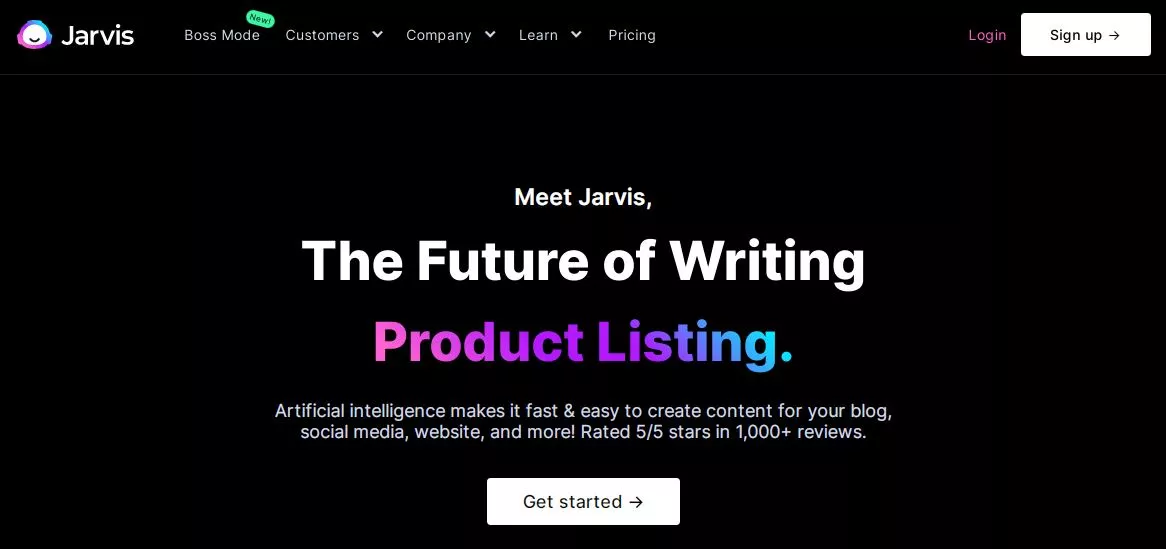 The easy and most straightforward answer to this is an automated system that learns and effectively creates original content with excellent search engine rankings. This Artificial Intelligence was created with consultation and input from some of the world leaders of marketing framework and business strategies. The experts trained Jarvis to write contents that were original, creative, and plagiarism-free.
The contents Jarvis.ai can create are limitless. Blog articles, copywriter, video description, social media post, and many more.
---
Key Feature of Jarvis.ai
Jarvis.ai guides you through creating original and best SEO ranking articles, helps you meet deadlines, and complete your pending drafts 5 times faster. Jarvis.ai is made to improve conversion with the best copy variations content.
The machine learning capabilities of the system make it impeccable in creating content without any hassle. The common hurdle among content creators is writer's block which can be very tiresome and a waste of resources. Jarvis.ai eliminates this from content creation. With the continuous machine learning characteristic of the system, Jarvis.ai never suffers writer block.
Jarvis.ai is proficient in 25+ languages; hence there is no language barrier. Content creation in the preferred language is now made simple as possible. Even now, users can create ads in multiple languages and that too without having any prior language about the diction of it.
You might already have content available on the internet but didn't get the expected results. Jarvis.ai can optimize and reuse the same content. This saves time on creating new content. Repurposing old articles can be very effective as the content already have the customization user made. Just simple optimization is required to get the desired results. Jarvis.ai being a virtual assistant, is very competent in making the content appealing through Search engine optimizing. This makes the ads rank and comes up in the preferred Google search results.
So, are you ready to try Jarvis?
---
How does Jarvis.ai Works?
Jarvis.ai is skilled with 50+ functions. Some functions can be categorized as blog post outline, creative story, sentence expander, Facebook ads and Google ads content, video description, and many more…
Choose from the above-enlisted skills to start with. The list has all the skills Jarvis.ai is capable of. So, the user is free to choose the option they can benefit from. It can be either to create original content, optimize previous content, to copywriting, etc.
Provide the details of your business/company/product or service. The tone is to be set by the user for Jarvis.ai to create content accordingly. Keywords, headlines, descriptions are included by the user. This helps Jarvis.ai to maintain relevancy with the service/product that is being promoted. The headlines and descriptions added are then tried in various combinations to make the best-optimized draft out of it.
As you complete the above 2 steps mentioned, you then experience firsthand the magic of Jarvis.ai. You are made witness to the impeccable content creation through the automated system. The content created is 100% original, creative, and plagiarism-free. The content by Jarvis.ai is created with the AIDA formula in consideration.
Attention: Attract the attention of the audience
Interest: Make the potential customer intrigued by the service/product the user offers.
Desire: To ignite the part of the customer behavior to possess/avail the product/service.
Action: Make the customer take the expected step to buy or avail of the service/ product.
The world is evolving towards a new mode of ads. Presenting, Responsive ads. The new age of marketing and promotion. Responsive Ads were adaptable to show relevant texts and messages from the ad to gain more audience relevancy. This makes the conversion rate faster, and this would help to regulate and optimize the ads accordingly.
---
Some Tips for Ad Creation (Get Upto 99.99% CTR)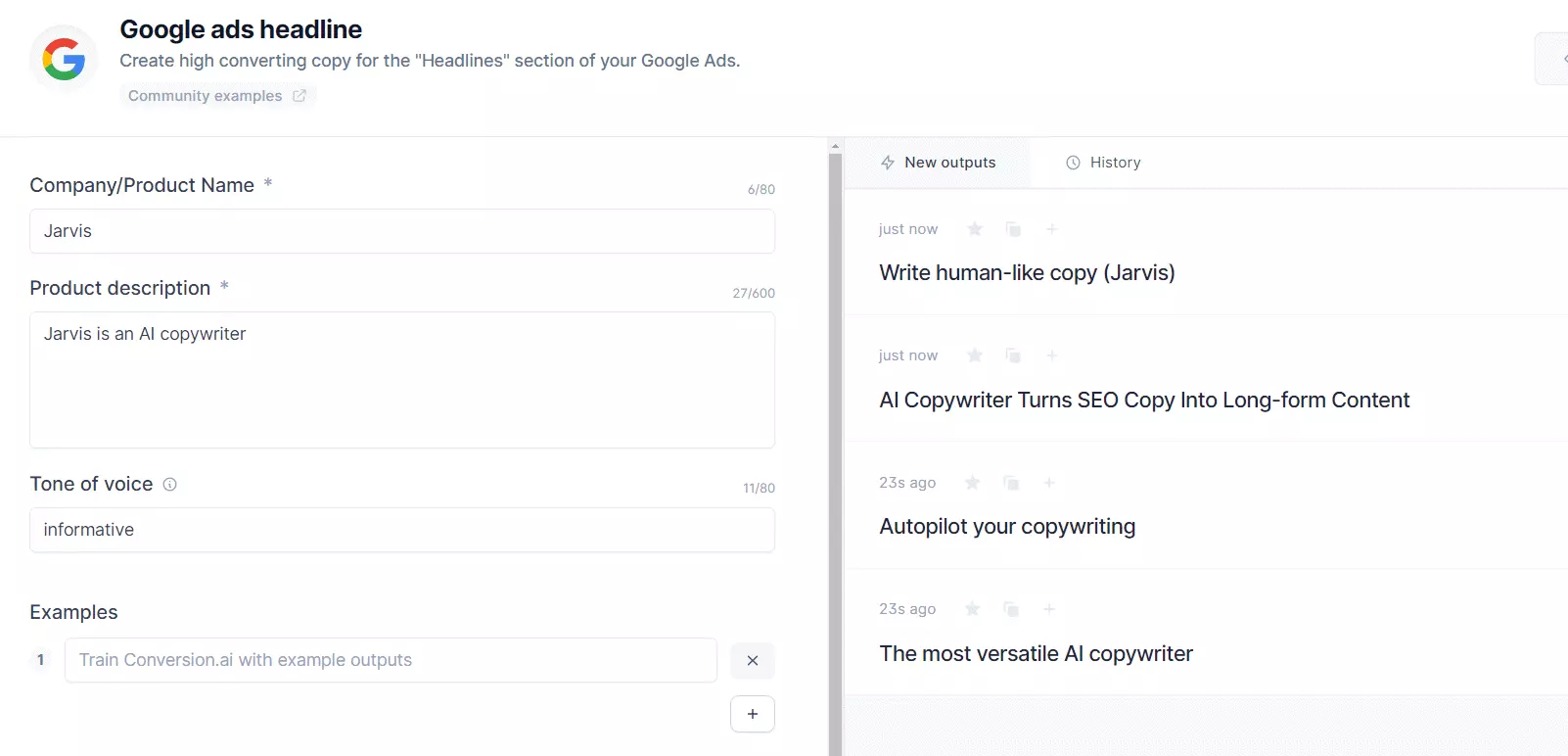 The products and services offered are rearranged to maximize visibility. The promoted service or product shouldn't violate any policy or local law.
One responsive ad of "Good or Excellent" strength in a single Ad group.
The permanent tagline, hook line, or headline which the user wants to build a brand or trademark for their Product/ Service must be included in Headline 1 or 2 or Description 1.
---
Do I need Google Ads?
To create a market and following for your offered product/service, you need to promote it on a platform with an exponential presence of people. Therefore what better option than Google search engine. Google Ads have the potential to reach a huge audience in a very short period of time.
Hence, the best and most preferential mode to promote your Product/Services would be Google, of course. Google is the most popular search engine, will be a platform where you will have attention and buzz around the offered product and service by the user. Let Jarvis.ai help you create the perfect content to promote your business/company on the best platform the internet has to offer.
---
Jarvis.ai Pricing Plans
Jarvis.ai can be subscribed to either Monthly or Annual billing mode. The subscription is categorized into 2 packs:
Starter Pack: $29/monthly, $24/yearly
20,000 words/mo.
7-day Money Back Guarantee
50+ Short-Form
Copywriting Templates
Unlimited Users
5 Project Folders
25+ Supported Languages
Chat Support
AI Copywriter's Community
Boss Mode: $59/monthly, $49/yearly
48,000 words/mo
2,000-3,000 Character Lookback
Unlimited Runs
Jarvis Commands
$50 per additional user.
Unlimited Project Folders
Write Long-Form Content
Workspace Documents
50+ Short-Form
Copywriting Templates
25+ Supported Languages
Chat Support
Learn tips and connect with 20,000+ copywriters using Jarvis.
AI Copywriter's Community
---
🌟 Jarvis.ai FAQ
🙄What is Jarvis conversion AI?
Conversion.ai is an artificial intelligence assistant named Jarvis that writes content for you automatically. Jarvis can create a wide range of content, such as long-form blog posts, marketing copy, emails, YouTube scripts, product descriptions, and more.
💰Is Jarvis.ai worth it?
It saves me a lot of time that was spent purely on writing. It is far superior to other AI writer tools. Because copywriters and conversion experts have trained it, you can expect higher quality output from this AI.
🔥Is Jarvis.ai free?
Jarvis has two plans to choose from Starter and Pro. The Starter plan gives you access to more than 50 copywriting skills with a maximum output of 400 characters. This plan starts at $29 per month for 20,000 AI-generated words. This plan starts at $109 per month for unlimited Jarvis-generated words, plus $40 per user per month.
🧐Is Google assistant like Jarvis?
Google Assistant is Google's well-known personal assistant Jarvis apps for android. This works in the same way as other Jarvis applications but with higher quality and better performance.
---
Conclusion: Generate High Converting Google Ads Copy Using Jarvis.ai
We want to make sure that our customers understand why they should use Jarvis.ai over other similar tools available out there. We also want them to know how much value Jarvis.ai provides at such low prices. So here goes. Our pricing structure is simple and easy to comprehend. You get exactly what you pay for. If you don't like the price, simply cancel within 7 days, and no questions asked!
No hidden fees or charges. Just plain old-fashioned honesty.
You'll receive all the features listed above plus many others not mentioned. Jarvis.ai's team works hard every day to ensure that everything runs smoothly and efficiently so you can focus on growing your business. You sign up online and select one of three plans based on your needs. Once selected, you are given access to the software via a web browser. From there, you can start writing immediately. All you need to do is type away and let Jarvis take care of the rest.
It's that simple. Your business/company/product/service information is always kept private and secure. We only share data when required by law or if you give permission. And even then, we keep things as minimalistic as possible.
Every piece of content created through Jarvis.ai belongs solely to you. This means that you retain full rights to your material and can publish anywhere you wish. The team's goal at Jarvis.ai is to build long-term relationships with clients who appreciate quality work done quickly. That way, they can continue providing high-quality services at affordable rates. So, be wise to choose Jarvis.ai to propel your business to new heights of achievement.
Thanks for reading, and hope you enjoy working with Jarvis.ai.🚀🚀