After the recent updates of Google, one thing is for sure. No matter how much you do for your website to rank, there will be something missing in the core. If you are an affiliate, there is more to the site than just content writing! You have to look after many aspects to ensure that your website fits into the guidelines of the recent Google updates.
These changes are impossible to perform manually. To make things work well for your website, you need marketing and SEO booster-like themes. It might be a little overwhelming to pick one for your blogging needs. But, there are a variety of tools out there for the benefit of an affiliate's website.
We are here to ease your work. Our ✅Gutencon vs. Affiliate Booster will surely help you choose the platform for your affiliate blogging needs. But which one of these is our best pick? You will get the answer by the end of the article.
---
Gutencon Vs. Affiliate Booster 2023: Overview
Gutencon Review
If you want your website to be a success, specific attributes need to keep in mind. Only content is not enough to make your site a success; it must be well-designed and well-structured, and perfectly aligned for your needs!
That is when Gutencon pays off its work. The Swiss knife and WordPress plugin increase the value of your site. Through one platform, you can access all SEO tools. They claim themselves to be the future of WordPress. We guarantee that you will not need any other third-party tools once you sign up for Gutencon.
The best part?
Gutencon works with any theme and with any site. Following are specific contents that can mostly take benefit from Gutencon.
Review sites
Listings and directories
Comparisons (Price or specification)
Blogs
Event sites
Online tutorials and instructions
Below are some of the steps that need to be undertaken to create the things mentioned above on WordPress.
#1. How to Make a Table comparison in WordPress
The chart tables are optimized for mobiles. With the help of this feature, you can easily create a comparison table on WordPress. You get tons of options to make your table and do not need to use any heavy page builders for this.
#2. Advanced SEO settings & blocks
There are multiple SEO plugins with different schemes in the market. But Gutencon has different search blogs for different schema plans that looks excellent for search engine and users. Other than this, each SEO block has individual settings that can be used while changing heading tags and other options.
#3. How to make Listings in WordPress
Recent studies from Backlinko and BuzzSumo have been stated that listings play an essential role in the WordPress site. Therefore, Gutencon main focus is the listing feature. You get to build several blogs for listings.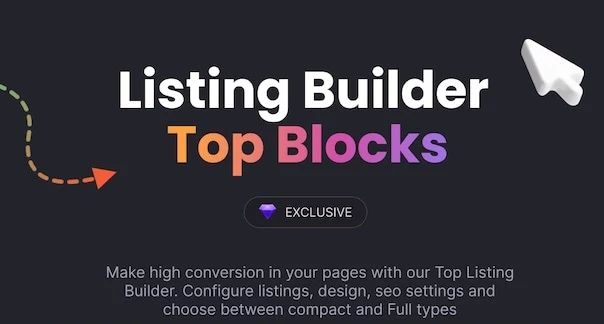 In that section, you can customize specific attributes like pricing, coupons, and other relatable products. You get to access different themes for your listing method. You can apply whichever suits your topic the best.
#4. URL Praser
Adding offers to your listings can attract lots of visitors to your affiliate site. With Gutencon, you get a time saver, and that is the URL parser. With the help of this option, add a link to your product page, and if your product page has data, the parser will automatically retain the data. You can place the content in the appropriate fields. After that, the other customization f the data is in your hands.
#5. Web Vitals score & speed
Gutencon is an expert in speed optimization. They know that how important web vital scores are. So to help you in that context, Gutencon introduced some built-in tools. Using these tools, you will not need any additional tools. All styles and scripts are conditional, and they are placed where you need them.
#6. Bonuses: RH Link PRO, RH Chart PRO
If you choose to become an official member of this platform, you can access multiple bonus plugins. The first one is the RH link. Taking the help of this plugin, you can easily add static to your offer buttons or add-change affiliate ids to your existing links.
The second plugin is the RH chart. Using this plugin, you can easily create complex diagrams, comparison bars, infographic blogs, and many more for your blog. Both of the plugins are exclusive, as they do not sell them individually. You have to purchase the whole bundle of tools to access the above plugins.
---
Gutencon Pricing Plans
You get the option to choose from two paid licenses. One can get Gutencon Regular License for a lifetime at $29 with all updates. On the other hand, get access to the Extended License for a lifetime at $525.
The support system of Gutencon is excellent. They are here to assist you 24 hours a day, seven days a week. If you want, you can have your small query resolved through the live chat option.
Gutencon Verdict
Without a doubt, Gutencon does offer more than just a WordPress theme in its features. If you choose the premium version, you will gain a lot of benefits. It provides every element to make your website rank among its competitors.
---
Affiliate Booster Review
Now, if you are an affiliate blogger or a simple blogger, you should know about this fantastic Affiliate booster theme and its excellent features! Kulwant Nagi created the affiliate booster. He started blogging in 2011, and in today's time, he is one of the most successful bloggers in India.
This theme is designed by keeping in mind the affiliate marketer's needs. Therefore, this theme is based on Nagi's experience and has continuously grown since its creation.
---
Key Features of Affiliate Booster
There are multiple features to access with this theme. Some of them are mentioned below.
#1. Easy Customization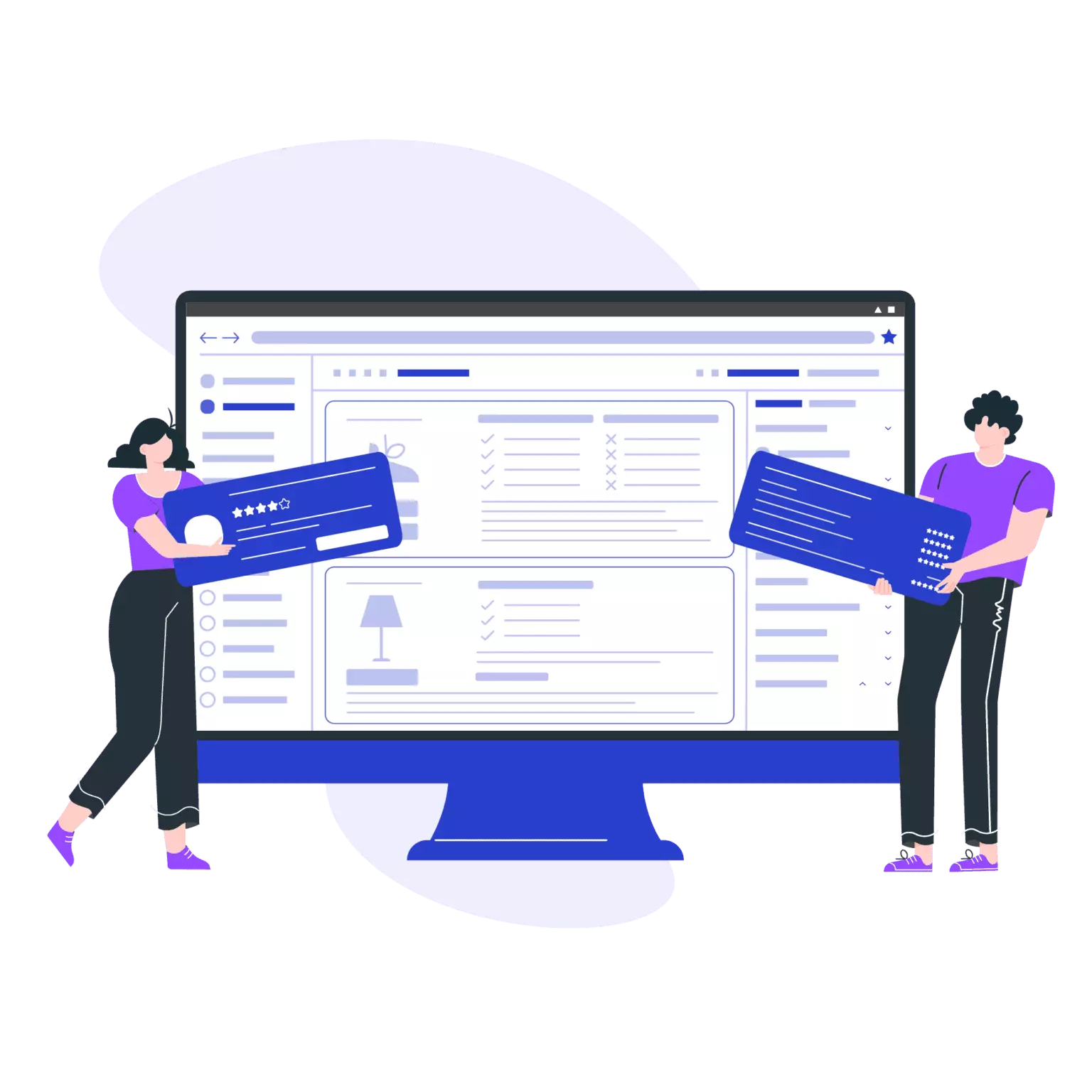 The in-built theme is often not set according to our choice. The customization option is easy in Affiliate Booster. You may change the theme to fit your needs.
#2. Mobile Responsive
More than 50% of the users used mobile to read blogs. There is a good chance that you are reading this blog on your mobile too. You will be happy to know that the Affiliate Booster theme is mobile-responsive. You will not face any glitches in your surfing.
#3. Schema Optimized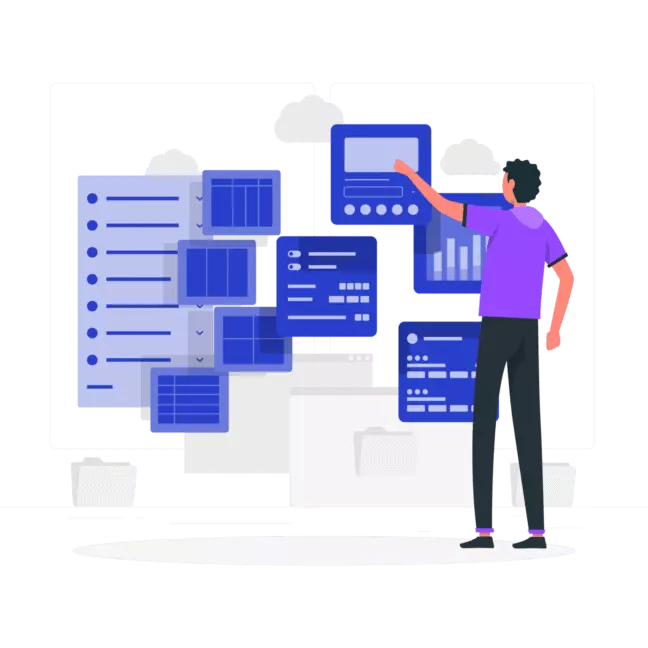 Schema Markup is a code for a website. With the help of Schema Markup code, you can optimize your website according to the search engine guidelines. Therefore, an optimized schema theme is vital if you want your website to rank on Google. The good thing is; Google's rich result test optimizes affiliate Booster.
#4. Fast Loading
One of the most important things in SEO is that your site should load faster. A visitor will not wait for more than 5 seconds for your website to load. With the help of Affiliate Booster, your site gets loaded quickly. It makes sure to include those add-ons that won't restrict your site's loading time.
#5. Typography Control
As everyone's writing pattern is different, it will not be justified to only stick to one typography pattern. With the help of Affiliate Booster, you can set different typography patterns, headlines that match different tones of your writers.
This fact should not be avoided that Affiliate Booster offers more minor features as compared to Gutencon. In Gutencon, we observed that it provides more than just a WordPress theme! It also provides other features to help make our website rank among its competitors.
---
Affiliate Booster Pricing Plans
With Affiliate Booster, you get two plans. The first one is free to access! You can get started with the free basic plan first to get an idea of the platform. The other one is the paid version which starts from $29/month.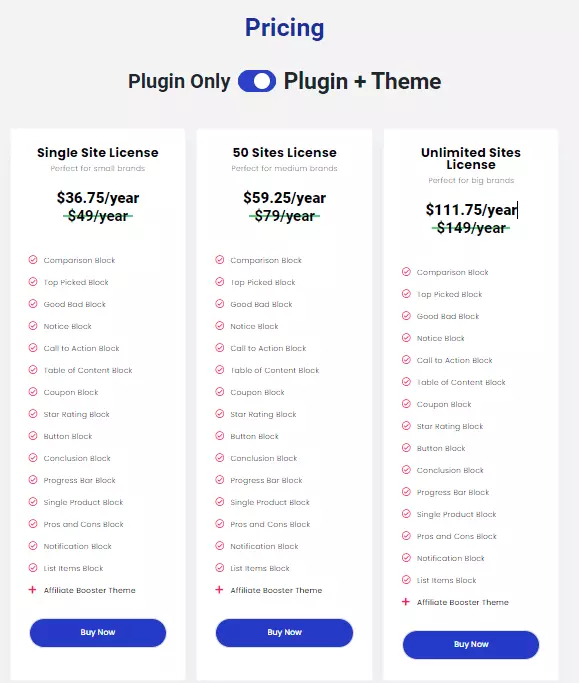 This is for the theme only. If you decide to purchase plugins, you will need to go for the license plan. You get the option to choose from single-site license, 21 sites license, and 50 sites license.
Affiliate Booster Support
Unlike Gutencon, you do not get the live chat option. However, you can submit the tickets and have your query resolved in a limited time. The customer support team of Affiliate Booster is responsive and does everything to have your query resolved as soon as possible.
---
🌟 Gutencon Vs. Affiliate Booster FAQ
✅What is Gutencon?
Gutencon is the #1 tool for creating high-quality posts with high conversion. It's a must-have WordPress plugin, swiss knife in WordPress, which boosts profit from your site and provides you a comprehensive set of marketing & SEO capabilities directly in Gutenberg editor, which is the future of WordPress
✅What is an Affiliate Booster?
Affiliate Booster is a high-quality WordPress theme for building affiliate marketing sites. It comes with a rich collection of banner layouts, blog layouts, email capture layouts, and a custom page builder named Booster Builder.
✅How much does Gutencon cost?
The standard Gutencon package is $29 per month.
✅What is the cost of the Affiliate Booster theme?
The pricing for a single site license would be around $20, $40 for 50 site licenses, and $70 for an Unlimited Licence.
✅Will We Get Lifetime Updates for Affiliate Booster?
Yes! If you purchase the lifetime license pack. However, if you buy an annual license pack, you must renew it at a 40% discount every year.
---
Conclusion: Gutencon Vs. Affiliate Booster 2023: Who is the winner?
We will give the edge to Gutencon! It is more than just an affiliate theme! At the same price, you will be getting access to additional features with Gutencon. Affiliate Booster is good enough in its place, but the lack of compelling features makes Gutencon the winner. The live chat support option makes it easier for beginners to have their basic queries resolved. Also, with Gutencon, you get access to additional bonus plugins at the same price.
If you are intrigued enough, give our best pick Gutencon a chance by clicking on the link below.
That was it in our Gutencon Vs. Affiliate Booster review.
Happy Blogging, you all!