As an Amazon seller, you might have come across several tools or might have heard of some features that can help you in multiple aspects of your selling business. Talking about these tools, Helium 10 has emerged as one of the best Amazon-selling tools in the market. In addition to all this, it also covers some other aspects, such as marketing and Amazon PPC. In this Helium 10 Adtomic review, we'll be taking a look at all the important aspects of Amazon's selling.
The Adtomic by Helium 10 focuses on one of the important aspects of marketing, and this basically helps in making things better for your Amazon PPC.
So, let's get started with this Helium 10 Adtomic Amazon PPC review and explore the offered features and how they can help make things better for your Amazon selling operations.
Helium 10 Adtomic Amazon PPC Review – Headstart with Adtomic!!
There are a number of things that can help you in your Amazon selling operations, and Adtomic can help you with that, so let's get along with that and have a detailed review on the understanding of what Adtomic has to offer and how can it help you in your Amazon selling practices. But before we take a deeper dive into the features offered by Adtomic; let's understand What is Adtomic and how can you use it?
What is Adtomic in Helium 10?
Adtomic is one of the excellent features offered by Helium 10; well, to be more accurate, it is more of a tool that can help you make your Amazon PPC and marketing better so that you can get better ROI over time. The revolutionary new ad technology platform, Atomic, is the culmination of two successful Amazon advertising software packages, Helium 10 ADS and Prestozon. With this powerful toolset, Adtomic offers advertisers a chance to affirmatively grow their brand's reach with an innovative advertising platform that leverages the best of both worlds.
The name reflects the unparalleled power of the software, which has effects similar to those experienced from nuclear fission or fusion. They give you complete control over even the smallest elements of your business.
To distill the essential elements of Atomic into three pillars, they would look like this:
Witness an Exploring Growth of your online business powered by accessible Amazon advertising.
All-inclusive reach is handled on your behalf by PPC automation and templates.
Have a Granular control that is enabled by custom rules and sophisticated algorithms.
In simple words, it can be said that Adtomic is an AI-powered tool that can help you in Amazon marketing and PPC campaigns. All you need to do is get along with this excellent tool and make your strategies likewise. The Adtomic can help you in making you work along with multiple aspects of marketing while focusing on both organic and paid traffic.
Now that you have an overview of Adtomic, let's get started with the other aspects as well; this includes the features and how you can use them for your Amazon selling practices.
Benefits of Helium 10 Adtomic | Boost Your ROI & Save Precious Time
Adtomic provides a predefined template that can be used to effortlessly build and manage your ads by providing proprietary campaign strategies.
The advertising tool has become more advanced over the past few years and can now be used by all departments. It allows automation through analytics that simplifies hours' worth of work within minutes.
Amazon only stores up to 60 or 90 days of data on a customer. This means they're unable to track your progress as far as you want. But Adtomic stores up to 2 years of data to help you compare and figure out how far you've come
The simplicity, ease of use, and freedom to micromanage make this tool an excellent fit for all sellers. Streamlining your business processes makes it easy to implement and start saving time and cutting costs.
How to Use Adtomic? – Helium 10 Adtomic Reviews
Using Adtomic is not a difficult task, but having a good knowledge of how you should be working on your marketing campaigns can be helpful.
Just in case, you are wondering how to access Adtomic, here are some simple steps that can help you get along with using Adtomic. You can access the Adtomic after logging in to your account using two different ways, and they are as follow:
You can access Adtomic from the Header menu; some of the options that are available in the menu are Dashboard, Tools, Profits, Follow-up, Adtomic, Portals and FBA training. You can access the Adtomic from this menu section.
Another way to access the Adtomic is from the tools section; this section is available under Marketing. You can get along with two options: Adtomic and the Portal (for the landing page builder).
Now, after you have got yourself on the Adtomic page, the Helium 10 will start working on your Amazon store, and the data will be collected in order to make marketing campaigns work for your store. Just in case you have not connected to your Amazon store, Helium 10 will ask you to get along with two things which are:
Connect your Sellers AccountBox Content
Connect your PPC Account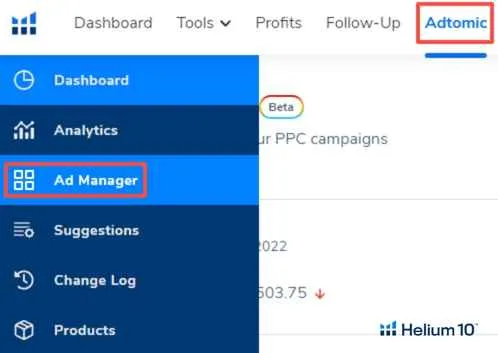 Once you are done with setting up your Amazon seller account along with Adtomic, there will be some options available to you that can make your Amazon selling better. After getting done with all the features, you can access several things such as ACoS, PPC Spend, PPC Sales, etc.
In addition to all this, you can also get along with some other options as well. These options basically include:
Dashboard
Analytics
Ad Manager
Suggestions
Change log
Products
All these sections can be accessed using the left-hand side menu. In addition to all this, you can also get along with some other important features, which basically include:
✔

Summary (Campaigns, Ad Groups, Keywords)

✔

PPC Spends

✔

Highest ACoS Campaigns

✔

PPC Sales

✔

Analytics

✔

ACoS (Advertising Cost of Sales)

✔

Daily budget

✔

Highest Spends Keywords
If you are a bit known for the concept of google ads and other marketing campaigns, getting along with Adtomic won't be much of a difficult task. In addition to all this, if you are not very familiar with the marketing campaigns and other related Amazon PPC-related stuff, you don't need to worry as Adtomic offers a course. So if you are a beginner or someone who is not very well aware of how things are to be performed, Helium 10 offers an Adtomic course as well, so that you don't get left behind in getting better ROI.
Which is the plan you need to subscribe in order to use Adtomic?
Adtomic is a premium PPC platform that is available to its users at no extra charge. It is available to members of the Platinum, Diamond, and Elite plans. With each Plan, you get a different set of features. The Platinum members have view-only access to the statistics and analytics, whereas, with the Diamond and Elite Plan, you get full access to Adtomic. However, there is a 2% fee when the PPC spend exceeds the $20,000 limit for Diamond members and $40,000 for Elite members.
What are the Different Types of Ad Campaigns in Helium 10 Adtomic?
Adtomic basically offers two different types of Ad campaign builder options, these are as follows:
Now after selecting the type of Ad campaign you can look after other options as well, these options include the life cycle of the campaign, setting the bid, budget and you are almost done with the starting phase of running your Amazon ad campaign (PPC Campaign).
👉 Steps Required to Get an Access to Adtomic Ad Manager
Step 1: Get access to Adtomic Ad Manager through the blue dropdown menu and by clicking on the icon with four squares.
Step 2: After getting your token connected, you can enable your profile and choose from the marketplace you wish to use and to who you want to give access.
Step 3: After giving permissions, you can see a list of all the campaigns and their data. You can also customize the columns which you wish to see.
Step 4: After scrolling through the columns, you can see three choices for the Bid Algorithm; Target ACOS, Max Impressions, and Max Orders.
How to See Your Adtomic PPC Spent in Helium 10?
Getting along with the Adtomic PPC spent can be very easy, all you need to do is get along with some simple steps as follow:
Step 1: Click on the Helium 10 icon that can be seen in the upper right corner of the page.
Step 2: Click on the section labeled Plans and Billing.
Step 3: Get to the Billing History section which is available in the left-hand upper corner.
Step 4: You can now see the graph that shows you how much campaigns have spent so far.
Step 5: All the money that is spent can be seen in the billing section, and all the spending is counted under your Helium 10 monthly billing.
Step 6: You can also look after the previous bills as well, all this data can be seen using the drop-down option.
Step 7: All this data can be exported in CSV or Excel format.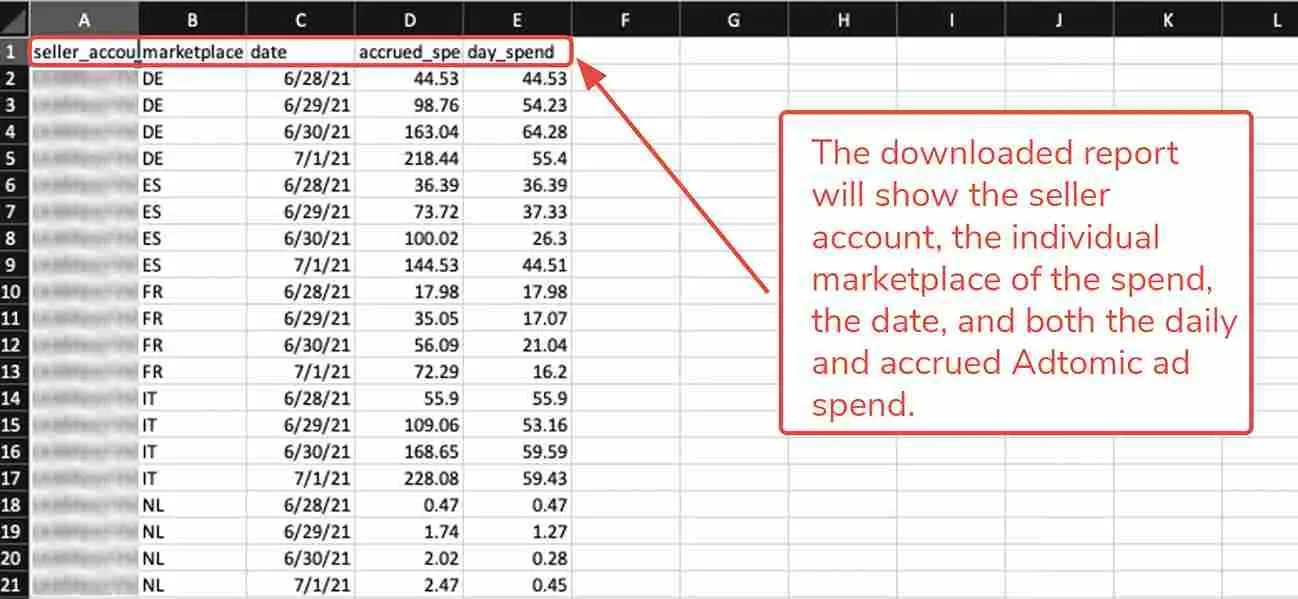 Now after we are done with all the process of billing and getting along with all the PPC spent, its time to get along with the Product lifecycle which can be considered one of the important features in making things better for your Amazon selling operations as well as Marketing and PPC campaigns.
You can explore different campaign types that can impact your marketing operations. These options include Launch, Scale and Liquidate. Let's take a better look into this and understand how it can help you.
Let's take a deeper dive into these sections in order to understand how things are to be done under the above-mentioned options. All these options can help you in a number of things, so let's take a deeper dive into this.
Launch: The launch option is primarily focused on the point where you can work on marketing and PPC campaigns using the bid strategy. The Helium 10's Adtomic Launch option works on the bidding module while getting along with the maximum impressions. This as a result can help you in making things better for launching new products or getting along with better impressions to reach more and more audiences. You can get better in the terms of product listing and make more precise targeting.
Scale: One of the things that make Scale an excellent option for your business is its bidding module, as it focuses on improvising performance for your business and ad campaigns. If be more precise the scale option basically focuses on the Target ACoS. This as a result can help in making things better for scaling up your marketing and campaigns across Amazon. In addition to all this, Scale options can be helpful for products that are in the performance stage and for scalable advertising.
Liquidate: The liquidated option can help you with a number of things, well, basically the option is available in order to maximize the orders, this, as a result, can help you in making things better for your business and Amazon selling practices. The liquidating can help you in making things better for clearing the stock. The liquidate option basically focuses on the selling part while getting along with getting more and more orders, here the main focus is on the selling part (quantity-wise) rather than focusing on the part of gaining more profit.
How can You Optimize Your Campaigns Using the Adtomic Analytics Window?
The analytics window makes it easy for you to perform a complete analysis of your advertising spend and results in an organized manner. It provides you with essential insights into the performance of your ads so that you can make more informed decisions.
You can see your metrics on a Portfolio level, Ad Group Level, Keyword Level, Search Term Level, Campaign Level (default), and Product Level.
By looking at the positive and negative keywords/ASINs by simply browsing the results, you will be able to quickly identify those that are performing well and increase their bid or experiment with those that are performing average by putting them in negative.
Can You Modify or Add New Rules for Campaign Suggestions?
With Helium 10 Adtomic, you can certainly do that. To do, you should access the rule editor and locate the Ad Manager on the left.
Choose the list you wish to create a rule and scroll down to get the "Rules" column. To update or create a new rule, you should click on the cog and see if any rules are already present.
To create the new rule, use the "+ Add Rule" button or change a rule by clicking on the pencil next to the rule's name.
First name the ruler and try to label the rule by its function.
Then, you have to select the rule type. There are two rule settings here:
The first is about converting search terms based on orders and establishing the threshold later in the rule.
Then find the underperforming search terms for negation so that they have no sales but have reached a threshold you set by using Advanced options.
You can select the ad groups from which you wish the rules to source data or keywords. If you are sourcing search terms with sales from one ad group, you will have to bring in other ad groups in which you want to create the keywords and then trigger when the second step is met.
Then click the "Create Rule" as your rules get set.
Once you are confident that the rules are working in your favor, you can come back to the rules editor and toggle the "Automate" tab for a more streamlined approach.
Using the Negative Keywords – Helium 10 Adtomic Review
If you are aware of getting along with other campaigns and marketing practices, you might be known to the term negative keywords. In simple words, using the feature option for Negative keywords can help you not step over the words that are not profitable to you or may cause any ill effects to your business or Amazon selling practices. All this process of getting along with negative keywords can be done in simple steps. This all can be done with the use of keywords management while choosing the keywords with low search volume, these keywords can help you in making things better for your marketing campaigns, and working likewise.
You can also make some rules in order to save yourself some time and effort for the business, all you need to do is work across these set of rules in order to clear out some of the negative keywords while getting along with marketing and PPC campaigns.
In addition to all this, you can look after the training program as well, you can work in the process in order to make things better for you in order to learn more about the tool and exploring around the process of making yourself a better Amazon seller. Right now Helium 10 is offering an 8-week course for making yourself better in terms of Amazon PPC.
💡How to Set Up the Negative Keywords Rules?
Your campaigns have been running for quite some time, and you are now looking to optimize your "average cost-per-sale" (aka ACoS). However, you feel that you're stuck at a crossroad, not sure how to proceed. Well, Adtomic also allows you to design rules for negative keywords so that certain words and terms are eliminated from campaign ad text.
Head to the Adtomic and go to the Ad Manager dashboard. Then click on the cog in the rules column and select the ad campaign you would like to work on.

Then click on the "Add Rule" button in 'Rules for Campaign' and choose a name.
Click on the drop-down under and 'Select a Rule type' and choose "Find poor performing search terms & ASINs" so that you can create a rule to identify the negative keywords.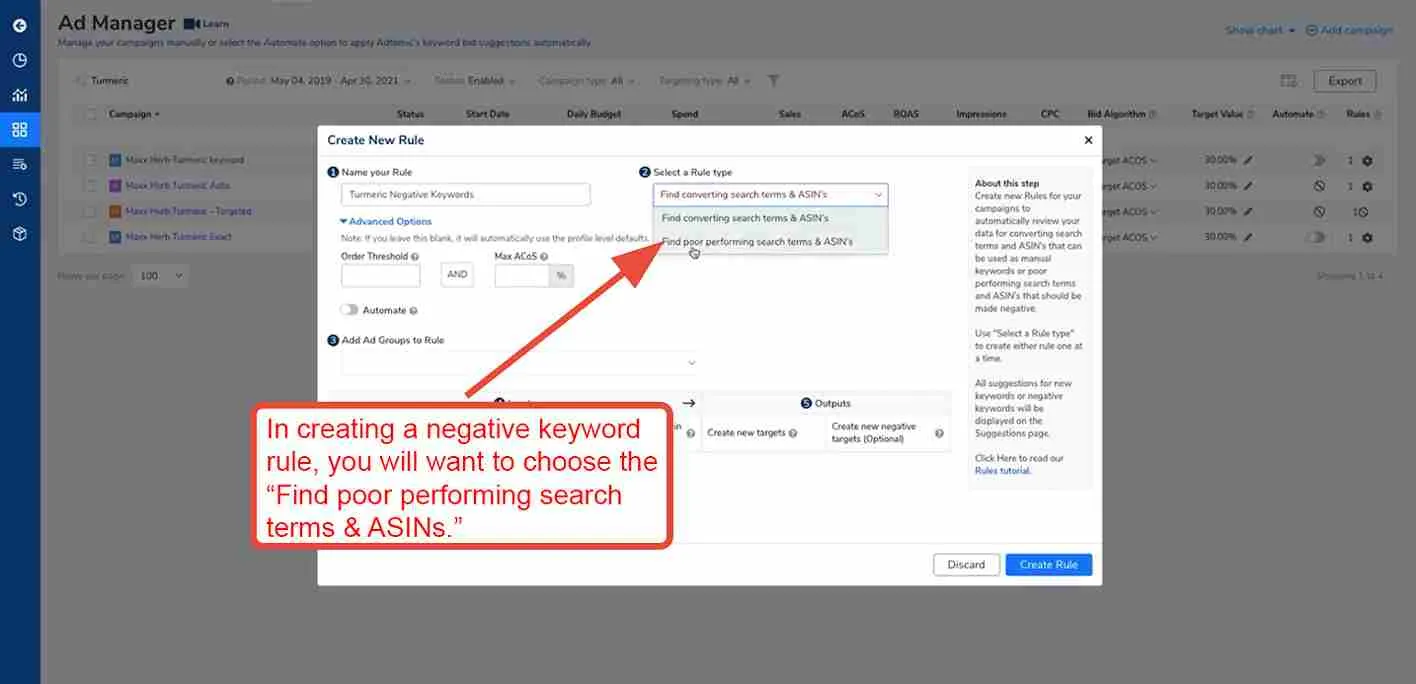 By default, Adtomic allows you to set filters on either click or spend and adjust it on a daily basis. If you'd like to manage your thresholds with our algorithms, you can leave the box empty/blank. And if you wish to set specific thresholds on either click or spend, tick the "Use Threshold" box and put it in your filters.
If you want to add your rule to add negative keywords automatically, you will need to select the toggle beside "Automate" on the left-hand side of your rule editor. You may also skip this step and edit negative keywords manually by selecting "Manage" on the right-hand side of your rule editor instead.
The drop-down on the Ad Groups page allows you to tag the new negative keyword rule with a variety of different ad groups.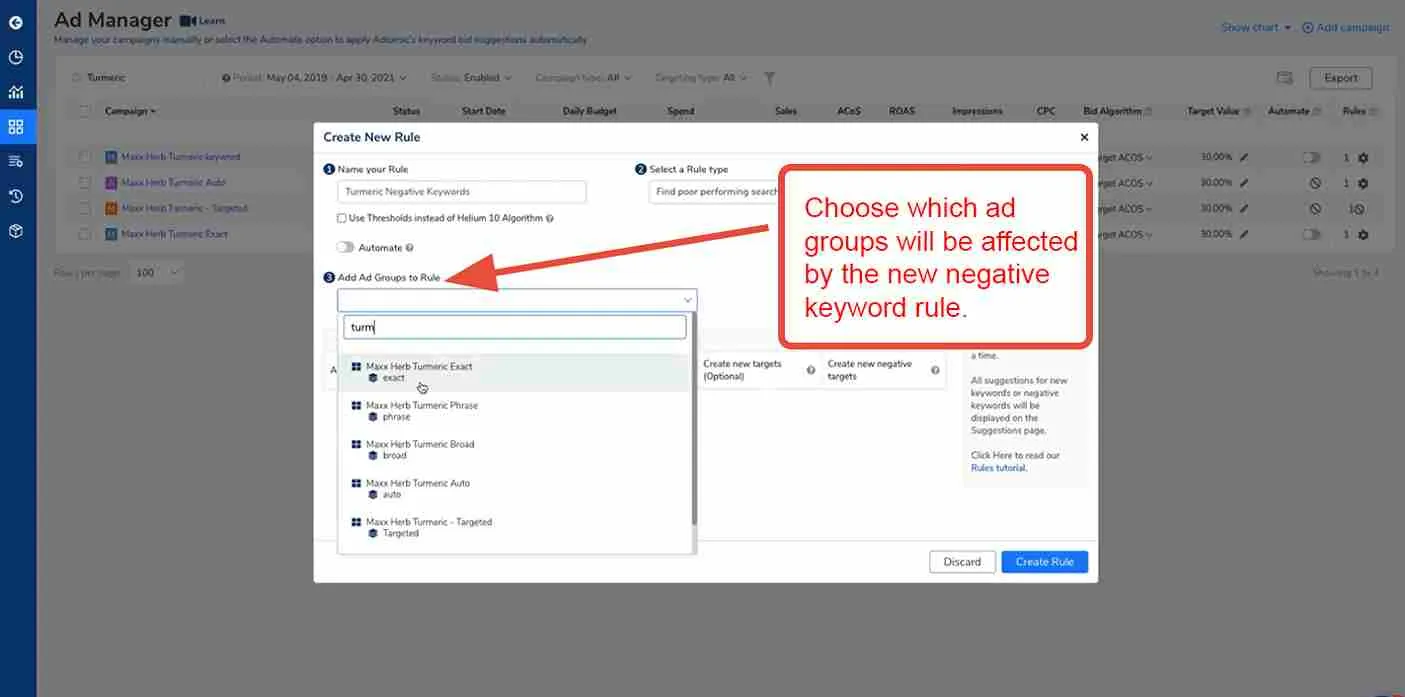 Now, you will need to decide which match types and goals you want Adtomic to suggest. Click on the gray Match Type icon to choose from the Auto, Phrase, Exact, or ASIN match type.
Then finally, click on the "Create Rule" button to view the updated Negative Keyword Rules.

Use our special Helium 10 coupon code that enables you to get 20% OFF the first six months of Helium 10. Limited time offer.
7-Day Money Back Guarantee

Grab this exclusive coupon code and get up to 25% OFF on annual plans of Helium 10. Hurry up!
7-Day Money Back Guarantee

Use this special promo offer to get started with Helium 10 for free. Test all its features for free today!
Sign up for now
Helium 10 Product & Keyword Research Tools
Helium 10 offers some excellent features in terms of keyword research as well. The tools that are offered by Helium 10 can help you in multiple things. Organic keyword research can help you in a number of things and the tools that are offered by Helium 10 in this aspect are as follow:
The Black Box can help in a number of things, these include some extra features and filters, which basically include the filtration across keywords, ASIN, budget, revenue, reviews and much more.
This feature basically enables you to get along with some features that can help you in finding the right type of keywords that might be trending over Amazon, this basically includes keywords with higher search volume.
The tool/feature enables you to get along with multiple things such as getting along with the process of searching and working along with the keywords that can help you in getting better at listing optimization.
You might sometimes misspell a given keyword for a certain product, but have come across the right product, well this is where Misspellinator can help you with. This way you can even get traffic and get your product listed through mistakes made by customers.
Helium 10 Adtomic Pricing Plans | Is there any Helium 10 Discount Coupon?
Well, unfortunately, there is no specific pricing plan made in the plan. For this, you could get along with the Amazon PPC tool by purchasing the Platinum, Diamond or Elite plan, which has a different registration process. For users that want to see two account-level sections of our software, the Platinum plan offers limited views of the Dashboard and Analytics page. But the full experience and power are unlocked in our Diamond and Elite plans.
So with the Platinum Plan, you get:
Access to Adtomic, which is limited
The plan costs $84/mo
With the Diamond Plan, you get:
Access to Adtomic with more than $20k ad spend
Whereas this plan costs around $209/month
Atomic is available on our Diamond and Elite plans and Helium 10's exceptional 30-day money-back guarantee. If you aren't completely satisfied with the service, you will be fully refunded within 30 days of your subscription purchase.
How does Helium 10 Adtomic Help New Amazon Sellers?
One of the most incredible things Helium 10 has to offer is its training. Of course, it is absolutely free. On each page of Adtomic, you will find the "learn more" button to the right of each page title. Users are encouraged to review both introductory and in-depth Pro Training videos on the platform to learn about how it functions.
Sometimes it can be challenging to learn about PPC as a whole, but luckily Helium 10 Adtomic has bi-weekly AMA sessions where we dive into new features and updates of Adtomic. These sessions are also a great place to ask questions about the Adtomic platform.
Tune in and ask your questions now! All these AMA's are also recorded and available on our YouTube channel. For those new to PPC, they can also watch our modules in Freedom Ticket that are focused on the basics of PPC and cover creating those first few campaigns. Once a user understands the foundational principles of PPC, it can be effortless to use Adtomic for their advertising needs.
How has Helium 10 Adtomic dealt with the advertising challenges for online business owners of all experience levels?
Prestozon is a digital marketing automation tool that makes it easy to manage Amazon PPC campaigns. It initially launched with a few Excel worksheets for managing but soon became a necessary part of the toolkit for digital advertising. But at Helium 10, they knew that the need to create more advanced tools had become a necessity.
They have come a long way since 2015, but the fundamentals are the same. You need to be advertising your products, and in doing that, you need to structure your account correctly. And that's where the campaign builder comes in. Accounts that are messy, who seem to be putting in a lot of work and effort, will never perform that well. Once a good base is established, you need to start thinking about leaving less money on the table by targeting specific areas and automating bids.
Adtomic is launching two new bidding algorithms that are highly flexible and can be used to help you maximize your profits in a variety of ways. Their target rules engine is the most flexible available and will help you launch or liquidate your products depending on their lifecycle stages.
FAQ related to Helium 10 Adtomic PPC Tool
What is Helium 10 Adtomic?
Adatomic provides clear PPC data that includes total advertising costs and high-level organic markers like Total Advertising Cost of Sales (TACoS). It is an essential addition to Helium 10's data-rich tools to give you a complete picture that other Amazon PPC tools can't.
How does Helium 10 Adtomic work?
Atomic's ACoS Calculator & Total ACoS calculator will allow you to quickly determine the total cost of the transaction and the average cost of your product. They are located on the main dashboard in boxes at the top of the window. Data is broken down into columns on the Analytics Level and Product Level tab. This specific window can also be broken down for individual products.
What is Helium 10 Adtomic pricing?
Adtomic's full functionality is available on the Diamond and Elite plans, which is another great thing about Adtomic. It is accessible to our users, and there are no monthly subscription fees. It is also comparable to other PPC platforms in terms of pricing. For our users that want to try out Adtomic and see what it's like to use, the Platinum plan offers limited views of two account-level sections of the Adtomic dashboard and analytics page.
Which is the best time to run ads on Amazon?
Successful campaigns usually have high click-through rates, meaning the ad has been optimized for CTR. ACoS may also be high since clicks are converted to conversions, meaning more people are likely to buy products advertised on the site. The data suggest that well-planned campaigns with a clearly defined goal will do better in all three categories than poorly planned ones. Many of the user data have suggested that saving the bulk of your budget for ads and running them between 4:00 a.m. to 10 p.m. is the best use of our money.
What is Amazon PPC?
Pay-per-click, or Amazon PPC, is a type of auction system in which advertisers bid on keywords. It is used in the internet marketing world to help get traffic and increase sales. When an Amazon customer is searching for a product, they can choose to bid on the highest-quality content by sellers that are relevant to search terms that are being inputted. The seller with the winning bid will get their product advertised in the best position, which means they will have unique exposure and thus be able to reach a large potential audience.
How long can it take to load the Amazon PPC data in Adtomic?
It can take anywhere from 1 to 24 hours for your PPC data to load, depending on the number of campaigns, keywords, search terms, and products you have.
Conclusion: Helium 10 Adtomic Review | Is Adtomic the Best Amazon PPC Tool?
There is no doubt that Adtomic offers some excellent tools that can help you make things better for your business and Amazon PPC/marketing, and we have certainly discovered this in our Helium 10 Adtomic review.
Using the Amazon PPC can help you in multiple aspects of marketing and PPC, the tools and features offered by Helium 10 apart from Adtomic can help you in better execution of the process. In addition to all this, you can also get yourself some extra discount on Helium 10 plans. So getting along with all this can help you in multiple aspects. Hopefully, this Adtomic has helped you in clearing some of the common issues and questions that you might be having regarding the Adtomic by Helium 10.
Helium 10 Adtomic – Unlock Adtomic, Your new advertising powerhouse!!
Helium 10 Adtomic can be an excellent tool to help you in making things better for your Amazon PPC campaigns. Adtomic works on the bidding structure for certain keywords. Helium 10's Adtomic PPC tool gives you a clear overview of your Amazon PPC data, including the Total Advertising Cost of Sales (TACoS). Whether you're brand new to Amazon or an experienced brand, it will make your life easier. Helium 10 Adtomic is a full-service solution for Amazon PPC advertising campaigns. With Adtomic, you'll get a high-level view of your organic performance and potential savings, as well as insights into your competitors' performance. In addition to all this, if you are new to marketing and Amazon PPC, Helium 10 also offers a
training program
so that you can learn more about the process. Win-Win from beginners to pro sellers.
Helium 10 Adtomic – AI-Powered Amazon PPC Tool
Upgrade to the Diamond plan of Helium 10 and manage your PPC campaign effortlessly.
Also read: