Are you looking to start your Amazon FBA business?
Great!! Well, many are making huge money through Amazon FBA. They are making millions because they use reliable Amazon software that helps them do all kinds of works efficiently.
It is challenging to choose the best tool for your Amazon business as there are various Amazon tools available in that market. But Helium 10 is the one-stop solution for you to take your business to the extreme level in the Amazon marketplace.
In this article, we have featured our honest ✅Helium 10 Review 2023, which includes detailed insights about this ultimate Amazon software.
---
Detailed Helium 10 Review
Helium 10 is an ultimate tool for companies involved in the Fulfillment by Amazon (FBA) program. Either you are using any tool as an Amazon seller or want to start as a seller, without a single thought, I will advise you to choose Helium 10.
This powerful tool five-folds your profitability by allowing you to keep track of your products, scaling their operation, managing their store, and learning direct information about their target demographics.
With the help of Helium 10, one can easily discover the new FBA product ideas. To increase sales exponentially, it also helps Amazon sellers optimize their product listings, help them find trending and high ranking keywords, etc. Helium 10 also allows Amazon FBA sellers to generate Amazon PPC audit reports. Through Helium 10, one can evaluate their PPC campaign for free.
What makes Helium 10 Best?
I used the tool. Helium 10 is worth its price, and its world-best-in-class features make it the most reliable choice. Some of them include:
Researching market trends
Analyzing demand for a particular product
Channel Management
Digital refund supervision
Market and listing optimization
Demographic selection
Order Management
Niche selection
Competitor activity
Inventory protection
Fraud alert
Promotions Management
Find winning product ideas.
SEO Management
Maintaining a market presence is one of the key challenges that every seller deals with. Helium 10 makes it easy by keeping you up to date with new market trends and gathering all the information you could need, and keeping it in one place.
This Amazon seller tool also offers Index Checker to ensure that your listings are perfectly optimized. Index Checker saves your time as it allows you to discover which keywords are picked by Amazon's algorithm. That's the reason why every serious seller uses it.
FREE
Get Started with Helium 10 for Free
This special promo code allows you to start free with Helium 10. Hurry up! Grab the offer.
This special promo code allows you to start free with Helium 10. Hurry up! Grab the offer.
Show Less
---
Steps to use Helium 10 for Amazon FBA Business
For easier user access, the Helium 10 tool is now available as a Chrome extension. The extension can be downloaded and installed on your browser. It's the simplest way to connect your Helium 10 account to your professional Amazon Seller account. Just follow these simple short steps and maintain your business most efficiently.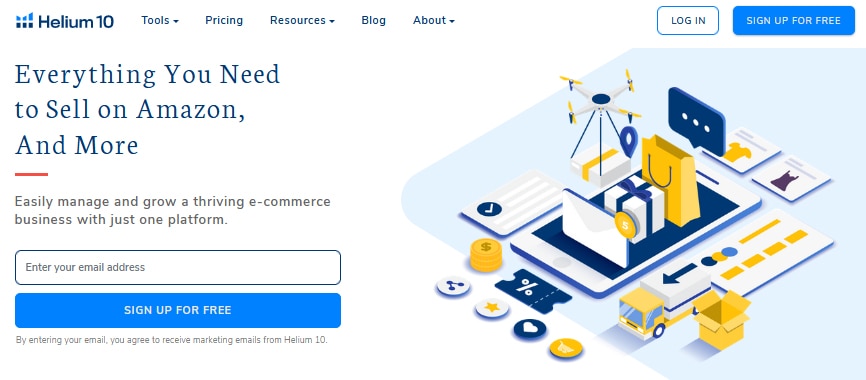 Firstly, sign in to your Helium 10 and Amazon Seller account with the same device.
Make sure you use separate browser windows so that switching between both of them is easy.
From the dropdown menu, select your name from the upper right corner in Helium 10.
Scroll down your account page until you reach "Helium 10 Connectors."
Leave it and don't touch anything. Now, go to your Amazon Seller window. Click on "Seller Account Info," which will be under the "Settings" header.
Scroll down until you come across a section mentioned as "Business Information." Click on it till you get a linked text which says "Merchant Token."
After this, a new window will be opened with a series of letters and numbers. This is the Merchant Token that enables you to link both accounts.
Copy the token, run it to your Helium browser. Now, choose the green box which states "Add Token" next to your Amazon MWS section. Type your seller ID into the box and then paste your token in the assigned region.
After this, you require to get your "Authorization Token." Move again to your Amazon Seller account. You will notice a link that states "User Permissions" under the header "Account Management" on the page's lower left side.
Click on it, and you will be moved to a new window. Move to the header that states "Third Party Developer and Apps" and choose the "Visit/Manage Your Apps" button.
Again anew window will open. Click the "Authorize New Developer."
As the next window pops up, switch to your Helium 10 window. Under the "Connectors" header, you will see your developer ID and developer name. Copy your account number. After this, paste it into the Developer's Name field. Then, copy the ID and paste it into the Developer ID field.
Tap "Next" and confirm your authorization, and now you will be able to connect the accounts.
Lastly, you need to allow access to PPC so that you can use the program efficiently.
Return to your Helium 10 dashboard. Look for the green "Grant Access" button, which is next to the header that says "Amazon Advertising PPC."
A new window will pop up requesting advertising permission. Choose "Allow."
That's it. Everything should now be working correctly!
---
Important Tools of Helium 10
#1. Cerebro – A Tool for Advanced Product Research
As a search tool, Cerebro presents the most important data such as expected exact keyword phrase search volume, calculated broad keyword phrase search volume, and several other essential data points. It enables you to determine competing products for a particular search term or phrase. It also covers many high-level filters to:
Fine-tune your competitive keyword research
Narrow or broaden your search
Include or exclude specific phrases
Easily find competing products.
Capture long-tail phrases with word count filters and many other options to further sharpen your focus.
Cerebro Product Rank
Cerebro comprises a proprietary Cerebro Product Rank (CPR) formula that leverages its extremely precise search volume data to assist your Amazon product ranking to Page 1 for your wanted search terms. Also incorporated is "Cerebro IQ Score" data, which shows potential keyword opportunities with low competition and high search volume.
How to use Helium 10 Cerebro?
You start looking for products with low competition without knowing how you will categorize them on Amazon.
Here, Helium 10's Cerebro comes to play. So let's see how you can find excellent products with the help of Helium 10's Cerebro with low competition.
Choose a product you want to search for competition for.
Copy the product's ASIN directly from the search page or the product page.
Open Cerebro, and click on the "Keywords" link positioned in the Helium 10 Chrome Extension bar graph box under the product image. After clicking on Keywords, you will be driven to the browser Helium10.com and to open Cerebro.
Paste the ASIN number.
Pick the correct marketplace from the URL drop menu. Remember that ASIN and search results will vary according to country.
Click on the "Get Keywords button," and Cerebro will start its work.
Cerebro's will bring up a lot of data and a list of all unique and distinguished keywords.
#2. Magnet – Keyword Research Tool
Most of the Amazon sellers use high ranking keywords for product listings. But with Helium 10, you do not need to search different tools to get trending keywords. Magnet is a robust keyword research tool that expands your keyword lists even further. All you need to do is, enter the keyword that you want to search. The Magnet works on the data to discover the most relevant keywords to the one you searched for.
This feature also has filters that streamline the whole keyword research process. This eventually saves the time that you would consume while sorting through all the data.
#3. Black Box – The Niche Research Tool
In case you don't know about Black Box, Helium 10's Black Box is a niche research tool. It allows sellers to discover the smallest details to find lucrative product opportunities based on stringent criteria like monthly sales, competition, and search volume.
In short, it assists you in finding a profitable product with high search volume, decent pricing, and a lot of reviews. The Black Box feature performs most of the work for you.
#4. Frankenstein – Polish Your Keywords
After completing the keyword research using Magnet and Cerebro, we look at a list of thousands of keywords and phrases related to our search. The keywords at this point are in crude form, and now we need to polish them.
Using Frankenstein, we polish them up by applying different filters and tools particularly tuned for what result we want. Frankenstein provides you a huge list of profitable keywords that you can use in your Amazon listing.
What makes Helium 10 exceptional is its streamlined interface that enables you to work exactly how you think it should. Users can easily transition from one app to another without dealing with closing the current app.
For example, after discovering the keywords in Magnet, you can easily export to Frankenstein feature that will automatically lead you to a new browser tab and copy all the keywords for you.
#5. Keyword Tracker – The Keyword Selector Tool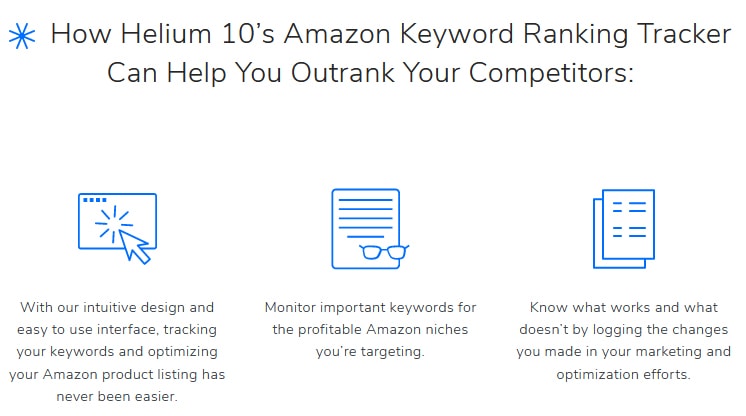 Finding out a long list of keywords is not sufficient. It's equally necessary to understand which keywords will work and which ones are of no use. So, with the Keyword Tracker feature, you track your keyword's rank so you can adjust, add, or eliminate keywords to manage your list to get optimized.
Once you understand which keywords you desire to target, you will see how the product is ranking for each specific keyword with this feature. At sight, you will surely be able to see what search rank your product is on Amazon after using a specific keyword or keyword phrase.
In easy words, you'll see the computed search volume for each keyword you are tracking, accompanying by the number of contenders competing for that keyword. Besides, it also tells that either your product is moving up or down in the rankings.
Based on your keywords and phrases applied during the product listing, your product can rank for all keywords with potentially hundreds of different ways a customer can find your product will be presented before you, which will result in more sales.
#6. Xray – Amazon Product Research
Do you want to know the best-selling products on Amazon, or looking for a way to make sure your products are selling well?
Helium 10 Xray is the best Amazon research tool that gives you revenue estimates, price, sales trends, sponsored ad analytics, and much more. You can even use it for research, product validation, and more. This tool will find out how much money a potential new product could make for your company.
Helium 10 Xray is the tool that can help you measure your return on investment and find profitable items to sell. It provides the necessary data to help you make more informed decisions about your inventory and sales strategy.
#7. Scribbles – Keyword Optimizer & Listing Builder

Helium 10 Scribbles is the tool that helps you to rank higher on search engines. Helium 10 Scribbles optimizes your listings using all the best keywords that will get you noticed.
It creates optimized product listings using all the best search terms. Scribbles make sure that every listing has the correct number of keywords and they are optimized so you can rank high in Google's SERPs.
#8. Index Checker – Amazon Keyword Index Checker Tool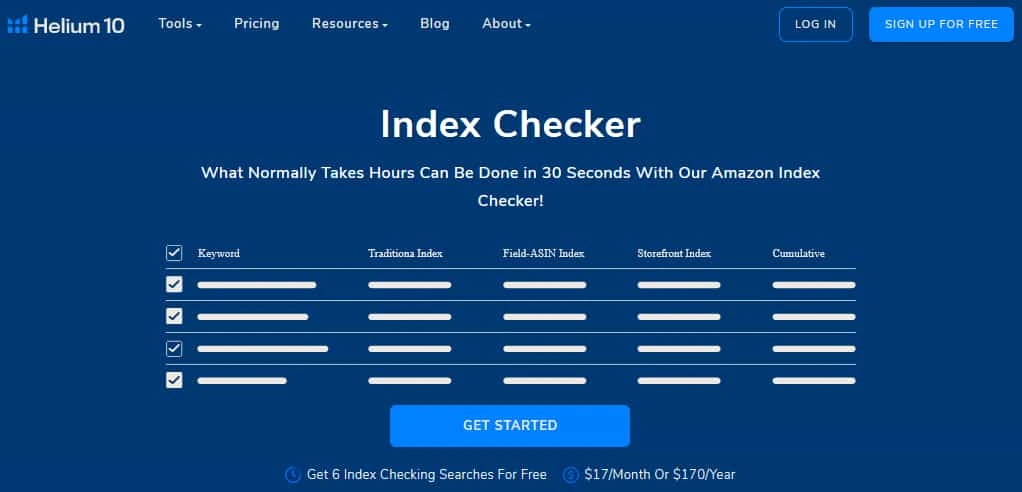 Do you want to rank higher in the Amazon search engine and not leak potential sales?
Helium 10 Index Checker will find out some of the bad keywords that negatively impact your product listing.
It will provide you with complete information that will help you know how you can take the necessary steps to make your indexing proper. Index Checker will make sure that you will not lose any potential sales.
---
Helium 10 Chrome Extension
Do you want to get the best results on Amazon? As we all know, you don't have the time to do all of your research. But Helium 10 Chrome Extension does it for you.
Helium 10 Chrome Extension is a tool that helps sellers discover profitable products, spy on competitors, and protect their listings.
If you're an Amazon seller, this Helium 10 Chrome Extension will help you research keywords and find profitable products for your store. Its great for sellers who want to build and scale their businesses on Amazon.
The Helium 10 Chrome Extension provides you with 7 powerful on-browser tools. It will help you increase your Amazon sales, lower costs for more effective PPC, and quickly discover high-ranking keywords.
Click here to download the extension and sign up for a FREE account now!
---
How Helium 10 eliminates hardest challenges for Amazon FBA?
With its best features, the Helium 10 tool has eliminated the toughest hurdles for every Amazon FBA seller.
Launching products in a perfect manner: Helium 10 takes away all of the risks of launching a new product with its tools such as Cerebro and Magnet. By telling how many products to give away and which keywords to use to attract the most customers, launching products in a correct manner has become easier with Helium 10.
To find winning products on Amazon FBA: With Helium 10's keyword search and niche tools that instantly examine demand, observe competitors, and determines low competition keyword opportunities, another problem has been eliminated. Helium 10 is the best Amazon seller tool that also provides a Misspellinator tool. It gives the top Amazon keyword list for a misspelled keyword.
---
What is the Helium 10 Freedom Ticket?
Helium 10 and Freedom Ticket came together to build innovative solutions for Amazon sellers across the globe. Freedom Ticket is a hands-on, technical guide tutoring how to sell on Amazon.
Currently, none of the other training programs are as good in their representation of the facts of operating an Amazon FBA business as that of Freedom Ticket. It guides you step-by-step for building a successful Amazon FBA business by walking through:
Branding
Choosing a successful product
By telling how to ascertain suppliers and shippers
How to contend with bigger sellers
How to rank on page 1
How to build listings and make sales
How to advertise to scale to the stars
Freedom Ticket is an 8-week training program that holds all necessary content for new Amazon sellers. And interestingly, it's now included in the membership. That's crazy value. Now, you not only get Amazon's ultimate Helium 10 growth tool but also get a step-by-step outline for how to handle it.
When someone is searching, possessing your product on the first page of search results is very important. It will be extremely hard to make any profitable sales on a platform with search results.
With Helium 10's superior features such as Keyword Tracker, Black Box, Frankenstein, Magnet, Cerebro, Inventory Protector, Scribbles, Fraud Alerts, Refund Genie, and many more, the burden of operating business and showcasing active market presence has become very easy now.
---
Helium 10 Vs. Jungle Scout | What is Better?
While comparing features, it is crucial that you know which features are must-haves for your business. So, looking at some of the features that Helium 10 has and Jungle Scout doesn't,
Competitor Keyword Spy: This is one the most important feature that every seller needs, be it of any business. This sees towards what your contenders are heading for organically and via PPC campaigns.
Refund Genie: Amazon doesn't forever refund sellers for damaged items and their mistakes. The Refund Genie tool identifies Amazon's errors and helps you in inquiring about your refund.
Fraud Alerts: This feature notifies you when a seller hijacks your item. For instance, if your product title changes, images get altered, or there has been a re-organization of product dimensions, fraud alert features, then take charge.
Sales Dashboard: This feature assists in viewing your product and business performance in a single dashboard.
Also read: Jungle Scout Review + 50% OFF Coupon (#1 Amazon FBA Tool)
Similarly, many features make Helium 10 wins the game Helium 10 vs. Sellics, Helium 10 vs. Viral Launch, and Helium 10 vs. AMZScout.
---
🌟 Helium 10 FAQ
❓What is Helium 10 used for?
❓Can I start free with Helium 10?
Yes, You can start free with the Helium 10 Free plan, which does not require any credit card. The Free plan of Helium 10 gives you limited access to all its tools.
❓How much does Helium 10 cost?
Helium 10 is a great tool that offers four important pricing plans to users: Starter, Platinum, Diamond, Elite. The Starter plan costs you $39/mo, and it is best for those who are beginners. The Platinum plan costs you $99/mo, and it is best for those looking to grow their Amazon business. The Diamond plan costs you $199/mo, and it is the perfect plan for professional Amazon sellers. On the other hand, the Elite plan costs you $399/mo. Use our exclusive Helium 10 coupon code that allows you to enjoy up to 25% discount on all its plans.
❓Is Helium 10 Chrome extension access included with the plans?
One can use Helium 10 Chrome extension with the free plan, but it provides limited access. The Platinum plan and above gives you full access to all the tools of the Chrome extension. Helium 10 Chrome extension gives you access to inventory level monitoring, profitability calculator, ASIN grabber, along with other tools.
❓ What tools does Helium 10 Chrome Extension offer?
There are around 500,000+ sellers who are using Helium 10 Chrome Extension to find the best profitable and high-selling products that help them scale their Amazon business. Helium 10 allows its users to access all the Helium 10 Chrome Extension tools. The tools included in Chrome Extension are cerebro, Xray, magnet, profitability calculator, ASIN grabber, inventory level monitoring, etc.  
❓ Can I get any tutorials from Helium 10?
If you are a beginner at Helium 10, you will get advance basic training tutorials from Helium 10. It offers video tutorials for each of its tools to easily learn and grow its Amazon business.
❓ What is a Freedom Ticket?
Freedom Ticket is a detailed training course available on the internet that helps you learn how you can sell successfully on Amazon. Freedom Ticket and Helium 10 come together and become partnered to provides their exclusive Amazon FBA training course to all the Amazon sellers.
❓ Are Helium 10 Freedom Tickets free? 
If you purchase the Helium 10 membership plan, you will get free access to the Helium 10 freedom tickets.
❓ Is there any working Helium 10 coupon code?
If you are looking for the active Helium 10 discount coupon, use the above-mentioned Helium 10 coupon code that enables you to enjoy a up to 25% OFF.
---
Final Verdict:
Helium 10 is the finest platform for Amazon sellers that helps them to manage and grow their e-commerce business. Helium 10 not only provides you better tools but also gives your market insights.
Helium 10's market tracker gives you clear ideas about where you stand in the market, what your competitors are doing, and other market details. Seller Assistant of Helium 10 makes it easier for you to review requests of users that help you build a better reputation for your products.
Helium 10 is better than other AMZ tools because it is loaded with powerful, sophisticated optimization tools. Helium 10s customer service team is extremely helpful as well.
We highly recommended you to go for the Helium 10 free trial in which you can easily test all its features.🤞