Hello, Helium 10 fam; you might know what Helium10 is, but what is Scribbles? What are the features served by Helium 10 Scribbles, and how will this help make your Amazon business operations better and with better reach?
In this article, I'll be giving an in-depth analysis that might help use Scribbles as a great resort for Amazon sellers. In addition to that, I'll also give some additional information in order to save you some bucks while going for the Helium 10.
But before hopping into what Scribble is, let me give you a quick review of what Helium 10 is?
Helium 10 is an all-in-one suite made for Amazon sellers, and the Helium 10 can be useful in different ways such as product listings, keyword research, analyzing product trends, and much more. Some of the key features that make Helium 10 a great option to get ahead include operations, inventory, analytics, etc.; as per my experience around different tools and services in Amazon selling operations, Helium 10 has made a pretty significant place in the market. Now, after understanding what Helium 10 is, let's take a look at what is Scribbles and how it will help you in expanding.
So, let's get started!!
---
What is Helium 10 Scribbles?
As you might know, Helium 10 serves different tools and features that are helpful in serving different operations (Inventory management, Amazon advertising, Cerebro, Misspellinator, etc.)
Scribbles is a tool/feature in Helium 10 which focuses specifically on optimizing your Amazon listings. As an Amazon seller, optimizing your product listings can be one of the crucial features that can make your product listed among the top searches in your preferred category. Using proper keywords and phrases with adequate keyword optimization can help list a product among the top players which was listed somewhere in lower levels in that category.
One of the reasons that Helium 10 is becoming a popular option among Amazon sellers is the availability of different tools; you might be amazed to know that Scribbles are counted among all the plans offered by Helium 10. This availability of tools has made it a popular choice among Amazon sellers.
Click here to sign up on Helium 10 for free if you want to take your AMZ business to the next height.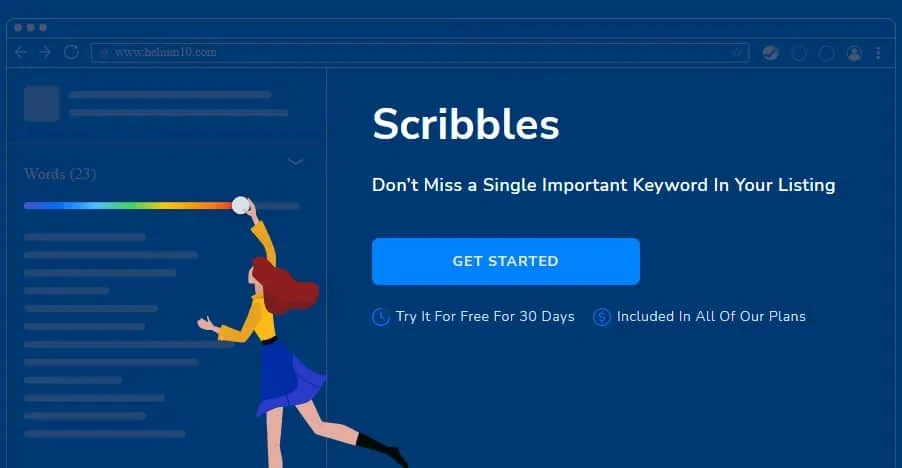 Some of the key features offered by Scribbles are:
After looking at the key features offered by Scribbles, let's take a look at what other features make Helium 10 a standalone product in the market.
Used Keywords in Scribbles
As an Amazon seller, using proper keywords and optimization can be of great use in terms of making your product listed; well, the used keywords function/interface by Helium 10 Scribbles gained my attention; I was pretty amazed by it.
Won't it be great if you can understand and be known to the keywords that can optimize your product listing while getting along with the keywords which are already used and the ones that are not? I have been a great fan of the easy-to-use interface offered by Helium 10; the used keywords also work under this same easy-to-use criteria.
This feature can be of great use while indulging in product descriptions, bullets, product titles, etc., relevant to the product and its keyword optimization. The used and unused keywords are made so that you can be well aware of the keywords used while writing your product titles and descriptions and the ones that can still be used for better ranking and optimization.
In addition to all the features and tools offered, you can easily see which keywords are used, which are crossed out, showing that they are already used, and you can also choose to hide the keywords and phrases with hiding used phrases.
I have been in this industry for quite some time now, and I'm well known for how important it is to know and understand how a tool/software works, which you'll be using for your business; well, one wrong move can be a financial drawdown for you, but Scribbles (Helium 10) has made some great efforts in terms of educating their users.
You can just click on the Learn button to know more about how Scribble works and what they offer features. Learn tab also opens a gateway to get started with a Pro training video series that can be helpful for Amazon sellers who are not known about the features and the interface offered by Helium 10 Scribbles.
Different Color Code for Keywords & Phrases
As per my experience in the tools, the easier to understand, the better the results in user satisfaction. Scribbles is a tool that works on listing optimization; the keyword and phrases have different color codes that represent the amount of usage and importance in terms of optimization.
Scribble uses different colors for its keywords, depending on the relevance and the level of optimization that it will deliver; the colors used for keywords in scribbles are red, orange, green and black. The red color refers to the keywords which are getting used more often for keyword optimization (listing), followed by orange, green, blue and black being the ones used least.
Amazon Standard Identification Number (ASIN), as an Amazon seller, you might be well aware of what ASIN is. You can import listing using the ASIN; these ASINs can be yours or the competitors you want to keep an eye on. The Import listing can be a great tool in order to get an overview of how a certain product is performing in terms of the product description, title and bullets. Just use the ASINs (your product or the one from the competitors) and get known with what the bullets are, product listings, and much more.
In addition to this, when you are done with all the keywords, product details and everything, you can also export these data and listings in CSV or TXT formats.
---
👉 How to Use Helium 10 Scribbles? (5 Simple Steps)
You might be wondering that these 5 steps are going to be an extensive and confusing one, but the answer is NO!! In this section, I'll be writing about some simple steps to get along with Scribbles, so let's get started:
Multiple Users by Helium 10 Scribbles
As a person who has been reviewing and been into dropshipping and Amazon selling, I know how important multi-user login can be; just think of this scenario where you can work, but your own team members cannot access the platform you are using? Sounds a bit messy, right?
Helium 10 Scribbles offer a multi-user login so that you and your teammates are never out of the track while working alongside from shoulder to shoulder.
Check Helium 10 Review (Ultimate Amazon Software)
---
How Useful is Helium 10's Scribbles?
As an Amazon seller, Helium 10 can be a great resort for you in multiple ways; some use Helium 10 for Amazon product research, some for predicting product trends, and the list goes on. If talking about scribbles specifically can help you in delivering better results for product titles and descriptions, meanwhile also getting along with bullet points, subject matters and search terms.
The tools and services offered by Helium 10 can be counted in an extensive list, and all this starts with a starter plan of just $39; it seems like a steal deal to me. Since I just mentioned the starter plan, just to make you a bit clear about the pricing plans and what's the plan that enables you to get along with Scribbles, let me give you a quick peek around the plans offered by Helium 10.
Just like most of the top tier players, Helium 10 offers a trial plan, but the thing that makes it an excellent choice to go ahead with is its features; while most the tools and software offer limited features, you can get along with Scribbles and everything. If you are new and are in the initial phase of your Amazon selling a business, the Starter plan is all set for you (around $39); the plan consists of all the basic tools and features offered by Helium 10.
These plans vary depending on the business's size; different plans offer different levels of services with multi-users, keyword optimization, inventory management, and much more. The highest plan offered by Helium 10 is somewhere around $399/month, but one thing that fascinated me a lot was its waitlist; yes, the Elite plan has a waitlist; well, you won't have to wait for a long time since they'll be contacting you soon regarding the plan and everything.
So, after getting to all the factors offered by Scribbles Helium 10, what are your thoughts on this great tool that can be one of the kick-starting factors for your Amazon selling?
---
🌟 FAQ related to Helium 10 Scribbles
✔How can I optimize my product listings in Scribbles?
The Amazon sellers can easily optimize their product titles and description by using Helium 10's Scribbles. Scribbles is the most advanced tool offered by Helium 10 that converts your customer's clicks into sales. Check the above-mentioned steps on how to use Helium 10 Scribbles to optimize your product listing.
✔What are the four ways of listing that Scribbles offer?
Scribbles make it very easy for Amazon sellers to create products listing.
1. Master Keyword List
2. Title & Description
3. Keywords
4. Bullet Points
✔How much do Helium 10 Scribbles cost?
All pricing plans of Helium 10 give you access to Scribbles. In order to use Scribbles, the user need to purchase any of the Helium 10 packages. If you are not sure about this platform, then you can even sign up on Helium 10 for free and use Scribbles. As we all know, Helium 10 offers very flexible pricing plans that suit every Amazon seller's needs. All the Helium pricing plans come with 30 days money-back guarantee.
Starter: $39/mo
Platinum: $99/mo
Diamond: $249/mo
Elite: $399/mo
✔What makes Scribbles a great tool for Amazon listing optimizations?
Amazon listing optimization tool, Scribbles, is an easy-to-use tool that provides everything you need to optimize your listing and boost sales. Helium 10 Scribbles helps you get noticed by providing a list of keywords for your products. In addition, it can help you create compelling and irresistible Amazon listings that convert on Amazon. Following are the new features added by Helium 10 in Scribbles.
1. Auto-Complete/Auto-Suggest
2. Color Coding
3. Frequency Count
4. Byte/Character Counter
5. Emojis
✔Does Helium 10 offer a free trial?
Yes! Helium 10, a powerful Amazon selling tool, provides a Free plan to all its new customers. If you are new in your Amazon selling journey, then you can get started with the Helium 10 free trial that gives you access to its tools to skyrocket your Amazon sales.
✔Can I get any Helium 10 discount coupons?
Yes, if you want to purchase its paid plan at a lower price, then click here to activate our exclusive Helium 10 coupon code that enables you to enjoy a 50% discount.
---
Final Verdict:
As per my experience around Helium 10, Scribbler can be counted as one of the best features and tools offered by it. I remember when I was wandering around the tools and software to get my product across the search term in Amazon. Still, I can say that Helium 10 has reduced a pretty amount of efforts in Amazon selling practices.
Well, there are hundreds and thousands of keyword research tools available. Still, these features for optimizing your product title, description, bullets, etc., can help attain a better Amazon SEO, and I guess I don't need to mention how important SEO and keyword performance are?
Hopefully, this article has cleared all the doubts you might be having regarding Scribbles in Helium 10.😊
Helium 10: All-In-One Software for Amazon
Try Helium 10 risk-free and enhance your business on Amazon.