With the stiff competition involved in selling the products on Amazon and ranking them higher on the Amazon website, Amazon sellers are searching for the tools that can ease up their task of selling the products most profitably.
Helium 10 and Viral Launch are market intelligence tools to sell your products on Amazon intelligent and smarter. Let us dive deep into the working of these tools and later compare who scores high between them in Amazon seller tools. In this detailed review of Helium 10 Vs. Viral Launch 2023, you will find full information about their features, benefits, pricing, etc. Let's get started!!
Helium 10 Vs. Viral Launch: Upfront Features Comparison
| Features | Helium 10 | Viral Launch |
| --- | --- | --- |
| Pricing | Starts from $29/mo | Starts from $69/mo |
| Free Trial | Forever free trial with very limited features. | 14-Day free trial |
| Product Promotions | Yes | Yes |
| Keyword Research | Yes | Yes |
| Product Research | Yes | Yes |
| Listing Optimizer | Yes | Yes |
| Competitor Analysis | Yes | Yes |
| Keyword Rank Tracker | Yes | Yes |
| Hijack Alert | Yes | No |
| Follow-up Email Automation | Yes | Yes |
| Refund Reimbursement Assistance | Yes | No |
| Financial Analytics | Yes | No |
| Inventory Management | Yes | No |
| Multi-User Access | Yes | No |
| Chrome Extension | Yes | No |
| Official Site | Check Out Helium 10 | Check Out Viral Launch |
Helium 10 Vs. Viral Launch 2023: Overview
What is Helium 10?
Helium 10 is an Amazon suite that consists of various tools like product research, inventory management, keyword research, etc. This is the best FBA tool available in the market for selling your product, managing the store at the ground level, and increase the scale of operations.
Its chrome extension is available as well to fasten your market intelligence task.
Also read: Helium 10 Review: Ultimate Amazon Software (Why 9 Stars)
What is Viral Launch?
Viral Launch is a market intelligence tool for the profitable product search on Amazon that you can source and later sell there. It is also an Amazon suite like Helium 10 that can be used for Amazon competitor tracking, product research, keyword research, etc.
Features of Helium 10 – What is the use of Helium 10?
To grasp what Helium 10 can do, we need to know about its tools in depth that are part of its tool suite and responsible for different functions required by Amazon sellers. Few of its tools are:
#1. Cerebro
Its function is to contribute towards reverse ASIN lookup of the product been sold on Amazon. There is huge competition involved while selling any product on Amazon. The competitor's keyword usage can be tracked using reverse ASIN lookup.
All you need to do is to paste the ASIN of the product, for which you need keyword searching. After that, Cerebro will provide you with the count of total keywords, organic keywords, amazon recommended keywords, and sponsored keywords, respectively.
Besides, the frequency of the words been used in the competitor's keyword listing will be displayed. Thus, it can give you leverage over your competitors by improving your product ranking based on Cerebro's search results.
Cerebro IQ score indicates which product will give you more profit while selling based on its score value. The ratio of search volume to competing products can be obtained via it. A high score value indicates that a large number of searches are there for that product on Amazon with low competition from other brands. Cerebro IQ's low score value indicates a lower number of searches and stiff competition with other brands of that product.
#2. Magnet
It is a keyword research tool for sellers on Amazon, the largest database repository of Amazon keywords that are actionable on the global market. You can enter a basic keyword like outdoor string lights; after that, Magnet will suggest terms related to it, top brands that sell this item on Amazon, frequency of the keywords, magnet IQ score, etc.
Actionable keywords like 'buy now' are also displayed via this tool. In short, you get more and better keywords than with Cerebro using the Helium Magnet tool.
#3. Frankenstein
The more optimized your keyword search will be, the more will be the chances of ranking the product higher on the search list of Amazon. Frankenstein does SEO optimization to the extent that you can remove redundant keywords, fillers like 'and,' 'so,' 'for,' spaces, special characters, single letters, etc., to make your final list of keywords as refined as possible.
You need to export the keyword list obtained after using the Helium 10 Magnet tool, and the corresponding result list will be visible after keyword processing by Frankenstein.
#4. Black Box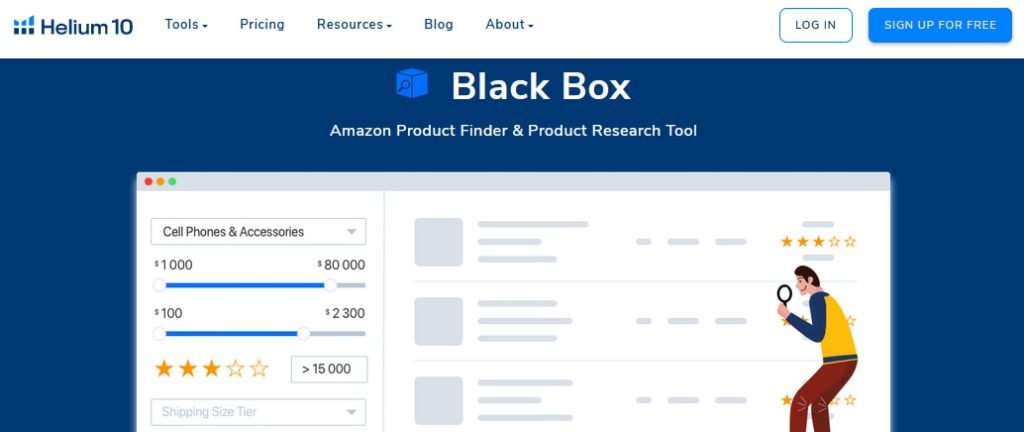 It is a niche research tool of Helium 10, which provides in-depth details about the selected category of products like monthly sales, search volume, monthly revenue, BSR (Best Sellers Rank), no. of competing products in that category, etc. Thus, it eases your task of getting many product ideas based upon a category instead of manually searching for it.
#5. Scribbles
Another listing optimization tool and Frankenstein is Scribbles, which optimizes word list by mentioning which keyword has been used and where it has been used. It keeps removing those words as you use them while scribbling in the title column.
#6. Index Checker
For the proper indexing of your product, this tool is used. You need to paste the ASIN of the product along with the keywords. The index checker will present the result as to which words are traditionally indexed, field-ASIN indexed, or storefront indexed.
#7. Inventory Protection
Promotions for any business have become a mantra to success, and Amazon's FBA business is no different. But what changes this business when you use Helium 10 is that it prevents Amazon buyers from looking at your listings or the products that you are most likely to buy.
This tool by Helium 10 is a straightforward panel and is also easy to use. You can control the total number of your FBA inventory. You only have to look for the products which you usually wish to protect from the maximum order quantity. And this feature of Helium 10 will help you avoid over-selling your inventory on your next sale.
So How does the Helium 10 Inventory Manager actually help you?
You can protect your inventory by which you don't have to sell it at a discounted rate.
You can quickly find a specific ASIN using advanced features
Your time will be saved as you can quickly set the maximum order quantity for multiple ASINs simultaneously.
Inventory management becomes simple from a single intuitive panel.
#8. Misspellinator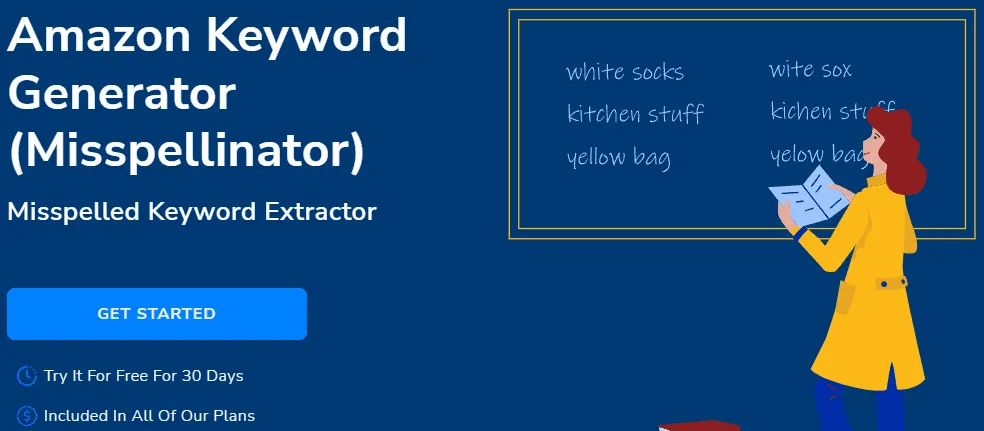 Helium 10 provides you with this feature to find the commonly misspelled keywords on Amazon. This is a simple tool to use which identifies Amazon auto-corrections. This feature can save you time, and you don't have to waste any money on those words.
#9. Market Tracker
This feature requires that you first choose a niche market. After that, you have to enter up to 5 keywords and select a few of the ASIN of products in your niche market.
Then feature starts to work and brings back relevant results every week. You get to see that the tool provides the most relevant keywords and their search volume. After that, it also identifies products within the market. The product score, if in the range of 0-100, depicts how well the product is ranking for the most popular keywords. The higher the score, the better it is.
Features of Viral Launch – What is the use of Viral Launch?
To grasp what Viral Launch is capable of doing, let us discover its tools in-depth that are part of its tool suite and responsible for different functions required by Amazon sellers. A few of its tools and features are:
#1. Keyword Research
This helps in researching the most relevant keywords on the Amazon website as per the word that you enter using this tool. Like for the word 'book,' keywords like audible books, storybooks, autobiography, etc., will be displayed along with their average sales, average price, sales volume percentage, etc. It also contributes to tracking keyword rankings daily and hourly.
#2. Product Research
The product discovery tool of Viral Launch helps in discovering products on Amazon based on different categories that you can select, like electronics, appliances, books, etc. It will also display the number of sellers of the product, monthly revenue, BSR value, etc., using its market intelligence capability.
In short, it aids in discovering the products similar to the ones that you wish to sell on Amazon, tracking top-selling products, and validating product ideas.
#3. Kinetic PPC
This helps in managing your PPC(pay per click) campaigns by the experts at Viral Launch. A PPC expert does constant reviewing, and rule-based adjustments are made for optimizing your results.
#4. Listing Dojo
It is a free split testing tool, which helps increase your sales and profit of the products. Up to 7 variations of your listing's price, title, images, and description can be tested by it. As a result, the data obtained can be easily understood as it is graphical, and opportunities to increase profit can be discerned at a glance. You can further analyze your ASIN' listing and your listing's description for SEO.
#5. Free FBA Income Calculator
You also get a free Amazon cost calculator in Viral Launch, which you can use to calculate the profit after deducting Amazon Fees.
You have to enter the title of the product or ASIN and the selling price, along with the expected preparation and entry cost, in order to calculate your potential profit.
You can even use this feature directly from your Chrome or Firefox browser from an Amazon product page with previously completed product information. This will save more time and eliminate the need to copy and paste ASINs every time.
#6. Free FBA Tool Kit
With this free feature of Viral Launch, you can estimate your sales volume. You only have to enter the bestseller areas in a particular category and get a raw idea about the sales per day.
If you wish to buy stocks for a month, then your estimate sales per month by estimating per month and then dividing it by the number of FBA sellers whose sales price in competitive sales is calculated.
And to conduct an even in-depth search, you can add products from one supplier's competition to the cart and then edit the cart to 999. If the particular seller has less than 999 units in stock, you will provide the information in stock.
#7. Competitors Intelligence
This tool by Viral Launch works slightly differently, as you have to input an ASIN for one of your competitors. Then the tool provides you with a list of keywords. From that, you can infer how well your competitors are using the most prominent keywords.
You can use this tool as it will help you to find and identify keywords that are underutilized by your competitors. Plus, you can also track them and see their changes in rank.
Helium 10 Vs. Viral Launch: Comparison Table
Comparison
Helium 10
Viral Launch
1. Features
Cerebro
Magnet- Keyword Research Tool
Radiography
Keyword Tracker
Keyword Manager
Market Intelligence
Accurate Data
Keyword Tracker
2. Ease of Use
Helium 10 offers a user-friendly interface so that one can easily start using it.
Viral Launch also offers easy to use user interface.
3. Pros
Listing optimisation is available.
It provides free plan to users.
One can easily search for keywords
It offer easy to use interface.
It also provides free plan to users.
Excellent customer service.
4. Cons
Limits are specified in the pricing plans.
Few applications are available at a high price.
5. PPC Tool
Helium 10 does not provide a PPC tool.
Viral Launch offers a PPC tool.
6. Profits Calculator
It offers a Profits Calculator tool.
It does not offer the Profits Calculator tool.
7. Official Site
Visit Helium 10
Visit Viral Launch
Helium 10 Vs. Viral Launch: Product Research
With around 2.4 million active sellers of Amazon worldwide, it is a cumbersome task to research the products. The majority of them are third-party sellers. Helium 10 and Viral Launch are a few of the quality professional Amazon seller tools that effectively contribute to product research.
Let us discuss how these tools perform in the product research.
Helium 10 Black Box
As discussed before, Helium 10 Black Box is a niche-based product research tool that can provide in-depth details like monthly sales, search volume, BSR value, etc. The filters that you can apply while product research through this tool is- variation count, number of images, exclude title keywords, number of sellers, sales to review, etc.
After applying the filters, you will get an in-depth result from the whole Amazon website. As the chrome extension of Helium 10 is also there, you can seamlessly integrate both web app with this extension to check the worthiness of the product effectively.
Using Helium 10 Profitability Calculator, Amazon FBA product can be calculated by considering the parameters like product weight, freight charges, manufacturing costs, Amazon FBA fees, etc. Using this, you can make a final decision about whether to sell a product or not.
Viral Launch Product Finder
Like Helium 10, Viral Launch has its product research tool known as the product discovering tool that provides granular details of the products after applying different filters. The algorithm of this is almost 10 times longer. The product research can be done directly on Amazon using its chrome extension.
With Helium 10 you can do around 20 search queries for free, whereas for product research of a profitable niche using Viral Launch, you need to use its paid version.
Overall, Helium 10 scores higher than Viral Launch in the product research criteria.
Helium 10 Vs. Viral Launch: Keyword Research
The better keyword search leads to more optimization and levels up a product's rank on the Amazon website.
Helium 10 Cerebro
It works like the brainchild of Helium 10, which helps in the reverse ASIN lookup, as discussed before. Therefore, we get to know about our competitors' keyword strategy by just entering the ASIN of the product you wish to sell. The organic rank of the product, search volume, number of competing products, Cerebro IQ score, can be obtained via it.
Further, the Frankenstein tool helps in removing the irrelevant keywords. The organic rank of products should be 1-10 for their sales to rank higher. Therefore, the focus should be on the products whose organic rank value is between 1-10.
The formula of Cerebro Product Rank helps you get your product listing on Amazon on the first page of search results quickly. The required sales volume of giveaways can be calculated using it to attain a great ranking for one particular keyword.
Viral Launch Keyword Research
Besides the keyword research tool, Viral Launch provides other useful tools like Keyword Manager, Listing Analyzer, and Listing Builder. However, Keyword Research provides the most detailed data related to keywords.
The Viral Launch Data Science team has developed the new algorithm ARCS. It stands for ASIN Relevance and Conformity Semantics. The algorithm is used to evaluate up to 10,000 keywords and 500,000 products to find the most relevant ASIN keywords. Using the tools Helium 10 Cerebro and Helium 10 Frankenstein, you can automate most of the keyword research tasks. You can quickly develop a complete list of the competitors' most relevant keywords.
In the case of Viral Launch, you need to pay for using its tools like Keyword Manager, Listing Analyzer, etc. Thus, Helium 10 scores higher in the keyword research too.
Helium 10 Vs. Viral Launch: Pricing Plans
Helium 10 Pricing Plans
Helium 10 offer very affordable pricing plans that suit every Amazon seller. It also provides a free plan in which one can easily sign up for Helium 10 and test all its features. The free plan of Helium 10 does not require any credit card to join.
Starter, Platinum, and Diamond are the three major plans of Helium 10. The Starter plan costs you $29/mo; the Platinum plan costs you $84/month; the Diamond plan costs you $209/month.
Helium 10 tool suite can be used by paying 37$ per month, whereas you need to pay 359$ one time to use all of its tools. This makes Helium 10 a better choice for the sellers who can't afford to pay a hefty amount of 350$ for one time.
Thus Helium 10 is certainly a better Amazon tool suite compared to Viral Launch.
Viral Launch Pricing Plans
Viral Launch also offers three pricing plans. Plus, it also comes with a 14-day free trial on all of its plans.
The first plan is the Essential Plan which is going to cost you $69/mo.
Next comes the Pro Plan, which costs 99/mo and is also their most popular plan. And last is the Pro Plus Ads Plan which comes at $199/mo.
As you choose the plans, so will their feature differ. But in general comparison of pricing plans between Helium 10 and Viral Launch is quite a neck and neck two.
Jungle Scout – Another Amazon Tool like Helium 10
It is one of the Amazon FBA tools which arrived in the market in the year 2014. It comes with some viable features like a product database, product tracker, supplier database, and inventory manager. It comes in two versions – web app and chrome extension. Both the versions can be used simultaneously to gain maximum benefit from this Amazon suite.
Also read: Jungle Scout Review + 50% OFF Coupon (#1 Amazon FBA Tool)
Helium 10 Vs. Viral Launch
Jungle Scout does help in the basic product research that is suitable for a small Amazon FBA business. On the other hand, Helium 10 is preferred for larger Amazon FBA business, as it is more comprehensive and does detailed research.
Jungle Scout is comparatively cheaper to use than Helium 10.
On the final note, Helium 10 is the better choice to go for if you sincerely want to grow your Amazon selling business.
Helium 10 Vs. Viral Launch: Which are the Additional Tools Missing?
Helium 10 offers a few extra tools which are not provided by Viral Launch, which include:
Inventory Management
Landing Page Builder
Refund Reimbursement Assistance
Freedom Ticket Amazon Training
Financial Analytics
Hijack Alerts
Also check: Helium 10 Free Tools | Valuable Asset for Amazon Sellers
Whereas Viral Launch comes with one unique and extra tool, which is Listing Dojo, which we discussed earlier in this review.
Helium 10 Vs. Viral Launch: Chrome Extension
Helium 10 Chrome Extension
Helium 10 comes with a powerful and amazing suite of 5 different and time-saving tools. You can use these tools to save your time on research by validating product ideas, planning for seasons, estimating profits, doing competitive research and much more.
This Helium 10 chrome extension is easy to use, and you get a lot of access to tools with just a single click like:
ASIN Grabber: Where you can copy ASINs in bulk to create targeted ads.
Profitability Calculator: You can easily calculate your profit margin depending on FBA fees, weight, freight cost and dimension.
Inventory Levels: Checkout the remaining inventory of any product
Review Downloader: Get insights about what customers are saying about products by which you can improve your listings and make better-informed decisions.
Viral Launch Chrome Extension
With the Viral Launch Chrome Extension, you can get instant access to a plethora of product data, find out the recent trends, and take advantage of them. You can also evaluate sales across niches, calculate the estimated expenses and potential profits, and get a much more comprehensive approach that will guide you to gain better sales estimates.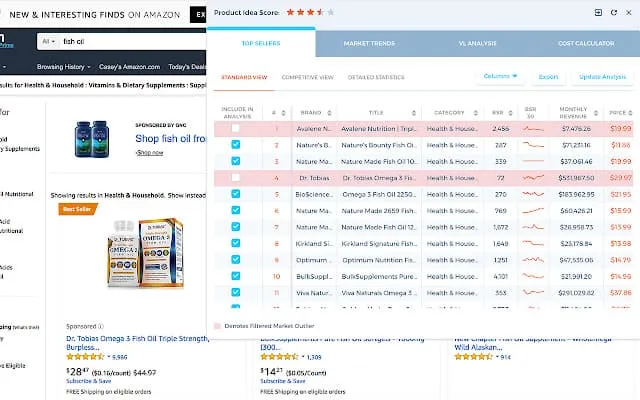 Viral Launch offers the Chrome extension for market intelligence only, which will give you seamless review and accurate sales estimates and marketing data while you are browsing on Amazon.
The data provided by this Chrome extension is available through market intelligence which gives you a breakdown of data by which you can check out information from the top five, top ten, and page one listings for a given keyword. Further, you can also check out averages for sales, prices, reviews, and what you need to aim for so that your product gets featured among any of these categories.
This information is really helpful and helps you determine:
How many giveaways do you require daily to rank in a given category
Estimated monthly sales at that rank
How many reviews are needed on average to sell well at that rank?
With this information, you can almost breathe a sigh of relief when you use the Viral Launch Product Site and build the right marketing campaign for your products.
Helium 10 Vs. Viral Launch: Which One Should You Choose?
As we have seen in the comparison above, we did come across numerous features between the two. But the biggest question is which one to choose between the two. So let's give you a few tips about how you can choose correctly between them.
Choose Helium 10 if:
You are keen on financial analysis.
You want to have an easier way to track your inventory
You have a business model based on Wholesale or arbitrage.
You want to get viable products that you can compete with within the Buy Box.
Choose Viral Launch if:
You love tools that can do most of the work.
You have a smaller product line which you wish to increase
You are a private-label seller
If you find the PPC automation idea appealing.
Helium 10 Vs. Viral Launch: Customer Reviews & Testimonials
Helium 10 Customer Reviews
Viral Launch Customer Reviews

Helium 10 Vs. Viral Launch: FAQ
What is Helium 10 used for?
Helium 10 offers powerful tools like product research, business management tool, listing optimizer, product rank tracking tool, etc., that allow Amazon sellers to grow their business to the new height. It allows Amazon sellers to manage and grow a thriving business with just a single dashboard.
What is Market Intelligence in Viral Launch?
Viral Launch Market Intelligence is the most accurate and sales estimates tool that provides real-time data to Amazon sellers. It provides profitable keywords that you can sell at a high margin on Amazon.
What is Helium 10 freedom ticket?
As we all know, Helium 10 is the complete Amazon software available for the Amazon sellers in the market. Helium 10 freedom ticket gives you technical training on how you can sell on Amazon.
Does Viral Launch provide a free trial?
Yes, it offers a 14-day trial to new users. One can easily create a free account on Viral Launch as it does not require any credit card to sign up.
What marketplaces does Helium 10 support?
Helium 10 has a global reach in terms of Marketplaces as it supports North and South American Markets like Canada, Mexico, Brazil and, of course, the United States. Plus, it also supports most of the European marketplaces like Germany, France, Spain, Sweden, Poland, Turkey, Italy and the United Kingdom. And it also supports marketplaces in Australia, Japan, Saudi Arabia, the United Emirates, China, India and Singapore.
Which marketplaces does Viral Launch support?
Viral Launch does have fairly global marketplaces supported. And when we made this comparison, we did find that the Product Discovery Feature of Viral Launch is supported in Countries like the United States, Canada, Italy, Spain, the United Kingdom, Germany and France. At the same time, the Market Intelligence feature is supported in countries like the United States, Japan, India, France, China, Canada, Germany, Italy, Brazil, Mexico and the United Kingdom.
Does Helium 10 offer its Chrome extension for free?
Yes. The extension is free but with limited usage. If you subscribe to any of its plans, you can use it more in-depth and get access to many of its features.
How much is Helium 10?
You can subscribe to Helium 10 via three plans. The first one is the starter plan which costs $29/mo; the second one is the Platinum plan which costs $84/mo, and the last one is the Diamond plan which costs $209/mo.
Is there any Helium 10 refund policy?
Helium 10 comes in with a 7-day money-back guarantee only. So if you don't like the tool, you have got 7 days to decide.
How much is Viral Launch?
Viral Launch offers three pricing plans: The Essential Plan costs you $69/mo, The Pro Plan is for $99/mo, and the Pro Plus Ads plan is for $199/mo.
Which are the payment methods accepted by Viral Launch?
Viral Launch accepts payments through Visa, Discover, Mastercard and American Express. But do note that the payments made are non-refundable.
What happens if you cancel your Viral Launch subscription?
Well, you need to remember that if you make payments to Viral Launch, they are non-refundable, and your service will continue until the end of the billing cycle. The subscription plans are recurring and can be cancelled only on prior notice before the next renewal period.
Does the Helium 10 Adtomic cost separately?
Yes. If you go for the Helium 10 Elite and Diamond plan, the Adtomic comes at no added cost. But you will be charged only a 2% fee on any of your PPC spend exceeding $20K each month. And the accounts which are under $20K in monthly PPC spend will have to pay only the Diamond/Elite subscription fee.
Conclusion: Helium 10 Vs. Viral Launch 2023 – Which Amazon seller tool is best?
After going through the above discussion on the Amazon seller tools, one inference is made that Helium 10 is the best tool available for market intelligence for the Amazon sellers. Viral Launch offers almost the same features as Helium 10, yet is priced higher.
Also, we will say that the Helium 10 is a much more powerful one and offers more features for the Amazon marketers like spot trends, optimizing the list for products sold etc. And if you really wish to boost your selling on Amazon, it's high time you begin with Helium 10, which is one of the best tools in the market, mostly for every Amazon FBA seller. Though Viral Launch has some features which also make it unique in a different way, you can infer the above-mentioned comparison and then make your informed choice.
It is recommended to go for any of the above Amazon tool suites as per the budget you can afford to purchase it and the quality of services you desire.🙂
Quick Links: