Are you a Walmart seller who wants to boost their sales? Are you frustrated by the saturation of sellers in big e-commerce platforms? Are you an Amazon seller looking to move to Walmart? Do you wish to make your product stand out from the crowd? Here we review Helium 10, an app that claims to help you in all of these ways.
Helium 10, a premium tool for Amazon sellers, dealing with creating efficient and attractive listings to boost sales, can now be used by existing Walmart.com sellers and those looking to join the highly profitable Walmart online space.
Check this detailed ✅Helium 10 for Walmart Sellers review and learn how you can start selling on Walmart with Helium 10. Helium 10 was previously engaged in providing business insight and management tools, precise keyword research, and providing all the tools sellers need to create listings that generate maximum revenue to Amazon retailers making it a first-of-its-kind support software for sellers.
The expansion of this software to include Walmart sellers certainly is an exciting development, and in this post, we are going to go over the key features and ways this tool can be incorporated into your journey into Walmart's online marketplace.
---
How Can You Benefit from Walmart's Large Consumer Base?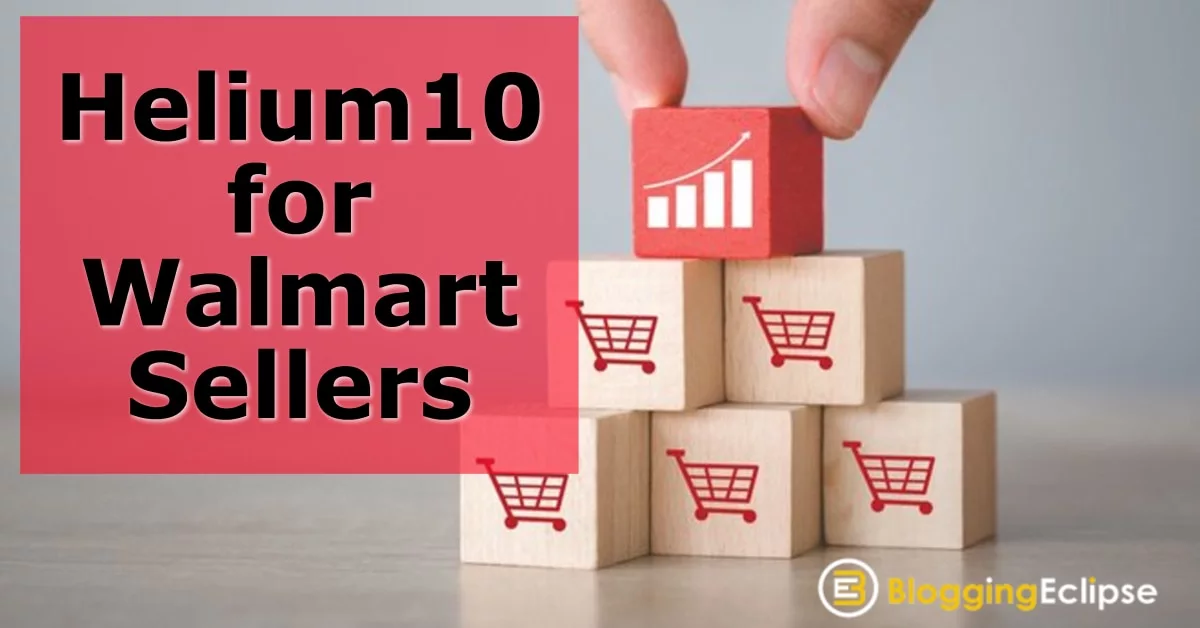 Walmart is a household name almost synonymous with the word supermarket. Hence, their online marketplace is extremely popular, gathering over 100 million unique users in traffic every month is an e-commerce giant. This is in addition to the fact that to maintain a certain standard of sellers, entry into the Walmart.com seller listing is trickier than you would typically expect.
This means that to cater to over 100,000,000 customers, only around 100,000 sellers exist on Walmart, making it an extremely profitable opportunity for any and all online retailers.
This ratio for other e-commerce websites is over 10 million sellers catering to a similar volume of customers splitting the consumer base many times over, causing smaller dividends for your business.
---
Premium Tools Offered by Helium 10
Helium 10 provides the tools for you to fully take advantage of this multitude of consumers and take your Walmart.com profile to new heights. These tools & their pros and cons are outlined below;
#1. Helium 10 "X-Ray"
X-Ray is a powerful data science-based tool that gathers information from its access to 450 million ASIN's and provides you with all the necessary information you require to embolden your listing. It acts as a keyword research tool and tracks all your sales data as a simple Chrome extension making it highly convenient for sellers to know how optimized their sales process is and how many sales they are generating by it.
#2. Helium 10 "Cerebro"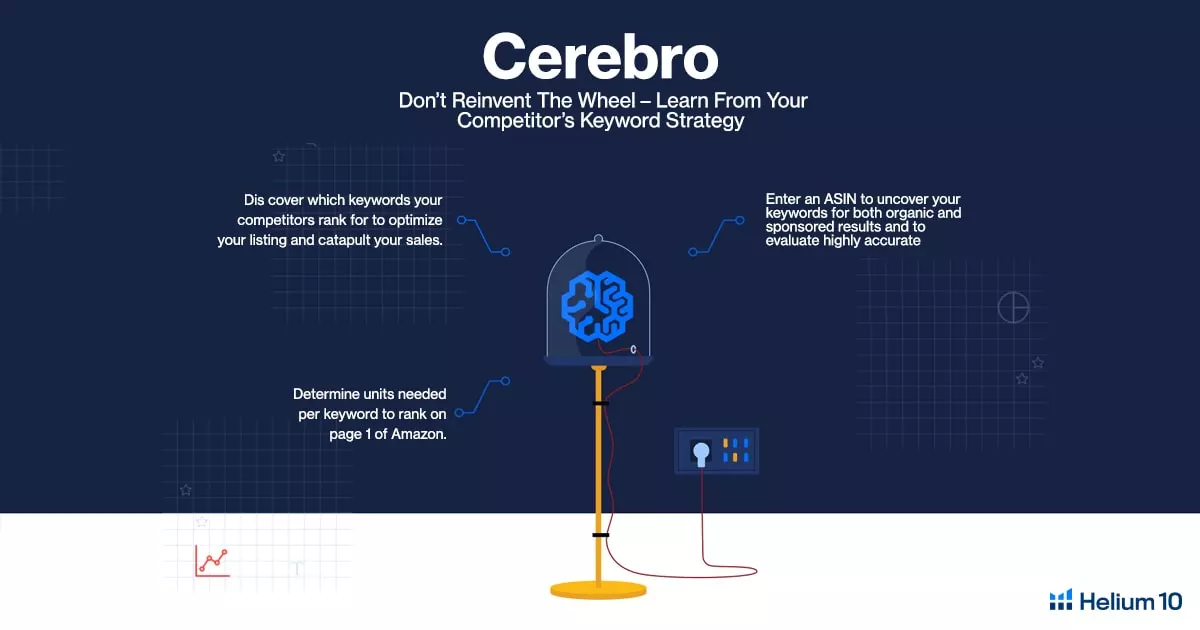 Cerebro uses a variety of keyword search strategies to provide you with a comprehensive list of keywords sourced to give your listing the ultimate edge. Some of these strategies are listed below:
Use the keyword ranking strategy of your competitors to help you enhance your own listing.
Determine the ideal Walmart keywords to rank up your business by its unique reverse ASIN and product ID feature
Direct access to top keywords for specific products with one tap comparison to the reach and keyword strategy of similar products
For a profitable listing, you need to be on top of all your keyword strategies. Cerebro allows you to focus your search for the most relevant data on a product's term, such as search traffic, historical search data, ranking data, the number of rivals ranking on the keyword, and more. Within your ASIN or Product ID search, you can also see goods that are commonly purchased together, which can enable your product selection and positioning.
#3. Helium 10 "Magnet"
Magnet has the most extensive customer database of actionable Walmart related search terms along with an exhaustive list of long-tail keywords on the market. You can customize your search results with advanced filters to fine-tune your research and sort your keyword list based on the parameters that are important to your product listing. Magnet enables you to filter results by word count, search volume, number of competing items, and other criteria.
#4. Helium 10 "Profits"
Profits is Helium 10's premier business insights tool. You can effectively track all your inventory, revenue, sales trends while working in tandem to use this data effectively for your Walmart business. The option to assess your profitability in a single space by seeing your product listing and Walmart account data in one location enables an optimum level of business management.
By showing your actual statistics, both good and bad, you can obtain the most realistic picture of your financial health across all of your product listings. After incorporating all income-generating and income outflow operations, you can make informed judgments about your product portfolio.
---
Why Should You Move from Amazon to Walmart with Helium 10?
The aforementioned harrowing process of registering an account can be achieved much faster if you already have an Amazon Seller account registered.
With Helium 10, you can easily transition your product portfolio to Walmart from Amazon and make the necessary modifications to flourish on a new platform using the above-mentioned tools to your advantage. The multi-platform nature of Helium 10 means when you begin using the service, you can use it to help enhance both your Amazon and Walmart profiles and complement the revenue from both.
How Cerebro helps you find the smartest products to sell?
Cerebro comes equipped with an internal "IQ" score to demonstrate the relationship between search traffic and competing goods for a given keyword in a specific time frame. A greater search volume combined with a lower competition rate is perfect for giving your product the highest possible score and hence the most selling potential.
---
How to Market Your Products Better on Walmart?
Helium 10 offers sellers all the tools they need to bolster their Walmart product portfolio to the highest tiers in customer searches. Dedicated softwares for keyword tracing, large databases of long-tail keywords, and business insights tools, all of which you can use to help create more revenue and value for your company.
---
How to Become a Walmart Seller with Helium 10?
Helium 10 features several works on why Amazon sellers should be moving to Walmart quickly to expand. They also host detailed walk through on how to make this transition.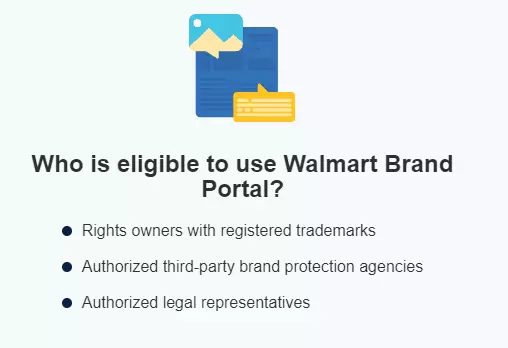 The following documents are required to acquire a Walmart seller license:
US Business Tax ID (SSN not accepted)
W9 or W8 & EIN Verification Letter from the Department of Treasury verifies your US business address or place of physical operations.
Business address or a physical location in the United States
Primary product categories, catalog size, and other relevant information
A list of marketplaces where you currently sell, as well as with direct links to your products & stores.
A specification of why you are a good fit for the Walmart.com Marketplace.
The approval process typically takes a couple of weeks to conclude.
What are the benefits of being a Walmart seller?
With over 100 million visits every month and only nearly one hundred thousand external vendors, Walmart.com is brimming with immense potential for sellers to establish themselves in positions of extreme profit.
---
Is it Difficult to Become a Walmart Seller?
Walmart seeks to maintain a level of conformity between the scale of their sellers, so they set requirements for your firm to be already registered with another marketplace.
If you are registered as an Amazon seller, you will have no problems creating a separate Walmart seller account. Helium 10 offers detailed walkthroughs on how to perform this transition.
---
Why is it Time to Stop Being an Amazon Seller in 2023?
Amazon hosts millions of sellers to provide for the needs of the consumer. In this whirlwind of sellers, it is difficult for your product listing to make its maximum revenue given the multitude of competitors trying to or monopolize the sale.
Helium 10 offers the tools for both Amazon and Walmart, but the smaller seller base and the advanced tools offered by Helium 10 make it a better combo for your product to be displayed and sold.
---
Helium 10 Pricing Plans
A free-to-use account can be set up for your business on Helium 10 instantly with no credit card, which comes with a limited amount of features.
To unlock subsequent features, there are three tiers:
Starter: $39/month, offered all the essential tools to get started with your Amazon business.

Platinum: $99/per month, catered towards businesses looking to spruce up their visibility

Diamond: $190/per month, catered towards larger full-time businesses
Elite: $399/per month, for complete access to all premium features to fulfill your every need
Use the Helium 10 coupon code: BLOGE6M20
---
🌟 Helium 10 for Walmart Sellers FAQ
Does Helium 10 work for Walmart?
Yes. Helium 10 now offers some of our most popular tools for Walmart Marketplace merchants, allowing you to grow your e-commerce business to new heights.
Can you sell on Amazon and Walmart at the same time?
Aside from comparisons, sellers don't have to pick between Amazon and Walmart—they may sell on both!
Is Walmart opening up to third-party sellers?
Walmart is introducing a new service that will allow third-party suppliers to hire the retailer to store, pack, and ship products for customers, putting the big-box retailer in a stronger position to compete with Amazon.
Who is cheaper, Amazon or Walmart?
Pricing is comparable between Walmart and Amazon in terms of the lowest costs and daily value. But Walmart comes out on top. They discovered that if a buyer bought similar products from both stores, Amazon would be 10.37 percent more costly than Walmart.
How much does it cost to partner with Walmart?
Walmart does not charge an account fee. However, as a seller on Amazon, you must pay $39.99 each month.
---
Final Verdict:
With Helium 10, you can finally stop speculating. Gather accurate information for your Walmart SEO strategy. Just enter a seed term and receive a long list of related keyword recommendations to help improve your organic traffic. Uncover the information you need to assess keyword performance, gauge projected search volume, find and use the data you need to propel your product launch to the top of the marketplace search results.🙂