Are you looking for a reliable adult web hosting platform? Then you are at the right place. With our ✅Host4Porn Review, you will get a clear perception of an excellent adult web hosting platform.
Despite the common perceptions, the best adult web hosting is not restricted to porn. Adult web hosting means any site dealing with goods and services available to only those who are at least 18 years old. The mature content includes tobacco, gambling, alcohol, and firearms.
Even if the site does not sell age-restricted products, the content and advertising require administrators to seek out hosting providers that allow adult content. Many providers steer clear of posting adult content. However, even if the provider is not dealing with adult content, they need to comply and seek for the adult web hosting platform because many varieties of content come under the 18+ age bar.
In addition to the myriad of state, federal, and international laws regulating the distribution, purchase, or possession of pornography, several hosts opts to avoid the potential added security risks and moral relationships among other customers.
---
What is Adult Web Hosting?
As we already mentioned before, an adult website's content does not necessarily mean pornography. An adult website needs higher bandwidth and security because its content comprises high-quality images, recorded and streaming videos. Therefore, the hosting providers primarily focus on the designed plans that lightning-fast speed and powerful server fulfill the website's requirements.
And that is how adult hosting differs from shared hosting!
Because shared hosting is for bloggers who are new to the blogging industry. Higher band with and lightning speed is not a matter of concern here.
---
Detailed Host4Porn Review
Host4Porn is an adult web hosting platform specializing in providing professional adult web hosting services to corporations, companies, partnerships, and individuals.
This platform was founded in 2011 through their privately-owned data center in Northern New Jersey.
The best part about them?
They provide you with excellent services and premium cPanel hosting and reseller solutions at competitive prices with supportive 24/7 customer support. Also, they manage/unmanaged dedicated servers for clients with more complex and large-scale hosting needs.
The ultimate mission of Host4Porn is to provide everything to their clients online, from domain registration to every type of web hosting. They comprise many features that make a hosting company stand out among others.
They are not a common platform; they offer you features such as New KVM VPS Plan Site Scripts Available Site Builders Available Plesk, Cpanel/WHM Control Panels Available. The above features are the types that you will not find in any other adult web hosting site.
---
Key Features of Host4Porn
Host4Porn comprises of the following key features:
Hosting services, adult hosting
Adult VPS Hosting
Adult Dedicated Server Hosting
Adult Reseller Hosting
Adult Domain Name Services
Want to hear another great thing about this platform? Everything is legal and allowed!
A few hosting companies offer this kind of freedom to their users while still being organized and vigilant to the laws and its changes.
They offer a wide range of services. Some of the benefits include:
Adult web hosting power with cPanel and Plesk control facility at a relatively low price.
Adult Reseller hosting builds unlimited sites under your brand. They have their prices, packages, and features, so you do not have to worry about setting up anything from your own. They pretty much take care of all your hosting needs.
With adult VPS Hosting low cost and scalable VPS plan, you can get started with their lowest package and work your way up as you grow!
Their fully customizable data center is perfect for web hosting, file downloads, game servers, VoIP or other latency-sensitive applications, and many other tasks.
They use security services Secure Socket Layer to secure data transmissions across the internet and protect sensitive and confidential information as it is transferred from computer to computer.
---
Host4Porn Customer Support
If you decide to stick to Host4Porn, you get 24*7 access to their customer support team. Along with this, you also get direct access to direct access to our experienced technical and service teams. Led by industry veterans, Host4Porn has years of experience in creating strategic partnerships that last.
The best part of this platform is that they fully understand their customer's needs and designs partnerships to maximize their business. Other than this, Host4Porn data centers run on multiple redundant carriers with BGP connectivity while supporting both IPV4 and IPV6 internetworking methods.
Their operation support customer service team is available 24/7/365, offering multiple options for emergency support: You may also log in to the client area and submit a trouble ticket in case of any emergency. They make sure that the customer's needs are fulfilled by them as soon as possible. Their highly qualified technicians offer efficient and fast support for all your adult website requirements.
Other than all the above features, Host4porn's experts are quick to respond and minimize downtime. Their main goal is to achieve customer satisfaction and always stay happy with the quality services they offer. Trust Host4porn as your hosting provider; we are confident that you will be in great hands.
---
Host4Porn Pricing Plans
The adult shared hosting plans of this platform are designed to meet the specific requirements of their customers. The customers include individuals, organizations, and small-to-medium size businesses.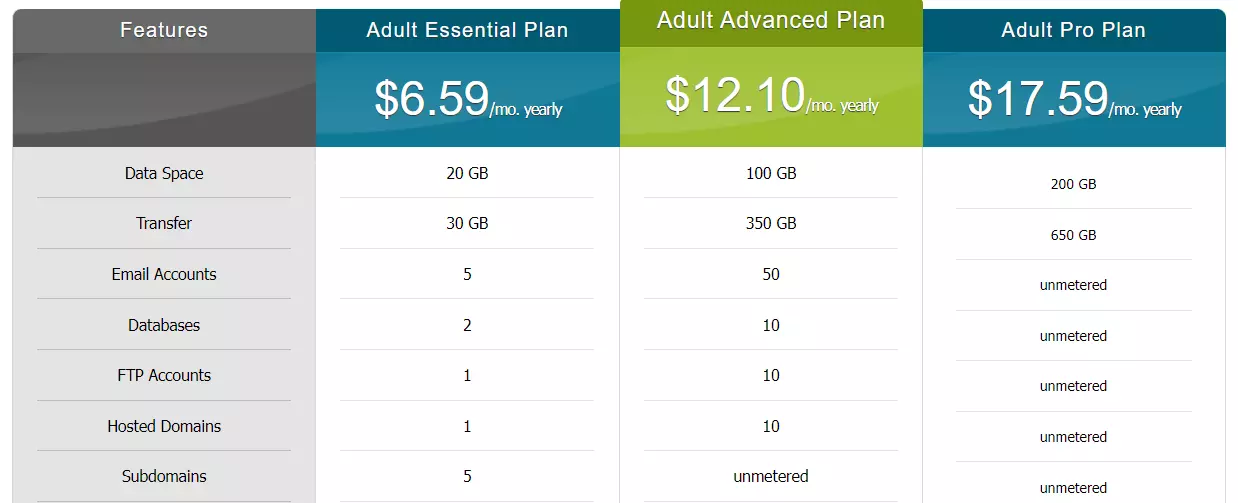 Following are the plans that Host4Porn offers:
Yearly Adult Essential Plan $5.95/mo.
Yearly Adult Advanced Plan $10.95/mo
Yearly Adult Pro Plan $15.95/mo
Other than this, they also offer a 7-day money-back guarantee. That means if you face any issue or are not able to understand the algorithm of this network, you can claim your money. Once Host4Porn observes that your reason is genuine, they return all your money. Also, the users do not have to go through any trouble in getting their money back.
---
Benefits of Using Adult Web Hosting
Running an adult website comes with plenty of rewards, but it has its unique pitfalls. The best way to get around this is to keep your site with a web host specializing in mature and adult content.
#1. They can take the traffic
Most adult sites have a pretty high volume of visitors. And the beauty behind this type of platform is if someone visits the site once, they will likely visit it again and again.
#2. You will get extra disk space
It's not just about traffic, though – you're also going to need a lot more disk space for an adult site than you would for most others. All that video takes up a lot of space, and streaming requires even more.
#3. Secured payments
All adult websites need to worry about security, not least because the industry has something of a reputation for leaking people's details. Payments are the most tricky part of any running adult site, and specialized servers are better placed to help you get it right than general web hosts that aren't used to dealing with sensitive information.
---
🌟 Host4Porn FAQ
🙄What is Host4Porn?
Host4Porn is a New Jersey-based premium adult Web hosting company with U.S. business offices located in Hackensack, New Jersey.
🤔What is adult web hosting?
An adult web hosting service is a type of Internet hosting service that hosts adult websites for clients.
🔎Which are the primary services Host4Porn offering?
➤Adult Web Hosting
➤Adult Reseller Hosting
➤Adult VPS Hosting
➤Adult Dedicated Servers
➤Adult Domain Services
➤Security Services
💲How much do adults shared hosting costs?
Host4Porn adult shared hosting starts from $6.59/month.
🤑How much does adult security services cost?
➤GeoTrust SSL Certificates: $29.00/year
➤Comodo SSL Certificates: $29.00/year
➤Symantec SSL Certificates: $329.00/year
➤Secure & Protect Your Website: $6.00/year
---
Bottom Lines:
If you are looking for compelling web hosting content, Host4Porn is an excellent deal! With this, we will wrap up or Host4Porn review today.
Got any suggestions?
Ping them up in the comments section down below.🙂