Dropshipping is one of the most popular ways to start a business online.
If you're familiar with it, then this post will be right up your alley!
In this article, we will look at ✅HyperSKU Review, a platform that can help you get started and run your dropshipping store smoothly.
---
A typical drop shipper sells products from different retailers or brands through its own website.
They ship the products directly from the manufacturer to the customers, who are often unaware that they are purchasing them from someone else.
The customer pays only when they receive the product in their mailbox. This way, the supplier gets paid by the retailer instead of dealing with shipping costs for each order.
Dropshipping has benefited a lot of e-commerce retailers who were not able to handle the inventory, shipping, and marketing needs. It can be a high-income side hustle for anyone interested in e-commerce and retail sales.
How Does Dropshipping Work in Practice For Retailers & Buyers?
Dropshipping is a business model in which retailers sell goods from a supplier without owning or storing them.
Dropshipping allows for the most amount of inventory to be sold because the retailer does not need to store it. This is advantageous for retailers because wholesale purchases are cheaper due to lower overhead costs and higher profit margins. Dropshipping also allows manufacturers and suppliers to retain more control over their products by not having them go through the retailer's distribution channels first.
---
Choosing the Right platform for your Dropshipping Store
Choosing the right software suite for your online store can be a daunting task.
There are many options out there, and it is hard to know which one is best. If you decide to run an online store, you will need software that makes it easy to manage inventory, shipping, and customer service.
When choosing the right software for your store, you must consider factors based on your target audience. Some factors that you should put into consideration are
How much time do you want to spend on managing your store
How much the software will cost
The features and functionality that it comes with
With these criteria in mind and depending on the type of business, you can choose software that will suit your needs. The most important factor is what's best for your business as long as it meets all of these requirements.
---
Detailed HyperSKU Review (Updated 2023)
HyperSKU is a software that is designed to be used by dropshipping stores owners and brands as well.
It helps them automate the process of importing products to sell on their websites, get detailed information about their products, and keep track of their inventory.
Decrease costs and improve sales by getting direct access to suppliers in China and their efficient and reliable delivery systems.
How does it work?
Choose which SKU's you want to drop ship.
Create your orders from your favorite e-commerce platform.
Connect with your suppliers and fulfill your orders.
Receive notifications on order progress and shipment updates.
Receive notifications about cancelled orders and returns.
Track your inventory and sales statistics.
Experience better inventory management, smarter fulfillment, and a streamlined process.
---
How to Use HyperSKU?
Whether you're a beginner who has little idea on how to start your own dropshipping business or a dropshipping expert, HyperSKU is your one-stop solution.
With its easy-to-use interface, Seamless Integration feature, a database of premium products, HyperSKU is a stellar platform that makes the entire process of dropshipping as easy as pie!
Here's how to get started with HYPERSKU:
Get started with HyperSKU in just 3 easy to follow steps!
Create an account and sign up
After creating an account and registering with HyperSKU, you can instantly connect your store with it.
HyperSKU offers seamless integration with platforms like
WooCommerce
and
Shopify
(more on this below). 
After creating your account, you can start getting to work setting up, browse through an array of
high-quality products
, and start customizing your selling journey by customizing elements such as inventory, packaging, shipping options, and more.
Sync and place your order!
After you've done customizing your process, you can sync any orders that might have been unfulfilled in the past and start placing your orders with HyperSKU!
---
Key Features of HyperSKU
eCommerce veterans have developed HyperSKU features to help retailers grow their businesses by developing a platform that uses cutting-edge technology to revolutionize dropshipping by abolishing the hassle associated with traditional methods of selling and delivering.
The main features that HyperSKU offers include:
📈Dedicated Dashboard
Your dashboard acts as your primary mission control.
You can access all your orders from your dashboard, track shipping, payments and check the status of each dispatched order. Additionally, receive all miscellaneous notifications on your dashboard as well.
📋A Complete Order List
Get a comprehensive and accurate list of all orders placed with all you need to know, this makes keeping a check on orders a breeze, and this makes sure there is no loss of data.
Order lists include vital info like the cost of shipping, order status, and net profit of each order making track easy for users.
💻Outsourcing Available
HyperSKU has a vast collection of products in its own database. Still, if you cannot find a specific product, it allows you to outsource products from other platforms like AliExpress.
Enter the URL of the product you want to outsource and then just sit back and relax while HyperSKU does all the work for you!
But the catch is it will fulfill the order in its promised time without any hiccups.
📑Extensive Product-Oriented Features
HyperSKU offers tons of features that are geared towards products. HyperSKU boasts a massive database of products that are mainly sourced from Chinese manufacturers.
Find all the products you might need from an extensive collection that includes products from all kinds of niches.
You can directly sell your privately owned products through HyperSKU as well. View them just as you would other products on your dashboard, set all your details such as price, shipping details, and more.
📊Logistics and Tracking
Stay on top of your game with HyperSKU's efficient fee calculator, get accurate data regarding product and shipping costs, making it easy for you to determine selling prices more accurately.
Tracking is made easy with HyperSKU's extensive tracking feature. Track your shipment from its source to its destination, and be rest assured.
---
HyperSKU Bonus Features (Added Advantages)
HyperSKU is a comprehensive platform that makes dropshipping simple enough for beginners but is also advanced enough for experienced eCommerce entrepreneurs.
Some other bonus features include:
Quality services for a reasonable price
Easy to handle and intuitive for users
Custom Packaging Available
Inventory Management for Sellers 
A plethora of products to choose from
---
HyperSKU Benefits for Dropshippers
HyperSKU is made to make dropshipping a hassle-free experience for you. It offers many benefits for the same that include:
Flawless Integration with Shopify and WooCommerce
Easily integrate your Shopify and WooCommerce stores with HyperSKU without any extra charges!
HyperSKU lets you focus on driving and marketing your eCom business by taking care of all the backend operations associated.
The search feature in the HyperSKU is a great tool that allows users to find the best products for them by filtering through different features.
This easy-to-use tool makes it easier for consumers to shop for the product they want and saves them time.
Seamlessly import all your products from HyperSKU to your Shopify page in one swift click.
Products import with all relevant information, including price, product descriptions, variants, and more.
One Account for Multiple Stores
Skip the hassle of managing multiple accounts for all your stores.
You can now manage all of your stores with a single HyperSKU account!
Say BYE-BYE to numerous passwords by bringing everything into one manageable space.
A lot of customers value the time it takes for a store to fulfill their order. If your product takes too much time to reach a customer, they may not prefer to purchase from you again.
HyperSKU offers a solution to this problem by offering express shipping for all products. It ships your products globally within 7-8 days!
Guaranteed 100% Refund if there's any problem
HyperSKU takes full responsibility if there is an error on their side and offers a 100% refund if your customers receive a defective product.
The dedicated support team of HyperSKU always has your back if there is anything you need or if something goes wrong with either your account, your payments, or orders.
---
HyperSKU Benefits for Brands
Build your brand with the help of HyperSKU
Make best-selling products out of your ideas
Make a name for your brand with customizable packaging and additional inserts.
Source your products from a wide variety of top-notch factories
Stock your entire inventory from HyperSKU's warehouse
---
HyperSKU Pricing Plans
The best part of using HyperSKU (especially if you're a newbie) is that the platform does not charge ANY registration or monthly retainer charges!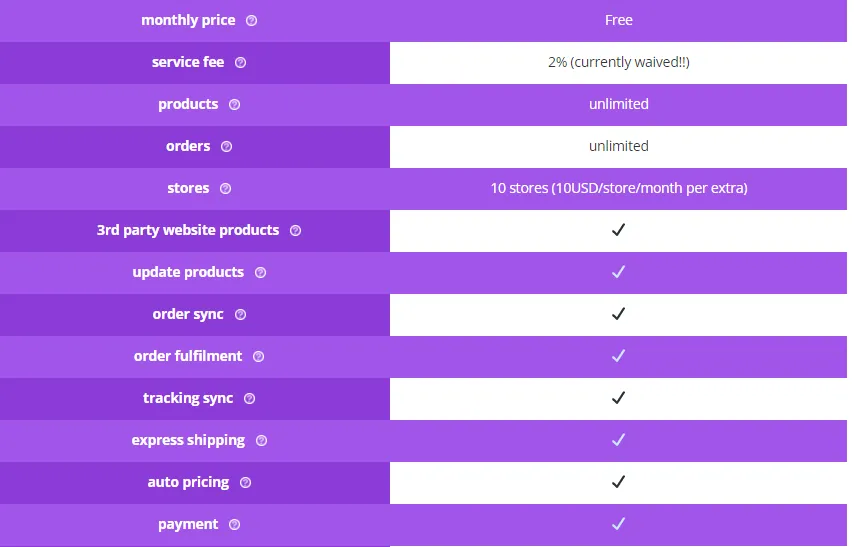 You can have an account for as long as you want and access all of its features at no extra cost. Also, get access to unlimed products and orders.
You also get free access to 10 stores and a charge of $10 a month per extra store.
HyperSKU has a handling fee per product. You need to pay 2% of the product and shipping cost, this is very low compared to most other platforms, and it means that you only pay per product you sell!
---
How to Make Money with Dropshipping?
Dropshipping is a popular e-commerce business model that allows sellers to sell products without stocking inventory. This service allows the retailer to quickly transition between manufacturers and suppliers, depending on which product they choose to sell. When looking into starting a dropshipping business, the most important thing is finding the right niche and getting educated on pricing.
If you know how to price your products, you are more likely to succeed in this business. It is also important to only sell high-quality products and ensure that your brand has a good reputation in the market.
Dropshipping allows you to earn money without having to do any work other than listing your product.
This means that it's perfect for people who are not really into producing their own product but still would like to make some extra cash on the side. Dropshipping boils down to picking a profitable niche, coming up with a solid marketing strategy, and adjusting your product price according to as it changes in the market.
---
HyperSKU Alternatives
How to choose the best platform for your dropshipping business?
We've got you covered!
HyperSKU 🆚 AliExpress
Both these platforms have been around for a long time now, but they continue to grow in popularity every day. While most of their services are pretty much the same, the most significant difference is the shipping time.
HyperSKU offers a significantly shorter shipping time, ensuring that your products reach your customer within 7 to 10 days. So if the shipping time is important to you, HyperSKU might be a better offer for you.
HyperSKU 🆚 Spocket
Spocket is also a popular alternative to HyperSKU. While most services are similar, pricing is the most defining difference between both platforms.
As mentioned above, HyperSKU doesn't charge its users a subscription fee but takes a commission instead.
Spocket, on the other hand, does charge a monthly subscription fee starting at $24.99 and has a limit of 25 products. So if You are looking for a platform on a budget, HyperSKU might be more suitable for you.
---
Benefits of Dropshipping
For years, dropshipping has been a popular business model with retail giants like Amazon and Walmart. But it's only recently that it's become a viable option for smaller businesses.
It is the process of selling products without first having them produced. Dropshipping businesses don't buy the physical items to sell, but instead, they purchase them from a dropshipper (a company with many suppliers).
The advantage of this is that it eliminates shipping costs and inventory management.
The benefits of dropshipping are numerous – it takes away inventory risk and better inventory control, provides lower cost, increased control over branding, and more time to focus on other aspects of their business.
It also helps consumers by providing them with access to unique items that they would not be able to find anywhere else.
---
🌟 HyperSKU FAQ
🤔What is HyperSKU?
HyperSKU is a one-stop-shop for dropshippers to access a wide range of appealing and high-quality products that will generate happy returning customers for your eCommerce business.
🙄Is HyperSKU free?
Yes. It is entirely free to download and install. There may be additional charges.
🤔What are the main features of HyperSKU?
– Dedicated Dashboard
– Outsourcing Available
– A Complete Order List
– Extensive Product-Oriented Features
– Logistics and Tracking
🔎Which platforms are best to integrate with HyperSKU?
HyperSKU integrates with Shopify and WooCommerce and works with open API. We recommend choosing the Shopify platform as HyperSKU works best with Shopify stores.
🙄What are HyperSKU benefits for dropshippers?
– Flawless Integration with Shopify and WooCommerce 
– Easy Search for Products
– Easy Import of Products
– Express Shipping
– Guaranteed 100% Refund
– One Account for Multiple Stores
– Dedicated Support Team
---
Conclusion: HyperSKU Review 2023 | Should you go for this tool?
Nowadays, it seems like everyone is jumping on the dropshipping bandwagon to avoid the hassles of having to own a warehouse or even a business.
HyperSKU as a platform is an absolute game-changer! It is the most affordable and effective dropshipping platform on the market.
It allows you to get your sales online and start with a $0 investment. You can create your own store in under minutes, and the shipping is fast as well.HyperSKU was created by eCommerce veterans with drop shippers in mind.
It's an excellent opportunity for anyone who wants to start their own eCommerce business without any upfront investment.😊
Highly Recommended
HyperSKU is no doubt all in one suite for Dropshippers, from store inventory to fullfilment- You don't need to search for suppliers, products, rates, or shipping. It has the best product inventory from top Chinese manufacturers that come with ease of global shipping. Just start your Dropshipping store with HyperSKU and promote your product on
paid Ads
. Get started for free with HyperSKU today🚀
HyperSKU – One-stop dropshipping solution
Start Freee with HyperSKU (Source directly from top Chinese manufactures