AI (Artificial Intelligence) is defined as an un-programmed system that can learn and improve itself over time through experience and interaction with its environment.
Now, what does this mean? It means that AI bots are programmed to do specific tasks or jobs. However, they have the ability to learn new things on their own and perform better than humans do. And this takes us back to our main focus here AI-powered copywriting tools!
What is AI Copywriting?
Copywriting is one of the most popular uses of AI in digital marketing and advertising. It basically helps to automate the process of writing different types of content. The good thing about using AI-powered tools is that they don't need any human intervention. The output is ready for use without any further editing or reviewing. In addition, you can also use these tools for generating unique content as well as for creating blog posts or press releases.
Here we will be discussing another hyped copywriting tool i.e. Hypotenuse AI.
Latest Hypotenuse AI Discount Coupons (2023 Updated)
What is Hypotenuse AI? – Hypotenuse AI Review in a Nutshell
Looking for a way to improve your content writing? Then you have come to the right place. Hypotenuse AI is a copywriting tool that uses artificial intelligence to help you write better content. As a content writer, you know the importance of high-quality content. But, it could be challenging to create informative and engaging content, especially when you have lots of work to complete within a specific period of time. That's where Hypotenuse AI comes in.
Hypotenuse AI can help you save time and improve the quality of your content. With this tool, you can get help brainstorming ideas, writing headlines, and more. Hypotenuse AI can also help you improve your grammar and style. So, if you're looking for a way to improve your content writing, consider using Hypotenuse AI.
How does Hypotenuse AI Work?
Hypotenuse AI just asks you to enter your topic-related keywords and within a couple of minutes unique and read-worthy content is created. Hypotenuse AI is an AI-based content marketing tool that detects the quality of your writing and offers suggestions for improvement too. It also analyzes the effectiveness of your keywords and offers suggestions to optimize your content.
How to Use Hypotenuse AI to Write SEO-Optimized Content?
Step 1: Hypotenuse offers you to create your account with a 7-day free trial. You just have to enter your email address and after verification, your account is created.
Step 2: After you verified your email a screen will appear in which it will ask you your role in the company. If you are a copywriter just select it from the drop-down menu and click on the Next button.
Step 3: As soon as you click on the Next button 4 option will be displayed in front of you
Product Descriptions
Blog Posts
Marketing Copy
Image Generation
From these options, you have to select one which you want to do first. If you want to create a blog then you have to select the "blog posts" option.
Step 4: After selecting another screen will appear in which you have to add a small description about your blog, some related keywords, and the tone of your blog.
Step 5: As soon as you describe your blog "generate title" option will get appear on top which you have to select and hypotenuse will generate a title for your blog. On the left-hand side section, some title options will appear from which you have to select the appropriate one for your blog.
Step 6: After you select one title the "generate outline" option will get appear, click on it. Some outline ideas will get appear. Just select one and click on the research button. Hypotenuse will generate some amazing outlines for your blog. You can read it as well as make changes to it if you need any.
Step 7: After the outline "Generate Article" option will be visible, click on it. Within seconds your article is ready inimitable and grammar free.
Step 8: From there either you can export your article or share it. Whatever suits you? Using Hypotenuse is really easy and worthy. Just try once!!
Key Features of Hypotenuse AI – What is Hypotenuse AI used for?
1. Image Generation – Hypotenuse AI Review
Most amazing feature of Hypotenuse is Image generation. With this feature, you can generate watermark-free Ai images for your blog or article. Without an image, the article doesn't look convincing. With the help of this tool, you can create high-quality watermark-free images and gives your article a better and more appealing look.
2. Blog Articles – Hypotenuse AI Review
Create unique and interesting articles for your blog. Hypotenuse AI not only generates an article but also first creates a title and outline, and after that, if you are convinced with both things then finally it generates an article for you. At any stage, you can make changes to your article or outline. For all the things you will be given many options to choose from. Opt the best one for you.
3. Product Description – Hypotenuse AI Review
This one is the most unique feature of Hypotenuse.ai. If you are selling products on different shopping platforms then this feature will prove most beneficial for you. Many times it gets difficult to write descriptions for all products, but not in Hypotenuse AI. Here you can generate products descriptions as many as you want.
4. Instagram Captions – Hypotenuse AI Review
Social media account is so much important these days that we all know. If we take the example of Instagram managing accounts and thinking of new captions are time taking and tedious jobs. But in Hypotenuse.ai creating captions is done within minutes. Creative and eye catchy captions are generated here which can prove really helpful for all those who are in search of such a tool for their Instagram account.
5. Shopify Integration – Hypotenuse AI Review
Shopify is a popular e-commerce platform that allows businesses and sellers to easily create and manage their online stores. A hypotenuse is a tool that can help streamline your Shopify operations by automatically generating product descriptions and pulling data from your store. This integration makes things a lot easier for businesses, saving time and effort.
Hypotenuse AI Pricing Plans – Is Hypotenuse AI Free to Use?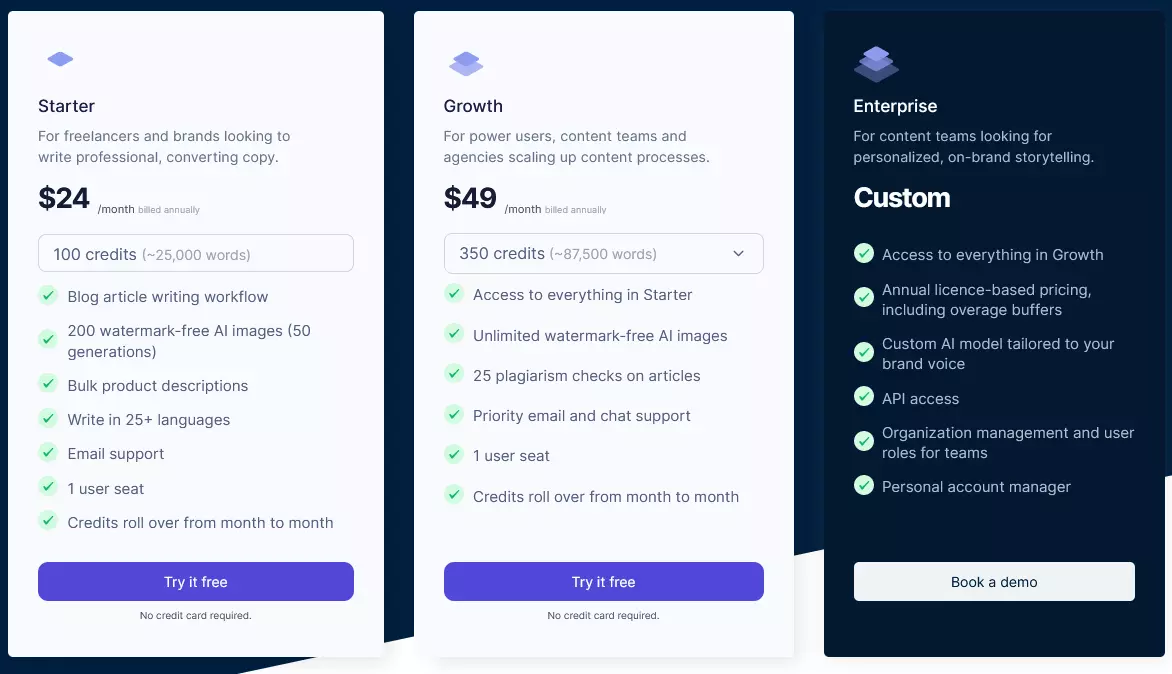 Hypotenuse offer three plan for its consumers namely:
Starter Plan
Growth Plan and
Enterprise Plan
Hypotenuse AI Starter Plan
This plan is basically for freelancers and brands looking to write professional, converting copy. It cost you around 24$ per month. In this plan you get
100 Credits
Access to write articles for blog
200 Watermark- free Ai images (50 generations)
Product Descriptions
Can be used in 25+ languages
Email Support
1 User seat and credit rolls over from month to month
Hypotenuse AI Growth Plan
This plan is for power users, content teams, and agencies to scale up content processes. It cost you 49$ per month. In this plan, you get all the benefits of the Starter plan apart from that some more are added i.e.
350 Credits
25 Plagiarism checks on articles
Chat Support with Email
Unlimited watermark-free Ai images
Hypotenuse AI Enterprise Plan
Lastly there is an enterprise plan for all those content teams looking for personalized, on-brand storytelling. It's a custom-made plan so its cost is decided on an annual license. In the Enterprise plan you get all the benefits of the growth plan plus all the below benefits:
Annual license-based pricing
API access
Personal account manager
Customized AI model tailored to your brand voice.
In short, the Enterprise plan from Hypotenuse is perfect for businesses that are ready to take their content writing to the next level.
Who is Hypotenuse AI best for?
Hypotenuse AI is a great tool for creating high-quality content. The tool is used by many bloggers and content creators, as well as SEO professionals who work on SEO copywriting. It's quick and easy to use, and it will generate awesome articles for you in a matter of minutes.
I see the following use cases and people who could benefit greatly from it:
Bloggers: If you're a blogger or content creator, Hypotenuse AI can help make your writing more engaging, by providing pre-written articles that are ready to go straight into your site or blog post. This saves time because you don't need to write them yourself!
Content creators: If you're making YouTube videos (or any type of video), Hypotenuse AI can help you create amazing titles and descriptions that will be exciting for people watching your videos. This saves time too! You don't need to spend hours coming up with captions.
SEO Consultant: If you're an SEO consultant, you can use it to help your clients improve their SEO rankings.
Overall, Hypotenuse AI is an amazing tool that can save you a lot of time and effort while still allowing you to create high-quality content.
Hypotenuse AI Reviews & Customer Testimonials
Top FAQ on Hypotenuse AI Review
What is the use of Hypotenuse AI?
Hypotenuse AI is the leading AI copywriting tool available on the market that writes content in seconds! You just need to enter a couple of keywords, and Hypotenuse AI will give you high-quality, original, and captivating content that can be used anywhere: social media posts, blog articles, emails, and ads. You'll get fresh and relevant content every time from Hypotenuse AI.
Is Hypotenuse AI worth buying?
It can be challenging to come up with content ideas, write them, and then craft them into something that's amazing. With Hypotenuse AI — you'll never lack content again. By using Hypotenuse AI, you can spend your time making an impactful marketing strategy, as Hypotenuse AI will create engaging content that guarantees customer engagement. Get professional copywriting services such as article generation, personalized slogans, product descriptions, social media ad copies, etc., in just minutes, without wasting time or money on writers.
Why should I buy Hypotenuse AI?
Hypotenuse AI is your copywriting assistant if you are frustrated with hiring a writer or struggling with writer's block. There's too much content out there, and you need an AI writing tool that understands your product or brand. Hypotenuse AI is the best AI writing assistant that can help you generate professional copy with just a few prompts from you. It can write about anything, from e-commerce to toys to any niche! Hypotenuse AI supports various features, and at the same time, this tool is available at an affordable price.
What can Hypotenuse AI do for me?
You can use the Hypotenuse AI copywriting tool to write content for a variety of purposes, such as website articles, blog posts, social media posts, etc.
Can I try Hypotenuse AI for free?
Yes, Hypotenuse AI allows its users to create a free account. You can easily sign up for Hypotenuse AI free trial and test drive its features for free.
Does Hypotenuse AI allow me to cancel my subscription?
Yes, If you want to cancel your Hypotenuse AI subscription, then you can easily cancel it anytime. Hypotenuse AI enables you to upgrade or downgrade your subscription plan.
What languages does Hypotenuse AI support for AI writing?
Following are the languages which Hypotenuse AI supports:
1. English (UK & US)
2. Bulgarian
3. Chinese
4. Danish
5. Dutch
6. Estonian
7. French
8. German
9. Greek
What are the major alternatives to Hypotenuse AI?
There are various copywriting assistants available on the market that you should consider. Following are the top Hypotenuse AI alternatives:
1. Jasper
2. Rytr
3. Writecream
4. Closercopy
5. Anyword
6. Writesonic
7. Copymatic
Conclusion: Hypotenuse AI Review – Is Hypotenuse AI worth your money?
The Hypotenuse AI system is an automated content creation tool that enables you to create high-quality, engaging articles in minutes. The program has been designed to make it easy for you to create content that will attract more traffic and viewers. It is programmed in such a way that it doesn't require any prior experience in writing or even having a basic understanding of the topic at hand.
All you need to do is input your own keywords and choose what type of article you want to write (blog post, news release, etc.). Then the program will take care of everything else, including formatting, customizing images and other elements, adding links and citations, organizing your content into sections, and creating an outline for each section.
The Hypotenuse AI system can also be used as a research tool if you don't know much about a particular topic or industry. For example, if you want to write about social media marketing but don't know much about it yet then this would be a great way for you to start getting familiar with the subject matter before moving on to more advanced topics.
If you want to generate content fast and accurately just give Hypotenuse.ai a try. It will not disappoint you.
Hypotenuse AI Review – Let AI write your content in seconds!
Tired of creating high-quality content for your blog, email marketing, or social media posts? Get the most from your marketing resources by using Hypotenuse AI. It will create fresh, original content that performs well on any channel. Hypotenuse AI is a powerful platform that uses AI to automatically create content, including art and images, article writing, product descriptions and advertising copy. The mission is to revolutionize content creation, making it easy, fast and accessible to everyone.
Pros
User friendly. Can be accessed easily without any difficulties.
A unique and fluent copy can be generated
Maintaining an Instagram account is easy with a caption generation tool.
With Shopify integration, product management has become easier.
Cons
Sometimes generated article is too lengthy.
Features are limited
Limited amount of credits for free user
Hypotenuse AI – AI Writing Assistant and Text Generator
Get started with Hypotenuse AI for free and generate high quality content.
Quick Links: