The world's largest and the most awaited Business Expo of the year, the iFX EXPO Asia 2023 focusing on the financial sector is about to happen from June 20 to 22. The expo is already a hit as we had mentioned in our previous posts that 90% of the stalls have already been sold out and many top-tier leading finance companies have registered themselves as attendees of the event.
iFX EXPO Asia 2023
The event has been a hit every time it was held, including last year's iFX EXPO which had people hope more from this year's event. The B2B expo, which will take place in Bangkok, Thailand will have the greatest industry experts and influencers from various sectors including trading, financial services, as well as other fintech sectors.
The venue for iFX EXPO Asia 2023 will be Centara Grand & Bangkok Convention Centre at CentralWorld. The multi-day event has been set on a whole new level, which will break all the previous records and become the largest crowd-pulling event of all time. IFX EXPO Asia 2023 will feature 20% more exhibitors this year than its previous expos.
When we speak of the craze amongst the attendees, the demand is record high. This year the event will be organized by Ultimate Fintech, a company that has got a track record of having the best in class expos. Ultimate Fintech has an experience of organizing over 20 events in the past decade.
What Opportunities will you have at iFX EXPO Asia 2023?
The attendees can connect with the best business executives at iFX EXPO Asia 2023. The multi-day event will have you boost your network and introduce you to C-level executives from various niches and companies. You can have insightful discussions with these leading industry experts who have got a mind full of knowledge about leading a business and having their network expanded.
iFX EXPO Asia 2023 will have numerous experts under one roof belonging to various industries. These experts will be the stakeholders, and the ones belonging to the technological and service department. They will have expertise in digital assets, and blockchain, and will also be the ones who are institutional brokers, payment providers, liquidity providers, affiliates, and IBs along with the regulators and compliance officers.
An event that might act as a big change for your business and have you introduced to these many influencers and experts, this event, iFX EXPO Asia 2023 should be on your top priority list for the month of June.
Here you can collaborate, build a network, and have great discussions done over, with a lot of these experts.
Read another Press Release 👉 iFX EXPO Asia 2023: The Largest Financial B2B EXPO at Thailand
Companies at iFX EXPO Asia 2023
A number of companies have already registered themselves as attendees, exhibitors, or sponsors at the iFX EXPO Asia 2023. Starting with the biggest name in the financial industry, the leading company in the financial and technology sector OpixTech has become the elite sponsor of iFX EXPO Asia 2023. On the other hand, UEZ Markets has been announced as the Regional Sponsor.
Similarly, ZuluTrade and Equiti Capital have become the Diamond Sponsors of the event while the companies joining the exhibitor's list would be MetaQuotes, Solitics, Trading Central, cTrader, Pepperstone, STICPAY, and more hundreds of companies having their spots reserved at the event.
A lot many companies who are participating in the event as sponsors are pushing the growing list without any limitations.
What can you expect from iFX EXPO Asia 2023?
iFX EXPO Asia 2023 will have its attendees inspired by the insightful talks which will take place at the Speaker Hall as well as at the Idea Hub by the top industry speakers. The event will even feature host meeting spots that will provide a perfect atmosphere to have discussions done and mingle a bit with the present C-level executive speakers and industry experts. During these networking sessions, one can have collaborative discussions or even have their network built with like-minded professionals.
The panel discussions will provide knowledge on various topics which will be done by a number of experts from reputed companies such as Revolt, Exness, and Alibaba. These experts are industry pioneers and are regarded as notable speakers.
Speakers such as Sagar Desai, who is a Senior Associate for Institutional Sales, Trading, and Prime at Coinbase, Abhinav Singh Suryavanshi, Head of Engineering APAC at Revolut, Tamas Szabo, who is the CEO of Pepperstone will have you delved with their industry knowledge.
Joining them would be Sandeep Raj, SVP, Growth at Alibaba, John Murillo, Chief Dealing Officer at B2Broker, Tanapat Kamsaiin, Country Business Development Manager at Exness, Iskandar Najjar, CEO at Equiti Capital, and Benjamin Chang, CEO at Swissquote Asia along with many more big names belonging to various industry.
Besides the whole event and panel discussion, the iFX EXPO Asia 2023 will even have the best parties starting from the first day of the event. The Official Welcome Party on June 20, will provide a perfect atmosphere for the meet-ups and network-building with the invited speakers. Then the Night Party which is set for the second day of the event, June 21, will again have networking opportunities in an unofficial manner.
These parties will also have the best music and appetizers in town.
Official Mobile App for iFX Expo
With the official mobile app of iFX EXPO, you can have all the updates related to the event on your mobile phone. This app is exclusively available for the registered attendees across iOS and Android devices.
The mobile app with the help of AI, will maximize your networking potential, exchange contact details using Badge Scan and view agenda as well as build your own personal schedule. Here you can even exchange business-related messages with your newly built contacts, have meetings scheduled, and also match with potential clients and buyers.
With the iFX mobile app, you can navigate through the whole event, and look at the floorplan as well as even the agenda of the event, all while exploring the profiles of all the sponsors, exhibitors, and attendees.
How to become a part of iFX EXPO Asia 2023?
The event is almost booked for its stalls and sponsorship slot. Currently, 90% of the stalls have been sold out already. And with that, only a few slots of sponsorship have been left at present.
If at all one does wish to become a part of the event as a sponsor or to have their stall set up, they should immediately get in touch with the organizers, Ultimate Fintech. One can contact their sales team and have their stall or a place among the sponsors booked.
Currently, only the Welcome Party Package is left if you wish to become a sponsor of the event.
And if you want to attend the expo as just an attendee, you can register yourself for the free pass. A free pass will give you access to the expo hall, iFX EXPO Networking App Accessibility, Entry into the speaker hall as well as the idea hub, and admissions into the sponsored F&B arena and business lounges. You can even attend all the parties happening during the iFX EXPO Asia 2023.
If you wish to have more information about the event you can anytime check our previous articles written about the event iFX EXPO Asia 2023 or you can visit the official page of iFX EXPO and have a look at the details they have provided to have your doubts cleared.
You can even book your entry and grab the free pass from the official website of iFX EXPO.
Don't delay anymore, as the event is filling up really fast. Grab your free passes right away to have the best B2B and fintech expo experience at iFX EXPO Asia 2023.
Hurry up for the Free Pass of iFX EXPO Asia 2023
As of now, there are only a few passes left, so we suggest you should hurry if you don't want to miss this exclusive event. The registrations are still open for the free event passes. Hurry up and get yourself the event pass by registering yourself on
Other Financial Events and Expo by Ultimate Fintech in 2023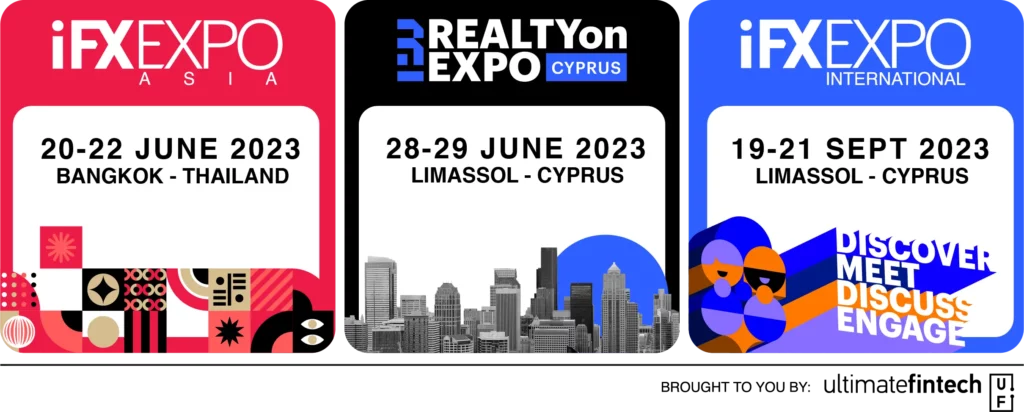 Ultimate Fintech as the event organizer has got multiple events taking place this year, in addition to the iFX Expo 2023, the REALTYon Expo Cyprus (June 28 to 29), and iFX Expo International in Cyprus (19-21 Sept 2023) will be taking place at a later time period. So, if you are someone who is looking forward to more events and expos later this year, these events should be on your checklist.
Quick Links to more Affiliate World Conferences:
Affiliate Disclosure: This post may contain some affiliate links, which means we may receive a commission if you purchase something that we recommend at no additional cost for you (none whatsoever!)