The Premier Event for Business Networking and Collaboration in the Financial and Fintech Space.
With the date for iFX EXPO Dubai 2023 drawing near, it is set to be the most extensive iFX EXPO in the Middle East and North Africa (MENA) area to date. Between the 16th and 18th of January, the event will bring together the top players in the financial and fintech spheres to the Dubai World Trade Center over two days of business connection and networking.
This year, the event will showcase 40% more exhibitors and around 3,500 participants from around the world. A number of big names like Exness, ZuluTrade, MultiBank Group, B2Broker, ADSS, StoneX, and OneZero are among the exhibitors and sponsors of the event.
iFX EXPO Dubai 2023 Edition's Highlights
During the two days of the iFX EXPO Dubai 2022, there will be an opportunity to interact with leading companies in the online trading, financial services, and fintech fields. Participants can discuss topics that include the effect of regulations on the industry, liquidity in the Middle East and North Africa, cryptocurrency, regulatory frameworks, retaining customers, and other matters.
On both days, the Speaker Hall and Idea Hub will be offering educational talks, and the networking events at the end of the day will offer a relaxed atmosphere for attendees to discuss their thoughts and network with one another. If you want to know more about the speakers and topics covered, please review the agenda. This is your chance to gain insights from specialists and engage in meaningful conversations with those who have similar interests.
Here's what some of our panelists are saying about the event:
Daniel Takieddine (CEO MENA, BDSwiss) is excited about "the prospect of networking with like-minded people and professionals."
Jonathan Brewer (Managing Partner, IS Prime) is looking forward to "meeting existing contacts and making new connections in one of the major booming growth geographies in our entire industry."
Damian Hitchen (CEO MENA, Saxo Bank) is thrilled to "engage with partners, private delegates, and industry colleagues in a vibrant debate around the industry's future."
Serena Sebastiani (Director of Financial Services Advisory, PwC Middle East) is looking forward to "meeting market participants, engaging in discussions on how to support their businesses, and bringing an impact in the industry through solving current issues."
Arshad Khan (CEO, Venomex Limited) is excited to "have meaningful discussions with experts in the financial industry on regulatory frameworks, innovations in the fintech space, adoption of digital currencies, and to build an ecosystem within the MENA region where consumers will see agility and personalization of financial services."
Who Will be Attending the iFX EXPO Dubai 2023?
1. Global Brokers
iFX EXPO Dubai is the place to be for brokerages to come to grips with the latest developments in the B2B fintech ecosystem, online trading, and test-drive a host of state-of-the-art solutions on the spot. There are also networking opportunities for growth in the partnerships sector, with a growing number of IBs and affiliates attending the event every year.
2. Tech Providers in the Fintech Ecosystem
The entrance of Web 3.0 and AI-based technology solutions in the areas of payments and regulatory compliance has caused technology providers to take a leading role in the industry. Blockchain, paytech, and regtech developers who are hoping to display their advanced solutions will find Dubai to be an ideal place to do so, and their audience will be appropriate.
3. Affiliates & Introducing Brokers
Affiliate marketing is a popular area of discussion that challenges financiers to draw traders to their platforms. The iFX EXPO is a great opportunity for affiliate marketers and business introducers to network with the CEOs and CMOs of top brokerage firms, as well as to promote their ideas and strategies and help their businesses grow.
Register now to Secure your Pass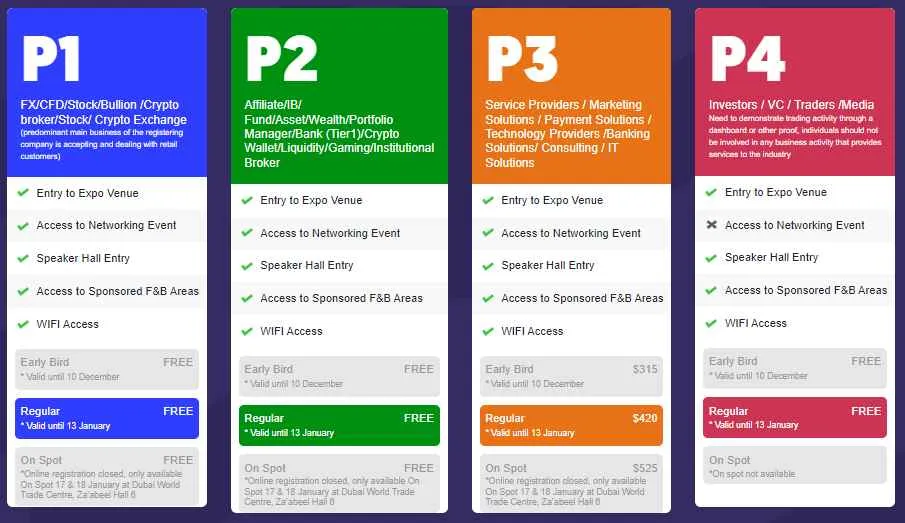 Don't wait – Sign up now to get your pass and be part of two days of unparalleled networking with industry figures and decision-makers, as well as entry to the Speaker Hall and Idea Hub. You'll also have access to sponsored food and drink areas and entry to the amazing iFX EXPO Parties.
Don't wait – less than a week left until iFX EXPO kicks off in Dubai! REGISTER NOW.
Exhibitors and Sponsors in iFX Dubai 2023
Companies from all around the world that are part of the financial services industry are the sponsors of the iFX EXPO, including Exness, B2B Broker, ADSS, Unlimint, Equiti capital, Infinox, AVA Trade, and FX Cubic. If you are interested in exhibiting or sponsoring at the event, you can head over to the sponsor page to book a booth.

If you wish to be a sponsor or exhibitor at the upcoming iFX EXPO Dubai 2023, please reach out to [email protected] as soon as possible. Due to the huge number of companies wanting to be part of this highly anticipated event, the prime locations tend to be taken up quickly, so make sure to book your spot NOW!
Affiliate Disclosure: This post may contain some affiliate links, which means we may receive a commission if you purchase something that we recommend at no additional cost for you (none whatsoever!)