A massive number of clients, hundreds of sales funnels, and switching to countless tools all at once. This not just sounds hectic but a lot of time-consuming. Well, let's try making this process easier for you and breaking the Ice all for you because InfluencerSoft will balance and ease your work like never before!
Still wondering how?
You can't always be an all-in-one Marketing guy, but a tool surely can. So here we are reviewing one-of-a-kind and all-in-one sales tool, InfluencerSoft. The tool does not just give the best of functionality under a roof, but you get it all at a fair cheap price.
InfluencerSoft comes with a lot of potentials, and we aren't just saying this naively. We have used this platform for a while now, and it's undoubtedly the most exciting tool our team has worked on. And since this ✅InfluencerSoft Review is honest, we have even mentioned a few troubles we faced with the tools (honestly, there were not many) now! With no more delays, catch up to our honest and detailed InfluencerSoft reviews.
---
Detailed InfluencerSoft Review
Launched back in 2014, InfluencerSoft is an all-in-one comprehensive marketing solutions software. The tool has every feature a business will require to get started with a sales funnel from scratch. Moreover, there are many more features like funnel mapping rolled into the bucket to give users the best out of the tool. Now, the exciting part that lies with InfluencerSoft is you can avail of their features for a year by paying AT A HIGH DISCOUNTED RATE!
Some of the major components of InfluencerSoft are as follows:
Thousands of pre-made high conversion funnel templates are available, along with plenty of interactive blocks
One of a kind visual sales funnel builder available at a discounted annual deal
Several payment plan options, multi-currency settings are available with the e-commerce checkout solution
Integration with 2000+ software available
Upsell and downsell choices are available
Fully customized sales pipeline to suit any kind of business
Detailed campaign reports to track affiliate returns or ad conversions
InfluencerSoft affiliate network available providing high commission rate
A complete learning management system is available that delivers premium content to all the existing members
Note: Version 2.0 of InfluencerSoft is truly amazing. It offers chatbot builder, paid ads scheduler, social media content creator, and a unique paid ads builder. The list just doesn't end here, and there's so much more you can accomplish with this software. To explain this even better here's a sneak peek of some of the major benefits of InfluencerSoft!
---
✅Latest InfluencerSoft Discount Coupon Codes (💯 Tested)
Get InfluencerSoft Lifetime Access at $997
20% OFF
---
Benefits Of Using InfluencerSoft
Later this year, InfluencerSoft didn't fail to improvise their overall features bucket in an all-new way. Be it the new page builder or some of their fantastic funnels, the difference and the quality are just amazing.
In terms of refinement, InfluencerSoft hosts weekly online coaching sessions that help users understand a lot about the tool. The team has probably done a lot of mentoring calls, such as Facebook ads, marketing tactics, copywriting, and much more. All the sessions are jam-packed with a lot of insights. So, if you are looking for more reasons to buy InfluencerSoft, read more about the tool's features in the section below.
---
Key Features of InfluencerSoft | InfluencerSoft Review
#1. InfluencerSoft Page Builder
This feature by InfluencerSoft is incredible since it offers a world-class page-building experience. Users can easily design a completely functional and unique page from scratch. There are even several high converting page templates available with a convenient drag and drop editor option.
#2. InfluencerSoft Email Marketing Platform
We were quite impressed by the intuitive email marketing feature of InfluencerSoft. It comes with a lot of power and flexibility, as compared to InfluencerSoft's competitors. Users can simply drag and connect emails on the canvas; doesn't this sound a lot easier?
#3. InfluencerSoft Visual Funnel Builder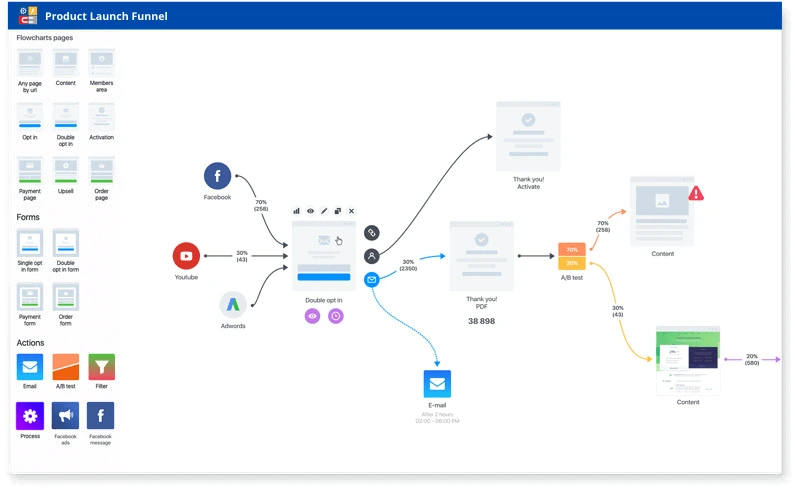 Why is InfluencerSoft the best funnel mapping tool? Well, the answer to this question lies in this feature itself. One can quickly analyze their advanced marketing funnels within minutes and can spot gaps and opportunities as well. Some of the ideal rundowns of features you can grab with InfluencerSoft are as follows:
Forms
From collecting to closing deals, InfluencerSoft offers several form options, including:
Forms for placing orders through the website

Forms for transactions
Form with a double as well as single opt-in
Traffic
Tracking leads properly is no less like a tedious task nowadays. More specifically, it gets difficult to understand which traffic channel is more profitable to stick to. But, with InfluencerSoft, this process gets a lot simplified. You can easily determine the source of traffic, including:
Custom Sources
Actions
Major funnel-building platforms lack this specific feature, and only InfluencerSoft offers this one. You can keep an eye on major parts of funnels that drive sales. For example:
Processes
Email
Filters
Custom Blocks
Flowchart Pages
Track any page through URL
Single and double opt-in pages
Activation and payment pages
Countdown pages
Webinar pages
Members area
#4. Visual Funnel Analytics
If you have an idea in your head, working with the visual funnel builder of InfluencerSoft gets a lot easier and more fun. You can smoothly edit your customer's essential data with the drag and drop functionality and build important components within seconds.
Previously, it was quite tedious to work with a system while creating emails and managing the data simultaneously. But with InfluencerSoft, you just have to present all the data on a blank page, and the magic tab will do all the job. There is a custom toggle option available through which you can choose any date ranges and open/click any images easily. You can even add any page's URL and track it all with just a click. InfluencerSoft offers a screen capture option to help users understand funnels intelligently without missing important details.
#5. Advanced Process Building
InfluencerSoft allows users to do a lot of advanced segmentations, A/B testing inside the email sequences themselves. This can be done by simply dragging the process onto the canvas and linking it all to where it belongs. Businesses can easily create advanced customer journeys just with a bit of creativity and testing.
However, we believe in keeping some things easier and not using this feature much. But who knows when we'll start liking this one shortly!
#6. Customize your Course with InfluencerSoft!
Are you in search of a course-building app for your business?
Well, InfluencerSoft has covered this issue as well. And to your surprise, InfluencerSoft offers a robust course creation tool. You just need to drag the "Members Area" section and click on the pencil icon in the settings panel. Over here, you can either link up any existing course or just design one for yourself through the "Make A Course" option.
Now, even the course builder by InfluencerSoft comes with a lot of features, and the ones which we liked the most are as follows:
Easy visibility control of each lesson
Customizations available
Drip scheduling is available to control modules and lessons
One can organize the existing course into lessons and modules, as per their needs.
---
Who should not Consider Buying InfluencerSoft?
After using InfluencerSoft for a while now, we have concluded that the tool is not simply for everyone. Sometimes, even after getting access to all the tool's features, you have to solve critical issues on your own. Depending completely on the tool's solution may not work well for some businesses.
But do remember that InfluencerSoft has a lot to offer. Considering the drastic changes from version 1.0 to 2.0, we are expecting the unexpected from the future. Having said this, you can stick to the tool because it would be the most profitable long-term investment you'll ever make for your business!
---
Who should consider Buying InfluencerSoft?
Not every tool works like wonders for everyone, and to help you decide wisely, here are the top three best-picked categories we have altered for you to check before buying.
InfluencerSoft for established businesses is no less than a boon itself. It offers a full suite of tools to the business and even personalized strategic call sessions that are undoubtedly worth trying. Another specific reason for established businesses to choose InfluencerSoft is the funnel mapping feature. They can even connect multiple domains and run different businesses simultaneously with just an investment.
Sales funnels seem like a big deal for agencies, and trust us, we have been through this. From a free prospecting call to let them understand the whole business funnel, the tool simply works like wonders. By far, a lot of agencies have already grabbed high-ticket clients with InfluencerSoft. And what's even better than this? Access to a whole lot of features to agencies to design, launch, create, anything and everything all on their own in a quick time.
Whether you are a blogger or a budding entrepreneur, investing in new software is truly a big deal. But trust us, InfluencerSoft has it all, even in the Starter Pack. If you are afraid of technology or are unsure about where, when, and how to start, InfluencerSoft's team is always available to you.
---
InfluencerSoft Pricing Plans
InfluencerSoft offers four pricing plans, each categorized according to different business types and needs. We opted for the influencer plan because it gives the best ROI and even comes with many features.
Apart from the starter pack, all the other three plans by InfluencerSoft offer add-ons like weekly tech support and strategy calls.
Hence, to help you pick up the best one, here is detailed information of all the plans by InfluencerSoft:
Starter Pack: $355 annually ($37 for a month)
This plan is ideal for small companies that are on a quest to intending digital marketing strategies. The features available in the pack helps businesses to generate new leads quickly. Some more features of the starter pack are:
Drag and drop page builder
Pre-designed trendy funnel templates
A/B landing page testing
Unlimited access to training, courses, and membership offers
Lead list segmentation
10,000 emails per month
Customer support
And much more!
Professional Pack: $931 annually ($97 for a month)
If you are a growth-oriented company and looking forward to a tool to automate your business, this pack is all curated for you. You can extend your reach within a quick period and maintain multiple revenue streams efficiently just by this package! Here are some more features included in this plan that you must surely look into:
Connect upto 3 domains
Sell upto 20 products and services online
Integration with several payment gateways for rapid transactions
Downsells, upsells, and order bumps
No InfluencerSoft branding
Add upto 5 team members
Manage and get affiliates
And everything else is available in the starter plan!
Influencer Pack: $1699 annually ($177 for a month)
If you own multiple businesses and are looking forward to skyrocketing growth, the influencer plan by InfluencerSoft provides the best value. Some of the major features of this plan include:
Connect unlimited domains
Sell upto 30 products and services online
Live chat and personalized support
Email marketing templates
1,000,000 emails per month
Add unlimited team members
Integrations with multiple payment gateways
And everything else is available that is included in both starters as well as professional plans!
Enterprise Package:
The enterprise plan by InfluencerSoft is curated all according to large-scale business needs. With this plan, users get one-to-one strategic counseling sessions by industry experts, followed by a plethora of other benefits. Reach out to the InfluencerSoft sales team to get started with this agile and cohesive plan now!
Annual plans by InfluencerSoft are the best ones because users can easily save upto 20%. Moreover, you can try out the InfluencerSoft trial package for just $14 for 14 days. And adding more to the list, InfluencerSoft even offers a 30 DAY MONEY BACK GUARANTEE, so what are you waiting for??
InfluencerSoft Competitor Features & Price Comparison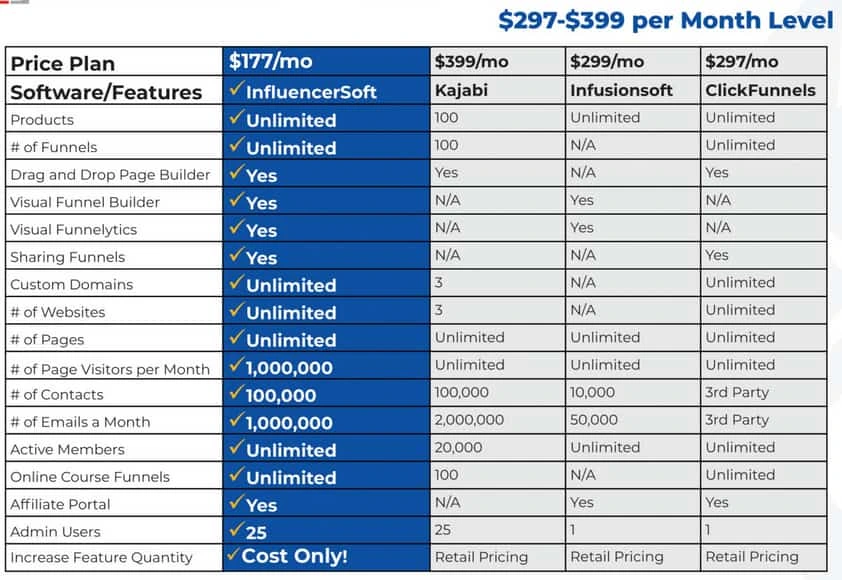 ---
InfluencerSoft Pros & Cons
Pros
2000+ integrations available
Flexible learning management system
Easy monthly and annual deals
One of a kind visual funnel builder
Complete mapping analytics
Shopping cart platform
Round the clock support by the team to all members
Cons
A bit of improvement can be made in the page builder section
Synchronizing emails are a bit difficult but can be manageable
---
🌟 InfluencerSoft FAQ
🙄 What is InfluencerSoft?
InfluencerSoft is one of a kind; all-in-one sales funnel builder and marketing automation tool. The tool backs up its claim with its high-level features and advanced integrations, which gives businesses massive growth in the shortest period.
🤔 How to create a sales funnel with InfluencerSoft?
Firstly you should have a rough idea of your sales funnel. Try putting it all at a plan, and then check out the beginner's guides available at the InfluencerSoft website. There are a lot of pre-made funnels available at the site to help you build yours easily.
🔎 What's the cost of a sales funnel at InfluencerSoft?
Since a sales funnel doesn't require much work at first, its cost can be a bare minimum. Probably the major expenses are seen while running ads, improving conversion rates, and testing funnels.
🌐 Can I use custom domains with InfluencerSoft?
Indeed you can use your domain with InfluencerSoft and can grab the best ROI within a few days.
🧐 Is InfluencerSoft legit?
Absolutely yes! The tools come with many possibilities, be it about improving existing sales funnels or automating the overall marketing activities. You will not regret it a bit since all the promised features are available with the packages you have subscribed for.
🏅 Is InfluencerSoft a reliable sales funnel software?
InfluencerSoft is a reliable sales funnel software that does not require any technical skills as it offers a convenient drag-and-drop editor. One does not need to use different tools as it offers everything in a single package.
🔎 Do I have to pay additional monthly fees?
No InfluencerSoft does not allow you to pay any additional monthly fees once you pay their monthly joining fees.
📞 How is InfluencerSoft customer service?
InfluencerSoft has a first-class customer support team who are always there for you to answer your query 24/7.
😎 Is there any working InfluencerSoft coupon code?
If you are looking for the lifetime InfluencerSoft discount coupon, then use the above-mentioned InfluencerSoft coupon code and save money.
🔥 What are the other best InfluencerSoft alternatives?
Well, there are various alternatives to InfluencerSoft that one should use, but InfluencerSoft is our highly recommended marketing automation, and sales funnel software. Following are the top InfluencerSoft alternatives that one can use.
GrooveFunnels
Kartra
ClickFunnels
ThriveCart
OptimizePress
---
Conclusion: InfluencerSoft Review 2023 | Is InfluencerSoft worth trying?
If you are on a quest for reliable and super fast all-in-one sales funnel software, look nowhere else because InfluencerSoft has it all. It's truly the last software one business will need to buy after months of searching for the right tools. And we aren't just saying this all alone, but even the testimonials speak in our favor.
So if you truly wish to automate your business and know more about your customer's choice, grab the InfluencerSoft deal now. On an ending note, let us know your experience with this amazing tool in the comments below.🙂