Instamojo is India's largest multi channel payment gateway or i can say a lot more than payment gateway and here we will discuses how users, internet marketers and bloggers based in India can earn ₹500 for every referral to instamojo and its a win win situation for both, lets see it in details..
What is Instamojo?
Well, i have written a in-depth Instamojo review earlier on this blog but let me explain you in short, Instamojo is multi channel payment solutions for business owners, Bloggers, Internet marketers, merchants and everyone. It enables you to receive credit/debit card, net banking, UPI payments from anyone easily with detailed tracking of customers, sales and invoices.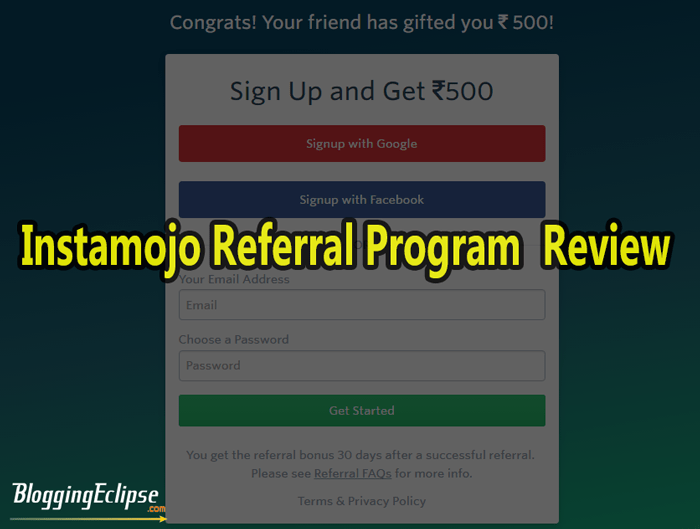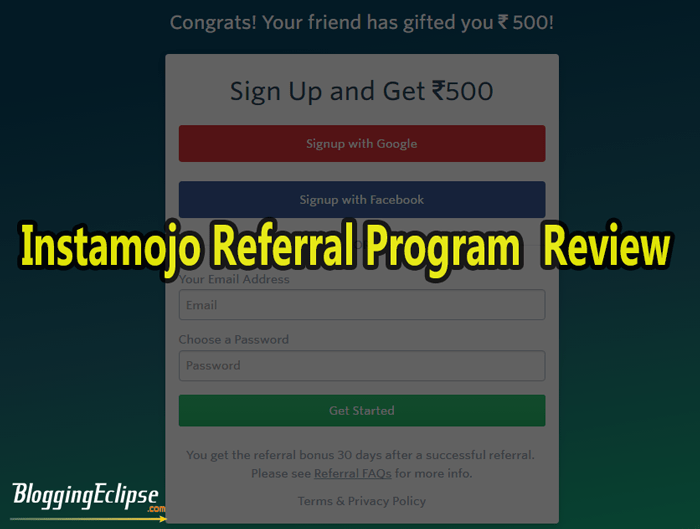 The rise of Digital Payments in India
2021 has been the starting of cashless society in India and every wallet or payment bank is now offering you to collect and send payment s from anyone via various methods like mobile number,scanning QR codes, etc. But lets see how Instamojo is different.
Instamojo is biggest on-demand payment and eCommerce platform, it comes with instant setup and bank level security. For every online business owner instamojo is best way to start receiving payment online as it comes with least transaction fees in the industry and they do not charge any signup fees or monthly maintenance charges.
What you can do with Instamojo:
Here are some major Instamojo features and benefits which makes it #1 multi channel payment gateway for everyone in India.
Collect payment via Username:
When your account is created at Instamojo, You can choose your unique username and anybody can visit https://instamojo.com/@yourusername and pay any amount directly to your bank account via Instamojo. So with instamojo you do not have to share your sensitive bank information to each customers, just directly share your username to get paid.
Free Online Store:
 If you want to Crete your E-commerce store with payment gateway, it will charge minimum of ₹15000 development fees. But Instamojo offers you to create your brand digital store easily in less than a minute and sell digital/physical goods, event tickets, services and more.
It enables you to host content like images, Ebooks, and all on their server. Your customer visits your online store, add product to cart and pay amount via credit/debit card and that;s it. He/she will get the product instantly delivered online and you will receive the money in your bank account.
Easy to integrate everywhere:
Are you using WordPress, Woo-commerce, Joomla, Magneto or any other Ecommerce platform? Instamojo simple API is available for all major eCommerce platforms. If you are having your eCommerce store on WordPress, then you can simply download Instamojo plugin for WordPress, setup your unique API and private key and its done. Your users on your Ecommerce store will get an option to pay with Instamojo.
This is one of the best thing every internet marketers require. If you check with other payment gateways in India, they charge heavy setup fees for offering you payment gateway for your website but with Instamojo its all FREE!
Payments via Social media:
Collects payments on WhatsApp, Instagram, FB & more by just sharing your unique instamojo link from your dashboard and its done like a magic. You can also send free SMS from Instamojo Dashboard to users for payments by generating invoice and amount, So they can  directly pay you via the link in SMS.
[su_youtube url="https://youtu.be/P3PqvDG8qkU" width="560″ height="360″]
Ethical pricing:
Instamojo does not charge any setup fees or fixed monthly charges like other payment gateway does. It has simple 2% flat pricing for bank debit card,credit cards, net banking and 3% charge on wallets payment. All funds received in your Instamojo is automatically transferred to your bank account within 3 business days (savings or current).
How to make money with Instamojo
Instamojo recently launched their "invite and earn" Program you can simply call it as referral program. On their innovative referral program, They offer you ₹500 when someone signs up using your referral/affiliate link and the user also get ₹500 bonus for registering
[su_button url="http://bloggingeclipse.com/go/instamojo" target="blank" style="stroked" background="#1d2dbc" color="#ffffff" size="5″ center="yes" icon="icon: location-arrow" icon_color="#e8271f" text_shadow="0px 0px 0px #1c0000″ rel="lightbox"]Sign Up ON Instamojo[/su_button]
So its a win-win situation for both the persons. Instamojo is giving ₹500 to bank account for both persons, So its a very good deal to promote Instamojo via your blog/website, social media or though your friends So when they register you both receive ₹500 Bonus in bank account.
So if you are still not registered on Instamojo, Signup using my Referral link by clicking below button and we both will receive ₹500. If you directly register on Instamojo by visiting their official website, you won't be receiving the bonus, As the bonus is only given when you register using an invite link.
Click here to signup on Instamojo (Referral link)
How instamojo Referral program works?
Signup & Verify your account:
To start earning from Instamojo, you need to signup & create your account on Instamojo by verifying email & mobile. After registering your instamojo account is in trail status first with limit of (10-20k) per month. You need to upgrade your account to fully active account for free.
[su_button url="http://bloggingeclipse.com/go/instamojo" target="blank" style="3d" background="#7f0dad" color="#ffffff" size="5″ center="yes" icon="icon: arrow-right" icon_color="#ffffff" text_shadow="0px 0px 0px #1c0000″ rel="lightbox"]Register on InstaMojo Referral program[/su_button]
For upgrading & completely making your Instamojo account active you need to submit You PAN card number, bank account details (account number, name & IFSC code) and photo of cancelled check or bank account statement for cross verification
Once these details are submitted, Your account is under pending review and it gets fully active in less than 1 business days.
That's All. for receiving ₹500 bonus, you need to do any single transaction of minimum of ₹1 ion your account via any modes. once a single transaction is done, You will be getting ₹500 bonus ion your account within 30 days.
How to use Instamojo invite & earn program.
Login to your Instamojo Dashboard and you will see "Invite & earn" link on right sidebar. (Refer to screenshot below)
Click on it and share your Referral link to your friends via Whatsapp,Facebook, email, SMS or your blog.
When someone signup using your unique referral link, and completes verification of Instamojo by submitting their PAN card, bank account details and doing a single transaction of minimum of ₹1, both of them will be getting ₹500 bonus in bank account.
You can track detailed reports of your referral activity and how many referrals have completed registration. Their reports & stats also shows how much money you have earned and when it will be transferred in your bank account.
So that's all! I have mentioned all the step by step details for signing up on Instamojo, verifying your account and start earning money via its referral program.
---
Over to you:
Apart from earning money via Instamojo, you can use instamojo for collecting payments via your online customers, users and sell eBooks or digital good easily to Indians online. Even I am using Instamojo payment gateway on my digital store.
Instamojo referral program is a win-win situation for both the persons as they are giving huge commissions for each signup.
If you are having any doubts or questions regarding Instamojo referral program, do not hesitate to ask me via comment section below. Stay tuned with BloggingEclipse & Happy Monetizing.