Want to collects payments online from your customers, relatives or friends? Want to Sell products online without creating any website and get the money in your bank Account? So stop here as I will be showing you how to do all this in FREE using Instamojo.
You may collect payments via Credit Cards, Debit cards and net banking and get funds in your account in three business days.
Instamojo lets Indian users to collect payments online with an ease. The best thing about them is they don't charge any setup fees like other payment gateway companies in India do. They have very innovative pricing structure and charges a little fees on every single transaction .
Instamojo Review – #1 Free Payment Gateway in India
There are numerous of payment gateways companies in India like CCAvenue, Payumoney, CitrusPay, etc… But this all charge you for creating an account with them with approx.
Rs.5000. But Instamojo is latest addition in the list here which has simplified collecting payments online. There are numerous of features which you will love and start using it right away.
What is Payment Gateway and how it Works?
For newbies who still don't know the math behind PG. It is a gateway which enables users to pay online on their channel with Credit/Debit card and net banking.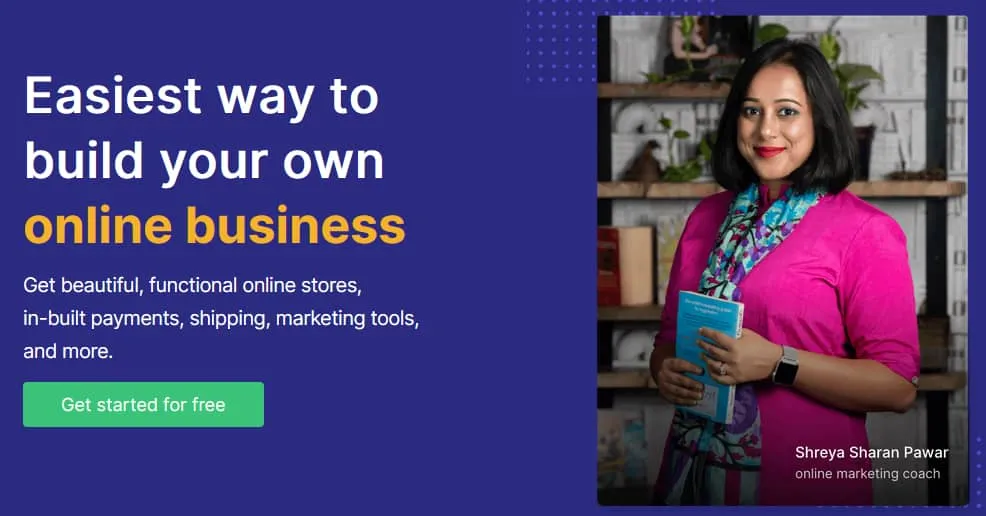 They have direct link from the banks which can deduct money and hence Payment gateway allows Companies, E-Commerce to use their resources, technology for collecting online payments with an ease. There is different pricing structure for different payment gateway.
E-Commerce is growing in India very widely and you can see thousands of online retailers and E-Shopping websites have enabled Payment gateways to get funds from their customers instantly.
In these growing E-Commerce trends many new payment gateway companies have born because of wide profit and hence to compete with the earlier they are offering very low price structure and some of them like Instamojo and Payumoney are offering it in FREE.
However they do charge a very little commission on each transaction amount.
Method to Find the Best Payment Gateway in India
Choosing the right payment gateway services for your business in India can be a complex task. Here's how you can find a reliable payment Gateway following the methods mentioned below –
Cost Analysis
When selecting a payment gateway, it's essential to understand the costs involved. This includes setup fees, transaction fees, and any recurring monthly charges. You should also consider the volume and value of your transactions to find a gateway that offers a cost structure aligned with your business needs. Some gateways might offer higher rates for large businesses while others might be more suitable for small businesses.
Security Protocols
Security is the most important concern while dealing with payment options. Make sure to check out for secure data handling when looking for a payment gateway. Do not forget to check out whether the gateway is following the encryption and adheres to the PCI standards or not.
Integration
Check whether the payment gateway you are using is compatible with popular platforms like WooCommerce, Shopify, etc. Choose the gateway that promotes easy integration and offers extensive customer support to ensure all the queries are resolved in time.
Multiple Devices
Go for the gateway that supports multiple devices so you can make your payment from any of the devices without any hassle.
Global Solutions
If your business operates globally, you'll need a payment gateway that accepts payments in different countries and offers various payment methods, and also allows instant money transfer to bank accounts. Look for a gateway that provides multiple features working for your specific business needs.
Instamojo Features at a Glance
Instamojo knows how people want things fast nowadays, and that is why they have kept the process simple and easy to use.
Easiest Process
You will love the simple process. You do not need to pay any upfront to start collecting credit card and net banking payments. They charge very little transaction fees on your purchase which is less than 5% and having different slabs for large and small amount of transactions.
Social is Integrated
Social pay is new concept in content locking industry. If you don't want to burden your readers or customers by money, you can ask them to pay via social share (Facebook and Twitter) in return for your service or product.
You can Host Digital Products
To do Business online you do not need a website. One may host digital products like eBooks, scripts on Instamojo servers without worrying. This makes all the process automated. Once the user pays, he/she will get the file for download.
In-depth Tracking
It allows you to track buyer demographics and other details which help in better focusing on audience and region. One may rack detailed sales report and how his/her products or services are performing.
Instamojo Referral Program
Instamojo recently announced their Referral program, which is win-win program for both the persons.
For example, If anyone signup on Instamojo through my referral link, He/She will get ₹500 in their bank account as a bonus and I wil also get the same amount as bonus.
P:S If you sign up without any referral link or code, You won't get any signup Bonus, hence it is better to use anyone referral link to avail this limited time promo.
Should you use Instamojo for your online business
Instamojo is great choice for initial level entrepreneurs , bloggers and new startups who wants a payment gateway & want to integrate with their system. However huge growing enterprises can upgrade their instamojo account by adding extra addons lile white label branding by paying extra cost.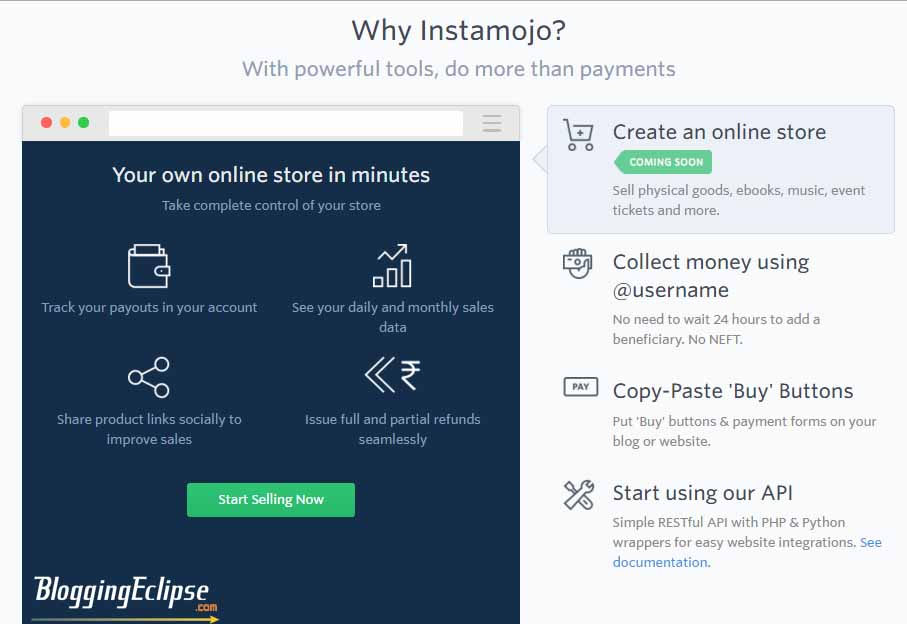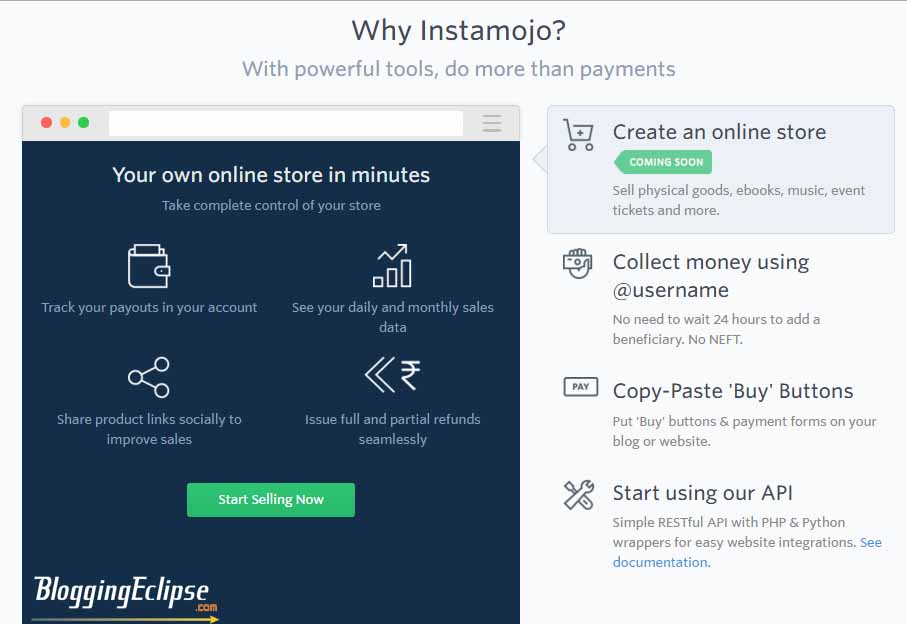 hence Instamojo is completely flexible for your business , once your online business grows , then you can upgrade your payment gateway resources easily.
How it Works?
At first you need to create and account and confirm your bank account details by providing them account statement or passbook scan copy.
Now you may Create your link or send an invoice to customer to pay you online.
Your customer can pay you via debit/credit cards and net banking.
You will receive an Email with the details of the transaction instantly.
The amount will be automatically get transferred in your bank account within three business days.
That's it! All the processes is automated and you may also issue refunds to your customer from instamojo dashboard itself.
Does Freelancers Benefit from Online Payments?
Freelancers constantly look for efficient and straightforward payment solutions. And Instamojo has come up as a lifesaver for freelancers who are working from India. Here are a few things. that makes Instamojo a standout online payment platform for freelancers.
Smooth Payment Links
Instamojo has the ability to create payment links and these are not just any ordinary links as they are curated especially for the freelancers to help them collect payments without hassle.
Bulk Payment Requests
Working as a freelancer the first thing that makes it so special is its flexibility. Instamojo understands this and offers a range of payment methods. Instamojo allows clients to take their modes of payments making payments right from Debit card, Credit Cards, Wallets, Net Banking, UPI, and even bank transfers via NEFT. This availability helps freelancers to reach out to wider audiences without any issues.
Quick Payouts
Time is money, especially for freelancers, and with Instamojo's advanced payout features like Instant Payouts, Next Day Payouts, and Same Day payouts, freelancers can receive their hard-earned money in minutes. This not only ensures timely payments but also helps in maintaining a healthy cash flow.
Efficient Invoice Generation
Keeping track of digital payments can be a daunting task. However, with Instamojo's invoice generator, freelancers can easily monitor all their transactions. This tool not only helps in maintaining transparency but also aids in financial planning.
Instamojo Pricing
Instamojo's bread and butter is just 1.9% on every successful transaction. There is a 5% fee slab for Digital goods such as PDF, or tools which are hosted on their servers.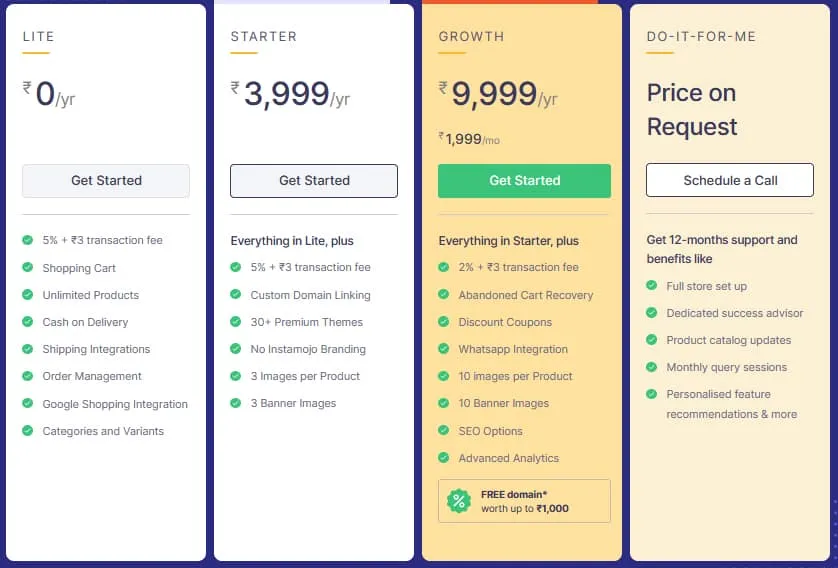 🌟 Instamojo FAQ
What is Instamojo?
Instamojo is the leading online selling platform that allows you to build an online business. With Instamojo, you do not need to worry about functional online stores,
shipping, marketing tools, in-built payments, etc.
Does Instamojo offer any free plan?
Yes, Instamojo provides a LITE plan which is free to sign up for.
Does Instamojo provide a refund channel?
Yes, Instamojo offers a 14-day money-back guarantee to all its users. So if you are not satisfied with all its features, you can contact them for a refund.
Do I need to know coding to build a store on Instamojo?
No, Instamojo does not allow you to know any coding knowledge to create an online eCom store.
How do I receive payments from Instamojo?
Collecting payments through Instamojo is a simple process that works according to the various business needs. Once the account is created, users can log in and generate a payment link by entering the desired information for the product or service that they are going to sell. The link that is being created can be shared with the audiences via social media, emails, and mobile channels, or you can even embed the link to your website/ blog in the form of a Button.
Instamojo or Razorpay. Which is better?
Instamojo and RazorPay both work for businesses operating within India. Both platforms have compelling, robust features that come up with smooth user-friendly interfaces. When it comes to which is better? Instamojo stands out in terms of payment success rate, while RazorPay experiences payment failure rates more than the Instamojo platform.
Instamojo provides its customers with ease of integration, 24/7 customer support, and smooth transaction processing making it a go-to option for businesses of different sizes in India. RazorPay is also known for providing its users with similar functionalities.
But after using both tools, I would suggest Instamojo be a more efficient payment gateway as users can depend on it with more successful transaction histories.
Final words
I am personally using instamojo for my online business & selling ebooks. I love their unique features like payments via WhatsApp , bulk payment request, sms invoicing. I think you should give it a try
It is always better to be innovative and save money on online business fees. To be honest if you are using other popular payment gateways you will be charged with an upfront and heavy maintenance fees. Hence Instamojo is the best choice for Bloggers, Freelancers, Digital products sellers and small scale E commerce websites.
So get set go to setup your account on I-mojo with the above link and you will get Free ₹500 in your bank account as Signup bonus.
Are you using any other payment gateway? Or have any suggestions to make this post better? Please share your views, questions with us via comments section below.
Affiliate Disclosure: This post may contain some affiliate links, which means we may receive a commission if you purchase something that we recommend at no additional cost for you (none whatsoever!)