If you own an online business, you would know the complications associated with it. It is a fair game until we know the attributes to make it suitable. If we are not aware of the current trends of the market, the probability of failure increases. No one would want that, would they?
To run appropriately in the competition of online business, we must rely on work-automation tools. The moment we bring the word automation to our business is when we start walking towards growth.
Today, we get an ultimate ✅Integrately Vs. SyncSpider Comparison. Both these tools are work automation tools, made especially to make our online business more accessible. Did you know? The more time you save from everyday hassle, the more time you get to work towards your business's germination.
However, we might get baffled by the variety of automation tools available out there. Some of those are good, and some of them seem to be good. What would a commoner do in this situation? He can refer to this comparison to decide what is best for him; our ultimate motto is to offer our viewers the best for their business. Our review helps our users to make an informed decisions. If you are ready, let us get started with Integrately Vs. SyncSpider Comparison.
---
Integrately Vs. SyncSpider: Overview
Integrately Review
Integrately is a 1 click automation software that helps you connect multiple apps automatically. This tool is created to make complex workflows easier. Even if you want to create a complex workflow that is impossible to complete manually, Integrately can help you build the flow in seconds.
Other than this, you can also use the ready-to-use automation software of Integrately to set up your workflow in only one click. Small to mid-sized businesses that want to automate their workflow need to pick a tool that can take the minimum time possible. Integrately promises to simplify the tasks and take the workflow to a whole level. The only thing that Integrately needs is to click and automate the workflows and your tasks. There are multiple pre-built automation recipes available that can help users connect their platform with numerous apps.
But, is Integrately being helpful for your automation needs? The features will tell.
---
Integrately Dashboard & User Interface
After the registration process is done, you can see the user interface that is easy to use and good to look at. All you need to do is to add the first app to start with the automation process. There is a type-based search available that can help you quickly find any application you want.
Once you select the first app, the list of other apps you can add to your flow appears. It is upon you to go with which app. You can randomly add the apps or search for your desired one.
Other than this, you also get a pre-made workflow automation tool available for the first app you have selected. Integrately automatically aligns and suggests the app that they think would go with your preferred app.
The number of pre-made workflow patterns is pretty impressive. You get over 232 pre-built workflows for Typeform, and more are being added to other applications as well. Other than this, more than 250,000 readymade and one-click automation are available in Integrately, which comes very handy, especially for the new users. If you want to create your automation flow, that can also be done with a straightforward "When This Happens > Do This" step.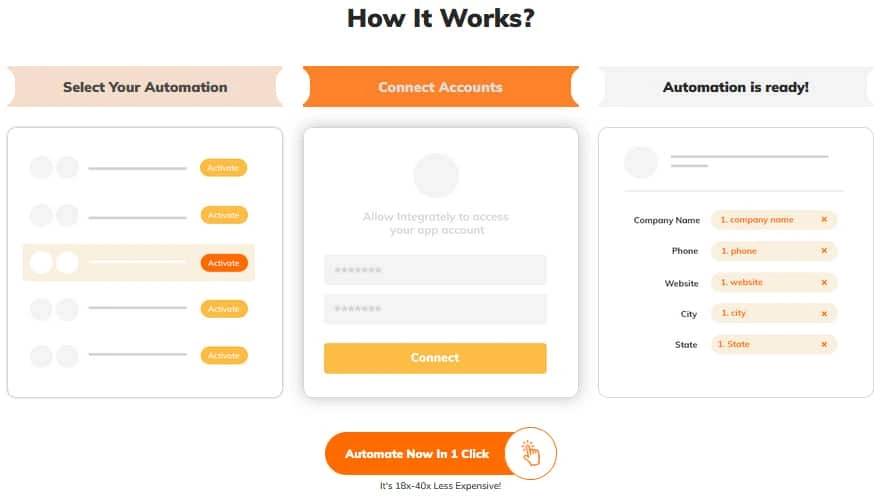 It is astonishing how creating the workflow is so much easier with Integrated. This platform's only requirement is to add your TypeForm and MailerLite account details to get it live. To make the process easier, you also get access to short video tutorials. Once the automation is live and running, all the sequences that you made will be saved. And you can also access the previous sequences from the history tab. Workflows can be saved in different formats like Lead Flow, Accounting & Payment, Support, HR, etc., for better organization and convenience.
---
Integrately Integrations
With Integrately, there is never a void in the integration part. At current, there are 300 apps available to integrate with Integrately. More apps are added consistently to make your workflow much more manageable. You can also request additional apps as per your requirement.
When it comes to widely used applications, many platforms like CRM's, Email Marketing, Project Management, Forms & Surveys, Website & Funnel Builders, etc., are available.
After selecting the app, you get the list of one-click integrations accessible through the app. That part makes it straightforward to get a good view of all the workflows you can create for the app of your choice. When you see the pre-made workflows, you will see that a short description of every workflow is given to know what you can accomplish.
Other than this, if you own a SaaS tool by yourself, you can also request to add it by submitting a form.
---
Integrately Pricing Plans
First of all, there is a free plan available that consists of 200 tasks and 5 automation. If you are a small-scale company just getting started with their business, you can opt for the free plan for a better understanding.
Other than this, you get other paid plans that include Starter, Professional, Growth and, Business plans. Other than this, there is a referral program available on this site. You can refer this platform to your friends and get exciting offers!
---
Integrately Support
This is one of the areas where Integratelly shines! You can access the Live Chat option available on both site and main dashboard in case of any query.
The help and support system is beneficial with all the tutorial videos!
Final Verdict:
In and all, Integrately is an excellent platform that helps us with our work automation needs. The pricing is a minor issue, but it is not when you see the integrated features of the platform. You can get started with the free plan to view this work automation tool if you are a beginner.
---
SyncSpider Review
Like Integrately, SyncSpider is also a workflow automation tool that aims to automate every process. It is a universal marketing tool that helps you to sync your web data around thousands of media and platforms. With SyncSpider, you get to sync the web-app data such as contacts, assistance tickets, work, and product features with your CRM or with other apps. With the help of this platform, you can automate all the time-consuming tasks with a single click.
With SyncSpider, you do not need to copy and paste every section of your data. You only need to update your data in one spot, and SyncSpider will automatically sync itself with all your active outlets. There are over 100+ integrations available that will blow your mind away. Let us get to know what else SyncSpider has stored for its users in the features below.
---
SyncSpider Dashboard & User Interface
In SyncSpider, everything starts with a project. After this, you can add the tasks which you need. Once you choose to add a new task, the complete list of available integrations and the list of the connected integration pop up.
From this view, it feels like that SyncSpider is very much focused on the eCommerce part. But we must admit, the overall performance of the dashboard is worth appraising. Even if you are a beginner, you will hardly face any issues in the basic understanding of the platform. You only need to open a task, name it, select the souced integration and the target integration to complete the required automation. In some instances, you can connect any app by entering the API key of the required integration.
Following are the examples of some of the most common use cases:
Syncing and automating webinars.
Syncing and automating the invoicing process.
Syncing and automating the customer support and ticketing process.
Automating the cold email outreach and many more.
---
SyncSpider Integrations
With SyncSpider, you get 40+ integrations available. And with the variety of integrations, we can easily calculate the effectiveness of the platform.
Every time you visit their website, you will notice that the team is adding integrations constantly. That is good to know because even if, at this moment, some integrations are not available, there is a probability that they will be added in the future soon.
At present, the following marketing apps are available for integration.
Email Marketing
E-commerce
Amazon EU
CrowdFox
Google Shopping
ITscope
Magento
PrestaShop
Rakuten
Shopware
Other than this, you get a custom API, Webhooks to connect the apps that you want. In and all, there is a decent amount of integrations available. But, SyncSpider needs more integration to keep up their track with renowned platforms like Integrately and Zapier.
---
SyncSpider Pricing Plans
Like Integrately, there is no free version available for this platform. Bu, SyncSpider fo offer 30 days free trial on every paid plan. You get three paid pricing plans that include Black Widow, Tarantula, and Huntsman.
You can get started with any paid plan and use the 30-day free trial if you want. But unfortunately, you will have to provide payment details even if you are using the free trial/ They will not deduct money until you have exhausted the 30-day free trial. You can cancel your registration anytime you want.
---
SyncSpider Support
The headquarters of SyncSpider is in Austria. Their customer care executives are highly supportive and responsive to all queries. Like Integrately, SyncSpider also offers a live chat option in both the live site and the main dashboard.
Most of the asked queries are resolved within a few hours, which shows that the support team is knowledgeable. If there are particular use cases of your business that the SyncSpider is presently not integrated with, the support team ensures to look after it in the future.
Final Verdict:
This platform is a go-go for experienced business owners. The pricing is affordable by many of the users, which gives SyncSpider a plus point. But, the number of integrations is lower than Integratelkly, which again brings both the platforms in the same line.
---
🌟 Integrately Vs. SyncSpider FAQ
🙄 What is Integrately?
Integrately is the highest-rated integration platform that allows users to automate their tasks and workflow in just a few simple clicks. Integrately is the best SaaS tool that runs a business of any type more efficiently.
🤔 What is SyncSpider?
SyncSpider is one of the leading SaaS tools to automate your tasks to the maximum level. It seamlessly allows you to connect your ecommerce tools and automate multichannel sales.
🔎 Can I try Integrately for free?
Yes, if you are looking to try Integrately for free, you can sign up for its FREE plan. The FREE plan of Integrately is available with limited features, and one needs to upgrade to its paid plan for the more advanced features.
😎 Does SyncSpider offer a free trial?
Yes, SyncSpider offers 14 days free trial period to all its new customers. If you want to test the SyncSpider tool for free, then start its free trial today.
💥 Do I need to use my credit card to sign up for SyncSpider's free trial?
No, SyncSpider does not allows you to use your credit card for its free trial.
🏅 Does SyncSpider offer any refund policy?
If you are not 100% happy or satisfied with the SyncSpider, it will return your refund with 30 days with no question asked.
🧐 Why choose Integrately?
In the world of automation, Integrately is the world's easiest integration platform that enables any type of business owner to automate their tasks and workflow effortlessly. As compared to its competitors, Integrately offer attractive pricing plans
and more advanced features.
🔥 Is there any latest deal for Integrately?
If you are looking for the special Integrately deal, click here to grab Integrately 500 FREE tasks a month.
😎 Can I get any working SyncSpider discount coupon codes?
Yes, if you are looking for the active SyncSpider discount coupon, check the above-mentioned SyncSpider coupon code that allows you to save some bucks on its annual pricing plans.
💲 How much will I save by using the SyncSpider coupon code?
Using our exclusive SyncSpider coupon code, you will save upto 20% off on all its annual plans.
---
Conclusion: Integrately Vs. SyncSpider 2023 | Who is the winner?
We do not have a winner here because Integrately has a free plan and offers more integrations than SyncSpider. SyncSpider is, on the other hand, is more affordable. Also, the user interface is pretty decent to understand by anyone. That means that the final decision comes into your hands. You can check out both the platform for more clarity. That was it in our Integrately Vs. SyncSpider comparison! In case of doubts, ping down below.🙂