Have you ever attended a tech conference?
If you haven't then you have missed the key points to the success that are only shared in a tech conference.
Are you an affiliate marketer, webmaster, SEO expert, traffic & marketing expert, mobile app or any other software service provider, or just a tech geek?
If you are a serious learner and want to grow your earnings or if you have just put your foot into any of the digital commerce industry then attending an event will blow your mind.
InterNEXT 2020 is one such event that offers a lot for newbies and experts to kickstart their online business by gathering every small piece of information to create a masterpiece.
The most anticipated event of 2020 held at the beginning of the New Year is about to grab everyone's attention. Don't leave behind while everyone else in on board to Sahara Las Vegas.
Introduction to InterNEXT 2020
This event is the most excited, fun-filled and industry-leading tech conference in the adult entertainment industry.
It has everything you expect from a grand conference including parties, workshops, networking sessions, and meeting experts face-to-face. This is why it is regarded as the most internationally renowned event every year.
This event brings influential marketers & speakers from around the world on one stage with expertise in a different industry.
You can take full advantage of this event as you will have the opportunity to connect with these influential people and start new business partnerships.
The most trending verticals are covered in this event including Dating, iGaming, Blockchain, and Cannabis.
You can choose a free pass with limited features or purchase a ticket to access all the features.
---
When & Where?
This year InterNEXT is entering its 23rd year and to make it special it is taking everyone to Sahara Las Vegas from 26-28 Jan 2020.
Sahara Hotel and Casino is where the conference will be hosted for three consecutive days full of opportunities and a new chapter beginning for the newbies.
Book your flight tickets and the ticket to this event right now and grab a seat for a strip party.
---
InterNEXT 2020 Before Party
On Jan 25th, 2020, InterNEXT warm-up party will be held at 11:00 pm. But before that, there's a short award function.
AVN Awards is celebrating its 37th annual awards function where winners in more than 120 categories will be announced.
The Award show will be at The Joint at Hard Rock Hotel & Casino and the warm-up party will be at the TBD.
---
InterNEXT 2020 Program Schedule:
The event will start on 26th Jan with registration starting at 10:00 am at Studio 1. Grab your badge and get ready for an awesome week to kickstart your business.
Time to maximize your meeting! InterNEXT business Lounge is a stylish space where you can take a chair in the center bar of the Sahara. Here you can enjoy a cup of coffee or a cocktail and along with it have a comfortable conversation with your favorite people.
In Conference Room 1, you can attend live discussions covering common scenarios & challenges face in the tech industry. Execs International: Paysite Roundtable is a gathering that brings together industry veterans to discuss common issues. This gathering has a limited number of 20 seats and attendees need an invitation.
At 11:00 am you can join Speed Networking which gives you the opportunity to meet many industry veterans from all areas of the adult tech industry. This is a fast-moving session so you better fuel up yourself. This will in Conference Room 3.
---
Do you love NFL Pro Bowl?
At 12:00 pm you can enjoy NFL's annual all-star game at the Alexandria Designer Suite with delicious food & beverages. Cheer up for your favorite player in a luxury suite.
At 2:00 pm, second Speed Networking will start in Conference Room 3. To attend this you have to take seats before 15 minutes and enroll yourself in the list. If you are a company then only one authorized representative from your company is allowed to enroll in this session.
Women have always contributed to the growth in every industry. InterNEXT keeping women empowerment in mind will allow all the hard-working ladies to join Female Empowerment Meet Up at 3:00 pm in Amina Spa. You can meet all the enthusiastic and inspiring ladies to discuss business and network together. There is also a surprise scheduled specially for women attending this session.
Go, Girl!
Meet Market will start at 4:00 pm in Conference Room 1, 2, 3 and is the center of attraction. All the attendees will gather in this 3 hour of networking & fun. The latest products & technological trends will be showcased by tech companies so you get the awareness of what's going around you.
Time for some naughty moments!
GFY Awards & Party will start at 10:00 pm in Club 101. Here you can have party bash with hot girls and studs. It is regarded as the most notorious award parties so do not miss this award function if you like to have some naughty time.
Day 2 on 27th Jan 2020
The second day of this event will be a clock ticking so plan accordingly.
At 10:00 pm, registration starts in Studio 1 sponsored by streamate.
After you collect your badge you can proceed for the business Lounge and grab a seat in the center bar area of the Sahara. Have a cup of coffee or a cocktail in a relaxed mood and recharge yourself.
Get ready for a rapid-fire one-on-one meeting in the Speed Networking starting at 1:00 pm. Make sure you arrive 15 minutes earlier to get yourself enrolled in the list. Only one person from a company will be allowed in each session.
Are you hungry?
Get yourself all suited up for the fine dining experience of Vegas. Enjoy this elite dinner and also connect with experts and tech giants to make it a memorable one.
Want to party hard?
iGaming Affiliate After Party is all set to mesmerize you starting at 10:00 pm. Dance the way you want and have soft drinks or cocktail just the way you like it.
On 28th Jan 2020 late midnight at 12:00, you can for one last time get together with superheroes who made this event successful. Before you go home with lots of memories and vital information, have a light breakfast and come back again in the 24th InterNEXT conference.
---
Speakers @ InternNEXT 2020
The speaker's list has been updated on the official website and many top personalities in the field of internet marketing and online adult industry are speaking at this event in las vegas. View all speakers list on its official website.
---
👉InterNEXT 2020 Tickets [Exclusive Discount]
The price of a ticket to attend this expo ranges from $0 – $699. Grab a ticket for yourself before the seats get full. Registration is sponsored by Streamate.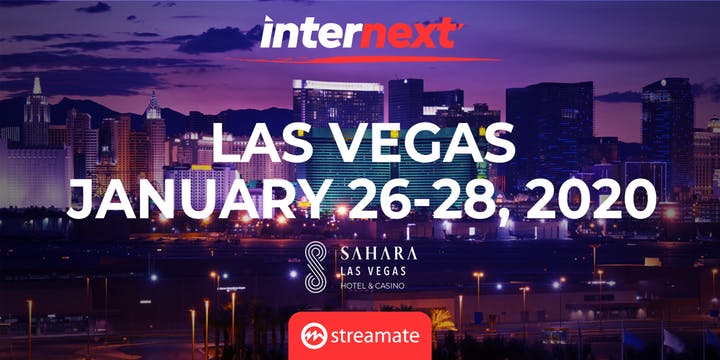 Networking Ticket – Free
Executive Ticket – $399
VIP Ticket – $699
There are a lot of addons available for purchase like a full table in meet market section, logo on home page and events, social media features and more. You can buy any addon with each ticket.
You can grab a ticket at a discounted price by using our BloggingEclipse special coupon code.
30% OFF
[Exclusive]30% OFF on any all tickets purchase @ InterNext Expo 2020
---
InterNEXT Sponsorship
Want to advertise your company in between thousands of people coming all the way to Vegas from all parts of the world?
Become a sponsor and your brand name will be highlighted all through this event.
Presenting sponsor: $60,000
Diamond sponsor: $20,000
Platinum sponsor: $12,000
Gold sponsor: $6000
Meet Market Sponsor: $20,000
Business Lounge Sponsor: $20,000
Meet Market Table: $1,500
Product Demo: $1,000
Meeting Room: $750
And many more sponsorships are available. As per your budget, you can pick up anyone and advertise your brand name on a global platform.
---
Should you attend Internext 2020?
The online adult industry is the biggest revenue model ever. With billions of dollars, online adult entertainment, and affiliate industry have scattered all around. From affiliates to a media agency and now even Crypto, everyone is investing and focusing on this vast industry due to huge profits,
If you re working on any adult affiliate, dating, or gaming, then I highly recommend you not to Miss INterNext 2020. It's one of the biggest tech conferences in Las Vegas, which lets you reach new horizons by meeting top industry Leaders, companies, adult affiliate networks, and more. Grab a free pass or buy VIP pass at a 30% discount using our exclusive coupon "BLOGGINGECLIPSE."
---
Final Words
Get ready for adult entertainment's international digital expo in Las Vegas because "If you know how to live in Vegas you can have the best time".