eCommerce marketplaces enjoy their massive level of success because of the level of convenience that they offer users.
"Sellers need to get the right tools to understand the market" says Helium 10 CEO: Bojan Gajic.
Any popular eCommerce platform like Amazon or Walmart is home to millions of customers hunting for products in every category.
This combined with the ease of doing business through a program like the Amazon FBA initiative means that these marketplaces are a goldmine for everyone who wants to generate some additional income or wants to become a top seller for a product that they are passionate about.
The issue is that there are thousands of sellers trying to compete for the attention of the customers you want to target. This seemed to be an unsolvable problem until we got our hands on Helium 10.
A platform that almost makes selling online feel as easy as buying products online was just so interesting to us.
Read our chat with their CEO to better understand what we mean by making selling products easier than buying them;
---
Q.1 Can you tell our audience something about yourself before we begin?
I was born in Serbia, where I formally trained as a Mathematician. I still enjoy logic games and play an occasional game of chess.
I've been with Helium 10 since the very beginning, first as Chief Technology Officer, then Chief Operating Officer, and now CEO.
It's been a pleasure watching it grow from a podcast into the large software business that it is today. I'm also a youth soccer coach and a fan of sipping tequila.
---
Q.2 Helium 10's primary focus was helping Amazon sellers better sales. What prompted the expansion into Walmart, and do you have any more expansion plans in the works?
Helium 10 always has been and always will be "seller-first". We've served over 1 million sellers, so we've had lots of opportunities to learn from them.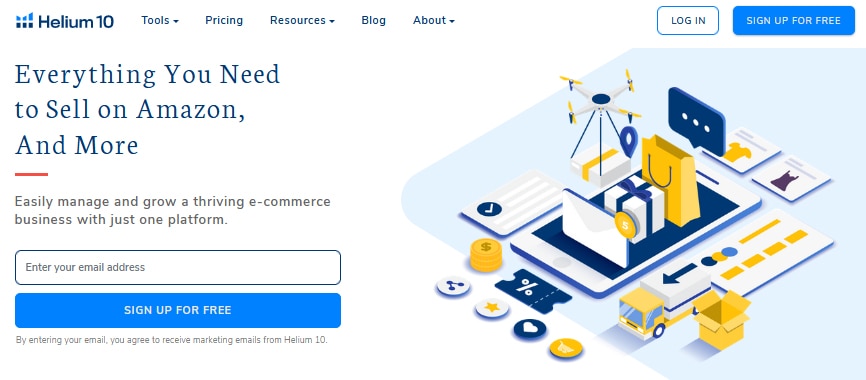 Sellers are extremely creative, savvy, and competitive.
They saw the Walmart opportunity and asked us to come with them, so we came with them.
We have lots of other expansion plans this year. Expect to see us doing more things, helping sellers in new, creative ways. If you want to follow our progress, we encourage you to join our Facebook group.
---
Q.3 eCommerce sales have grown exponentially during the pandemic. What are the strategies sellers can use to take full advantage of this?
First and foremost, sellers need to find a great community and get the right tools to understand the market.
There's a lot that goes into being a successful seller, but the rewards are very high.
Sellers need to source products that are competitive, appeal to a large number of people, and rank competitively for search keywords to drive traffic to their listings.
This gets to the core of what Helium 10 does and the community that we serve.
---
Q.4 You offer webinars, podcasts, and a dedicated program to help users generate maximum value with Helium10. What was the guiding thought behind this?
Education is one of three pillars of Helium 10 – the other two being community and software. The only way for Helium 10 to succeed is through the success of our customers, and education is critical to unlocking success, building long-term value and achieving your goals.
We try to provide the support people need in the format that they want to consume it. So if they prefer to listen to experts talk about serious selling strategies, they can listen to our podcast.
If they want to take a course to learn how to be successful, they can take Freedom Ticket, our online course, which is free to subscribers.
If they want to talk directly to successful sellers, they can use our groups. We try to just be a resource for sellers to be successful. That's what we're all about.
---
Q.5 What are the challenges awaiting someone who wants to be an Amazon or Walmart seller in 2023?
The challenges that await a new seller are not too different from the challenges that await any entrepreneurial journey.
Individuals must be ready to commit, to innovate fast, fail and learn, to find a support system that will help them to persevere.
The only real difference is that the support network in this space is far greater than in other spaces. The tools are there for the willing to succeed.
Walmart, in particular, poses an incredible growth opportunity for sellers, but people need to put in the time and effort to learn how it works. We try to support them on that. It's not an easy journey, but it's a rewarding one.
---
Q.6 What are the ways in which Amazon sellers can transition to Walmart using Helium 10?
We've essentially built Walmart capabilities right into our tools that sellers are already using.
So if you're using our Cerebro tool to look up the keywords your competitors are ranking for on Amazon, you can flip a switch and do the same thing for Walmart now.
We have a group set up dedicated to Walmart so people can get help, and we have expert sellers on staff that produces content and strategies to help people get started.
I would say one of the major considerations for getting started on Walmart, though, is just to think about it as a new business.
Don't automatically assume that products that work on Amazon work on Walmart. That may not be the case.
However, as long as you do the research and provide products that the Walmart audience wants, there's no reason you can't be successful.
Also read: Helium 10 for Walmart Sellers: How to Sell on Walmart?
---
Q.7 We have seen a multitude of new "Amazon seller tools" after the success of Helium 10. How do you manage to stay ahead of the competition?
People ask us this question a lot.
All I can really say is that we are focused on bringing long-term value to sellers. Sellers need accurate information, insights, and operational support, and we help provide that through a number of avenues.
It comes down to the quality of our community, the quality, and the timeliness of actionable insights layered over the vast amounts of data we ingest.
We make huge investments in these areas, and it's tough for competitors to keep up.
Why use another tool when you can use Helium 10?
Also read: Helium 10 Review: Ultimate Amazon Software (Why 9 Stars)
---
Q.8 Would you like to tell our readers how you perceive BloggingEclipse?
A big part of our mission is to help people realize their dreams of entrepreneurship and live the life they want to live.
We see BloggingEclipse as supporting that mission from maybe a different angle, and so in that way, we're natural allies. We love your work!
We love Helium 10 just as much as you love Blogging Eclipse because both of us want the same thing for you readers.
Our shared aim of helping you reach all your income goals is what makes us recommend Helium 10 wholeheartedly to all our readers.
10% OFF
Get 10% discount on all Helium 10 Monthly & Annual Plans
Advanced keyword research, automated product hunting, detailed analysis of every product category, and more packed into a single subscription make Helium 10 irresistible.
You can find that out for yourself by heading over to their Helium 10. Start your journey on the path of infinite eCommerce success today!
Affiliate Disclosure: This post may contain some affiliate links, which means we may receive a commission if you purchase something that we recommend at no additional cost for you (none whatsoever!)