We are all familiar with the importance of creating a perfect web experience for customers in today's world. What a lot of people are unaware of is that even a perfectly built website can malfunction on different browsers and devices.
"In today's date, companies can lose significant amounts of business without cross-browser testing of their websites," says LambdaTest founder Asad Khan.
This is because the internal working mechanism of each browser is different, and there is a significant difference between how websites created for desktops interact with mobile devices and vice versa. The only way to avoid this is to perform what is called cross-browser testing.
A big reason organizations do not perform this very necessary operation is that it is a rather expensive affair.
LambdaTest is a company that offers these premium services at rates all kinds of people can afford. We were interested to know the philosophy of the man who started this organization, so when we got a chance to talk to him.
We had a long conversation on everything from building the right website to building a successful company.
---
Q.1 Our audience would love to know about the personal journey of someone with such an illustrious professional career. Can you share something about that?
First of all, thank you for inviting me for this interview. For my professional journey, let me start from the beginning. I started my career by working with a large-scale global software solution provider.
From my very early stage, I realized my passion was solving critical software testing industry problems. My entire professional journey has revolved around varied aspects of software development.
Leveraging my experience in preparing solutions for end-to-end software testing, I co-founded 360Logica Testing Services in 2009, which Saksoft later acquired.
In 2017, to provide the most powerful, comprehensive, and secure cloud infrastructure dedicated to testing, I co-founded LambdaTest.
After four years of starting this amazing project, we launched a scalable cloud testing platform that one can leverage to run both live interactive manual testing and Selenium & cypress-based automation testing.
Recently we also launched feature sets to perform native mobile app testing. I am happy to share that since the feature has gone live, we have received some fantastic feedback from the early users.
---
Q.2 How would you explain the importance of cross-browser testing to users?
It's important first to understand what cross-browser testing is. Cross-browser testing is a process where developers or quality analysts check the compatibility of their website/web app on various browsers, browser versions, and operating systems, i.e., testing how the website is working on Chrome, Firefox, Safari browser, etc. to make sure the website does not break and impact the overall user experience.
The importance of cross-browser testing lies in the simple fact that a company can lose its business if these tests are not performed. How? Today, a remarkable customer experience is critical to sustaining the growth of any business.
As a company, you do not know which device, browser or OS, your client is visiting your website. If your website breaks in any of the OS, the bad user experience will severely impact the overall customer experience, resulting in you pushing them towards your competitors.
---
Q.3 What was the thought process behind offering locally hosted web testing at LambdaTest?
Today people are cautious of the user experience and want to test everything even before the web app is made life to end-users.
Usually, pre-prod websites are hosted either locally or on privately accessible servers. LambdaTest's localhost website testing feature helps them test their website on 2000+ browsers & OS combinations.
The process is simple and intuitive; users simply need to download our Underpass application to connect their local system to LambdaTest servers.
There are many other ways that a user can run the tunnel, including an NPM package, Github Action, Jenkins plugin, or even by downloading a binary file. You can know more about the process by following the documentation here.
---
Q.4 You offer users the option to integrate LambdaTest with their existing tools and their CI/CD pipeline at no extra cost. Is offering a better user experience a bigger priority than maintaining revenue?
Offering an integrated platform for software testing is what triggered the idea for LambdaTest; therefore, it was a strategic decision to offer integrations to CI/CD pipeline, project management tools, communication tools, and all other testing tool-based integrations at no extra cost.
At LambdaTest, we have always prioritized and focused on improving user experience. If a customer is happy, we believe they will bring in two more customers to the platform, which we have grown over the years.
Today, LambdaTest is rated highest on various third-party review websites like G2, Finance online, etc., and the main reason for this is the kind of priority and focus we put on user requirements.
---
Q.5 Is the addition of web testing for mobile browsers by LambdaTest pointing to an increase in the importance that should be given to smartphone users?
Various studies indicate that today, most people use smartphones to access the internet, and that is how the trend will continue for years to come.
Therefore, focusing more on mobile should be the priority for all businesses. That is why LambdaTest offers all the latest and legacy mobile browsers to test their website on. Not only that, but we also offer a dedicated free tool, LT Browser, built to help users test their websites on 50+ mobile viewports.
---
Q.6 What are the tips you would share with beginners from your years of experience in?
I suppose this is not new advice, but it is one that I firmly believe in. To anyone just starting, my advice is to be sure. Before taking your entrepreneurial journey, you need to ask yourself this question a hundred times: "Am I sure?" Am I sure I have noted down the exact pain points? Am I sure my tech and product are scalable enough? Am I sure I am working with the right team? Am I sure that my product has the best possible user experience? And so on.
The second piece of advice I would offer is to remain motivated. Both success and failure will inevitably be a part of your journey. Your success will depend on how motivated you are about your startup.
---
Q.7 What is "live testing," and how does it help users create better web spaces?
Live testing is an amazing feature that allows users to perform live interactive manual cross-browser testing of their websites or web apps on a choice of environment available on the cloud.
Simple click, select, and launch, and you will get access to your choice environment directly in your local browser. No download, no configuration, or no proxy is required.
With the live testing feature, a user can test their website on a combination of 2000+ browsers & operating systems in just a few clicks, debug as you test, and share bugs with the team.
Additionally, users can test on all latest and legacy mobile browsers, enabling them to offer a seamless experience to their clients, thereby creating a better web space for all.
Also check: LambdaTest Review | 25% OFF Coupon Code (100% Working)
---
Q.8 Why did LambdaTest choose to base its services on an online Selenium grid? What are the benefits it provides to your consumers?
Selenium is the most commonly used open-source automation testing framework to validate web applications across different browsers and platforms. You can use multiple programming languages like Java, C#, Python, etc., to create Selenium Test Scripts.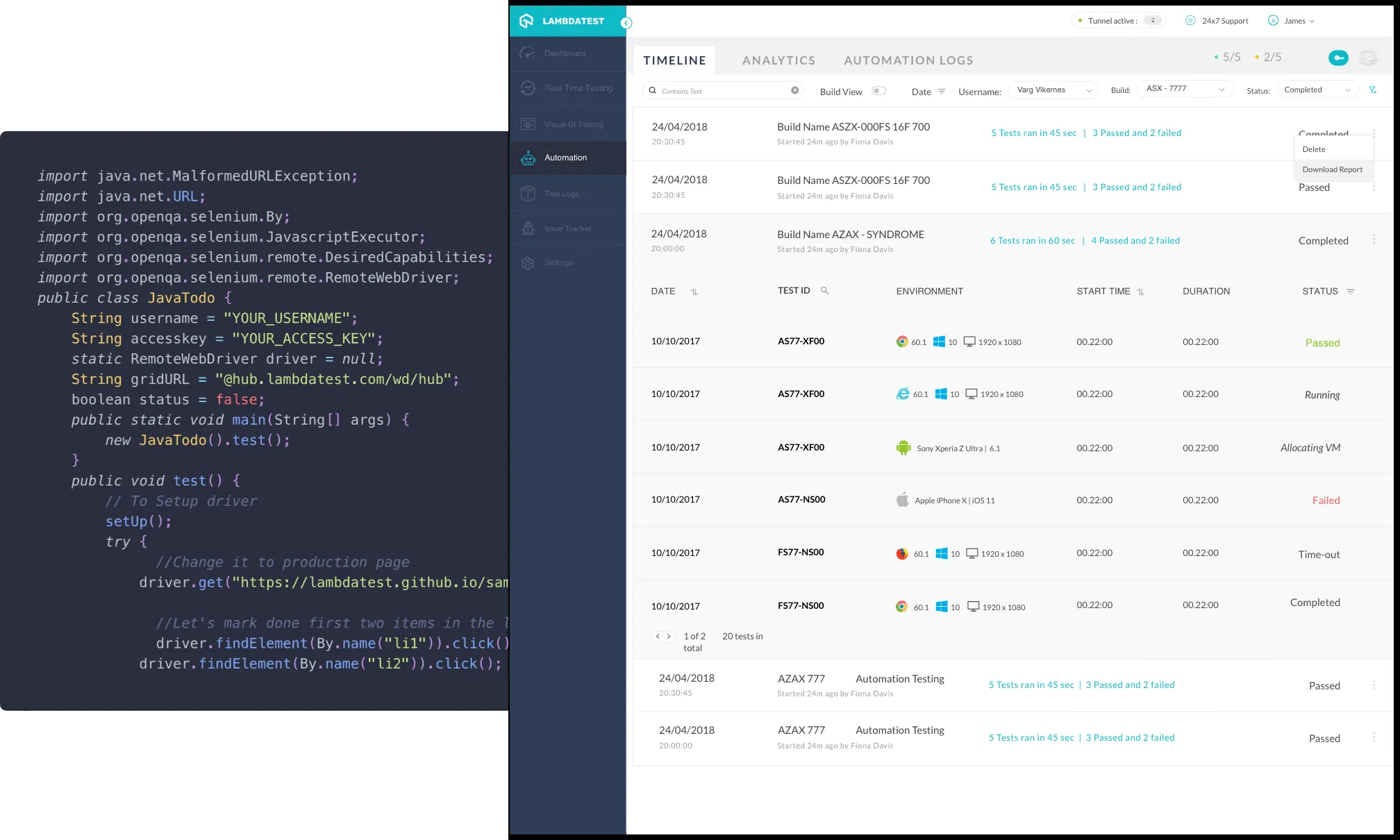 Web developers worldwide use Selenium for automating their web testing, which is the main reason LambdaTest started with Selenium as a base for its services.
But today, we also offer cypress-based testing, a robust tool for testing front-end modern web applications, and Appium-based testing for mobile, web, and app testing.
---
Q.9 Would you say LambdaTest's 24×7 customer support is a big factor in its success?
Yes, definitely! Our customers love and appreciate our 24×7 support services and feel incredibly comfortable reaching out to our executives with any queries they may have. We aim to resolve issues quickly and provide our customers with the best possible solution as a company.
We have also received some great feedback around the product through this service offering, which has helped us shape the product to what it is today- building and adding features most requested by them.
The rapport we share with our customers has helped us stay ahead of the competition in the market.
---
Q.10 LambdaTest is a complete set of tools to the point that it has an inbuilt issue tracker eliminating the need for users to buy separate software for the same. What are your expansion plans from here?
As mentioned earlier, we built LambdaTest with a mission to provide users with a comprehensive platform for all sorts of web testing, which is why we offer an in-built issue tracker, integrations, and customer support at no additional cost.
Regarding expansion plans, we recently launched a feature to test native mobile applications on emulators and simulators manually.
We will soon be launching native app testing on real devices. We have quite a few things planned, so stay tuned for more features, updates, and product launches we have in store for this year.
---
Q.11 What was the motivation to craft such an innovative solution to common problems every developer faces?
I was fascinated to see what Adobe had done for the designer community by bringing all its design tools under one umbrella.
That concept got stuck in my mind, and, being a tester, I was fixated on the thought of delivering something similar for my community of developers and testers. That's when the idea of LambdaTest came to me first.
I am really happy to share that we have achieved many goals we set for ourselves before launching the platform in just four years of launch.
---
Q.12 Can users debug their web applications using LambdaTest after completing the tests?
If a user is performing automation testing, LambdaTest provides them with different logs, end-to-end video recording, and command-by-command screenshots to help debug at any stage, even after a test is complete.
If a user performs manual testing, they can debug those cases then and there utilizing the inspect element option. However, they don't have the option to debug their web app after the test is over.
In such scenarios, they can leverage 100+ integrations that LambdaTest offers to share the bug with the respective team/ team members and get the same resolved.
---
Q.13 How does LambdaTest help customers bring their software assessment needs to the cloud space?
The task of maintaining an in-house infrastructure is expensive, time-consuming, and not easily scalable- This is where Lambdatest steps in, helping our customers solve the critical problem of having, maintaining, and updating the infrastructure.
LambdaTest platform has made moving to the cloud reasonably straightforward for the users; in just three clicks, anyone can perform manual web testing on a combination of 2000+ browsers & operating systems.
With the automation features, users can perform their Selenium/Appium based tests on a fast, reliable, and scalable grid that supports all languages and frameworks.
Not only do they get to increase their browser coverage, but most importantly, they get to cut down their test execution times by running tests in parallel. Integrations with 123+ different tools and 24×7 chat support are some added advantages.
We have removed the burden from the DevOps team to maintain a dedicated infrastructure for testing in-house and help our customers save thousands of dollars in building, maintaining, and scaling such an infrastructure.
---
Q.14 What keeps LambdaTest a touch ahead of its competition?
LambdaTest has only competed in the market for four years, and in this short time, we have gained over 500,000 users from 130+ countries, which shows how fast the platform has grown. The main reason for this growth is:
Our platform focuses on offering what our users want and need. Initially, we started with only manual testing, and today, we are offering both manual and automation testing, features developed and offered owing to the demand of our users.
The LambdaTest platform is more reliable and fast, built on the latest tech stack. As a result, our users save several man-hours daily spent in testing just by performing tests on LambdaTest.
One of the biggest challenges of most other online grid tools is reliability and high flaky tests. We use the latest tech stack, making it easier for us to build and maintain a testing infrastructure that remains the same no matter how many times you request a machine for a test. This drastically reduces the flakiness that comes because of hardware.
This has been one of the major factors that helped us outdo our competitors. Whenever a user faces a problem, they can instantly chat with one of our highly skilled technical support team members who chat/talk to the user until the issue is resolved.
The LambdaTest platform is still one of the most affordable platforms out there despite offering such great features. We highly believe in being exceptional yet super accessible by all.
---
Q.15 Would you like to say something about BloggingEclipse before we wrap up?
A small piece of advice from me to all BloggingEclipse readers; start early. Don't sit on an idea if you believe it is worth giving a shot.
For you never know, in the time you spent pondering whether to act on it or not, someone else may have a similar idea, and their swift actions might result in the next big unicorn of the country.
---
Final Verdicts on the Interview with Asad Khan
I think that sums up the entire interview and LambdaTest itself for us. As Mr. Khan said, they believe in being exceptional yet accessible.
20% OFF
LambdaTest 20% Discount on all Annual Plans
That was the spirit that made us go for an interview with them, and after this conversation, I think our readers and we are more than convinced of the importance of cross-browser testing and the right testing service provider.
Head over to LambdaTest and stop scratching your head on why your website seems perfect on one browser and doesn't work on another.