CRM software help businesses manage their interactions with customers, prospects, and partners.
"Capturing customer data in an organized and segregated manner is the most important aspect that helps in avoiding lead leakage. " – Says Rohit Gadia, Co-Founder OneHash, Inc.
CRM software is essential for all companies because it helps them to build relationships with their customers and prospects. It also helps them to be able to understand the needs of their customers and develop products that are tailored for them.
Since CRM software has become more popular, a lot of businesses have been focusing on implementing CRM solutions in order to grow their business. OneHash CRM is a cloud-based, robust system that provides a wide range of features at low prices. With the fast development, this system can lead to exponential growth and help your company grow in leaps and bounds.
Read our exclusive interview with OneHash Co-founder Rohit Gadia and his take on the importance of efficient CRM software and more.
---
Q.1 Before we cover OneHash, help our audience get to know you a little better.
Hello everyone, my name is Rohit Gadia, Cofounder OneHash, Inc. I have been in the field of entrepreneurship for more than 17 years. I have completed my master's in Business administration from SPJIMR Mumbai. I have founded and invested in numerous startup ventures and small businesses in the field of finance and technology. I am a voracious reader and an avid observer.
---
Q.2 How would you explain the value OneHash brings to business owners who want to create lasting customer relationships?
The first and foremost reason why OneHash CRM is the best suited for any and every business type is its high scope of extendibility. It is highly configurable according to your business requirements, and it fits into the pocket of all businesses irrespective of their size.
---
Q.3 What are the features OneHash provides to users who want to avoid any lead leakage?
Capturing customer data in an organized and segregated manner is the most important aspect that helps in avoiding lead leakage. Another important thing has a system that can help you in keeping track of your leads as well as helps in keeping track of continuous follow-ups and meetings. This helps in keeping a continual conversation with your hot prospects, thus avoiding leakage and thereby enhancing sales revenue.
---
Q.4 How important do you think is creating strong bonds with your customers to the success of a business?
'Customer is the king' should be the theory every business should follow for success. Lasting relationships with your customers helps you in building credibility as a brand, thus attracting fresh customers.
---
Q.5 OneHash.ai can be used by people from all walks of life, from hospitality to manufacturing. What is the factor which allows for such a wide range of use-cases?
I think the primary reason is our scope of extendibility that makes us a right fit for all industry types. Another very important reason is the all in one nature of our products that attract customers from all over the world.
---
Q.6 As providers of the world's best CRM suite, does OneHash's own customer relations team ever end up using the tool?
Yes, we at OneHash are our own customers as well as it helps us in understating the issues and queries that our customers might face. Once we come across something that might be a little problematic, we make sure that we help our customers out with it and make it comprehensible for them!
---
Q.7 You have founded multiple orgs before starting OneHash. Would you say your background played a big factor in ensuring the success of OneHash?
Experience is always something that gives you an edge. Having experience in the field of entrepreneurship helped me make better decisions for the company and our team, which proved to be fruitful. Hence I feel my past experiences played an integral role in the success of OneHash.
---
Q.8 What are the ways in which OneHash helps users increase sales?
Having a complete analysis of your sales trends, territory, sales forecasting, etc., helps you in making better decisions for a higher return of investment. All these reports will give you a clearer picture of your marketing and sales campaigns and will help you make better investment decisions that will brew results.
---
Q.9 What is the importance of ensuring employee satisfaction, and can OneHash help you achieve that?
If your employee is not satisfied with your product, how do you think you will build a credible business for your product? It is absolutely not possible. Employee satisfaction is the key to the success of any business, and with the help of OneHash, you can achieve that. With quick query resolution, omnichannel interaction and a highly configurable Desk solution, you can very easily help your customers with everything that they need, thus ensuring employee satisfaction.
---
Q.10 Is ensuring best-in-class customer service a priority for you?
Absolutely. We have always kept our customers' queries and needs on our topmost priority, and that is the reason why OneHash has managed such a huge clientele in such a short span of time.
---
Q.11 Would you say educational background matters in entrepreneurship?
Educational background is surely very important but is it a key requirement to be a good entrepreneur? I would not agree with that. Market research, product knowledge, and our expertise in the field that your product is are the main factors that decide how good of an entrepreneur you are.
---
Q.12 What tools does OneHash offer for users' project management needs?
We have a dedicated project management tool for all your project requirements.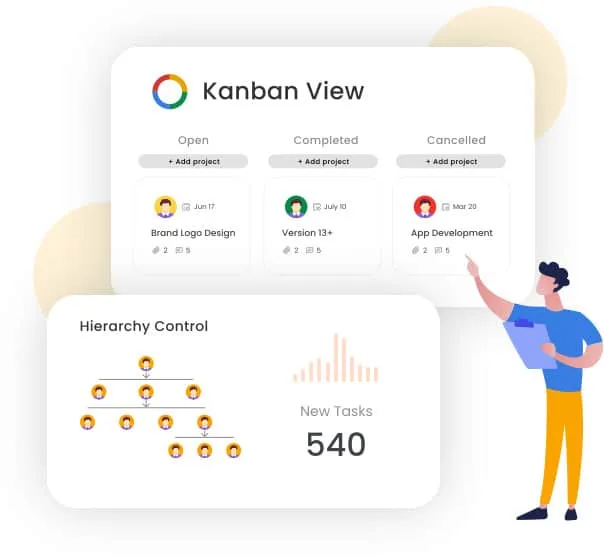 ---
Q.13 How does OneHash stay ahead of its competitors?
Firstly, OneHash is a unique product, which makes it stand out from the ground. Secondly, our pricing is something that makes us accessible to businesses of all industry types hence giving us an edge over others.
---
Q.14 What is your thought process behind giving a completely free trial to your platform?
Our product is new and unique. A product with both of these qualities needs some time to get accepted in the market. We thought giving a free trial to our customers would help them build trust in our brand, which has proven to be the right decision for us.
---
Q.15 Would you like to say something about BloggingEclipse before we wrap up?
First of all, thank you for giving me this opportunity to reach a wider audience. BloggingEclipse is a fantastic knowledge-sharing platform and is doing a wonderful job.
Customer Relationship Management software is an essential tool for any business. It helps in managing the customer data, improving customer service, and increasing revenue.
OneHash is a CRM solution that not only helps you grow your business but also aims to ensure the sustainability of your business. Take a look at what it has to offer here.
Affiliate Disclosure: This post may contain some affiliate links, which means we may receive a commission if you purchase something that we recommend at no additional cost for you (none whatsoever!)