The more portable our devices get, the more we tend to use them. This notion is supported by the fact that most webmasters report that more and more traffic is now coming from mobile sources.
"Create high converting landing pages in minutes," says Kaushal Gajjar founding Co-Founder at Pagemaker.
It was intriguing that despite the obvious rise in mobile users becoming primary visitors of most websites, there seemed to be no dedicated page builder software that catered directly to mobile users. That is until we found Pagemaker.
Pagemaker is a tool that offers the same amount of functionality as the best page builder tools out there but with a mobile-first approach. The tool is as dynamic as its founder, behind some of the most premier web development companies in the Indian online space.
Get to know Kaushal Gajjar's riveting journey from starting a web development company in Gujarat to establishing himself in Canada in our exclusive interview with him about everything from digital marketing to team building.
---
Q.1 Would you like to tell our audience something about your journey from starting your business in Ahmedabad to establishing your agency in Canada?
We started 7Span in 2015 with Graphics and Web development, and today, we have a team of 60+ working on different cutting edge technologies.
During this roller coaster ride, we connected with Seth Goyes from Landing Page Dude, and we started a joint-venture to create products like Pagemaker, Eyetoke, and more. Follow me on Twitter https://twitter.com/kaushal_im.
---
Q.2 With Pagemaker, you have created a service that can create and launch campaigns in under 15 minutes. Why did you choose to offer a lifetime free plan of a service which can be of such immense value?
Pagemaker is the brainchild of 7span.com and LandingPageDude.io. We are two agencies that have been working together building technology for clients worldwide for a decade.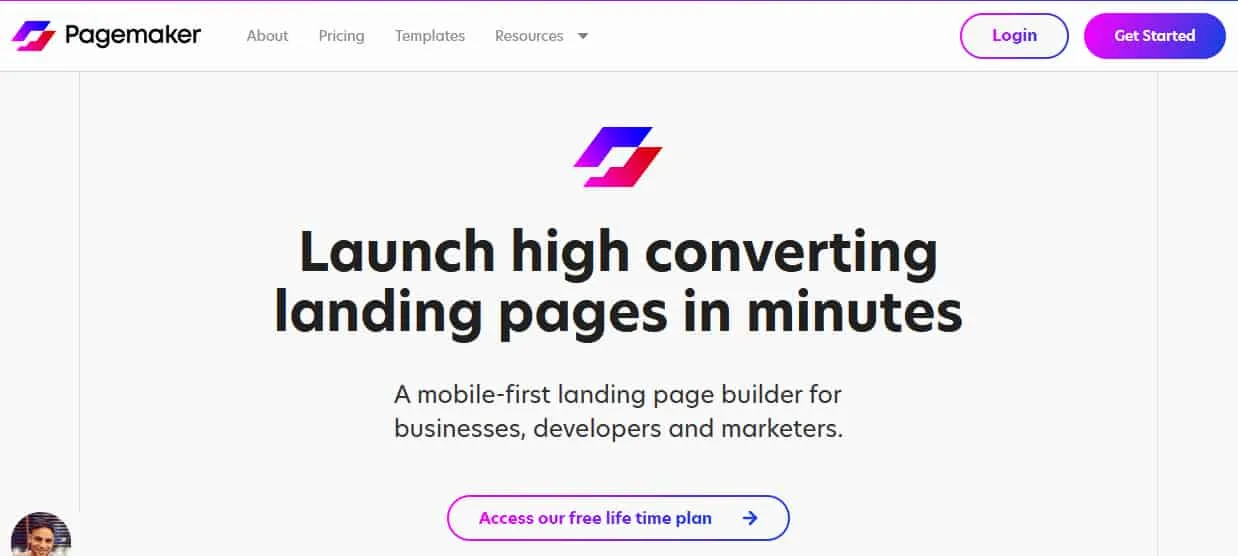 We want to maximize the functionality we provide, so getting users to test out the product in real-time is important. We would like to have early beta users who can give us honest feedback that helps shape the product for a strong future with this new product.
---
Q.3 Can you explain to our audience why creating a good landing page is important and who can benefit from creating an attractive landing page?
Pagemaker is a mobile-first landing page builder built for higher conversions. Use a simple plug-and-play editor and create high converting landing pages in minutes with CRO templates and ready-made modules.
Creating a high converting landing page is not easy:
Design,
Development,
Conversion Elements,
Integrations…… The list goes on.
At Pagemaker, we do all the heavy lifting for you with our all-in-one platform. CRO templates, pre-made modules, hosting, integrations, custom domains, native forms, and so much more.
Pagemaker is proudly zero code and useful for businesses, developers, and marketers. And you no longer have to spend money on hiring a designer and developer!
---
Q.4 7Span provides web design and tech solutions to a host of large-scale clients. Did your background in establishing 7Span help you in setting up MCOOK, Vepaar, and Pagemaker?
Yes, Pagemaker is the brainchild of two agencies from 7Span 🇮🇳 and Landing Page Dude 🇨🇦. For the past 7 years, we have pumped out successful products like Vepaar, MCOOK, Voliz, and MaterialUI.
Our line of successful products is linked to a dedicated focus on creating a fulfilling user experience in as many verticals as possible. The shared experiences of establishing a company from scratch did contribute to our next venture and so on.
Everything we do at Pagemaker is taken from our experience working with some of the biggest brands globally, including Kylie Cosmetics, ShineOn, Venus Williams, Indosole, Cameo, and more.
---
Q.5 MCOOK and Vepaar are companies predominantly involved in helping small businesses scale up into the online world. Is helping smaller businesses join the online space something you feel passionately about?
Yes, India has a massive market for small and medium businesses. We are focusing on tools that are easily affordable and can help SMEs.
The unorganized sector in India's economy accounts for an even more significant part of it than what the statistics point to. Helping SMEs in the unorganized sector get online will create an equal marketplace that will benefit both consumers and business owners.
---
Q.6 Pagemaker offered over 500 modules shortly after launch. According to you, in addition to the user-friendly interface, what is the reason for Pagemaker's quick success in such a short amount of time?
We have tons of experience in managing SaaS products, and we have a strong design, development, and support team to manage and boost the products.
At its core, the fact that we fulfilled a strong need felt in the market must have been a massive contributor to our near-instant success.
---
Q.7 You did not stop at the conventional customer service offerings with Pagemaker maintaining an active Youtube channel and Facebook group to tend to customers' queries. What was the thought process behind that?
We are proactive in social media and love to help our users with any communication medium they prefer. Our FB Group is a real gem, and many users are getting educated and benefiting from that group. Our YouTube channel has tons of video tutorials that can help many users when they are stuck.
This is one of the reasons people trust Pagemaker and invest in it. Providing excellent customer support should be a priority for anyone who wants to make it in any business.
The constantly changing nature of the industry means that business owners should also adapt and ensure that they provide customer service in new and innovative ways like our YT channel and FB group to serve customers better.
---
Q.8 Why did you adopt a "mobile-first" approach on landing pages created with Pagemaker?
80% traffic on your website or landing page will be from Mobile only. So we should focus max on the mobile layout than the web. With that vision, we developed the Pagemaker with Mobile-First approach.
The mobile-first approach does not mean we skimped on overall functionality or made it inaccessible to webmasters who want to build pages for desktops. The ability to generate web pages for mobiles with the same amount of functionality as their desktop counterpart is the true innovation in Pagemaker.
---
Q.9 What strategies have you used to ensure high conversion rates with the landing pages your service creates?
We wanted to take our years of experience working in the CRO space, designing, developing, optimizing, and packaging it all together in a simple platform where users could create high converting pages quickly without a single line of code.
We have tons of experience in building conversion-focused technology for some of the biggest brands in the world, including Kylie Cosmetics, ShineOn, Indosole, and Nestle. 🤟
---
Q.10 How do you manage your time so effectively that you run a host of successful companies and travel and pursue your various interests?
We are Digital Nomad and love to travel a lot. Our team is super dedicated and gives their 1000%, so we don't have to worry much about managing things remotely. The work culture at all of our firms is not one of micro-managing.
If you put together the right set of people and lead them in the right direction, they will produce results. Our growth over the years despite the active personal lives of all our team members is proof of this.
---
Q.11 You have gained experience as an SEO analyst, software engineer, and digital marketer, and CEO. Which role did you personally enjoy the most?
Obviously, all the roles have their equal importance. But I must say, I love to work with a good team, and I am not much concerned about my position.
Leading by example is far more effective than leading by what designation you have. I do not like to create an environment of hierarchy, creating a positive work environment where everyone is passionate and motivated.
---
Q.12 Our readers would be very interested in knowing what you have to say about BloggingEclipse.com?
BloggingEclipse is an excellent blog that gives knowledge on Affiliate Marketing, SEO, Blogging, Dropshipping, and many other topics. They have a nice collection of reviews of new tools and products. Keep up the good work, guys.
Every visitor you get on your website is a potential customer. Creating an error-free experience for all your users is important to being successful online. Pagemaker operates just as well for both mobile and desktop needs.
It is obvious the value that it brings to your website. Your web pages will be optimized for mobile devices and ready-to-go on any desktop, so all your users will have the optimum experience interacting with your site. Head on over to Pagemaker to avail the product this vibrant man has created.🏅
Affiliate Disclosure: This post may contain some affiliate links, which means we may receive a commission if you purchase something that we recommend at no additional cost for you (none whatsoever!)