The Indian Digital Marketing community has always been distinct from its international counterparts. A good web hosting solution from India that understands its needs has always been the community's desire.
"Made web hosting affordable by cutting down on profit margin," says Rajesh Chauhan, Founder YouStable.com
Still, for various reasons, this need has never been fulfilled by a stable high-speed provider working at pocket-friendly rates. GoogieHost has been a premier name in the web hosting fraternity as an affordable provider of these services.
In 2015 the man behind GoogieHost, Rajesh Chauhan, started YouStable, a premium web hosting service with more resources per hosting account.
We caught up with Rajesh over this light conversation about how they've managed to remain the most affordable Indian web hosting company with both GoogieHost and YouStable over a changing industry;
---
Q.1 I think our audience would be very interested to know about the life of an ordinary boy from Lucknow who has reached the heights of the web hosting world. Can you share something about your journey?
I still live in Lucknow, the City of Nawabs. I started as a call center executive and gradually saved up by putting away half my salary every month and putting it in my new business, which later became Googiehost.com.
This is where everything has happened for me, and thank you for allowing me to tell my story Ali Bhai.
In 2 years, the business started making good money, so I quit my job to give my all to my business. Looking back, that wasn't such a good idea, as without a second income source to support the ups and downs of my business, too started struggling.
It was difficult to pay our server costs, and I had to use my savings to keep my business afloat, and my sacrifices paid off as we soon got good numbers and some loyal customers, and the rest is history.
---
Q.2 What was the guiding factor behind starting YouStable after the massive success of GoogieHost.com?
In GoogieHost, we sometimes get upgrade requests to increase the resources of their hosting account. Initially, we referred them to different companies, but in 2015 we started YouStable as a premium hosting service provider and started onboarding such customers on YouStable.com.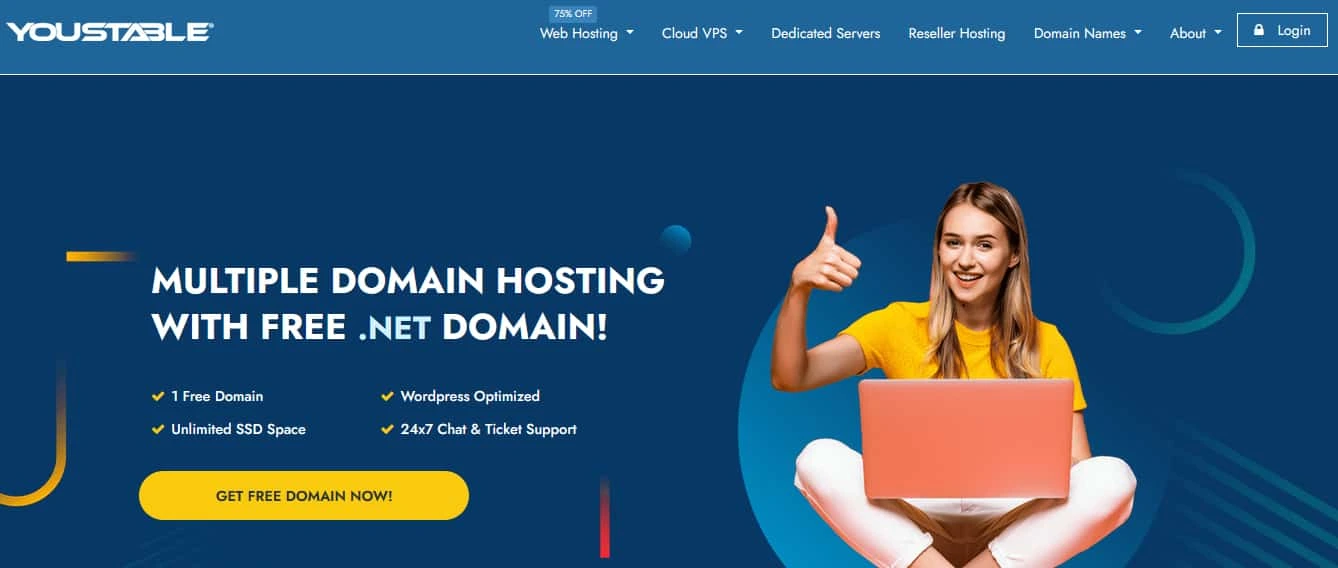 To serve customers at the cheapest possible rates will always be our focus with both.
---
Q. 3 Why did you choose to offer premium web hosting services at much cheaper rates than the industry standard at both YouStable and GoogieHost?
In India, pricing and support are the major factors for any hosting company to win customer's sight. We crafted competitive plans without compromising the hosting web service. We were able to do this as our customers were our priority, not our profits.
This has worked out well for us as we have been able to gain customers, make a humble earning, and serve our growing base of customers.
---
Q.4 You fell severely ill right after your first company achieved breakthrough success. Did it motivate you to work harder when you finally beat your illness?
I will never be able to forget those days, Ali. I struggled with Panic Attack Disorder, but I am happy to say that I have recovered from it for the most part and have been able to take active roles while on medication for the past 5-6 years.
The success GoogieHost and YouStable have garnered been a big motivator for me to work harder towards my business and cope with my illness. As a company, our future looks bright, which brings me a sense of peace which is very fortunate for someone in recovery.
---
Q.5 What initially sparked your interest in Digital Marketing and SEO?
I created my first website using my mobile phone, a Nokia 6030, using Wapka and XtGem. I was not aware of SEO or Digital marketing at the time; I was just trying to generate some money from the Internet.
A few months of doing that eventually led me to find out Search Engine Optimisation and all these things. There on, I was hooked to following up on all the innovations in the field.
A big factor in the success of my websites, at least I think so, is the deep knowledge of SEO I gained before getting into the business.
---
Q.6 Do you think proper education and training are the keys to gaining success in this field?
Proper education is always a good thing, but the key to success in this field, I believe, is keeping yourself updated with what is happening in the field and all the technological innovations are also just as if not more important.
If you have a solid product and a good business model but are not aware of the daily technical changes, your product will become irrelevant before you know it.
---
Q.7 How did you get the necessary support to start the kind of company which was highly unconventional at the time?
I used to invest half my salary in my business as I told you. I continued to do this; I didn't put any expectations on it. My teachers were very appreciative of my efforts. My parents, however, were not very convinced that anyone could earn anything from the Internet.
They are still somewhat confused about my business. I started my business of my own earning and built it independently, and I believe if you put in the work, you already have all the support you need.
---
Q.8 How have you maintained offering your services at the lowest prices despite the massive success of YouStable?
Our team has managed to craft extremely affordable plans for Shared, VPS, and dedicated hosting with high-quality hosting services by cutting down on our profit margins.
YouStable is our platform to serve customers with needs that GoogieHost couldn't provide, so maintaining our affordability was a challenge. I'm really glad our team was able to keep up our affordable pricing in an innovative way.
---
Q.9 What are the key skills one needs to succeed in the Digital Marketing industry?
According to me, there are three key skills one needs to succeed in the Digital Marketing industry.
Learning

: Learn the tricks of the trade. There is a steep learning curve to SEO and DM and the intersection between them, but once you master it, you can easily benefit from it massively.

Testing

: In a highly competitive industry, many will be trying to succeed. Trial and error is a big part of figuring out your winning strategy. Many tools nowadays have reduced the amount of trial and error required, but using them well is also something one has to learn.
Monitoring: Monitoring is a broad term. It means monitoring how your campaigns are performing, how your competitors are performing, what strategies they are using, and how they compare to yours. Watching the trends in your audience, figuring out what works best, what doesn't work at all, and a hundred other things I'm sure you know better than me, Ali.
---
Q.10 You've often claimed that Lucknow will soon become an IT hub while most experts point towards Bangalore as the Silicon Valley of India. Why do you think this is the case?
Many MNC's like HCL are already starting their operations in Lucknow. We have a special IT city where a new Silicon Valley is being built, and in the next few years, you will call me to tell me I was right.
The spirit of our city and the high flying work of the IT industry is a perfect match, and we're primed to gain the prominence which Bangalore currently does.
---
Q.11 Where do you see YouStable in the next five years?
We are working on future technologies like Blockchain hosting, Cloud Solutions because people are looking to host their projects on the best solutions available in the industry, so we don't want to sit back.
In the next five years, we want to serve at least 40% of Indian customers, in addition to our growing base of international clients.
---
Q.12 India is a huge market given its ever-growing share of Internet users. Do you think this will help India become a leader in the digital marketing sector?
Yes, definitely. The Indian Digital Marketing sector is something whose scale is not known by the general public, or they would be shocked by how much value is created every day by digital marketers.
We need to have some events in India where people can become more aware of these hidden millionaires of India.
---
Q.13 You've been in this field for nearly a decade. What do you think are the big changes in it over these ten years?
The industry has gone through many overhauls in these years. Many security, quality, and technology changes are note-worthy and have framed the key directions this industry will go into now.
We want to grow along with the industry to ensure our loyal customers are provided with the best top-of-the-line services, no matter how many changes the industry goes through.
The launch of Jio in India has caused a massive change in India's core of the digital world. Larger volumes of customers have made buyers think a lot more about their web hosting provider, and there is software now to test our services before a single penny has been paid.
We welcome this software(s) as it will only prove to our potential customers that our services are upto the mark.
---
Q.14 What would you be doing if you were not running a top web hosting company?
I think I would be working as an affiliate marketer or a blogger. If God had wanted, I could even have been a famous YouTuber today.😊
---
Q.15 What were the major sources through which you developed your skill-set in SEO and marketing? Who were your role models?
I will not lie to you, Ali, bro; when you first started your first-ever tech blog, "TricksMe.in," and you were top ranking on Google from 2012 to 2014, that was my first entry into the SEO world. A lot of my former knowledge about these topics comes from your website(s).
I learned many things from Indian bloggers like Rajesh Name, Harsh Agarwal, Imran, and Iftikhar.
---
Q.16 How does YouStable help users get the maximum value from their website?
Our team has developed a hosting solution that is specially optimized for WordPress. We offer one-click installation for over 450 popular scripts, including WordPress, Joomla.
WHCMS, among others. We help our users set up their websites in the most convenient way, and we guarantee 99.99% uptime to them on the websites they create.
Our easy-to-use in-house dashboard helps them use their website to the fullest, and 24×7 customer support ensures even if an issue does occur, we will resolve it as soon as possible.
---
Q.17 What role would you assign to websites like BloggingEclipse in the community?
Websites like BloggingEclipse are the soul of the digital marketing community. Good solid, informative articles are never going out of trend.🙂
We hope you enjoyed our conversation with Rajesh as much as we did. If you want high-speed and stable web hosting at prices that don't break your wallet, you can check out YouStable.com, home to hundreds of satisfied users who can focus on their business because they're not busy worrying about their websites.
A good solid web hosting provider is also never going out of trend and nearly a decade in a highly competitive industry proves that beyond doubt for YouStable.com.
Affiliate Disclosure: This post may contain some affiliate links, which means we may receive a commission if you purchase something that we recommend at no additional cost for you (none whatsoever!)