Do you know what VPN is and the benefits of a virtual private network? In this post, we will tell you everything you need to know about protecting your identity online, and to understand you better, here is a detailed Ivacy VPN review.
Many of you might even know what a VPN is but don't know how it works and the benefits of using a VPN for browsing the internet. If you are looking for the ultimate VPN solution at budget-friendly prices, then Ivacy VPN is sure-shot one of the best VPN in the market with ultra-advanced features, fastest performance and cost-effective pricing.
This post is for both those aware of VPN and those who don't have any knowledge about VPN. So keep reading this post and clear your doubts about VPN.
Many of you might have faced this situation when you try to visit a website, but the URL has been blocked because the website might not be available for your region. This is quite disgusting as the website you wanted to visit was crucial to getting the information you needed for your project. This is where VPN plays a significant role in fetching important information from restricted websites by hiding your IP address.
Hiding your IP address? Well, you heard right. VPN lets you access blocked websites with a secured connection by changing your original IP address to a different virtual IP until you are logged on to your computer system.
| | |
| --- | --- |
| Pricing | $1.19/month |
| Based in Country | Singapore |
| Number of Servers | 5700+ |
| Number of devices per License | 10 |
| Built-in Kill Switch | Yes |
| Connection Logs | No |
| Support | 24/7 Live Support |
| Supports Torrenting | Yes |
| Money Back Guarantee | 30 Days |
Ivacy VPN Review: Fastest & Cheapest VPN in the World
Here we are reviewing the amazing Ivacy VPN, which comes with unlimited features at the lowest price. The exclusive VPN offers one single VPN solution for all your smart devices.
Ivacy started its journey in providing impenetrable security to its users globally in 2007 and became one of the most satisfying VPNs to millions worldwide.
In 2010, it had set benchmarks by launching a new & unique feature called Split Tunneling. This feature is not available with any VPNs and has been designed by the experts of Ivacy. Split Tunneling allows users to gain authority over the data to be sent over the internet. It gives full control to the user to decide which data to be sent through Ivacy VPN and which data to be sent through their ISPs.
Apart from split tunneling, Ivacy has incorporated many unique features making it one of the most lovable VPNs and keep their race alive in the marathon where there are so many VPNs worldwide not keeping their promises to provide secure VPN connection.
How Ivacy VPN Works? | Ivacy VPN Review
It's simple and requires a few simple steps to acquire a secure VPN connection through Ivacy VPN. In less than minutes, you can gain access to all of its functionalities. Watch this video to learn more about how VPN works.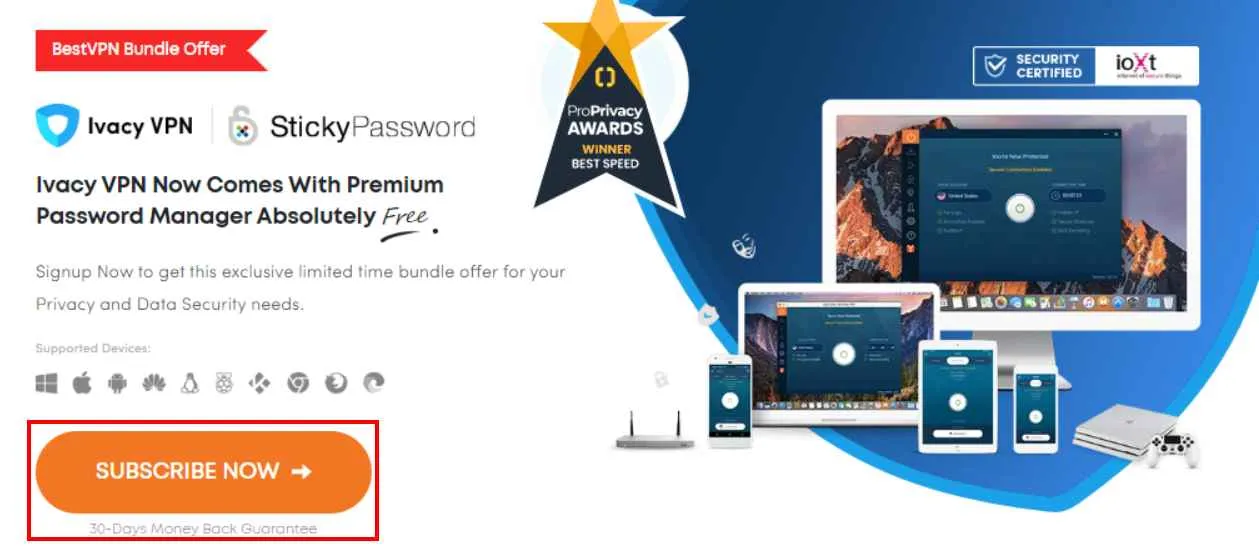 The first step is to Download the Ivacy VPN setup, which is just 1-click away. Ivacy has downloads available for all kinds of devices like Desktop, Tablet, and smartphones and is compatible with platforms like Android, iOS, Mac, and Windows. Just 1-click, and you are good to go.
Now that you have installed the app choose any location wisely. There are over 450+ server locations that you can choose from. A list of the location appears on the screen, and you just have to click once, and the server will be automatically connected to the selected location.
Instead of choosing the server location manually, you can let Ivacy do it for you with the purpose selection feature. So, whether you are streaming or downloading, Ivacy's Purpose Selection feature connects you automatically to the best server depending upon your purpose.
By tapping on the Connect button, you will be invincible and automatically connected to a suitable location. Now you can browse anonymously, download or stream whatever content you want to. And if you are not satisfied with Ivacy's features and its services, you are backed up by the 30-day money-back guarantee that will refund your investment. So take a sigh of relief as your money is in safe hands.
Activate this exclusive Ivacy VPN coupon code that allows you to save 88% Off on a 5-year plan. Special offer end soon.
Premium Password Manager for Free
Use this 100% working Ivacy VPN discount coupon and get 24 + 3 months for free with an insane 78% Off.
Premium Password Manager for Free
Grab this Ivacy VPN coupon code and get started with its 1-year plan at just $3.99/mo. Limited time offer.
30-Days Money Back Guarantee
Ivacy VPN Features at a Glance – Why Choose Ivacy VPN?
No restrictions on server switching
You can switch between different servers as many times as you want. Nobody controls your actions, so be anywhere you want to by switching between the servers without restrictions.
Purpose Selection Feature
Depending on your purpose, you can configure VPN by using the smart purpose selection feature and start surfing freely with a few clicks.
If you are looking for high speed for P2P file-sharing, then Ivacy offers highly optimized P2P servers to suit your completely secure and protected needs.
Connect with multiple devices
Ivacy allows up to 5 devices to be connected with the same account. Now you can utilize Ivacy features on different devices and do more exciting things. Ivacy have their premium VPN apps for Android, iOS, Windows, Router, etc. You can install its secure VPN app on your smartphone to enjoy internet freedom on your mobile anywhere. The new Ivacy revamped app version is 2x faster and works on any device (no matter which android or iOS version you have.
This feature checks the files you download for malware and removes any malicious content. It's available in 9 countries and is a very useful tool to incorporate within your browser. I tested it using a third-party anti-malware testing tool and found that it was able to block and remove malicious files successfully.
Ivacy provides over 450+ premium servers in over 100+ locations. There's no limit to choosing the number of private IPs. Surf freely with multiple choices to hide your original identity.
Ivacy has the largest network of private ultra-speed servers, which enables access to restricted content without breaking a sweat. All their servers are equipped with 256-bit Millay-grade encryption to protect you from hackers and bad guys. So by manually choosing the server's options, you can instantly select the preferred location of your IP. Hence you can visit any site by showing that preferred virtual location and hiding your real IP Address.
Unrestricted data transfer
There are no restrictions on data transfer. You have complete freedom over the internet, and Ivacy supports your freedom of using the internet as you want.
A VPN service with slow speed is of no use. Ivacy knows this and has put in great efforts to provide you with cutting-edge servers with high speed and a secure connection.
Split Tunneling services allow the user to use a VPN while still allowing them to browse the internet. They are available on Windows and Android devices. With this service, you might think twice before beginning. Split tunneling is very handy for those who want to run their traffic through their VPN server without having to go through the hassle of configuring profiles. It allows you to choose which applications will use Ivacy VPN and which ones won't.
You might do this if you are having an issue with Netflix not working while you are in another country and want to use a local connection for low latency online gaming. This is quite an amazing feature. You can decide which data is important and route it through a VPN tunnel, leaving the unimportant data to pass through without a VPN tunnel.
Using VPN does not require any technical skills, but if you are confused and not getting a solution, then take assistance from the support team and in minutes, your issue will be resolved.
Is Ivacy VPN Secure? | Ivacy VPN Reviews
Ivacy VPN is based in Singapore and boasts military-grade encryption. The company promises it will keep you safe online and help you browse safely. But there are some concerns regarding the lack of essential security features which other platform providers provide.
1. Encryption
Ivacy VPN uses the AES 256-bit cipher. That's military-grade encryption for you. And if someone wanted to crack that 256-bit key, they'd need a machine that's faster than the world's fastest computer. So it'd take a lifetime, at least. This is why virtually no way someone could intercept your traffic and learn what and where you're downloading and uploading.
2. Tunneling Protocols
Ivacy VPN offers you several different tunneling protocols to choose from. It is essential to understand the differences between them so that you can choose the best one for your needs. OpenVPN is probably the most prevalent VPN protocol in the industry. There's a prompter UDP iteration and a more stable and secure TCP option. OpenVPN is available on Windows and Android.
With IKEv2, you can enjoy faster connection times and better performance than OpenVPN. It is supported on multiple devices and is often used for creating VPN connections. Ivacy VPN has it on Windows, macOS, and iOS. But they call it IKEV. Now, this can cause confusion as there is an outdated v1 version as well. The last time I checked, L2TP/IPSec was an outdated tunneling protocol, but plenty of providers still offer it to their users. Ivacy VPN is not an exception here, supporting it on Windows and iOS.
Now all these selections were regraded a couple of years ago. And with the rise of the next-gen WireGuard protocol, one can just hope that Ivacy VPN does prepare its implementation for the coming times.
3. Kill Switch
Another crucial feature is the "Kill Switch," which disconnects users in case of an IPVanish failure. This way, user data like their IP address, location, and other important information doesn't get leaked. Ivacy VPN apparently lacks a kill switch on Mac and iOS, which is one of the drawbacks for users who spend time on those platforms. Ivacy has yet to develop a solution for this issue after years of continuous efforts with other platforms, but its VPN service still offers a high level of security. The feature is working well on both Windows and Android, but at some point, I found myself offline even after the VPN connected.
4. Logging Policy
Ivacy VPN is a no-logs provider that claims they don't monitor or store your connection or traffic data. This is stated in their privacy policy. The only information that it would have is your email address and payment data. But there is no way to link that with any other activity. As Ivacy VPN supports anonymous payments, so you don't have to worry about leaving any information about yourself. So unless you are a politician or journalist writing on sensitive topics, you don't have to worry and look for other Private VPN providers.
Ivacy Server Locations – How many Server Locations does Ivacy VPN Offer?
Ivacy VPN has over 5700+ servers spread across 68 countries and 100 locations. You can count the total number of servers on their website if you wish. So this shows that it has global servers all around the world.
| Regions | Number of Countries | Number of Servers |
| --- | --- | --- |
| Europe | 20 | 303 |
| Oceania | 2 | 44 |
| Asia | 16 | 149 |
| Africa | 5 | 62 |
| North America | 5 | 129 |
| South America | 4 | 79 |
All servers are streaming and torrenting-friendly, providing users with much online content. With this enormous number of servers, it is no surprise that the total numbers of visitors aren't awe-inspiring. Last but not least, the quality matters, not the quantity. One interesting fact is also that Ivacy VPN doesn't own all of its servers and is yet to implement the RAM-only approach.
Ivacy Browser Extension – Why Ivacy VPN Browser Extension is Your Best Security Option?
Ivacy VPN also offers browser extensions for Chrome, Firefox, and Edge, lightweight IP changers that can be quickly enabled before browsing. These extensions, however, do not include any added features outside of a simple IP change to maintain the integrity of Ivacy's products. I really liked that the icon changes to represent whatever country you're connected to. It's a great way to feel connected, convenient and informative as well.
The Chrome add-on has been downloaded over 30,000 times and is currently rated with 3/5 stars The only two options available are "Bypass Proxy" and "Prevent WebRTC Leak." I recommend choosing the second option all the time as it is a leak protection feature. The first option is a feature that allows users to choose whether or not to use their proxy for all internet traffic, except for on specific sites.
Ivacy User Interface – Is Ivacy VPN Good?
Ivacy VPN offers excellent compatibility with numerous devices for users to choose from. Not only does it have apps for major platforms, but it also has apps for Android TV, Amazon Fire devices and other platforms as well. Plus, you also get browser extensions for Firefox, Chrome and Edge. You and also manually configure Ivacy VPN on Linux, Kodi and routers.
Ivacy VPN Desktop Apps (Windows and macOS)
As in most cases, the Windows version of Ivacy VPN has the most features. The Mac users do feel like they are lacking in features like Kill switch and split tunneling. But they are important for the protection of your IP and location in case of VPN failure. While reviewing Ivacy VPN, I was surprised to see that you can toggle between IP/DNS leak protection, which should generally be ON by default.
To give you an overview, the Ivacy VPN used a medium-sized window with all options available under various tabs on the left sidebar. Using these apps is accessible but may not be for everyone. For example, a user must disconnect from the server to change the location of their profile or settings. This may be because each app has an isolated environment, which can make it difficult to tweak settings without disconnecting and reconnecting.
Ivacy VPN Mobile Apps
Here, in this case, as well, the iOS app is somewhat lackluster. However, when it comes to general look and feel, both clients are pretty similar. You have a lot of options when it comes to picking your client. If you're willing to sacrifice some features, switching to L2TP/IPSec is an option. In contrast, the Android app does give you split tunneling, protocol selection (UDP and TCP) and multi-port (an open port scanner). Like other clients, it allows choosing servers as per your purpose.
In short, Ivacy VPN mobile apps are easy to use.
Ivacy VPN Device Compatibility
Android
Windows
Amazon Fire Stick
Edge
Firefox
Kodi
Chromecast
Routers
macOS
iOS
Apple TV
Chrome
Nintendo
Xbox
PlayStation
Linux
Want to Know Why Ivacy VPN is the Best?
Ivacy has got you covered in every aspect of security and privacy. It gives you the freedom to surf anonymously by masking your IP address and unblocking sites that the government has restricted.
You are always secured with Ivacy's secure tunneling, even when using a public Wi-Fi connection.
256-Bit encryption ensures that you are not vulnerable to any kind of threats, and even hackers can't steal your identity and data.
If in case of disconnection from Ivacy's VPN connection, your online activities will be shut down automatically by Internet Kill Switch.
Ivacy doesn't keep your browsing history and understands your privacy completely. It protects you from IPv6 vulnerabilities by blocking potential threats from entering your system.
Ivacy VPN Pricing Plans – Ivacy VPN Discount Coupon 2023
Ivacy offers affordable VPN plans with all the features for your diversified surfing needs. The best plan available at Ivacy is for a 5-year term which costs just $1.19 per month (88% flat discount). Hence it is recommended to buy for a long-term plan as you have over 88% on its normal pricing.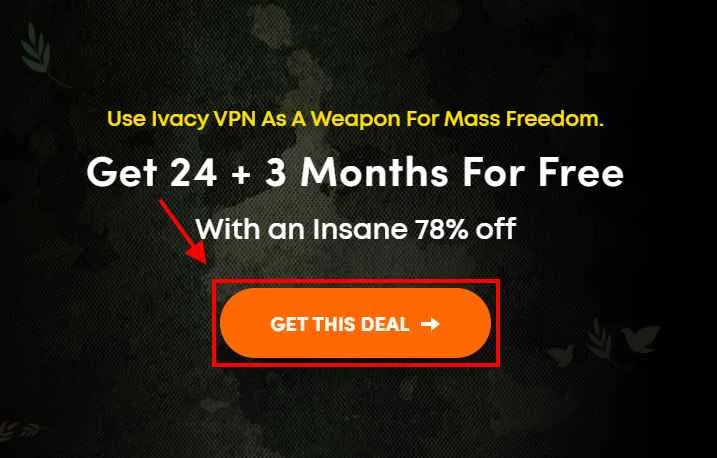 | Plan | Total Price | Monthly Price | Discount |
| --- | --- | --- | --- |
| 1 Month | N/A | $9.95 | N/A |
| 1 Year | $47.76 | $3.99 | 60% |
| 5 Years | $71.64 | $1.19 | 88% |
Ivacy VPN is a very affordable option that stays competitive with other VPN providers. It is also straightforward to use, and even its most basic plan is still more expensive than some of its competitors, which makes it a good choice for beginners. Also, the yearly plan offers a massive discount of 60%, which is simply noted worthy when you compare it with its competitors. The cherry on the cake is the 5-year deal for $1.19/month. Now that's something that is groundbreaking.
Ivacy VPN is known for not offering a free option and instead of providing premium services for one day. If you need more time, there is the option to purchase to get one week for $0.99 but be careful with this one as it automatically switches to the subscription plan after the deadline. All plans come with 10 simultaneous connections.
Ivacy is running a special offer now where you get a Free Sticky Password premium 1-year license with all Ivacy VPN Plans. A 30-day money-back guarantee with this plan ensures that you can cancel the plan if you are not satisfied with the features and support.
The payment methods are plenty to choose from. You can pay using Mastercard, Visa, JCB, American Express, PayPal, Diners Club, Bitpay CoinGate and PerfectMoney.
There are numerous Ivacy VPN discount coupons on their site, which give extra discounts on long-term VPN plans. Ivacy has unbeatable pricing and best-in-class performance with premium support and ultra-reliable encrypted VPN servers than all other premium VPN providers.
We have listed their most updated pricing plan as of 2023. However, it is always better to visit their pricing page here to check the latest pricing and discounts too.
Try Ivacy today with a 30-day money-back guarantee.
Why Should You Use a VPN (Reasons & Advantages)
The Internet has become a basic necessity for everyone around the world. The increase in Internet usage also increases the threat posed by the bad guys like hackers that steal your identity in the form of IP addresses.
Once your IP address is hacked, your system becomes vulnerable to different threats like stealing your important data and virus affecting your system resulting in a crash. Hence, To hide your identity from hackers while surfing the Internet, you need secure gateway protection that protects your identity and lets you freely surf the Internet.
A VPN keeps you safe from hackers and thieves who always keep an eye on stealing your identity and using it for the wrong purpose. Even your internet service provider tries to sell your identity and keeps an eye on your browser history.
The government is constantly spying on your activities and hiding your original identity from government spies, and you need a strongly encrypted connection that you will get with a VPN.
A VPN allows you to surf anonymously and visit restricted sites blocked for some regions. It allows you to download torrents freely and keep yourself entertained. You can shop, read and educate yourself by unblocking restricted sites, all by a VPN connection.
There are numerous reasons for keeping your IP under the cover, like preventing your activities from being monitored by ISPs and government spies. With your IP address hidden, you can now download, torrent and stream freely over the Internet without any worry of getting caught by anyone.
Masking your original IP removes the chances of vulnerability and keeps the bad guys at bay.
Now that you know about VPN and its benefits, it is crucial to choose a VPN service provider. One of the best VPNs in the market with low prices and superior quality service is Ivacy VPN. Let us learn more about Ivacy in the next section.
VPN's are meant to be used for education purpose, and it supports internet freedom, the right to privacy and safety. BloggingEclipse does NOT recommend, support or endorse the use of VPN for any unethical purposes ever.
How VPN Uses have Increased Globally (INFOGRAPHIC)

Ivacy VPN Reviews & Customer Testimonials
FAQ related to Ivacy VPN
Is Ivacy VPN good?
Yes, Ivacy VPN is one of the best and reliable VPN services that protect your digital life. You can discover foreign content with Ivacy VPN.
Why should I buy VPN?
It becomes crucial for the person to buy VPN rather than going for the free VPNs because free VPNs may sell user details to third parties.
Does Ivacy VPN offer a money-back guarantee?
Yes, Ivacy VPN offers 30 days money-back guarantee to all its new users.
Is there any working Ivacy VPN discount coupon?
Grab the above-mentioned Ivacy VPN coupon code that helps you enjoy a huge discount on all its paid plans.
Does Ivacy VPN keep logs?
No, Ivacy VPN does not log the IP address or any traffic that you generate. It only logs your email address for signup and communication purposes.
Does Ivacy VPN work in China?
Yes. Ivacy VPN offers a unique Ivacy Prime client that is specifically designed for use in China, with Windows, Mac, and Android compatibility. However, this VPN has been noted to have subpar speeds compared to its competitors.
Does Ivacy VPN work with Netflix?
Ivacy VPN works successfully with Netflix, and you can enjoy Netflix after using it.
Conclusion: Ivacy VPN Review | Should you go for this VPN service?
Ivacy VPN has its servers in every continent in over 100+ locations, giving the user a good choice of server selection. You can use it for any platform and any device seamlessly.
As I tested Ivacy VPN, I was pleasantly surprised by the high connection speeds that were offered. Even while connected to servers that were located in far-flung locations, I found the connection to be fast and stable. Ivacy VPN is one of the best in the industry regarding security. They provide security features such as a kill switch, 256-bit AES encryption, a no-logs policy, and Kill Switch. It also has extra features like complete leak protection and split-tunneling, and it works with popular streaming sites such as Hulu, Netflix, and BBC iPlayer.
The best part is if you buy a yearly plan, then on renewing the plan, the renewal price will remain the same irrespective of the price. Don't forget to use the above-mentioned Ivacy Discount coupons to save maximum on the best VPN in the world.
Do you want privacy while browsing? Choose Ivacy and surf anonymously.
Ivacy VPN Review – Best VPN service to protect digital presence!!
Ivacy VPN is the best VPN service that secures your digital presence from prying eyes. Encrypt your data, safeguard your personal information, and browse anonymously with Ivacy VPN. It's the best way to protect yourself online. By using Ivacy VPN, you can access foreign content from anywhere, anytime, without any restriction worldwide. Ivacy VPN allows you to protect upto 10 different devices simultaneously. With this VPN tool, you can enjoy easy access to the web while keeping your devices protected. It's worth your money.
Positive
Low pricing
30-Day money back guarantee 
24/7 Live support
Multiple servers across the globe
Unblocks Netflix US
Variety of payment methods
Strong security credentials
Negatives
No Linux app
No Kill Switch for Apple devices
Ivacy VPN – Free, Secure & Best VPN Service
Get started with Ivacy VPN for just $1.19/mo.
Also read: