Are you looking for the perfect keyword research tool for your business? Are you confused by the hundreds of tools that claim to help you get sales? Want to know how to make the perfect product listing?
Read our comparison of the top two tools which can help you do all of that and more in ✅Jungle Scout Vs. MerchantWords.
The Amazon FBA program is a fantastic way to make money online. A wide range of products can be sold to make money, but product opportunities have become much more scarce in the last couple of years as the Amazon FBA program has gained visibility.
The most profitable way to enter the Amazon FBA space is to find a product with low competition and an active niche. The process sounds annoyingly simple, and in theory, it is or was at least.
The problem arrives when the situation is that most of the profitable niches have already become saturated. Entering them requires a lot of sophisticated technology. This situation is the one most of you looking to join the Amazon FBA space are facing.
In such a situation, you have two options. You can use keyword research tools to help you reach the tops of an already saturated niche, or you can use a product research tool to help you find a new niche or a new product.
It is to be noted that in the current state of the marketplace, it is impossible to achieve either of these manually as the amount of data you would have to compile and process on your own simply cannot be done.
So then the question arrives, which product research and keyword research tool do you buy?
The good news is you don't have to buy a separate tool for product and keyword research which would be tiring and expensive. We have tested hundreds of tools in the market and narrowed it down to two of the top software that can fulfill all your Amazon FBA support needs.
Let's find out which tool works best for your business in our detailed Jungle Scout Vs. MerchantWords comparison.
---
Jungle Scout Vs. MerchantWords 2021: Overview
What is Jungle Scout?
Jungle Scout started as a simple browser extension back in 2015, three years after Merchant Keywords which was started in 2012 by veteran software engineer George Lawrence to pull data from Amazon to help sellers.
Since its inception, Jungle Scout has progressed to become a complete suite of tools that can cover all your needs as an Amazon Seller. This is why they have created specific plans and tools for you depending on if you are just starting or are an experienced seller looking for more.
MerchantWords has mostly stuck to the purpose it began with and is still primarily considered a keyword research tool that can help you find profitable niches well.
For the purposes of comparison, as Jungle Scout offers a lot more than just keyword research, we feel comparing both of these tools side by side would be unfair. This is why we have decided to compare Jungle Scout's keyword research tool, the Keyword Scout, against MerchantWords.
Let's find out which tool you will credit for the profits you will get after reading this article.
Also read: Jungle Scout Review + 50% OFF Coupon (#1 Amazon FBA Tool)
---
What Can You do with KeyWord Scout?
In its six years in the business, Jungle Scout has constantly kept updating itself along the lines of the industry.
The founder Greg Mercer has laid a large amount of emphasis on not just moving along with the industry but defining the direction in which the industry moves.
This is important to creating an excellent keyword research tool as Jungle Scout has, and it has made it one of the top research tools in the Amazon SEO community,
(It is to be noted that the Jungle Scout suite of products for extensive product research can be operated from a browser extension and a web app as well, but the main keyword research functionality is only available in the web app, so we will focus on that)
Keyword Scout is similar to MerchantWords because it pulls data from Amazon to help you find profitable niches but let us look at all the advanced features of KeyWord Scout in detail to find out why it is the preferred keyword research tool for so many Amazon Sellers.
---
Top Features of KeyWord Scout
The KeyWord Scout tool is located in the main Jungle Scout app under the "Keywords" menu on the main sidebar.
The Jungle Scout suite has been designed to maximize convenience hence all your keyword and product research in different individual ecosystems to streamline your workflow. Its highlighting features are listed below:
#1. Precise Search Volume
Jungle Scout has access to the Amazon API to estimate search volume and demand for products more accurately than others.
You can filter through this data as it is divided into the searches that contained the exact same keyword you requested information on under "exact match data" and the keywords similar to the one you asked for, and even common misspelled searches; under "broad data."
With this level of information, you can make the right decision about any new niche you're thinking about.
#2. Discover Keywords
Jungle Scout's keyword tools include a handy 'smart search.' Tools like MerchantWords offer different options around the original search term you put in.
KeyWord Scout looks for related keywords which may not have the original search term but are still extremely important to getting featured for that search term. This is the easiest way to find products, niches, and keywords that weren't even your intention to find.
Your product research efforts get a massive boost from these relevant keywords, and you can use this to find profitable products faster than ever before.
#3. PPC Estimates
Keyword Scot can also be used to estimate how much Amazon PPC advertising for your product listing will cost and what is the difficulty to rank on the first page for whatever you're looking to sell.
This is hugely critical information as you can make the perfect product and make a fantastic listing, but without this info, you can't rank on the first page, and without that, all your efforts are in vain. (we will point out that this info is not available to users of MerchantWords and other Amazon FBA tools)
#4. Giveaway Estimates
Creating promos and organizing giveaways are a new way of helping your product rank, and these are techniques top sellers on Amazon have implemented.
Jungle Scout has jumped on this trend by providing you giveaway estimate analysis data. You can see how many giveaways will be needed to help your product rank, and KeyWord Scout is the only tool in the market that gives you accurate data of this kind.
These are the main features of KeyWord Scout, but its total utility can only be understood by using the tool in practice, and we are yet to get to the full depth of the number of features.
---
KeyWord Scout Pros & Cons
Let us go over the pros and cons of this tool and pit it against MerchantWords.
KeyWord Scout Pros
The most significant advantage of Jungle Scout and all its tools, including Keyword Scout, has been how fast the developers are adapting to the changes in the way sellers operate and the constantly changing needs people have from their seller tools.
The long way Jungle Scout has come can mostly be credited to the constant improvements the team has made, and it is also what has allowed the software to become the number one research tool of choice for Amazon FBA sellers.
As for how it compares to MerchantWords, it can be said that the individual features of KeyWord Scout (excluding the PPC and giveaway estimate data) are on a somewhat similar level, but the cost-effectiveness of KeyWord Scout is much more.
With Jungle Scout, you get a whole suite of tools alongside a fantastic keyword research tool compared to just getting keyword research functionality with MerchantWords.
Keyword Scout Cons
The main con of the tool would be that this tool has been only a part of the web app since the last update. The Chrome Extension is still an excellent purchase, but some powerful features are now restricted to the web app.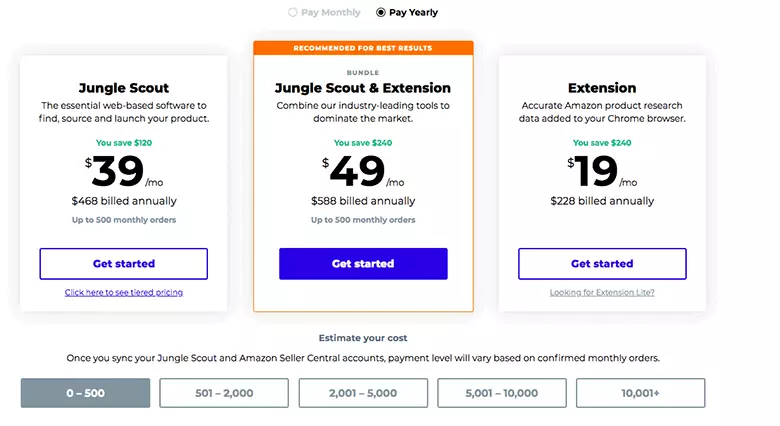 It is to be noted that the Chrome Extension can be purchased for an additional $39 and still packs a lot of value functionality-wise.
Check: Jungle Scout Discount Coupon: Get 50% OFF (Free Trial)
---
What is MerchantWords?
One of the senior-most companies in the Amazon Research Market MerchantWords was established in 2012. It was founded by George Lawrence, who saw that Amazon sellers could benefit from deep insights into what buyers were looking to buy on the platform and how successful sellers were making their sales.
Multiple software versions have been put out, each with new and powerful features added, all directed at helping users find products in low competition niches with high revenue possibilities.
You can see the number of searches for any keyword and its possible alternative keywords, which helps you boil down to the perfect product.
Let us go over MerchantWords' defining features to understand better how it matches up to other tools, including Jungle Scout.
Also read: MerchantWords Review: Best Tool for Amazon Sellers??
---
Key Features of MerchantWords
When MerchantWords was started, what would be considered a simple keyword research tool today was a seriously innovative product. Of course, MerchantWords has expanded over the years, and most of these features are part of these expansions:
#1. Countries Filter
Mainly used to help sellers focus on Amazon stores outside of the United States. The number of dedicated stores and domains for various companies Amazon has set up in many countries is something Amazon FBA sellers should take advantage of, and MerchantWords introduced this feature to help you do that.
The product searches and profitable niches are very different in these regions, and you can generate some comparatively easy revenue. Filter through the data to see data on select countries and even get keyword suggestions in the native language of the region.
#2. Page 1 Results
Using Page 1 Results feature, you can instantly see how the first page of the keyword you choose appears on a search.
This feature applies to both Amazon and Walmart's online marketplaces. It is helpful in the sense that it can give you a look at your competition's ranking and estimate the chances of how your listing will rank.
It is to be noted that the results of MerchantWords Page 1 results feature can be obtained by doing a simple Amazon search for the keyword on the Amazon site.
#3. Keyword Search
The signature feature of the MerchantWords program is a standard search feature that will show insights into whatever keyword you ask it to research.
The data includes related keywords and search terms which you can use to enter new product categories. The level of information provided is rather basic compared to Jungle Scout's keyword research software, but it might be easier for a complete beginner to working with more straightforward data.
The main features of the MerchantWords are a bit of a hit and a miss.
---
MerchantWord Pros & Cons
Let's analyze what the pros and cons of getting a Merchant Tools subscription are:
MerchantWord Pros
MerchantWord's keyword search bar functionality is an excellent way to get to some valuable data fast; however basic the data itself might be.
It filters out data you might need, which we liked, and gives you a clear walkthrough of the niche you're exploring in an easy-to-understand manner.
You can also get a .csv file to analyze the data in a different software if you wish to do so. The dynamic keyword research tool is helpful, but we feel Jungle Scout's version had more accuracy and optimization.
The countries filter is a brilliant addition to the MerchantWord inventory seeing the growing number of sellers outside the US and the expansion of US sellers outside the States to new markets.
This information was tough to access earlier, and it can help your venturing into a new region.
We will point out that this feature is not a part of Jungle Scout's keyword search tool. The list of keywords in a native language specific to the region was a particularly nice touch.
MerchantWord Cons
The recurring con in the Merchant Tool experience is it feels like they have not kept up with the times. Even with the new updates and price changes, we just don't see it as a value-for-money product. The only real benefit of going with MerchantWord is the country filter search option.
Even if you were to buy it for that reason, the inadequacies of other parts of the tool would hurt your business, and you will have to purchase multiple software, which will make you lose the money you were never able to earn in the first place.
The base service is affordable at $19, but it does not even provide the barest amount of functionality as other tools, making it a pointless purchase. The Gold Plan starts at $79, but that too offers only regional searches. The Platinum Plan at $149 provides a global search.
Still, it becomes a far more expensive purchase with the value you will be able to generate as the platinum plan has a broad search radius, but the product search mechanism is itself very basic. Jungle Scout offers more comprehensive tools at more competitive prices.
---
🌟 Jungle Scout Vs. MerchantWords FAQ
🤔What is Jungle Scout?
Jungle Scout is a web-based Software that includes features for product research, keywords, listings, and suppliers.
🤔What is Keyword Scout?
Keyword Scout is a feature of the main Jungle Scout Web App that aims to provide you with up-to-date and accurate keyword research for Amazon products.
🤔What is MerchantWords?
MerchantWords has the most comprehensive database of shopper keyword search data anywhere.
💰How much is MerchantWords?
Silver – $29per month
Platinum – $129per month
Gold – $79per month
🔎How do I cancel a MerchantWord?
---
Conclusion: Jungle Scout Vs. MerchantWords 2021 | Which is best for Amazon business?
We have gone over the main features along with the pros and cons of both, and I think by now it is evident that Jungle Scout is an overall more sensible purchase with its powerful software tools and its competitive pricing.
MerchantWords is undoubtedly a useful tool, but now that even the price is higher, we just can't recommend it. If you want to expand to a new region and can afford a supplementary service, MerchantWords can be considered.
Still, there are dedicated native keyword research tools for different areas that are cheaper, so consider them before MerchantWords.
We agree that learning how to use Jungle Scout effectively can be challenging for a complete beginner, but they have excellent customer support that can deal with any queries you may have.
After you get through the slight learning curve, you can start using some of the most popular tools among Amazon FBA sellers. The amount of information available on the platform is unmatched, and you can effectively analyze all the product idea(s) you have much faster using their helpful tools.
Amazon seller tools have gone from a luxury to a necessity, and powerful software tools decide who the sellers who will reach the top are.
Being on the right side of this change or not will determine the success rate of your campaigns and get you the sales volume you desire from those campaigns. Sifting through thousands of keywords and keyword lists isn't fun for anyone.
So is looking at product tracker(s) and the whole different set of challenges with finding niche products in your product category through an extensive product database.
Fortunately, these are all things you can forget about after you shift to Jungle Scout and wait for your income to soar.🚀🚀