Isn't it difficult to choose the exact keyword for your Amazon product?
Isn't it more disappointing when your product is the best than your competitors, but you aren't getting the saleability?
If you find the answer to all these questions a Yes, you must look after this amazing Amazon keyword and product research tool, bundled with the best features.
Suppose you are a beginner in the Amazon marketplace. In that case, it's important to have at least software that is not just user-friendly but also provides the right suggestions in terms of products, keywords, competitors, etc. Keyword Inspector is among the popular tools that will surely help you go higher in profits and popularity.
Explore more about this tool in this detailed ✅Keyword Inspector Review 2023, and grow your Amazon business quickly!
---
Detailed Keyword Inspector Review
The Keyword Inspector tool includes a suite of tools tailored to Amazon users to help them find the right products and scale their business to new heights. Through the Keyword Inspector tool, sellers can sell more products as estimated and optimize their listings according to the market demand.
The best part of the Keyword Inspector tool's feature is the keyword trend tool, called Reverse ASIN tool, which gives the best insights. Yet other features are the product niche research tool, coupon tracking tool, and many more!
Learn more about the Keyword Inspector tool features through the detailed review given below, and choose wisely!
---
Features Offered by Keyword Inspector
Amazon has country based variants available; hence, it is difficult to choose the right software while growing the business. Hence one must have a powerful research tool like Keyword Inspector having the following features:
📢Keyword Trends Tool
The keywords trend tool by Keyword Inspector has a database of millions of Amazon keywords searched by customers across the globe. It's product-specific and backed by the right data. According to the numbers, the database has more than 52 million entries, which can be sorted and viewed according to user's preferences.
The keyword trends tool is a premium experience for every user who wants to grow their business and beginner in this specific market. The best part about this feature is that the overall database is updated regularly, and just the top searched keywords are enlisted to the users.
Moreover, with the keyword trends tool, you can step ahead and get the metrics of average product details against each keyword through the database available. You can also search for data according to your product's latest keywords, be it for online arbitrage or drop shipping, or wholesale purpose.
💻Indexation Tester
The indexation tester tool by Keyword Inspector helps users check whether their ASIN can be looked at if they search for that specific product.
Sometimes, Amazon doesn't list the keyword in the search; hence, you can make sure that the product displays up through this tool. The overall search is automated, or else it takes hours to do manually.
🏅Suggestion Tool
Suggestion tool by Keyword Inspector allows users to lookup reverse ASIN along with the array of keywords to help you get the right ones for your product. According to the real-time data, the overall database gives detailed insight into the Amazon suggestion bar's viewability!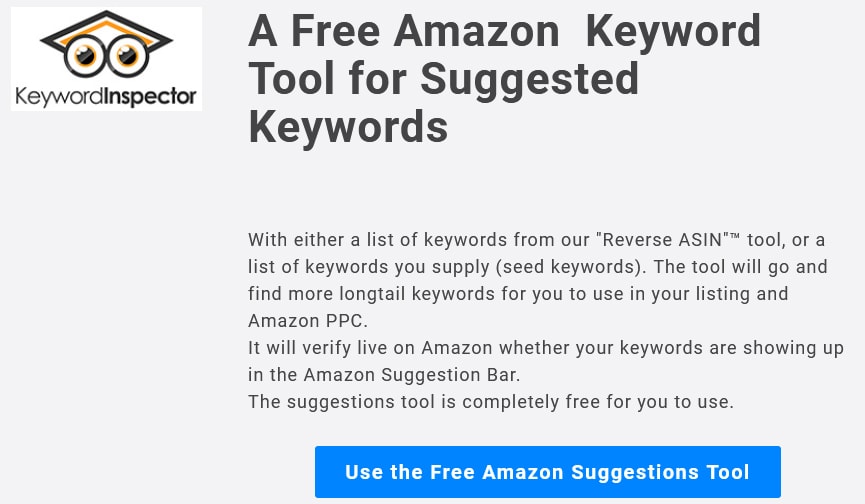 🔎Search Term Optimize Tool
The search term optimizer tool by Keyword Inspector allows users to optimize the overall product ranking on customer searches according to specific keywords. Hence, the tool automatically eliminates the duplicate keyword using the Reverse ASIN tool. Lastly, a unique list of keywords is added to the product to be found easily.
Through this tool, users can ace their business and outperform their competitors within a quick time.
---
What is the Keyword Inspector tool all about?
The Keyword Inspector tool came into the market in 2014; its growth is reaching new heights. With each passing day, the Keyword Inspector tool updates its features from over millions of Amazon databases.
The tool not just helps users to list their products on Amazon but also one can dig into multiple opportunities to get more profits. There are millions of sponsored and organic keywords available in the market because of which it gets difficult to find the right ones.
Through all the information available in the tool, users will get profitable keywords with less manual work. Apart from all the Keyword Inspector tool counterparts, the reason it's popular is the best and updated data it provides.
Another best part is as a user, and you can transfer, process, and store all the relevant data from the tool for future purposes! One can also search for average pricing, per day sales rating, sales rank bar graphs and positive and negative reviews through the Keyword Inspector tool.
---
Keyword Inspector Pricing Plan
Keyword Inspector Amazon seller software provides access to a bunch of tools having different payment categories.
The Reverse ASIN tool, also called Amazon keyword research tool, is a product by Keyword Inspector. This tool is available in one single package, along with two payment options. If you choose the monthly subscription, you will be required to pay $29.95, whereas, for the yearly subscription, users are required to pay just for ten months, that is, $299.95 only.
In this subscription, users will get to perform 5,000 searches per day, even though it's unlimited.
The Amazon Product Niche Research Tool by Keyword Inspector is available in three packages. It is for enterprise-level search, and you can get it at a heavy Discount during its ongoing limited period offers. Below given is the pricing of the packages by the Keyword Inspector tool –
Fledgling seller for $39.95 per month
Savvy seller for $79.95 per month
Unequivocal seller for $199.95 per month
Through this tool, you can get enterprise-level data of more than 750 Million amazon products. All the search results will be automatically stored in the software and some real-time insights of all the competitors. Users will also get the sales ranks bar graphs and one year estimated sales per day data.
$20 OFF
Searches are saved for 3 months, 1 year, 2 years according to the plan you purchase. The best part about this tool is the availability of the 60-day historical graphs, including pricing, ratings, reviews, etc.
Another tool by the Keyword Inspector is the keyword trend research tool available for $39.95 per month. This tool's keyword research is done according to the historical data, and 100s of billions of aggregated research back it.
As a user, you can search by keyword, negative keyword, list of keywords, trending volumes, average volumes, and a lot more!
The Amazon coupon tracking and FPS scarcity tool by Keyword Inspector tool are available in three different plans: economy, deluxe, and ultimate. Through this tool, users can get real-time coupon tracking information and email alerts. It also displays product scarcity in its free trial day period of 7 days!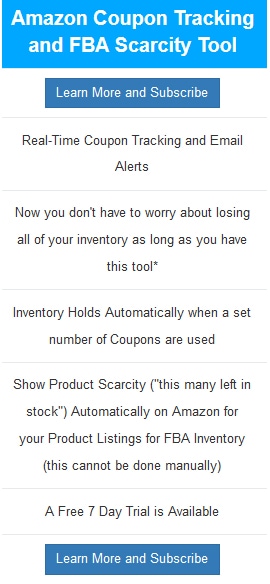 ---
Pros & Cons
Pros
Users daily update the frequent database changes, making the software highly reliable and proficient at using.
Keyword Inspector supports almost every amazon marketplace through which you can grow your business globally.
The tool's interface is highly intuitive, and users won't find any difficulty navigating any feature on the website.
Users can view different trends from the past period at a place itself and can review the market strategies accordingly.
Appropriate guides and tutorials available to understand the tool better
Cons
The reverse ASIN tool's major con is that it's relatively costlier than its competitors, but we find that it serves its value better.
Users can only extract data from Amazon and not other eCommerce platforms.
Amazon PPC is not yet supported by the Keyword Inspector tool but might be available shortly.
---
🌟 Keyword Inspector FAQ
🤔What is Keyword Inspector?
Keyword Inspector is an amazing platform that ley you search Amazon products with the help of numbers that one can do directly on Amazon. Product Searches can be filtered by Sales Per Day, Prices, Keyword, Reviews, Category, and more. 
🤑Does Keyword Inspector provide a free account?
Yes, Keyword Inspector allows users to create free accounts. If looking to test all the platform features, you can sign up for its free version. 
🙄How can I upgrade my membership?
To upgrade your membership, you first need to login into your account and go to the subscription page, and sign up for the membership you'd like to have.
🔎What payment method does Keyword Inspector support?
At this time, the Keyword Inspector only supports PayPal. 
---
Conclusion: Keyword Inspector Review 2023 + Discount Coupon
There are many tools available in the market similar to the Keyword Inspector, but still, in some way, not all of them meet the requirements of the users. All the meager resources should be up to date, and then only the user will try the tool.
Moreover, all the users are more inclined towards generating profits in the long run; hence the intent is to buy a service that would benefit them without hassles. Apart from several digital domain availabilities outsourced to Keyword Inspector, the tool fosters to improvise their core objectives.
Keyword Inspector provides all the digital services a business will need to increase their profits and reduce the overall workload. With so many advanced features and benefits, we would suggest you give a try Keyword Inspector and let your workload get off from back!🚀
Affiliate Disclosure: This post may contain some affiliate links, which means we may receive a commission if you purchase something that we recommend at no additional cost for you (none whatsoever!)