Are you still blocking non-converting traffic sources manually? Then its time to shift to the most advanced and automated way of tracking your affiliate marketing income with LandingTrack
It is a next-gen auto-optimization Tracking solution for affiliate marketers. This all-in-all solution helps in monitoring all your affiliate marketing activities, optimize your sources automatically with complete control over everything.
This LandingTrack Review will guide you with a complete feature overview and reasons to choose this automated affiliate tracker.
Need for a tool like LandingTrack
Taking control over every activity that leads to monetization of the campaign becomes really tough if done manually. An affiliate marketing process requires constant monitoring of events that lead to the successful running of a campaign.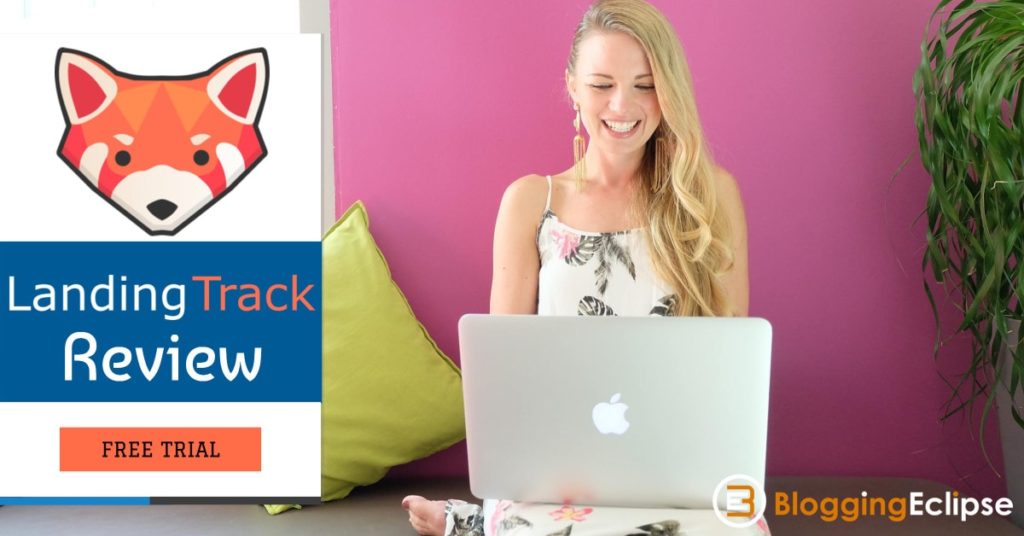 A tracker like LandingTrack makes your journey stress-free by offering the unbeatable and advanced tracking and control technology that automatizes the optimization process.
The most ho-hum part of any affiliate campaign is to know if its profitability and the prospect. And this indeed involves a series of steps to understand the exact situation. To make it easy and quick, LandingTrack TOC BOT plays its role by tracking every activity that shows your success rate. All you have to do is upload your campaigns, set up your optimization rules, and leave all for the automation.
60% OFF
Get LandingTrack only for $40/Mo
---
Why LandingTrack?
When the toughest chores are handled by the most potent and automated tools like LandingTrack, your mind will be at ease and will try to find other productive fields to prosper in.
You can also add all your advertisers with the most automated tracking system. Just link all your demand with few clicks and add the offers your want into LandingTrack with ease.
Moreover, LandingTrack integrates with all your organic and paid traffic sources, whether it is pop, push, native, display, and redirect ad networks. If you are working with numerous tabs to control your affiliate sources, you can automatically link to all your Media Buying sources with LandingTrack and control it from there.
This automatic affiliate marketing tracking tool unblocks converting sources naturally. It will save a lot of time and money that can be utilized resourcefully in future other ventures.
---
Eye-opening LandingTrack features
Every affiliate tracking solution has its USP and innovative tools which makes it better form the rest, here LandingTrack is new generation tracking + auto-optimization, cloud-based software that has some exclusive features.
LandingTrack's USP is an easy API integration with Affise, Offerslook, Tune (Hasoffers). While most of the affiliate networks use hasoffers, Affise as a tracking platform, You can integrate your affiliate network running on these platforms in one click using API integration provided.
This is the biggest advantage of LandingTrack over other affiliate trackers. With direct API linking, offers are checked with affiliate networks in real-time. If an offer is paused or disabled by your network, It will get paused automatically on the landingtrack dashboard. This is where automation takes place as you don't have to worry about checking offers status or capping. Even if the same offer connected with API is also connected to traffic source via API, then the traffic source will be paused too.
Automated all your Affiliate Campaigns
LandingTrack highlights various sets of rules to automatize your Media Buying sources via a single platform, whether you are working on push, pop, or native ad campaigns. You can pause active campaigns or block non-converting sources. The team does continuous monitoring and behave as per your rules set.
Marketers always need to keep an eye on NON-converting traffic sources and stop them immediately so their budget is not wasted on low performing traffic. If you are still manually pausing non-converting traffic sources every time, then you should switch to landingtrack now from your existing affiliate tracker.
Capping is an advance attribute competent to manage your caps with any advertiser. Hold in your funds, and do not recede your traffic.
While most of the affiliate tracker does not have an auto capping feature, hence your traffic is wasted while the offer is capped at the affiliate network. On LandigTrack, you don't have to worry, Once the cap is reached of a particular campaign, traffic delivery will stop or re=route to another campaign.
Identifying and obstructing BOT traffic is an arduous task, and that the reason you will find a few working tricks that will be helpful.
Create your own Smart-Links
Smartlinks is a new offer link that automatically enables the best converting offer on particular traffic. These are now being provided by almost every network, So the publisher can automate his/her earnings. LandingTrack is only such tracking platform for now which lets you create your own smart links and redirecting each click where you want,
For Example: US – Android – IP 203.40.40.32 – Facebook app – on Chrome > goes to offer 1-2-3-4 This is something unique in any tracking system so far. Literally, you can build your own monetizer with Landingtrack.
All Segments are mobile-friendly, so you can supervise and pull-off all your campaigns wherever and whenever you want.
LandingTrack has two Different Formula, a Machine Learning feature to boost your Affiliate Campaigns ROI. Control each redirection, automatize all your Advertiser Campaigns via a single platform.
For Affiliates, there is bunch processing here; everything gets recorded in real-time. Forget put offs and break down the following information in real-time.
Advertising Campaigns, Landers, Creativities. Add all your Affiliate substance and let their real-time rule optimize and automate all your action to hike your ROI.
Just install and get going with LandingTrack's automatic tracking procedure. Link up, lead, and automatize all your demand with LandingTrack API. You will end up saving time and money with its quick monetization solutions.
API-Incorporated Advertisers
It can automatically frame-up offers from Affiliate networks, endeavor traffic, and suspend non-profitable sources.
In case you are working with networks or advertisers which has post events tracking, LandingTrack all post events and auto-optimize bases.
Supports Team Work Facility
You can bring in your team members to the platform and assign them a suitable approach as well as building a separate space for them to work. This will not only speed up the work process but also give you desired results via team efforts.
---
Plug and Play Partners
For Affiliate Marketers, automation saves lots of time and money for every Advertising Campaign.
LandingTrack is the leading Automated Affiliate Tracking System that can assist Agencies and Media Buyers to come through all their activities through this single powerful platform.
Native Ad partners
Push-Notifications Partners
Some of the partners' names include PopCash, AdMaven, ExoClick, ZeroPark, mobidea, PopAds, ClickAdu, etc.
---
LandingTrack's service for Networks
Every ad network is served as per the convenience:
POP/Redirect– it acts as an automated media buying platform for all your redirect, pop, push traffic sources. You can or activate your campaign anytime with LT, along with full control to block non-converting sources automatically.
Affiliate Networks– Just upload all your offers in a few click, control caps and offers state without losing much time. It also helps in fraud detection, commission management, and another affiliate tracking.
Native Traffic– LT is an automated media buying platform for all your native traffic sources. You pause or activate your creatives or campaigns or take control of blocking non-converting sources automatically.
Push Notification– With LT, you can easily automatize your push ad campaign without any deviations.
---
👉Pricing
LandingTrack is available for the users in four different plans as per their requirements. The subscription plans are Starter @ $49/mo, Professional @$99/mo, Business @ $249/mo, and Master @ $449/mo. If you are looking for customized packages, then the team is happy to help you in the process. You just need to make a call so that they can assist you one-on-one basis.
60% OFF
Get LandingTrack only for $40/Mo
Features included in each plan are as follows:
| Starter | Professional | Business | Master |
| --- | --- | --- | --- |
| 1.000.000 clicks per month | 3,000,000 clicks per month | 10,000,000 monthly clickcs | 30.000.000 clicks per month |
| 24/7 Auto-Optimization | 24/7 Auto-Optimization | 24/7 Auto-Optimization | 24/7 Auto-Optimization |
| Data Retention 12 Months | Data Retention 24 Months | Data Retention 24 Months | Data Retention 24 Months |
| Anti-Fraud Bot Detector | Anti-Fraud Bot Detector | Anti-Fraud Bot Detector | Anti-Fraud Bot Detector |
| Domains: 2 | Domains: 4 | Domains: Unlimited | Domains: Unlimited |
| Including SSL certificate | Including SSL certificate | Including SSL certificate | Including SSL certificate |
| Additional Users: Only 1 | Additional Users: Up to 2 | Additional Users: Up to 4 | Additional Users: Up to 6 |
| API: Full integration | API: Full integration | API: Full integration | API: Full integration |
| Support: E-mail only | Support: Chat / E-mail | Support: Chat / E-mail | Support: Chat / E-mail |
| Native Networks: Not Included | All integrations included. | All integrations included. | All integrations included. |
| $49 per month | $99 per month | $249 per month | $449 per month |
| Free Trial | Free Trial | Free Trial | Free Trial |
---
How to use LandingTrack
Unlike other trackers, LandingTrack offers an unrestricted free trial of its complete affiliate tracker.
Just signup on its free demo platform to strat trail, and once you are happy with the automated services, you can go on a paid plan.
Most of the accounts get activated almost instantly. Once you are on your dashbaord, you can add your affiliate network/Traffic source, offer and create dimension.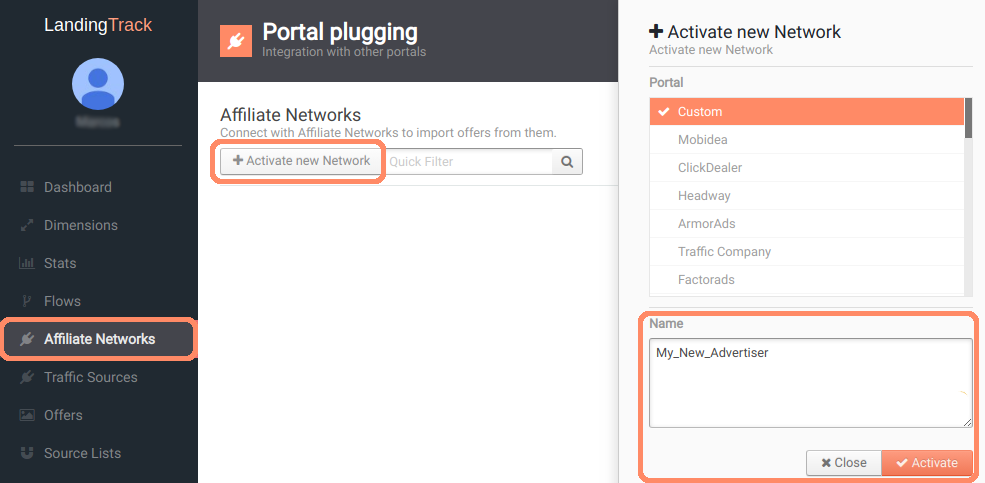 LT supports automated API connection with many popular affiliate networks so that you can connect it with one click; However, if your affiliate network is not listed there, You can connect it manually by choosing custom network (postback method)
Similarly, the same goes for traffic sources. Most of the top traffic sources are automatically connected to LandingTrack, and others can be done manually using pixels, postback.
You can, later on, connect your landing pages and set complete dimissions to start automated affiliate marketing with the help of LandingTrack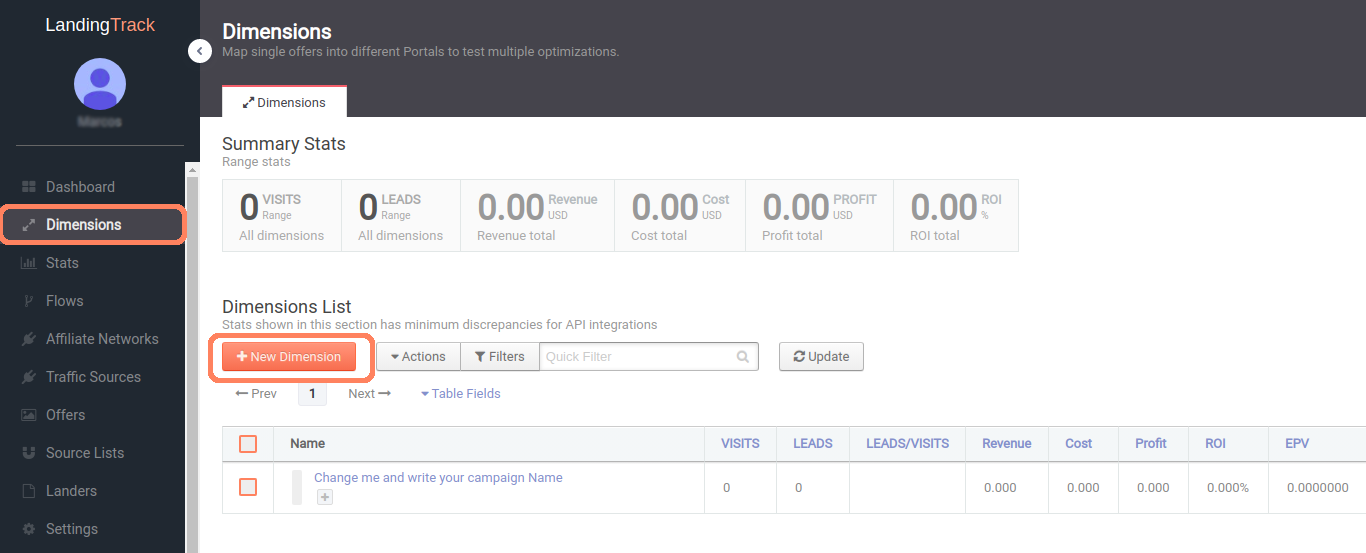 You can also add your domain with DNS propagation (Works with all registrars)
Check out: LandingTrack Guide and documentations
---
Pros and Cons
Pros:
Free trial on all plans
Ease of use with in-depth tutorials
Fully automatized and optimization tool
Manages traffic optimally
Saves time and money
Integrates with all popular networks
Fraud detection and bot protection.
Cons:
It works only as Cloud, SaaS and web platform
limited training options (in person and documentation)
customer support during business hours only
---
🌟 LandingTrack FAQs:
Does LandingTrack offer a free trial?
Yes, it has a free trial for its first-time users.
Who can use this tool?
The tool is best suited for direct advertisers, networks, DSP, and affiliates.
Does it work with mobiles or Mac OS?
Yes, it operates Cloud based, hence works flawsly on all devices.
What does dimensions means in LandingTrack?
you can create your own smart links with three different algorithms. You can create dimensions from offers with custom settings to work with.
---
Why should you use Affiliate trackers?
Affiliate trackers are not just another google analytics or analytics platform. It's much more. It not only helps you your referral URL or gives you better results on your marketing campaigns, but it also automates everything, shows you which offer is performing better or which traffic is not performing well, So you can instantly eliminate the particular traffic source or campaign.
The affiliate marketing industry is nor flooded with tons of affiliate trackers, and There are hundreds of startups that have released their so-called affiliate trackers in the market, which are a clone of each other. Hence as a smart affiliate marketer, it is always better to use a reliable and smart affiliate tracker, which not only helps in better performance marketing tracking but also automates your media buying system.
LandingTrack is smartly integrated with the world's most popular affiliate networks and traffic sources, So if you are working with any top companies like Outbrain, Taboola, Adsterra, mgid, etc, Your campaigns and offers can be integrated into a click.
---
Conclusion
Though LandingTrack is equipped decently with all the features needed for a tracking tool, its few flaws make it a little low when compared to the established tracking software like Voluum, Thrive Tracker, Everflow, Tune. LandingTrack also claims to be the only one in the market that automatizes your media buying campaigns, letting you to Track – Optimize – Control all your activity at one time.
It is a fresh concept that might take time to combat the odds fully, but the users have found that with every update, they are coming up with new attributes and tech-savvy approaches. Already the tool is simple to use for beginners, spontaneous, inexpensive, efficient, time-saving, and fully automatized.
So, we leave the decision entirely on your shoulders and let you decide whether to go for LandingTrack or not. If you have any questions, then drop in your query below. If you like this LandingTrack Review and think that it will be beneficial for your next affiliate marketing campaign, then don't hesitate to share it.
Are you ready to automatize your next affiliate marketing campaign with LandingTrack?
Affiliate Disclosure: This post may contain some affiliate links, which means we may receive a commission if you purchase something that we recommend at no additional cost for you (none whatsoever!)