Are you on a hunt for a course creation platform? Do you want to promote your course but are confused about which platform to go for? Or are you just eager to know about your course's sales and analytics?
Well, these might look like three different activities. But what if I tell you that you can get these three features in just one platform.
Yes, you heard it right! All three features are in just one platform. I present to you LearnWorlds, which is a single platform capable of catering to all your online training needs.
Exclusive LearnWorlds Discount Coupons & Promo Codes 2023
LearnWorlds Review 2023 | Create & Sell Online Courses
LearnWorlds is a unique online platform where you can create, sell and promote your online courses. The future of learning is leaning towards e-based, and that is what LearnWorlds targets. This is a one-stop solution for individuals and small business entrepreneurs to train and educate employees and associates. It is a cloud-based learning management system (LMS) that is easily accessible on desktops, tablets, and mobile phones.
The best thing about LearnWorlds is that you don't need any technical knowledge to create the layout for your course. The website helps its users by creating website pages for its landing pages.
Key Features of LearnWorlds | LearnWorlds Reviews
Create High-Quality Courses
Your course will only be in demand if it provides unmatchable content. Unmatchable content is that which is easy to read and understand with an appealing layout. Designing a landing page and site design is very user-friendly. The presence of site tools like a pop-up manager and blog setup make the content creation activity look like a cakewalk.
There is no limit to the number of contents that you can create. It features an interactive transcript extracted from your video, and you can also add questions, titles, pointers, overlay images, links, and many more interactions to your videos.
Create an Online School Website
An online school is the need of the hour. LearnWorlds can help you build a school site without any hassle. You don't require to learn any sort of coding or design skills. The templates are already ready-made and can be tailored according to your needs. There are several templates to choose from. The features like adding calendars and countdown timers with high-quality animations make the site looks different. You can even add your user's social media accounts effortlessly.
It boasts an easy-to-use white-label solution to build your mobile app, which can both run on iOS and Android. The mobile app's content can be translated into any language that you want. There is an option to customize colors, background, and splash screen for your e-learning school. You can manage your courses directly from your dashboard and keep your curriculum consistent. Mobile app helps elevate your online learning business to another level.
You can market and sell courses with the help of LearnsWorlds. With built-in marketing and sales tool, you can grow your audience and increase your revenue. You can upsell and re-sell with irresistible offers and a customizable checkout experience. You can also take advantage of advanced affiliate management and build partnerships to generate leads and sales.
How do you make data-driven decisions? It is important to know how your learners interact with your courses. That can only be known by seeing the analytics. You can easily see the pattern of content consumption. You can figure out which type of content engages your learners and which area you need to improve on. In that way, you can improve the performance of your content efficiency.
To maintain a smooth system on your website, you can assign specific roles to your learners. You can create user types like admins and instructors with a customized interface for each of the assigned roles. The users that have assigned roles can be given specific areas of your digital academy. You can also assign someone to monitor the progress of your training programs. This will reduce error and confusion and increase team productivity, promoting collaboration and efficiency.
Fonts play an important role in making your content more appealing. It is through the fonts that are used that a user reads your course, so the font needs to be appealing to the eyes. In LearnWorlds, you can choose fonts as per your choice among dozens of font styles for a unique design.
Equipped with a Video Library
It is equipped with a customizable video library so learners can navigate the learning units easily.
It has interactive eBooks with note-taking and highlighting functionality. eBooks are a powerful learning tool that engages learners in a fun way. It has already designed templates, with highlighters with texts and images. These pre-made features save your time in structuring your eBook.
🚀 Want to sell your courses online? If yes, then click here to create your free LearnWorlds account and start selling online courses from your own site.
The features offered by LearnWorlds' Pages Builder are absolutely unmatched and set it apart as one of the best options on the market today. Pages can be designed using a fast, block-based design, resulting in a beautiful, mobile- and SEO-friendly website. Additionally, pages can be created without coding knowledge or relying on a third party for editing. LearnWorlds' product and engineering teams dedicate a lot of time and resources to constantly improving their flagship product feature, Pages Builder. This is done by releasing new updates to the platform, with each release containing a variety of improvements and enhancements.
The Magic Templates provided by LearnWorlds help school owners to change and choose from a wide range of designs and styles in a simple, streamlined fashion. The templates are designed with the needs of schools in mind and include features such as instant previews of the template's content.
Advanced Interactive Videos
One of the main features that make LearnWorlds stand out is its interactivity. It's possible to use interactive features in almost any activity you come across that was made with those features in mind. This, in turn, boosts interest and encourages a better understanding of what's being taught. With Interactive Video features such as quizzes, polls and social interactions, instructors can create the next generation of instructional videos that are highly engaging for their students. Interactive videos enable you to inject an array of interactivity into your content to make it more engaging and captivating. This includes adding questions, pop-ups, buttons, and various other elements that can be used to engage your students.
LearnWorlds has a Built-in Social network, meaning you do not need to use any third-party community apps. Its built-in community helps you increase learner engagement and loyalty to your platform, turn customers into repeat buyers, and add more value to your entire product offering. While there are many different ways that students can interact with each other and with learning material, the administration retains complete control over what is happening in the community. With an overview of what is happening at all times, you can ensure that interactions are safe and productive for the members of your learning community.
Customizable Course Player
The platform offers a new version of the most advanced Course Player on the market. The Course Player comes with various templates and allows you to create unique learning paths for your students. The templates offered by the Course player range from classic to colored to minimal, which accumulates every style of teaching.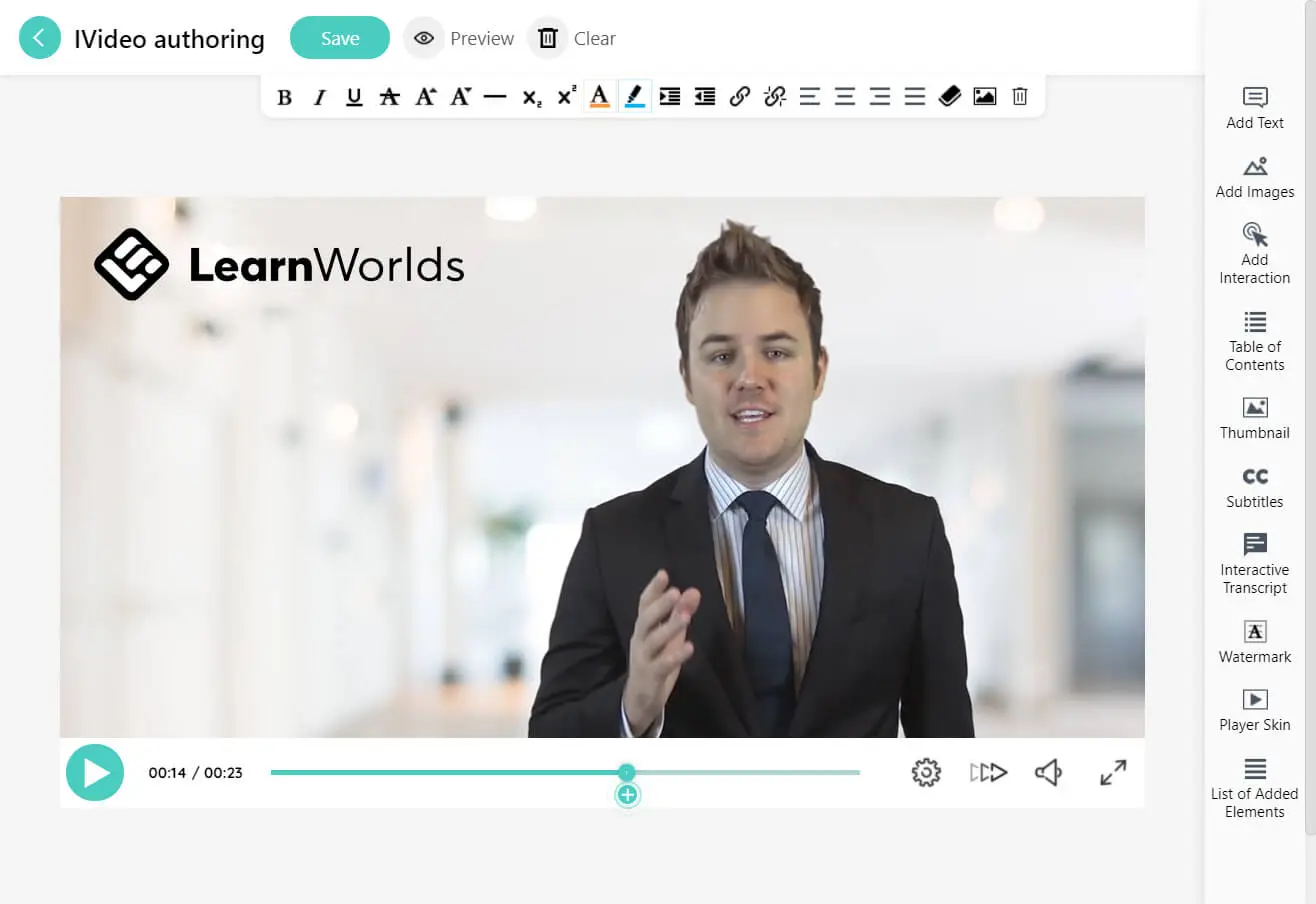 Even you can customize the Course Player; You can add buttons, tabs, sections and so on. You can further make it as per your wish by adding a custom CSS that assures you that each course will have unique branding. School owners can choose how their students navigate the learning units and progress through a given pre-set learning path. They can either set sequential progress through a series of lessons or establish prerequisite lessons that need to be completed before others can be accessed.
Ownership of Content Lies with the Course Creator
LearnWorlds gives you complete ownership of your course content. You can connect your school with Vimeo or Wistia account to share any videos you have created with the world. But if you're not using any of these services, you can simply upload your videos directly to the Learning Management System course authoring page. You will retain full ownership rights for the content that you upload and have no restrictions on who can access it. The platform has features that allow course creators to feel safe and stay well informed about how students handle their content.
Affiliate Management Solutions
LearnWorlds work very intuitively and allows you to create, launch and manage your affiliate program. They also offer a unique setup feature that eliminates the need to install additional software or plugins. You can customize the pre-build Terms & Conditions and Affiliate Registration pages to set a default commission rate or define a custom commission rate by the affiliate.
LearnWorlds Affiliate Management system is designed to be as intuitive and simple to use as possible. The system automatically lists all of the information that you need, such as referred leads and customers. It provides a real-time comprehensive performance report which you can easily export to your favorite spreadsheet program.
Full SCORM & HTML5 Compatibility
SCORM is a set of guidelines and technical criteria for digital eLearning software that allow you to create rich course content and quickly transfer it from one Learning Management System to another, just like a USB works across different devices. SCORM is an open specification for exchanging and delivering online training content between different LMSs. With SCORM and HTML5 multimedia file compatibility, you can import existing education content into your LearnWorlds school with ease. Content can be archived, shared and accessed by students anywhere and anytime.
GDPR Compliance for Online School Owners
LearnWorlds is the only course platform that has all the features you need to stay fully compliant with GDPR and protect sensitive user data in compliance. This toolkit will also allow you to collect consent and manage your students' information according to the GDPR policy. The features include consent data deletion requests, cookie consent popups and checkboxes.
White label products are created without company branding but sold to buyers and suppliers who can purchase and rebrand them with their logo. Similarly, a white-label online course platform is created with an e-learning platform that is branded on behalf of another company, i.e., your own. Customers can purchase this product and use it for their business needs. This will allow you to set your pricing, customer support hours, and other factors based on the specific needs you want to be able to provide for your customers quickly.
Multiple Subscriptions, Membership & Payment Methods
Allowing students to choose the best payment plan can lead to higher revenue. With LearnWorlds, you can set a price for each course and also break it down into installments. And also, with unique payment plans, you can convince the school owners with a stripe or using custom PayPal buttons.
User Interface of LearnWorlds
You might feel a little lost before you even access the LearnWorlds dashboard, as the operating system is not particularly minimal. Once you get used to it, you will find everything at your fingertips just like that. So, don't give up! As you browse through the LearnWorlds dashboard, you will notice that you get visual and text indicators with each. This actually gives you quick and easy access to all the additional support required than can help you learn more about LearnWorlds.
When you look towards the upper and left-hand corner, you can start off from there as it contains all the appropriate equipment. You can find options like "Preview Page" and "Create Course" there. You will be able to see which of your students are actively using your content in real-time. This is done through the "Active Learners" section that allows for a 24/7 interaction channel with your audience.
You will be able to monitor your income, revenue, and other statistics via the dashboard. Results can be filtered to reflect data from a specific time frame. You may choose whether you want to see 7 days' worth of data or 30 or 60 days' worth of data.
Few Noteworthy Features which I Personally Liked about LearnWorlds
Access to Advanced Analytics: Mixpanel and Google Analytics are integrated into LearnWorlds to provide a complete package of data that will be critical in improving your company's sales funnel. You must know who your participants are, where they come from and what they want. This information is handy in gaining a greater understanding of which market you should target. You can develop your marketing and promotional strategies based on this information.
Integration of Various Tools: LearnWorlds supports various plugins which you download and increase the overall effectiveness of this platform. So in case you don't find any marketing feature in LeanrWorlds, you can easily integrate and use a third-party plugin or a tool. LearnWorlds integrates with a variety of third-party marketing campaigns like email marketing tools, analysis tools and customer referral software.
LearnWorlds offers Zapier integration which allows you to send data from it to other third-party platforms or even vice versa. You also get a Webhook feature which is a good choice for connecting with third-party applications that actually don't have a direct relationship with the platform.
Following are a few of the plugins and tools that you can integrate:
Google AdWords
MailChimp
Sumo
Hubspot
Intercom.io
Ambassador
Shopping Guarantee
ReferralCandy
Norton
Zapier
FOMO
MixPanel
ZenDesk
Plus the Other Features which I also liked are:
Variety of Layouts
Attractive Widgets and Elements
Adaptive Content
Conversion Optimization
Simple Site Preview
Site Flavors
Creating an attractive Sales Page
LearnWorlds Affiliate Marketing Tools & Configurations
With 81% of the companies using affiliate marketing for their advertising needs, it has become an important tactic for modern business. The best part is, if you decide to start an affiliate program for your school, LearnWorlds have created several resources that can help promote your school's affiliates so that you may increase your sales.
As an affiliate, you are able to choose which products you would like for your affiliates to advertise and set the percentage of commission they will receive if any sale is made. Plus, you also have control over cookie expiration, sharing details of customers with affiliates, and delays on fee payout. All your affiliates can exclusively make use of the dashboard by which they can easily access their affiliate links and monitor their profits.
Who Can Use LearnWorlds?
LearnWorlds can be used by anyone who is looking for a course creation platform. It is an excellent and reliable website for course designers. If you target the visitors who want an educational environment, then this content creation platform is for you.
Teachers: If you are a teacher at a school or a professor at a university, you might be in need of teaching your students in a digital mode. You require to design a course that is both comprehensible and appealing to the eyes. This website solves all your problems regarding content creation.
Schools and Universities: As already discussed above, LearnWorlds is capable of designing a school website without the knowledge of coding or any sort of technicalities. You can create a website for your school with the help of user-friendly features.
Trainers: If you want to give training to your colleagues or assistants, then this is for you.
Entrepreneurs: If you are an entrepreneur or run a small business, you might need to coach your employees and associates regularly. And providing coaching through digital mode by designing tailored-made content saves you from spending a lot of time.
Content Creators/Influencers: If you are planning to market your skills, then this is for you. Apart from content creation and school website designing, you can also promote your content and asses it with the help of an analytics tool.
How to Define Online Course with LearnWorlds?
So now, in our LearnWorlds review, I will guide you to a step-by-step procedure about how you can create an online course with LearnWorlds. Make sure you do follow them to create your course. 
Step 1: Deciding the Course Topic
Choosing a topic for your course might seem like an impossible task, but you can make it easier. Ask yourself the following questions to help you find a suitable topic:
1. Do you consider yourself an expert on some topic on which your colleagues, relatives or friends ask opinions from you? 
2. Are you an expert in solving a topic that others struggle for? 
3. Are you a software expert which others want to use? 
The key to your topic's success is whether people will pay for it. If they are solving a problem they need, their interest in the course will skyrocket. For example, if you have been struggling to make your business profitable on Amazon and were able to find the answer, then there could be a high demand for your service.
Step 2: Researching the Subject 
The most crucial stage of any course you are creating is the research and planning phase. If you do not have any plans, you will be unable to create an outstanding course. Research is also essential because you want the information you provide to be of the highest quality. You want to ensure that you are not just regurgitating information available elsewhere for free. You can do research online and conduct studies on topics that can make you a professional expert, and later, you can invent a new technique to make people understand better. 
Step 3: Plan How the Outline of the Course should be 
Doing proper research about your course topic would help to create new ideas about which subtopics can be included in your course. Later you can make these subtopics clear and put them in a set pattern. 
Step 4: Pen Down Your Goals & Objectives 
Before preparing your course, it is highly important to think about the objectives and goals you wish to achieve from it. Though the learning goals are long-term, the learning objectives are referred to as the learning outcomes directly linked to the expected results. 
Step 5: Creating the Content of Your Course 
The next big task is to create the content itself. You have to have a plan when sourcing your course materials and creating respectively. The process will go much smoother if you do this right. Your course content should include:
1. eBooks and PDF files
2. Recordings, Videos etc 
3. Audio Files 
4. Graphic Designs 
5. Blog Posts 
6. SCROM or HTML5 
Step 6: Recording Tools for Videos & Presentations 
This is somewhat technical where you have various options like creating a video tutorial, sharing text-based content, or recording a podcast so that you can create your course material. Even Videos and images might make your presentations clear, and your students would have a better understanding of them as well. 
Step 7: Joining the Community 
One of the best values for your students is a learning community. Not only will they save time and improve their communication, but they'll also be more likely to get more engaged in the content. The best way to make that happen is by making sure they are active members of our online community. It is important for any instructor to understand that they don't have all the answers and will never have them, but building a community around your course will be beneficial for students who need guidance. They can rely on the community more than you, which can help them become more self-sufficient.
So that was all about how you can define your course and make it effective. Next, in our LearnWorlds review, I will now guide you on how you can create a course with it. 
How to Create a Course Bundle with LearnWorlds?
Step 1: First, Click on "marketing tools," which you find on the navigation panel on the Dashboard.
Step 2: After this, select "Bundles" and then click on "Create bundle."
Step 3: Just on the right, you will find a fresh window appear where you have to enter your bundle's title in the first line.
Step 4: Now, pick the programs you can use in the package from the drop-down menu. Ensure that they must be paid. After choosing the program, head towards the right-hand side and click on the "Add course" key.
Step 5: After entering all the lessons, next would be to fill in the specific fields along with the bundle price.
Step 6: Now select the "Public" radio and choose it to release the set. Now just press the "Save" tab.
Step 7: Now return to the Dashboard window and there select the "After login tab" key. You would be able to see the selection of the package along with its variable course.
Step 8: After this, on the after login tab, press the "+" icon present on the top right-hand side corner so that you can adjust the package solution. Now scroll down to the bottom of the "Products" tab and choose "Your Bundles" from the menu seen.
Step 9: Your package would be shown as a card which you must choose a bundle card from the available choices on the left side. After you're done with your choices, it will be displayed on the after login tab. You can press the "Edit bundles" tab if you wish to alter the card's looks.
Step 10: After completing this, just click on the Save button. You can click on the "Preview" icon to see a preview of your page.
What makes LearnWorlds Unique?
The sole fact that this website offers the freedom to create and design content, promote it, and make revenue out of it in the best possible ways itself makes LearnWorlds unique. But fortunately, this is not all. It has a lot more to offer. Let us have a brief look at the features that make it unique.
You don't have to baffle your mind in creating templates or thinking of designs. It is already present with four hundred templates, and you can also customize it according to your needs.
You don't have to search for another app or website to offer you the benefit of creating a mobile app. The website can create a 100% white label branded app for your organization.
Though we have already discussed its networking and connectivity feature in the above section, I can't stress enough this particular feature as this is what makes it unique. You can connect all your social media profiles to your created website.
You can create a huge pool of question banks for improved management to conduct tests.
You can also create certificates of completion for your learners. Learners feel accomplished when presented with a word of appreciation at the end of their course.
It has a unique feature called Site Flavor. It enables you to make different copies of your school website in case of making short-term changes without altering your real and original design.
It has SCORM & HTML5 Multimedia Files Compatibility.
👉 Click on this link to start your LearnWorlds 30 days free trial & get your online school.
LearnWorlds Pricing Plans | LearnWorlds Discount Coupon
Finally, in our LearnWorlds review, we would have the essential topic to be discussed, i.e., its pricing. LearnWorlds offers flexible and affordable pricing plans that are tailored to meet the needs of a variety of individuals and business types. We will explore the pricing options offered by LearnWorlds, from monthly plans to discounted yearly packages.
Starter Plan
This is the most basic and affordable plan. It is priced at $24 a month. It is apt for newbie course creators. It has unlimited paid courses, and you can assess up to 3 site builder pages.
Features of Starter Plan
1 Admin
Custom domain
Site Builder (3 pages)
4 Payment gateways
Free SSL certificate
24/5 E-mail support
$5 Fee per course sale
Unlimited paid courses
Popup builder (2 popups)
Coupons
Basic Integrations
Drip Feed Courses
Pro Trainer Plan
This plan can be used by professional trainers. It is priced at $79/month, and you can save $240 if billed annually. It comes with unlimited paid courses and complete site-building pages. You can add up to 5 instructors or administrators. You can also conduct live classes and webinars via zoom and Webex.
Features of Pro Trainer Plan
5 Admins / Instructors
Unlimited Landing Pages
Complete Site Builder with Blog
Installments
Fully customizable Course Player
Live Classes & Webinars via Zoom & Webex
20 SCORMs/HTML5
Affiliate Management
Advanced Zapier & Premium Integrations
24/7 Priority E-mail support
Unlimited popups
Subscriptions & Memberships
Customizable checkout page
Custom Certificates
Form Builder
File Assignments
Question Banks
100% Off LW Academy
Learning Center Plan
This is the most popular plan among all the plans available. It is priced at $249/month, and you can save $600 if billed annually. It has 20 predefined roles and gives you the freedom to custom user roles. It also offers the creation of a mobile app facility that can be assessed on iOS and Android. It also has advanced affiliate management.
Features of Learning Center Plan
Bulk User Actions
Interactive Video
Zoom & Webex Multiple Accounts
User Segments/Progress Reports
Course Insights Reports
Integrations with API
Advanced SSO
100% Off LW Academy
Dedicated Customer Success Manager
24/7 Premium Support
20 Predefined and custom user roles
Full White-label Options
Auto-Transcripts & Subtitles for your Videos
Unlimited SCORMs/HTML5
Scheduled automated reports
Advanced Affiliate Management
Webhooks Integrations
iOS & Android App (extra fee)
Premium Onboarding
High Volume and Corporate Plan
As the name goes, this plan is for all the corporates and people who need a high volume of resources. The official website of LearnWorlds does not describe the pricing of this plan, though and requests you to contact them at the following toll-free number:
US: +1 855 8999555 (toll free)
UK: +44 11 6464 9900
Even though the pricing is not mentioned on the official website, the following features are listed.
Custom bulk enrollments
99.95% Server Uptime
Dedicated Account Manager
Flexible Invoicing
Custom Reports & Services
Tailored pricing options
Additional Admins
Branded corporate academy
Premium Cloud Servers
Optional SLA
Premium Support options
LearnWorlds Customer Support
With Every plan of LearnWorlds, you do get customer care and support 24/7 via email, telephone and online chat. Their customer service team is always available to help you with any questions or concerns you may have.
LearningWorlds has a stellar support team that their customers constantly praise. They are also very responsive to Facebook messages.
LearnWorlds is committed to providing personalized service to each company that is interested in bringing their training platform into their business. They offer onboarding support with one of their experts, help with importing online courses, and either set up or branding the platform. They are also open for custom design projects or training for large accounts.
LearnWorlds Reviews & Testimonials
Top FAQ on LearnWorlds Review
What type of courses can one create?
You can create Paid, Drafted, Coming Soon, Enrolment, Closed, Free, and Private courses. Your courses can lie under any of these. And it completely depends on you which course you want to put under which category.
What learning activities can be created on the website?
You can create several learning activities that can be subdivided into units. Live sessions, Embed, Multimedia, Questionaries, and certificates.
Can free courses be provided through my content?
Yes, you can create courses and not charge anything for them. It completely depends on your wish.
How to create your brand-new mobile app?
Creating a mobile app on LearnWorlds is fairly easy because of its user-friendly features. The first step is to customize the design with the help of pre-designed templates. And then choose a logo or banner which best represents your organization. And after assessing and testing it, you have to prepare it for submission. There are a few more steps involved; for that, refer to the original website.
Who holds the ownership of the content?
You hold complete ownership of the content that you create. Your content comes under intellectual property, and no one can hold the right to your content.
Are there any charges apart from the subscription charges?
No, there are no such charges apart from the subscription that you buy. There are not even any extra setup charges. Everything is included in the subscription. But if you buy the lowest starter plan, you are required to pay $5 for enrolment.
Can I switch my subscription plan or cancel it at any time?
Yes, you can change plans and even cancel them before renewing your selected subscription before the payment of the next bill.
What are the modes of payment through which I sell my courses?
Three payment gateways are accepted. They are Stripe, PayPal, and Shopify.
Is a money-back guarantee provided?
Yes, a 30-day money-back guarantee is provided if you decide to cancel your account during the first 30 days. And you just have to contact LearnWorlds and request your refund without any questions being asked.
If I already have a domain name, can I use it?
Yes, you are free to choose your domain name, If you have one.
Does LearnWorlds support gamification?
LearnWorlds has included gamification and rewards so that you can increase and better your interactions. Whenever you ON the gamification feature, your students can get different badges depending on their performance and participation.
What are the alternatives to LearnWorlds?
If you are considering LearnWorlds, I would recommend getting information about the other three platforms that I think would provide a similar service. These would be Thinkific, Podia and Teachable.
Conclusion: LearnWorlds Review 2023 | Do I recommend it?
In my LearnWorlds review, I found this online course platform to be really good. LearnWorlds provides you with a well-thought course design. The features are easy to use and understand. The customer care support is top-notch and is readily available for your help. This website can be a breakthrough in the global training practice domain.
The migration from a predominantly classroom-based environment to a virtual classroom might look taxing and perplexing, but LearnWorlds provides an easy solution for its users. It can prove to be beneficial to a lot of people. Among the other platforms present on the internet, Learn World website tops the chart.
The bottom line is that LearnWorlds top features of marketing your courses, assessing their analytics in the very same platform, and looking for ways to improve them, are unmatchable.
LearnWorlds Review – Get your top-notch online school!
LearnWorlds is an easy-to-use online course platform with a whole library of design templates, a user-friendly dashboard and resources to help you create, promote, sell and monetize your courses. LearnWorlds is a flexible and customizable way to bring personalized, engaging learning experiences to your customer base. With LearnWorlds, you can build a unique website for your school, manage your entire website, and easily create marketing funnels so you can generate more revenue.
Positive
Attractive pricing plans 
Video content library 
Interactive content
Language customization 
30-Day money-back guarantee
Attractive templates
Theme and branding editor
Can create an infinite number of courses.
Negative
Few more features can be added.
Few glitches were reported by users in typing feature.
No cheaper plans are available.
LearnWorlds – Best Course Sales Software
Want to have your top-notch online school? If yes, then get started with LearnWorlds for free today.
Also read: