Picture this: you're on a vast digital ocean, clinging to your professional raft, eyeing a distant mountain peak representing your career pinnacle. Suddenly, an upgraded vessel named 'LinkedIn Premium' sails by, promising a faster, smoother journey. But is this ship really built for speed, or is it all a mirage? Let's delve into the truth.
Listen to this Blog 🎧 (Duration: 6 Minutes)
Are You Riding the LinkedIn Premium Wave Yet?
Just like the perfect wave can give surfers the ride of their lives, LinkedIn Premium could provide the boost your professional journey needs.
Picture it: more visibility, deeper insights, and an increased reach that could bring you closer to your goals. But before you dive headfirst into these potentially sparkling waters, let's put on our goggles and take a closer look.
LinkedIn, the world's premier professional networking platform, offers an additional service tier known as LinkedIn Premium. But does this premium option deliver a value proposition substantial enough to warrant its cost?
Will LinkedIn Premium turn out to be a thrilling surf or just a splash in the pan? Read on to find out!
Unraveling LinkedIn Premium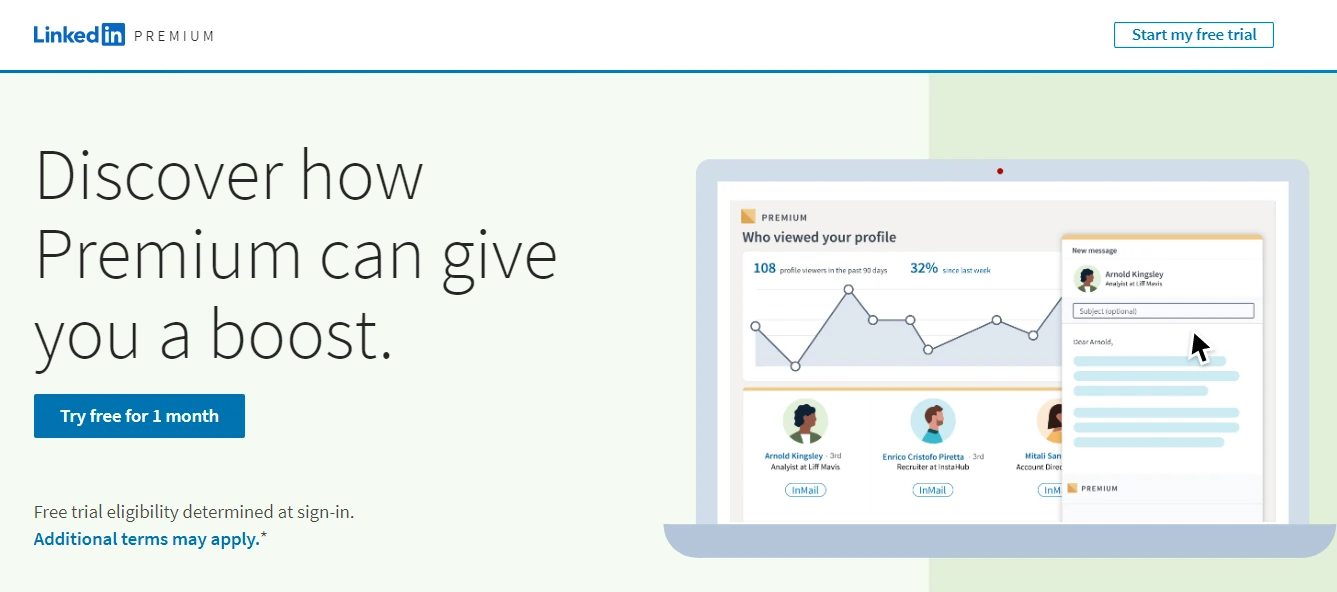 LinkedIn Premium is an upgraded version of the basic LinkedIn account, promising an enriched networking experience and greater visibility. But is it worth the additional cost?
Think about your career as a journey, much like climbing a mountain. The higher you climb, the better the view, right? LinkedIn, with its sea of professionals and opportunities, is like a mountain, offering you a pathway to the top.
But here's a thought: What if you could skip some of those tricky hurdles along the way? What if you could access a shiny, golden ticket that catapults you ahead on your journey?
Enter LinkedIn Premium, a fancy, upgraded version of LinkedIn, the world's largest professional networking platform. It's like a high-speed elevator in our mountain analogy, promising to push your career growth at a faster pace.
Now, imagine being able to reach out to the 'who's who' of your industry, stand out in a sea of job applicants, or gain deep insights about companies you aspire to work with. Tempting, isn't it? That's LinkedIn Premium for you!
But the big question is: Is it really the golden ticket it promises to be? Or is it just another shiny bauble that doesn't deliver? Can LinkedIn Premium really help you fast-track your way up the career mountain? Let's put on our exploration hats and find out!
Advantages of LinkedIn Premium
Enhanced Profile Visibility: Premium LinkedIn gives your profile the 'premium' badge, allowing it to stand out from the crowd. This increased visibility can be a game-changer, particularly for job seekers and recruiters.
Detailed Analytics: With Premium LinkedIn, you get access to advanced analytics about who viewed your profile, offering insights into your professional attractiveness and visibility. It also provides insights about job postings, helping you understand your standing among applicants.
InMail Messages: The Premium version provides an avenue to directly message people outside of your network via InMail, facilitating better reach and engagement.
Drawbacks of LinkedIn Premium
While LinkedIn Premium offers several benefits, it has some drawbacks as well.
The Cost Factor: LinkedIn Premium comes at a substantial monthly cost. This can be a deterrent for individuals or small businesses with a limited budget.
Limited Effectiveness for Passive Users: For individuals not actively seeking jobs or networking, the benefits of LinkedIn Premium may not fully justify the cost.
Try Cleverly for Free
If you are looking forward to taking complete leverage of what LinkedIn has to offer, Cleverly can be an excellent choice to look forward to. Cleverly uses data from thousands of outbound campaigns that have already been chosen and tested.
Cleverly works in 4 different and simple steps, including finding the prospects, writing messages, executing the outreach, and finally closing the deal. One of the critical aspects that make Cleverly worth trying is its free consultation, so just in case you are looking to upscale your LinkedIn sales and outreach, you can look forward to what Cleverly has to offer.
Making the Choice: LinkedIn Free Vs. LinkedIn Premium
Understanding whether Premium suits your needs involves an evaluation of the added benefits against its cost. You should also consider the potential ROI in terms of the opportunities it can open up for you.
How LinkedIn Premium can boost your job search?
For job seekers, LinkedIn Premium can provide a significant advantage by making you more visible to potential employers and providing you with key insights that can aid your job search.
Advanced Search Filters: The Premium unlocks advanced search filters which can be used to refine your job search. Whether it's the company size, industry, or job function, these filters can help you find the perfect opportunity.
Salary Insights: With the Premium version of LinkedIn, you can access salary insights for job listings, which can be instrumental in negotiating the right compensation.
Competitor Analysis: The Premium version of LinkedIn, gives you an edge by providing insights into how you stack up against other applicants. This can help you understand the competition and tailor your application accordingly.
LinkedIn Premium: A Treasure Trove for Recruiters
Recruiters, on the other hand, can use LinkedIn Premium to scout talent more effectively.

Expanded Network Reach: The InMail feature allows recruiters to reach out to potential candidates outside their network, increasing their chances of finding the right fit.
Candidate Insights: Premium offers detailed insights about potential candidates, helping recruiters make informed decisions.
Job Posting Promotion: Job listings posted by Premium users receive an additional promotion, thereby reaching a larger audience.
LinkedIn Premium for Business: Unlocking New Possibilities
For businesses, LinkedIn Premium can prove to be a beneficial investment. It can enhance networking, promote brand visibility, and provide insights that can drive business growth.
Business Insights: LinkedIn Premium offers valuable insights about your industry and competitors, enabling you to make strategic business decisions.
Enhanced Networking Opportunities: With LinkedIn Premium, businesses can reach out to potential partners, clients, or investors outside their network, thus expanding their business opportunities.
Increased Brand Visibility: The 'premium' badge on a business profile increases brand visibility, potentially leading to more connections and opportunities.
LinkedIn Premium has the potential to be an essential tool in your digital kit, whether you're a job seeker, a recruiter, or a business. By understanding the features it offers and how to use them effectively, you can ensure that you're making the most of your investment.
The Price Tag of LinkedIn Premium: A Detailed Look
Now, let's talk numbers. Just how much does this fast-track ticket to LinkedIn success cost? Well, LinkedIn Premium isn't one-size-fits-all. It offers several plans, each designed to cater to different needs. Here's a simple breakdown of each plan and its cost:
1. Premium Career
Perfect for job seekers, the Premium Career plan costs $29.99 per month. It comes packed with features to boost your job search, like seeing who viewed your profile, getting access to more insights, and direct messaging to recruiters.
2. Premium Business
At $59.99 per month, the Premium Business plan is geared toward professionals looking to grow their business network. It offers all the features of the Premium Career plan, plus business insights and unlimited searches in your extended network.
3. Sales Navigator Professional
Designed for sales professionals, the Sales Navigator Professional plan costs $79.99 per month. It provides advanced search filters, lead recommendations, and custom lists to help you find and connect with potential leads.
4. Recruiter Lite
For recruiters, the Recruiter Lite plan comes at $119.95 per month. It provides a host of features to help you find, manage, and contact potential candidates.
Remember, each of these plans comes with a free one-month trial. This means you can test the waters before deciding if LinkedIn Premium is worth the investment for you.
In the end, it all boils down to understanding your needs and determining whether the additional cost of LinkedIn Premium can bring you the value you're seeking in your professional journey.
Sending Cold Emails with InMail: A Key Feature of LinkedIn Premium
Ever wanted to talk to someone important but found no way to reach them? That's where InMail comes in. InMail is a special feature of LinkedIn Premium that lets you send messages directly to anyone on LinkedIn, even if they're not in your network.
Think of it as a digital handshake, a way to introduce yourself and make connections that could be helpful for your career or business. Want to talk to a hiring manager about a job? Or maybe reach out to a leader in your industry? With InMail, you can.
You don't have to wait for them to accept a connection request. You don't even need to know their email address. With InMail, you can send them a message straight away. It's a simple and powerful way to make new connections and open up exciting opportunities. It's like having a special pass that lets you talk to anyone, and it's one of the standout features of LinkedIn Premium.
Unlock Knowledge with the LinkedIn Learning Library
One of the standout features of LinkedIn Premium is access to the LinkedIn Learning Library. Picture a vast digital library, brimming with thousands of high-quality courses across a wide range of topics. Whether you want to hone your current skills or explore a whole new area, this library is a goldmine of knowledge.
From business, technology, and creative skills to more, these courses are expert-led and come with interactive features, quizzes, and projects to help you learn effectively. The best part? You can take these courses at your own pace, from anywhere.
The LinkedIn Learning Library is like having a personal coach who is always available, empowering you with new skills and insights to stand out in your career. It's a feature that truly adds significant value to your LinkedIn Premium subscription. Whether you're a professional looking to advance in your career, a business aiming to upskill its workforce, or a job seeker wanting to make an impression, LinkedIn Learning is a powerful tool for growth
FAQs on LinkedIn Premium
What is LinkedIn Premium?
LinkedIn Premium is an upgraded version of the basic LinkedIn account that offers additional features and benefits to enhance your professional networking experience
What are the advantages of LinkedIn Premium?
LinkedIn Premium provides advantages such as enhanced profile visibility, detailed analytics, and the ability to send InMail messages to people outside your network, facilitating better reach and engagement.
What are the drawbacks of LinkedIn Premium?
While LinkedIn Premium offers several benefits, it comes with a substantial monthly cost, which can be a deterrent for individuals or small businesses with limited budgets. Additionally, it may not justify the cost for passive users who are not actively seeking jobs or networking.
How can LinkedIn Premium benefit job seekers?
LinkedIn Premium can boost job seekers' search by providing advanced search filters, salary insights for job listings, and competitor analysis, enabling them to refine their job search, negotiate compensation effectively, and understand the competition.
How can recruiters benefit from the Premium version of LinkedIn?
Recruiters can benefit from LinkedIn Premium by utilizing the expanded network reach through InMail, gaining candidate insights to make informed decisions, and promoting their job postings to a larger audience, increasing their chances of finding the right fit.
The Final Word: Is LinkedIn Premium Worth It?
LinkedIn Premium can be a powerful tool, especially for job seekers, recruiters, or business professionals seeking to maximize their LinkedIn experience. But it is not a one-size-fits-all solution. It requires careful evaluation of its pros and cons relative to your individual needs and budget.
Remember, the digital world offers a plethora of tools and platforms to elevate your professional presence.
The key is to understand these tools and choose wisely, ensuring that you invest in a tool that offers tangible benefits and aligns with your professional goals.
In conclusion, LinkedIn Premium may unlock new professional opportunities, but it's your job to decide if this key is worth its cost.
Consider your needs, weigh the benefits, and make an informed decision that propels your career in the right direction.
Quick Links: