Hello, there👋 Are you searching for an effective cloud hosting platform but cannot decide which could be the best to go with? Then you have come to the right place.
In this review, we will provide you ✅7 Best & Cheapest Linode Alternatives & Competitors. If you have already used Linode, you probably know why it is best to have its alternatives.
You might agree with us if we say that picking the right cloud hosting is a much more challenging job than picking up shared web hosting. Also, it can cost you a lot more money if you do not know which is the right platform for you. Before making a firm decision, you must know that its storage, bandwidth, RAM, CPUs, and features are essential for your project.
---
Reasons for Linode Alternatives
It is always better to choose a better alternative for your cloud hosting platform. That is because a single server cannot handle all of your requirements. Sometimes you could end up buying a cloud server having higher resources than your requirements. Or sometimes, you could end up purchasing less than your need. Either way, it will cost you extra. Linode offers adequate resources which could fulfill the need of maintaining small applications.
They also provide an excellent customer support system in th form of tickets, tutorials, and a knowledge-based section for extra help. Users who do not have experience managing cloud servers can efficiently deal with it through tutorials and knowledge hubs. However, Linode does not offer a live chat option. That could be a little problematic for the people who have an urgent query.
Also, they do not offer customer support for Windows OS as the cloud system is based on Linux-based applications and development environments. This is a good thing that you get to install the windows operating system because you have complete control over your cloud machine. But you will not get any external support in the form of tickets or their knowledge-based tutorials. Another reason people try to avoid Linode is that you get a very short replacement guarantee. Within just 15 days, you need to decide whether or not Linode would be an ideal option for you.
Whatever your reasons are, it is always good to have some basic alternatives, rather than only one option. If Linode fails to satisfy you for any reason, then you can check out our below list of cheapest Linode alternatives & competitors. So, without consuming any more of your time, we will get on our list.
---
✅7 Best Linode Alternatives & Competitors 2023
The following alternatives will help you to make an informed decision.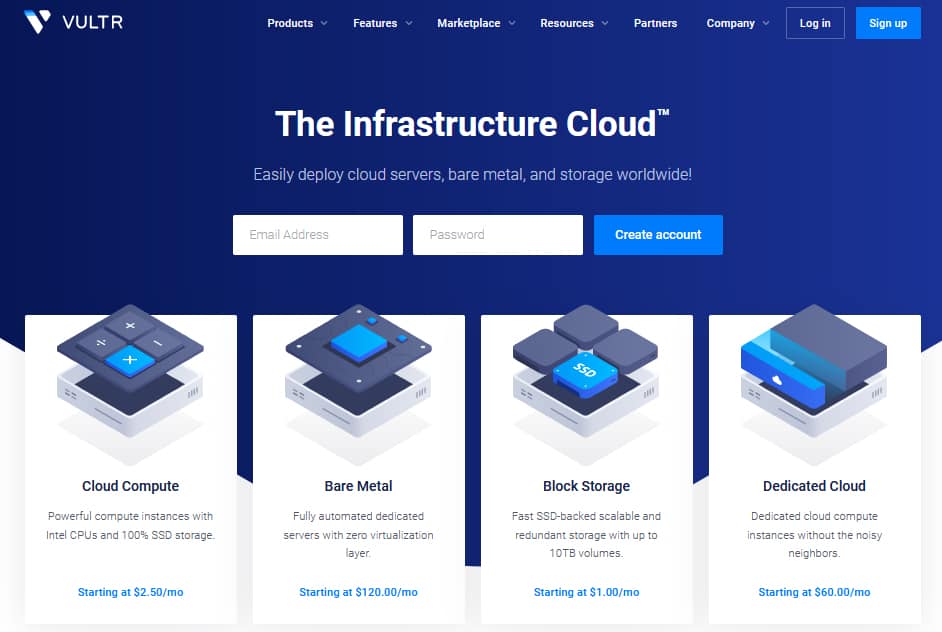 Vultr is one of the excellent yet cheap cloud hosting providers which offers a giant availability of scalable options and a cutting-edge infrastructure. They have 15 data centers in the most crowded cities, making your process even easier to complete. Founded in 2014, they have done so much that makes them a perfect cloud service provider. The best thing about Linode is that they offer SSD cloud storage even at the lowest rates. They also maintain your cloud server, take snapshots, free block storage, and startup scripts.
The wide availability of the data centers enables you to load your application faster near your target audience.
For heavy storage requirements, Vultr offers a block-storage facility. If your application needs more storage at any point, you can purchase extra storage at affordable prices ($1/mo/10GB). The first plan of Vultr only costs you $2.50 p/m with 1 CPU, 512 MB RAM, and 500GB bandwidth.
$100 Free Credits
Vultr $100 Free Credits Offer: Exclusive for 2023
Get flat $100 free credits for joining VUltr. Limited period offer. HURRY
Get flat $100 free credits for joining VUltr. Limited period offer. HURRY
Show Less
Support
The customer executive support of Vultr is excellent. Unlike Linode, they offer a live chat option. If any user needs instant guidance, then the live chat option comes in very handy. Also, they offer support to every operating system. If you have any central queries, they get solved via the ticket system in just a few hours. So overall, Vultr is the perfect alternative to Linode.
Also read: Vultr Coupon : $153 Free credits + 91% discount
---
The last five years of UpCloud have drastically changed their performance status in the market. There are several reasons to choose UpCloud rather than going for Linode. With UpCloud, you get a 100% uptime SLA. That means all the points of failure get eliminated from the server at a regular time.
If you decide to go with UpCloud, the user will get MaxlOPS block storage even with the lowest pricing plans. You can quickly deploy a new cloud server in just 45 seconds! The best thing about UpCloud is creating your customer images for your websites with any plan. This feature provides a premium feel to all users. You get a 30 days replacement guarantee if at any point you think that UpCloud is not an ideal choice for you. The pricing plan starts at just $5/mo.
Support
UpCloud offers an excellent support team. The support executives are available through live chat and are happy to assist you at any hour of the day. These are a few things that make UpCloud an intimidating competitor to Linode.
Also read: UpCloud Review+ Discount Coupon | ($25 Free Credits)
---
DigitalOcean is again a well-known cloud hosting provider in the industry. It was launched in 2011 by Ben Uretsky and has been in perfect regulation since then. Their advanced control panel provides you a one-click installation of the supported CMS like WordPress, Joomla, etc. In DigitalOcean, you can quickly scale up the Ram, storage, CPU, or anything you need according to your requirement.
All the servers are powered by 40Gbps lighting speed to avoid any downtimes and interruptions. There is a long list of open source applications like Rails, MongoDB, Redis, Docker, Node.js, etc., that you can quickly install. At just a cost of $5 p/m, you get 1GB RAM, 1CPU, 25GB SSD hosting, and 1TB monthly bandwidth.
Support
In the support system, they only offer ticket options. This means that you cannot contact them in case of an emergency. Just the option of a ticket system could be a pain for all the users looking for better alternatives than Linode. However, your queries are resolved quickly, so overall, DigitalOcean offers a decent customer executive experience.
Also read: How to get $35 Free DigitalOcean Credit: Trick + Coupon
---
You may have already heard that Amazon offers excellent hosting services to all types of websites and applications. But other than that, Amazon also provides a bundle of digital products like blockchain networks, security, gaming, technology, and more. However, if we compare AWS and Linode, we will notice that the AWS services are not as simple as Linode. If you are a newbie, then there is a high possibility that you might end up with the services which you don't even need.
To ease that situation, AWS offered a much-simplified cloud hosting package in the form of Lightsail, which is a perfect option for all beginners. What makes AWS a better choice than Linode is the availability of both Microsoft OS and Linux Os. You can initiate making a server as low as $3.50/month, which consists of 512MB RAM, 1 Core processor, 20GB SSD storage, and plentiful 1TB bandwidth.
Lightsail is a perfect option for those who prefer a quick interface. Right after you create a server, they offer you many options to customize your template through Linux operating system. Also, Amazon AWS is an ideal choice to run an application template such as WordPress, Joomla, LAMP, Nginx, etc. If you choose to go with Lightsail, you get the most scalable services that can quickly fulfill your company's growing demands.
Support
There is a major downfall in the customer support of Amazon Lightsail. They are only available for help through extensive web knowledge and community forum. AWS does offer email support, but it comes with additional costs. The email support plan starts at $29/month, which provides a solution to any of your queries within 24 hours. But to pay extra, to have email support, is a bit overboard. At this price, you can get better alternatives to Linode with a free support system.
---
Alibaba Cloud was founded in 2009, with its headquarter situated in China. Similar to Linode, they offer a rich cloud hosting service. They also provide other products like VPS, database, storage and networking hosting. Alibaba has data centers in the following locations, which makes them easily accessible to any region.
Australia
China
Germany
India
Indonesia
Japan
Malaysia
Singapore
United Arab Emirates
United Kingdom
Other than this, they provide backup, Block storage, Object storage, Load balancer, Floating IP addresses, Team Management, Managed databases, and DDoS protection to ease their customers with flexibility. The main disadvantage of the pricing plans is that they differ according to the locations. That means you will have to work from our area to know the exact pricing details.
Support
The customer support system of Alibaba Cloud is still unclear. You can contact them with the detailed information available at the bottom of the website. They do provide a ticket system, and usually, every query is resolved in 24 hours.
---
After being in the business for 15 years, German Contabo has indeed emerged as a successful cloud hosting provider. They have multiple data centers with more than 5000 machines. Contabo offers features like webspace packages, tout affordability, security, and one-click installations of hundreds of popular programs with a shared hosting plan. Along with free SSL certificates and domain registrations, Contabo does not restrict the amount of traffic that can flow on your website.
While Contabo shows some adverse effects by not offering unlimited storage space, there is still ample storage, which is enough to grow your website or application. If we look through Contabo's VPS plans, the dedicated server customers can pick among the various operating systems and control panels for a small upcharge. If we talk about the pricing plans, then Contabo offers its services starting from $3,5/month. However, the user has to pay an additional amount for managed services, automatic backups, emergency support, or add a control panel to VPS or the plans.
Support
Contabo's high-quality educated staff will resolve all your queries in minimum downtime. The downfall in their support system is that they do not offer 24*7 customer service and will probably take 5-6 hours of span to return to your queries. Although Contabo says that 'Customer is King', their support system pattern has turned their customers into mere emperors.
---
Kinsta is similar to Linode, which offers excellent cloud hosting services. The difference is they operate both Microsoft operating systems and Linux operating systems. It is also capable of deploying hundreds of other OS and applications. It does not matter if you are a developer or a blogger. Kinsta allows you to install the most suitable development environment in just a few seconds.
You can go on and select custom configuration. Besides that, Kinsta's pre-made servers start at $30/month, in which they offer 1 WordPress install, 25,000 visits, and 10 GB disk space. If you do not like their services, they provide a 30-days return guarantee to ease your issue.
Support
Kinsta is excellent in terms of their support. Their highly skilled customer care executives are always available for your support. You can contact them through live chat, call-system, or ticket system. Kinsta has the fastest #WorDPress hosting experience by using the GOogle cloud platform, Cloudflare IPS, Server level cache mechanism, and native KeyCDN integration. I believe no one can beat their hosting performance.
Also read: Kinsta WordPress Hosting review: Is It Worth The Hype? (TRUTH)
---
---
🌟 Linode Alternatives FAQ
👉 What is Linode?
It is one of the leading cloud service providers based in the United States and was established in 2003. Linode offers cloud hosting that runs on Linux servers. Linode pricing starts at $5/mo that includes all the advanced features. One can find 11 Linode server locations across the globe.
👉 What is the Linode server?
Linode is a provider of cloud hosting that runs on Linux servers. Currently, Linode data centers support around 11 markets, including Atlanta, Dallas, Frankfurt, Fremont, London, Mumbai, Singapore, Sydney, Newark, Tokyo, and Toronto.
👉 What features does Linode offer?
Linode offers you everything that you need to scale your business to the next level. You will get the best performance at the best price. People generally choose Linode because it provides excellent customer supports. Following are the features offered by Linode.
1. Control panel option
2. Virtual machine
3. Databases
4. Server backups
5. Load balancing
6. Great customer supports
7. Pay as you go options available
8. Affordable Pricing
9. 11 Linode data centers
👉 Does Linode offer a free trial?
If you are a new user, you need to create a new account that helps you start Linode free trial. Use our exclusive Linode promo code that enables you to try Linode free with $100 free credit.
👉 Is there any working Linode coupon code?
If you are looking for the verified Linode promo code that helps you save bucks on its plans, click here to activate the Linode coupon code. Our exclusive Linode promotion code allows you to enjoy $100 free credits.
👉 Which is better; Linode vs. DigitalOcean?
It becomes very difficult to choose between Linode vs. DigitalOceanas both are great cloud hosting providers at their place. But if we compare Linode and DigitalOcean, then DigitalOcean offers more robust features and better performance than Linode. On the other hand, Linode data centers currently support 11 markets worldwide, and digitalocean supports 8 data centers. Linode web hosting and DigitalOcean web hosting offer the same uptime guarantee.
👉 What is the best Linode alternative?
If you are looking for the best alternative to Linode, then check the below list:
1. Vultr
2. UpCloud
3. DigitalOcean
4. Alibaba Cloud
5. Kinsta
---
Conclusion: 7 Best Linode Alternatives & Competitors 2023
If you consider switching from Linode, then Vultr would be an ideal choice for all of your professional needs. If you are a newbie, then the Aws Lightsail would be the perfect option for a simple interface. Like that, all of the above options are the ideal Linode alternatives. It depends on your website/application that you want to go with which of the platforms.
With this, it is time to wrap up our 7 best & cheapest Linode alternatives & competitors. We hope that you will find the perfect option for your needs. In case of any doubts, feel free to comment down in the sections below.🙂