Who here still goes from the daunting process of searching keywords manually? In this optimized era, if you are still hung up on the old daunting ways of searching for relevant keywords for your business, what exactly are you achieving with digitalization?
Here in this article, we present you with an ultimate face-off of ✅Long Tail Pro Vs. Market Samurai. Who will be the winner? Or will this be a tie? To answer questions like these, you will have to stay with us till the end of this article. But firstly, we will walk you through a quick overview of a keyword research tool and let you know how they are relevant for your business.
What is Keyword Research in SEO?
A keyword search is a platform used by internet users to find what they are seeking. If you are searching for a new pair of trainers, you might search for 'White trainers for women' or 'Nike white trainers for women.' These are keywords. Some of them are long, and some of the keywords are short. If users are putting keywords into their devices, then keyword research is what businesses require. Companies necessitate doing keyword research to discover what keywords their target audience is using.
Also, effective keyword research is very important because you may end up wasting time trying to figure out things. If you are not aware of what people are searching for, how will they find you? But, it's not only users who are seeking keywords. Google and other search engines will be reading the content on your site to search for keywords and rank you for those terms. That is where SEO starts.
Why is Keyword Research Relevant?
There are many reasons which make keyword research relevant to your business. If you are running a digital marketing campaign, you need to look at the most crucial factor using the relevant keywords. The best benefit you get from keyword research software is that it saves your time.
Some of the critical reasons are:
Keyword research is the commencement of any digital marketing campaign, but it should be an ongoing process. You should regularly look for your keywords and find out how you are ranking compared to your opponents. After your keyword research, build content and pages focused on those keywords. Connected with various other SEO strategies can boost your rank and get people to find your website.
Long Tail Pro Vs. Market Samurai 2023: An Overview
Market Samurai offers a complete software solution with a lot of features. While Long Tail Pro is more helpful to people who are looking for an efficient keyword research tool. Market Samurai is a whole machine that gives you various features. These features include finding exact domains within the software, looking at existing affiliate offers, analyzing the competition.
Also, you can find the best content across multiple article directories, find backlink opportunities, and so on. Long Tail Pro concentrates more on services related to keyword research. The benefits include competition analysis, keyword research training, rank checker, and domain checker. Long Tail Pro is specially designed to give its users detailed researched keywords for your content.
Long Tail Pro Vs. Market Samurai | Key Features
If we talk about Long Tail Pro, they focus on keyword researching, which they do with their in-depth features.
Long Tail Pro Features – What is Long Tail Pro used for?
Long Tail Pro is a keyword research tool that runs on Adobe Air (works on Windows & Mac). We highly recommend that you sign up for their trial to try it yourself while reading this review and tutorial.
One fantastic thing about Long Tail Pro is that you don't have to be an SEO genius to use this tool. The user interface is easy and straightforward. It helps you find profitable keywords for creating a product and allows you to view several global and local searches for each keyword. It also gives you a list of search volume data and cost per click data; Google Adwords suggested bid estimates, competition data and more. All this assistance is provided by Google Keyword planner.
👉 Also read: LongTail Pro Review: #1 Premium Keyword Research tool for Bloggers and SEOs
But is it worth the buzz?
This SEO tool is more than a keyword research tool, as it's power-packed with tons of extensive features. Here are some of those features which you want to try:
Create various projects simultaneously. (You can have campaigned for different sites.)
Create keywords based on your seed keyword.
Export keywords in Excel spreadsheet.
Import keywords into Long Tail Pro.
Find long-tail high-CPC keywords.
Get available domain names. (If you are building a micro-niche blog, you can make Long Tail Pro suggest available, keyword-rich domain names).
Compare the Google, Yahoo, and Bing ranking for your keywords.
Keyword competition checker.
Choose your best key
Market Samurai Features – What is Market Samurai used for?
Market Samurai is a complete market analysis suite with the following tools built in:
Rank Tracker: This enables you to monitor your website and specific pages on your website to track your rankings for particular keywords. It's a great way of keeping an eye on where your website ranks in the search results in Google, Yahoo, and Bing.
Keyword Research: It practices the Google Keyword Tool to develop a list of other relevant keywords. It then goes long into an analysis of those keywords to give you an idea of the competition for the keyword.
SEO Competition: This section provides you a list of the ten top-ranked competitors (top 10 in Google). It then offers you a bunch of details about each of the top ten sites giving you information on how difficult it is to compete with them in the search results.
Monetization: This field helps you find various affiliate products to promote. You can link it to your affiliate accounts on Amazon, ClickBank, Commission Junction, and Paydotcom and have it automatically create affiliate links for you.
Other tools are there that help you to:
Generate ideas for content to write
Boost your website by getting relevant backlink sources
Publish content directly to your websites
When you commence a new project in Market Samurai, it presents a welcome screen to select any tools mentioned above.
The primary features of the Market Samurai include:
#1. Rank Tracker: You can trace your rank in Google, Yahoo, and Bing, all up to the first 1,000 positions in broad and phrase match. The module also stores all historical data presented on a graph for a visual representation of your progress, along with observing your current rankings.
#2. Keyword Research: The module derives the keywords from Google Keyword Tool, it looks like there's no reason for worrying about it, but that's not the case. This module is much simpler to use than Google Keyword Tool and much friendlier when going through extensive lists of keywords.
#3. SEO Competition: Sometimes ranking for a phrase with 300,000 not optimized competing sites is much easier than ranking for a term with 60,000 highly optimized competing sites. What it does is simple. It looks at the first ten spots on Google and drags out several characteristics about these sites.
#4. Domains: The module can suggest several different variations of your keyword be registered as a domain. You can specify your list of prefixes and suffixes, choose what TLDs interest you the most (.com, .org, and so on), and identify some additional filters.
#5. Monetization: In this, it searches the marketplaces of Amazon, ClickBank, Commission Junction, and PayDotCom. Once you have your product ready, the module also provides an ad creation tool. You can consider it to craft a sidebar widget, blog post, or banner. And it also kook after publishing that ad on your WordPress blog.
#6. Promotion: It searches several different sources and comes up with a list of sites. Each site can be analyzed to determine whether it uses nofollow links or supports pingbacks/trackbacks. You can then choose a number of these sites, create some links to them with a pingback link generator that the module provides, and then publish them on your blog.
Who is the winner of features?
It isn't as apparent as it seems, and it isn't as simple as it looks. Market Samurai has more features and will probably be the choice among affiliate marketers, but there are few problems with their features. Nearly every feature they have is irrelevant. Finding content in article directories, which are usually spun to death and inferior quality, isn't anything you should care about. The backlink opportunities run a search for Squidoo, HubPages, and bb forums. This shows that they're behind in the times.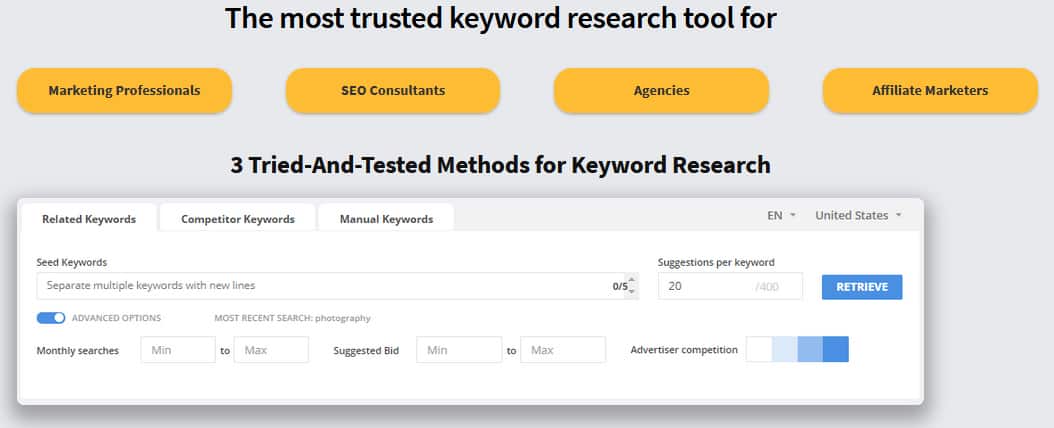 The affiliate program search is excellent, but there is nothing proven. Other than keyword research that may have a tiny bit of value is the domain search. So, there may be a lot of features available in Market Samurai. But the real question is, how many of them are relevant? The answer is hardly any. So, in this, we will have to give the edge to Long Tail Pro. The features might be limited but are very useful. None of its features is just there, for namesake.
Long Tail Pro Vs. Market Samurai | Customer Support
Efficient customer support is significant for any platform or tool. Even if the tool is the best in business but lacks customer support, there may be a slight chance it will not be capable enough. Let us have to look to the same for Long Tail Pro and Market Samurai.
Long Tail Pro
Long Tail Pro enables you multiple resources and methods to contact customer support.
Market Samurai
Market Samurai also provides several ways in which you can contact their customer support. Here is a list of the various ways in which you can find a solution to your query.
Long Tail Pro Vs. Market Samurai: Which is the Quickest?
The quickness of a tool is highly important. In fact, nobody like staring at the screen and waiting for the page to load and display the results. When we compare both these tools, they both allow you to add one seed keyword at the beginning. After adding the keyword seed, both the tools eventually start working on comparing Google's data and generating similar keywords for the user, which they can use to optimize their ranking in SERP.
Long Tail Pro
With LongTail Pro, you can quickly add up to ten seed keywords in one go and get instant results. You can easily see which seed keywords have the highest search volume, what the suggested bid price should be, and how much traffic those keywords are driving. Using Long Tail Pro, you no longer have to go back and forth between different pages as you search.
Market Samurai
Market Samurai works similarly to Long Tail Pro, allowing you to add seed keywords but slower than it. Also, Market Samurai has a few limitations where you are only allowed to add one seed keyword at a time. This limitation means you'll have to go back, add another keyword, and then research for keywords every time you want to search for new ones. Also, you cannot do multiple searches at once, which can certainly be frustrating.
Long Tail Pro Vs. Market Samurai: Keyword Filtration
There are plenty of reasons why you may want to filter out your keywords; some examples include preferring long-tail keywords or knowing a particular group of keywords that do not generate enough traffic. Whatever might be the reason, it is important to check which tool filters the best keywords.
Long Tail Pro
Long Tail Pro gives you only the keywords that are actually relevant to your business. You can do this by filtering them before giving you results. You can set your preferences which would give you relevant results.
Market Samurai
Market Samurai does the same thing but in a different stage. First, it generates the results which are according to your seek keyword, and then it filters the relevant keyword.
Long Tail Pro Vs. Market Samurai | Pricing Plans
Now, it is time to have a look at the pricing plans of both platforms.
Long Tail Pro Pricing – Is Long Tail Pro Free?
LongTail Pro offers three different packages to meet your needs and budget. The Essentials package includes all the features you need for marketing, search engine optimization, and keyword research.
Monthly Starter
This pack is going to cost you $37 per month and gives you access to most of the services offered by it, except the Plug-and-play template system. With this pack, you only get access to one login. 
Monthly Pro
With this pack, you get access to two account holders simultaneously. It also gives access to all premium services at $67 per month. But for this, you would require an annual subscription. 
Monthly Agency Package
The Agency package will cost you $147 per month, but it's only available for annual subscriptions. The Monthly Agency tool provides access to five different logins.
This tool does not offer a free plan. Its monthly basic plans start from $25/mo.
Its annual starter plan costs you around $37/mo, which works for 800 keywords.
Its annual pro plan costs around $67/mo for 2500 keywords.
Annual agency plan for $147/month for around 6000 lists.
Market Samurai Pricing – How much does Market Samurai Cost?
Market Samurai only has one pricing plan, which is considered a one-time fee. That plan costs around $149. They do provide a 14-day trial plan to help you get accustomed to the platform. After downloading the tool for the trial version, you can get an extra discount and get this tool for $97.
This is a disadvantage of using Market Samurai, as it does not have a flexible pricing system, which eliminates the freedom of choosing a plan according to convenience. However, Market Samurai is much cheaper than Long Tail Pro. But, Long Tail Pro offers more features and comprehensive solutions compared to Market Samurai.
Plan
Long Tail Pro
Market Samurai
Free-Plan
No
No
Starting Price Plan
$37 for the Basic Plan
$149 One Time Fee
Usage Limits
All the above plan comes with:
1. Keyword Research
2. Rank Tracker
3. Account Management
$149 One-time fee for all feature access.
Paid Plans
1. Basic Plan: $37/ mo for 800 keywords
2. Monthly Pro: $67/mo for 2500 keywords
3. Annual Agency: $147/mo for around 6000 lists.
$149 One time fee
Few more factors to consider between Long Tail Pro and Market Samurai.
The two main competitors in the online marketing world are powerful tools that provide competitive analysis with a focus on keywords. However, Long Tail Pro has an additional feature that allows you to view domain and page authority, which makes it stand out from the rest.
Long Tail Pro is a lot more robust than Market Samurai. It allows you to input multiple keywords and then find even more words with those keywords. Market Samurai only lets you search for one keyword at a time, and it has a tendency to stall out when it encounters too many seed words.
Top FAQ on Long Tail Pro Vs. Market Samurai
✅Is Long Tail Pro worth the money?
Long Tail Pro is the powerful keyword research tool that helps you discover the best long-tail keywords quickly used in your content. Long Tail Pro provides less competitive keywords that create massive traffic for your site.
✅Is there any working Long Tail Pro coupon code?
If you are looking for the best Long Tail Pro promo code that helps you save some money on your plans, use the above-mentioned Long Tail Pro coupon code that allows you to save 40% off.
✅What is the best keyword research tool?
Keyword research tools play a crucial role in this modern SEO as it helps you discover quality keywords that generate quality traffic for your site. Check the following list if you are looking for the best keyword research tool:
1. SEMrush
2. Ahref
3. KWFinder
4. Google Keyword Planner
5. GrowthBar SEO
✅What is the best free keyword research tool?
If you are looking for a free keyword research tool that helps you increase your site's organic traffic, then check the below list.
1. Google Keyword Planner
2. Ubersuggest
3. Soovle
4. Google Ads Display Planner
Conclusion: Long Tail Pro Vs. Market Samurai 2023 | Which is the best keyword research tool?
Well, this is a toughie. You may feel this is easy to conclude, but it isn't. The reason is Market Samurai is much cheaper than Long Tail Pro and has more features. They both are extremely efficient when we talk about finding profitable keywords. But, Long Tail Pro's features are 100% relevant, and you will not feel that the amount you are investing in is getting waste. So, you may want to call this a tie. Both the platforms are good in their positions. You have to select one, according to your business needs.
With this, we will wrap up our today's article on Long Tail Pro Vs. Market Samurai. If you have any doubts about the article, you can post them up in the comments section below.
Until then, Sayonara🖐
Also read: