Are you looking for profitable keywords for your blog to rank higher in search engines?
Are you struggling to find a right long tail keyword to rank better over your competitor? Or are you confused between lots of keywords research tools and wants your keyword strategy to be Simple? Then here is the best ethical keyword tool for you which is most popular among all pro-bloggers and my favorite.
What are Long Tail Keywords:
Long tail keywords are simply long set of keywords or multiple keywords which are used to target niche websites or get more search traffic. Long Tail keywords are highly trending in SEO industry, and it is the proven best method for ranking blog posts or pages by better targeting.
For example, if a keyword Travel Blogging is then the long tail keyword for it would be Best Travel bloggers , Top Travel blogs , Travel blogging guides , etc. So when you insert these types of hidden gems keywords in your post or page, You will get more targetted visitors which will actually turn into customers.
---
Long Tail Pro Review Updated 2023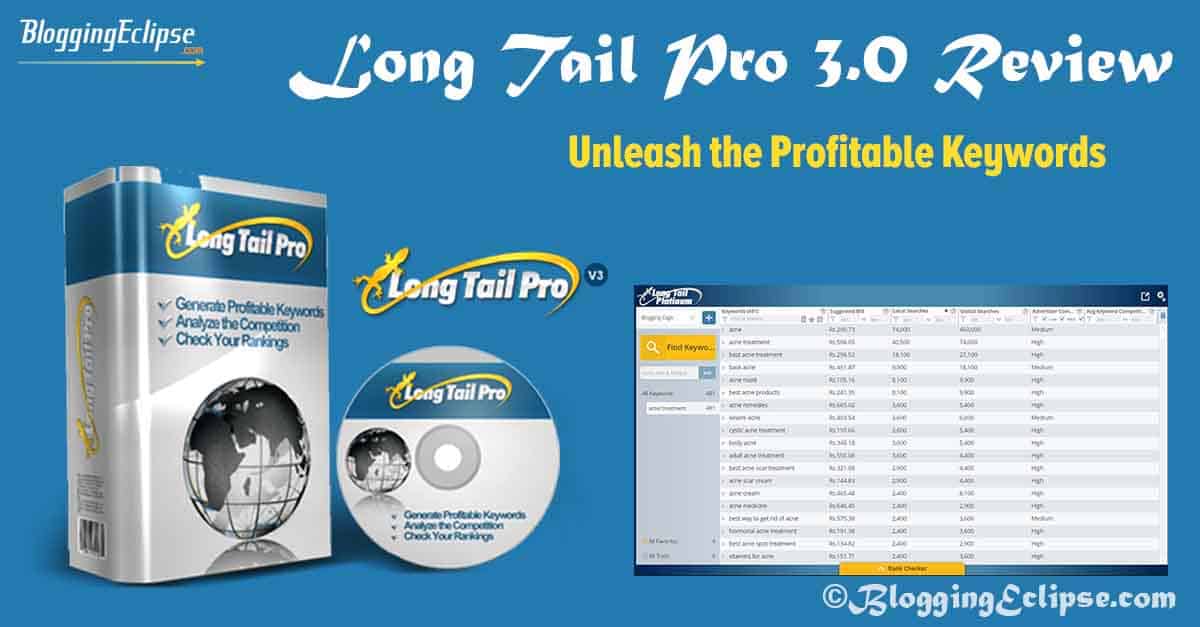 Long Tail pro is #1 keyword research and competitor analysis software which has been battle-tested by more than 70,000+ marketers and SEOs. LTP (Long tail pro) is only tool which gives you hidden profit generating keywords in seconds in any niche.
SEO is very tough nowadays for bloggers (especially new comers in blogging and affiliate marketing field) Gone are the days when people just use lots of back links to rank higher in SERPs. After the introduction of lots of google panda and penguin updates, Only natural quality content ranks higher in Search engine.
Hence natural quality content with wisely keyword researched articles are ranking higher. Every Pro blogger are using different keyword research software(s) to rank on google. By using long tail pro one can get many high profitable keywords which will help them to boost SEO of their blog and earn thousands of dollars.
---
Long Tail Pro features at a glance:
There are dozens of Long tail keyword research tools nowadays scattered into the market, However Long Tail Pro is in the limelight for years. They have robust built online cloud tool which allows you to generate more than 800 keywords in single search form google keyword research tool. It has plenty of unique features for SEO, bloggers, Internet marketers and offers instant quick keyword suggestion with detailed analytics like keyword difficulty, competitor analysis, ranking, etc., etc.
Let's see it some of the unique features:
In-depth Keyword Research:
This is the fastest cloud-based keyword research software in the industry. It is 8x faster than market samurai, etc.. Long tail pro finds 800 per seed keywords with capturing thousands of keywords per second. It also enables you to see the trend of each keyword and how many people are actually searching for particular keyword per month.
You don't need to waste long hours searching for competitive keywords daily. LTP quickly analyze the top 10 results in the google search of your keywords. It also examines Domain & Page Authority, Mos. Rank, PageRank, # of Backlinks, Domain Age, etc…
Keyword Difficulty score:
This is the best feature which i love the most on LTP. When you search for a phrase, It instantly scores Keyword Competitiveness level, So you can use lesser difficulty keywords on your post and avoid terms with a higher difficulty level. This is best to rank for different niche sites or authority sites.
Calculate Keyword Profitability:
The exclusive rank value feature on this tool allows you to determine a keyword profitability based on site types. Like if you are building an Adsense site or Amazon Affiliate site or website to sell your own product. This feature will show you the rank value and will also calculate keyword profitability so you can get an idea about earnings via keywords.
Exact match domain check:
If you want to make a niche targeted blog or website, then long tail pro automatically checks to see if there is any exact match domain available for your desired keyword list.
It also enables you to view metrics (powered by Majestic) within the dashboard of each keyword search. Metrics include domain age for the ranked keyword, Referring links and domains to the page, indexed URL's, number of links and site age, So you can analyze the keyword difficulty and how easy or hard it will be to rank particular KW on search engines.
More awesome features:
You can add notes, personal thoughts and ideas about keywords easily in LTP software.
Rank checker enables you to track your domain & Search Term ranking and trends on the three major search engines, including Google, Bing, and Yahoo.
You can also export results in excel spreadsheets to add a report or send to your clients.
Export Results instantly in CSV, Excel file for later use.
Free access to long tail boot camp worth $197 free.

Keyword research is getting tougher day by day, I have personally experienced many K/W research software link market samurai, SEOCockpit, and the free google keyword planner but the long tail pro has tons of more features which can't be seen in any other.
Long tail pro offers free updates for the lifetime and is much cost effective as compared to others. There is no risk at all when you invest in Long Tail Pro.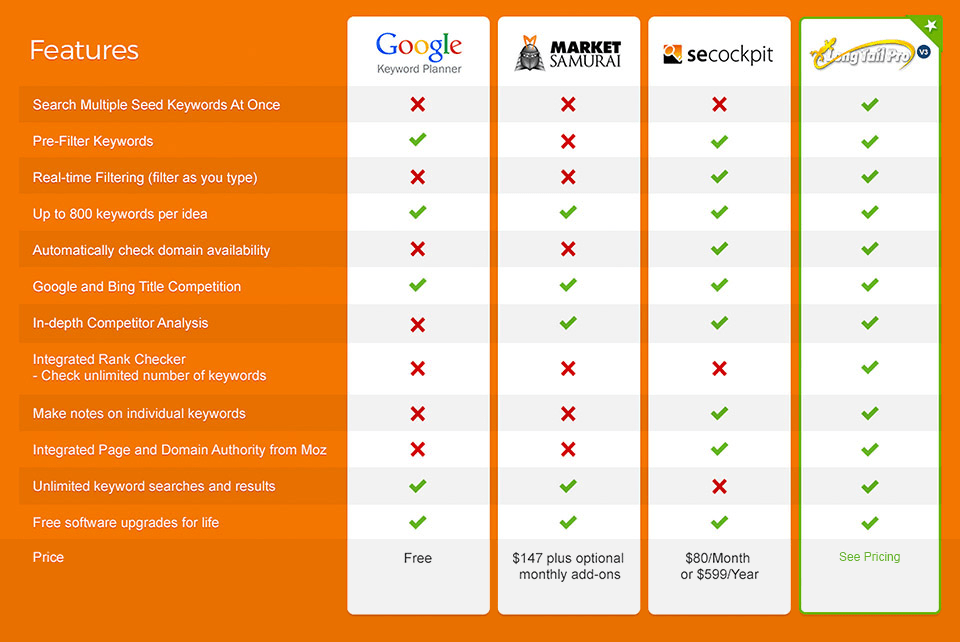 You also get 10 days' risk-free trial. So now it's the time to start playing with big competitors in your industry and increase your sales to another level. You also get free access to Long Tail University (Worth $197) for free and platinum VIP Facebook community.
---
See Long Tail platinum live demo:
It's time to find tour perfect keywords now. Start using Long tail pro with just $1 trial and save up to 33% off on annual price.
---
Long Tail Pro Pricing plans:
The premium plans start with $25 per month when opting for the annual subscription. Most of the features in all their the plans are same, just keyword search is limited. On Pro plan, you get 25,000 keyword searches/month along with additional benefits.
One can save 33% by opting Anual plans. The tool needs jno download or install. It works instantl in tyour bropwser. You can get 7 days free trial to Long Tail Premium here.
---
Over to you:
If you are still confused between lots of keyword research tools, then you should give a try to Long Tail Pro as it is just best. I bet you will never regret on LTP. It is always better to do proper keyword research before writing each blog post. Better targeted keywords help you to rank more efficiently and faster. You should write the quality article with wise keywords density to get maximum traffic.
We will be publishing more articles on getting exact organic traffic soon, so Stay tuned with Bloggingeclipse, and you can also Like us on Facebook to get latest Blogging & SEO updates.