Are you frustrated with your WordPress website or blog being affected by Malware? If yes, you need instant protection to keep your site up & to run. Hence your clients won't be disappointed.
Suppose you want to sleep peacefully at night without worrying about the protection of your site. In that case, you need software that monitors and detects harmful/ malicious activities like Malware round the clock and secures your website even when you are not in front of your computer screen.
To ensure that when you wake up the next day with a fresh cup of coffee, your site should also be running like a blaze; you need to install Malware that protects your site day and night.
---
Malcare Review: The only Security + Backup solution you need for WordPress site: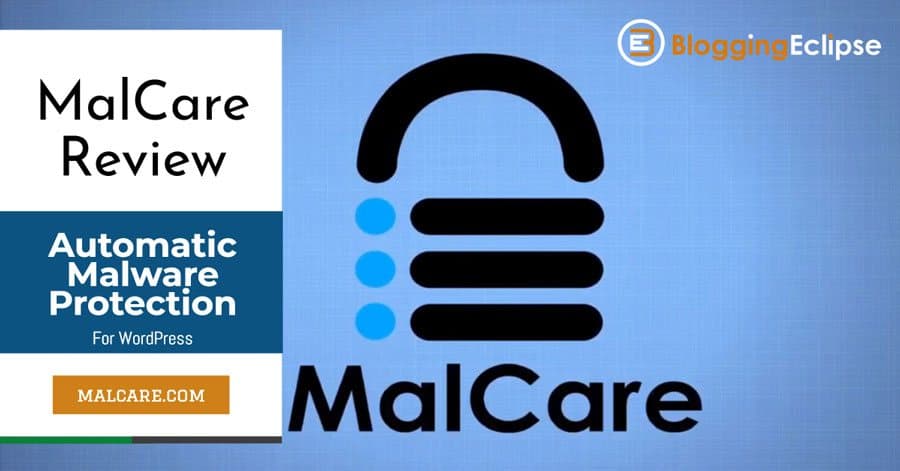 The most important factor to be considered is that you shouldn't need to monitor your site manually; instead of 1-click, your website should be scanned automatically, thereby saving your time to spend more time planning your business strategies.
In many cases, your site's URL redirects your visitors to spam websites, or sometimes unwanted ads get displayed because of any popups of Malware or adware on your website.
Due to these reasons, your site gets blacklisted by Google or other search engines. Some hackers are jealous of your progress, so they harm your site that incur your business's loss.
---
About MalCare (Company Introduction)
Malcare started providing site protection services with a vision to secure websites effectively and easily so as to keep your site's data and your client's vital information safe from the reach of malware and intrusions.
Malcare team has put in their efforts and made this software with their sweat & blood, which took three years of thorough research & development. You don't need any technical know-how to scan your site, just 1-click and the scanning starts automatically.
It is the first of the kind that provides 1-click scanning and cleaning of your website, making it easy for newbies and non-technical users.
Malcare is the face behind BlogVault that provides backup & secure services to over 90,000+ WordPress users worldwide.
Malcare finds out the most complex hacking and thwarts them at 1-click. There are many more hack scanners and cleaning tools, but lack of technical assistance makes them non-recognized, whereas Malcare overcomes all the bugs and makes it a perfect choice for millions of users around the world.
Malcare is known to scan over 200,000+ sites and counting each day. The largest site scanned by Malcare was 330GB. If you are worried whether Malcare will work on your site hosted by any hosting company, leave the stress as it is compatible with over 5000+ web hosts worldwide.
---
Reasons to Choose Malcare for your WordPress website:
Is your site affected by malware or hacked? It is time to choose Malcare that takes care of your site so you can sleep peacefully at night. If you need reasons to select Malcare, then read this section, and you will come to know why Malcare is the best plugin for your site.
Some of the brands that trust Malcare for its amazing services are: Valet, WPcurve, SiteCare, Dolby, Intel, and O'Reilly. If you still can't trust Malcare then the following are the reasons that you should know to change your mind and choose Malcare.
Alerts before any harm to your website
Due to malware, your site gets blacklisted by Google or can even get blocked by Web hosts, but Malcare's automatic scanner alerts you about any malware that could harm your site so you can take the required action before your site gets vandalized.
It is quite often noticed that your site gets overloaded due to some plugins, which results in slow page loading. If there is a delay in page load, your visitors get distracted and are not willing to wait for the page to be loaded slowly. Hence you lose your visitors.
Malcare does not overload your server as it takes all the heavy load on its own servers, ensuring that your visitors remain loyal to you.
In-depth Malware detection
Before malware got itself ready to be installed for every user, it analyzed over 240,000 websites with more than 100 signals that identify complex malware with a bird's eye view. It removes the most complex malware's from your site, making it secure and clean from bad guys.
Saves your time with 1-click cleanup
You don't have to wait for technical assistance to clean your WordPress site. If you are a novice or someone who, not tech-savvy, then Malcare provides you 1-click automatic clean-up. This saves a lot of time and reduces your headache.
When your WordPress website is cleaned by unnessacary database cache, extra database tables, unwanted posts in the trash, etc., It loads faster than earlier.
Malcare uses more than 100 signals to detect only those malicious attacks that are legitimate and not possible hacks. You might sometimes panic when looking for false alarms, but Malcare ensures peace of mind by alerting you only when needed.
All the plans offer unmetered malware detection and cleanup with no hidden costs. Use as much as you want and keep your site healthy, leading to tranquility.
To ensure no third person can access your site without any permission, it provides access to only authorized personnel and thwarts the bots and hackers that could log in to your site and damage it.
Automatic Secure WordPress backup
Is your website hacked or compromised? If yes, then the first thing you need is the backup of your WordPress site, and what better backup service other than BlogVault is available for your WordPress site.
Blogvault offers premium WordPress backup & restore solutions with zero downtime.
Malcare subscriptions come with premium automated backup solutions which always work and let you rebuild in a click.
This feature intelligently identifies the WordPress & server hardware environment and performs secure backups stored in small particles. Hence it is capable of backup even the largest & memory-hungry WordPress websites easily with complete backup, including custom tables and files.
It protects your data and keeps it in a safe place from where you can retrieve it whenever needed.
Malcare Premium Firewall ensures that your site is protected from bots without overloading your server.
---
MalCare Features at a Glance:
We have already discussed the reasons for choosing Malcare, so that we will summarize it in this features section.
Automatic scanning from the dashboard keeps track of all file modifications to detect malware early before entering your site and vandalizing it.
With a bird's eye view, it uses more than 100 signals to make sure it detects every malware. It works as a night watchman, so it takes care of your site even when you are sleeping.
Instant 1-click malware discharge is the simplest way to keep your site protected and safe from the bad guys.
No matter how sophisticated the malware is, Malcare's ultrasonic signals go deep inside to identify the most complex malware and keep your site's heartbeat pumping & jumping.
Secured login restricts bots from unethical login attempts and blocks them automatically.
It doesn't leave any bots or hackers a chance to damage your site with site hardening. 1-click WordPress hardening and robust firewall to keep your site safe from brute attacks.
A reliable backup from BlogVault ensures that if your site is hacked, then you don't lose your data and restore it at 1-click.
Real-time automatic backups daily and instantaneously whenever changes occur on your website.

---
Malcare Plans & Pricing
When it comes to pricing, Malcare plans are very cost-effective compared to other alternatives in the market. However, none of the other alternative tools in the industry offers such great and extensive features which Malcare provides.
Malcare solutions are not only limited to security. It also takes a strong backup of your WordPress website, cleans it, works without any load on the server and is built for WordPress. Below are its pricing models for different volumes.
The company offers four different plans: Personal, Business, Developer and Agency. You can add a 20% discount get using our exclusive coupon code valid on all plans. (Scroll below for special promo code:p )
Personal plan:
Business Plan:
Developer plan: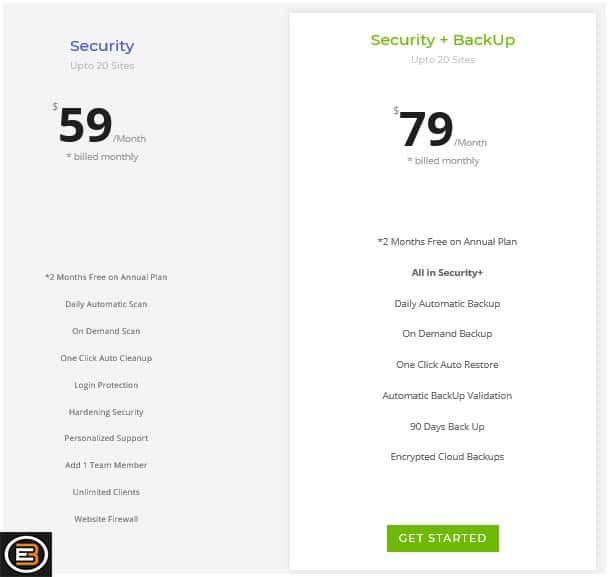 All plans come with 2 months free on annual billing and a 30-Days 100% money-back guarantee without any questions asked.
The most popular & suggested plan to go with is the Developer plan. It comes with very exciting pricing and is suitable for unlimited clients, on-demand scans, extra team members, encrypted cloud backup, Firewall, etc. Use the discount coupon below to get additional savings of 20% + 2 months free on an annual subscription.
---
MalCare Coupon code: 20% extra Savings on all plans:
So if you are looking for an extra saving MalCare promo code, Here we bring you an exclusive discount to our readers, enabling you to save 20% instantly on any plans for any duration. Moreover, If you purchase for 12 months+ plan, you get two months subscription Free. It's time to save…& be secure!
Click on above coupon button to instantly redeem 20% off Deal.
---
Malcare Vs Other Security Solutions:
Its always better to compare a product or service with other alternatives to know the differences in features, pricing, etc. On Malcare website, you can see an in-depth comparison of Malcare between other security suites such as SiteLock, WordFence, SecurePress, ithemes Security, etc.
Below is a comparison chart of Malcare vs SiteLock: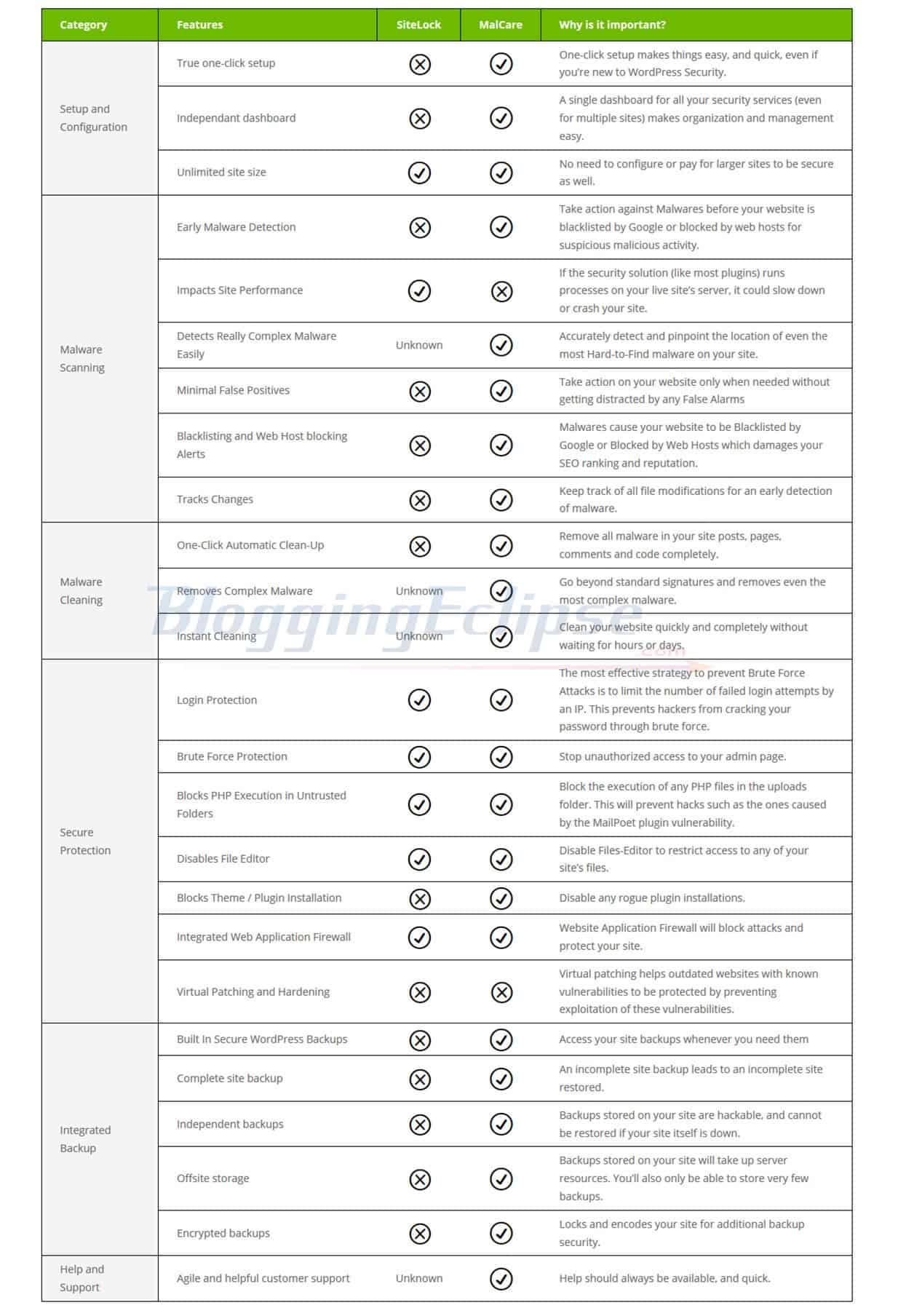 What do users say about Malcare?
It feels so good when real users speak about your product to others. When a tool or software makes you happy or helps you ease your business, you will surely spread it via word of mouth. Here are some honest testimonials of users like YOU about Malcare; watch it. What do they say…
---
🌟 MalCare FAQ
What is MalCare?
MalCare is an easy-to-use plugin for WordPress. It automatically scans for malware and removes any threats with a single click. MalCare protects your site without slowing it down.
Is MalCare safe?
Yes, MalCare is 100% safe and secure for your WordPress site. As we all know, no matter how good your site is, if it's not secure, it won't be successful. Get started with MalCare today as it finds complex Malware quickly.
Does MalCare offer a refund policy?
Yes, MalCare provides 30 days money-back guarantee to all its new customers.
Is there any verified MalCare coupon code?
Yes, use the above-mentioned MalCare coupon code that helps you to get a huge discount on all its subscription plans.
---
Bottom Lines:
What makes Malcare unique is its proprietary algorithm developed after analyzing over 240,000 websites by using more than 100 radar signals to detect the most complicated hacks and malware.
It doesn't make you stand in the queue to wait for your turn; just 1-click and the clean-up starts automatically with zero server overload and downtime. After clean-up, your site runs smoothly with a bolt speed.
A very well-managed customer support team dedicated and enthusiastic is always there to support you and treat you equally like others.
Malcare keeps upgrading its features, and the latest in the line is the security reports that can be shared with your clients and the White Label solution, which allows you to put your own brand logo for the Malcare plugin.
Take care of your site with Malcare!