Which attribute is considered to be the most crucial part of running an online dropshipping business? One may say the business idea; one may say the quality of the products/services. But do you know what the real challenge is?
The most challenging part of running the dropshipping business is finding trustworthy suppliers and a suitable dropshipping platform to use.
There are hundreds of platforms available worldwide, but users tend to choose the best for their business. Hence, today we bring an ultimate comparison of ✅Oberlo Vs. Dropified. These two platforms are the best in business and provide maximum profit to your online business.
In this article, we will be comparing these two platforms in the following attributes:
Product
Integrated Features
Key Features
Pricing
Many dropshipping providers are making promises, and it can seem overwhelming just looking at them all. An e-commerce store owner must consider that we live in an internet-savvy environment where consumers take their sweet time researching products, comparing prices, and reading reviews.
What is the most common topic in reviews?
Customers only talk about the quality of the product and the speed of delivery. Therefore, it is essential to look for the best platform for your dropshipping business while choosing.
Now, let us see how does Oberlo and Dropified rise to the task.
---
Oberlo Vs. Dropified | Overview
When we talk about these two plug-ins, keep one thing in mind that, both platforms are best in the business. Still, some minor differences are critical to have a look at.
To begin with, we will first let you know about Oberlo.
Oberlo Review
Oberlo was one of the platforms in the first dropshipping market, as it has been on Shopify App Store since 2015.
That means Oberlo only supports Shopify users. If you are using any other shopping carts but still require to use Oberlo, you should migrate your store to Shopify.
Since they found it, its merchants have sold more than 85 million products online worldwide. It has a very comparable USP to Dropified, stating: "Oberlo is the preeminent marketplace for entrepreneurs and find products to sell online.
The platform contact merchants with suppliers who ship products directly to consumers. This way, known as dropshipping, significantly lowers the barrier to entry for entrepreneurs."
Like Dropified, Oberlo also provides import dropshipping items from AliExpress into an online store (on Shopify only) and even delivers them directly to your customers – in only a few clicks.
---
Dropified Review
Dropified is one of the most renowned dropshipping platforms, connecting merchants with suppliers globally and simplifying business tasks with automation.
Dropified empowers you to quickly launch an e-Commerce store, source the products, and essential the products to your online store.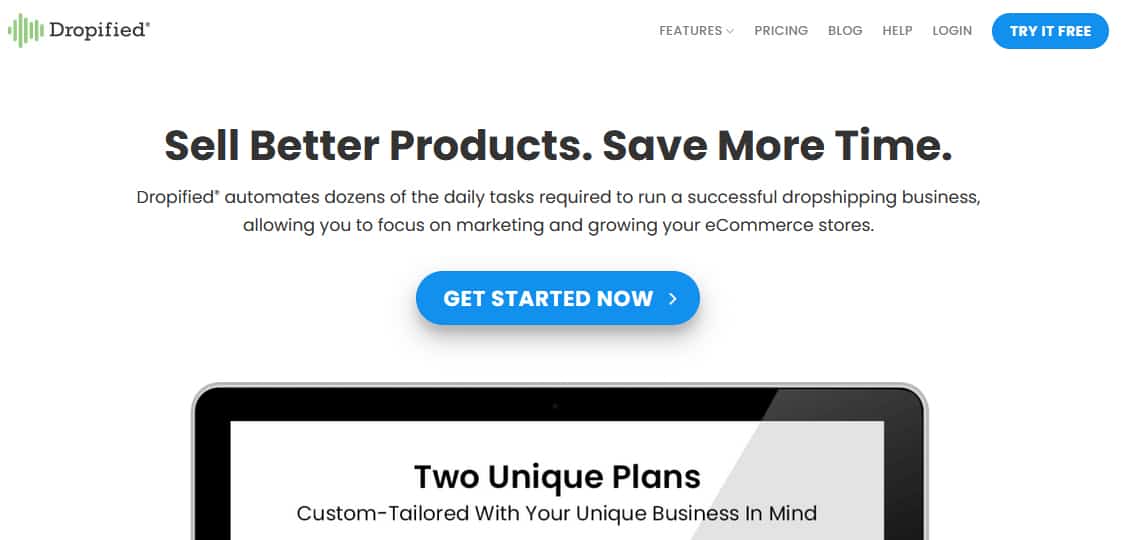 Sellers will not have to worry about additional factors like sourcing, inventory, shipping, and packaging, focusing on marketing activities.
At the current time, dropshippers can use Dropified to import the products from various platforms like AliExpress, Amazon, eBay, Etsy, Walmart, SammyDress, Overstock, Wish.com, and even more websites with a single click.
However, your business can run only on the following e-Commerce platforms:
Shopify
WooCommerce
CommerceHQ
When we are clear about these platforms, it is time to have a quickfire comparison of the integrated features, pricing plan, and other aspects of Oberlo Vs. Dropified.
---
Oberlo Vs. Dropified: Overall Comparison
We will now compare these two platforms on the attributes we mentioned at the beginning of the article.
Number of Products you can list per month.
Oberlo Basic provides a maximum of 10,000 products, and Oberlo Pro offers upto 30,000.
Dropified Builder allows you to record 15,000 a month, and Dropified Premium permits upto 50,000.
There is a noticeable difference between the number of products you can list on Oberlo and Dropified. At this time, we can observe how Dropified wins this face.
While we compared the features, we came across some significant differences that we think you must know.
---
Oberlo Vs. Dropified: Integrated Features
Oberlo Ease of Use
While Oberlo is famous for many things, the most attractive aspect is their free trial! Yes, you heard it right!
While there are very few e-commerce platforms that offer accessible trails, Oberlo is generous enough to provide their customers a free starting package. The free starter package even comes up with a Chrome extension.
You should expect additional features that include inventory syncing, product importing, sales analytics, inventory updates, product research, automated product pricing, and an unlimited number of monthly orders.
However, the sad bit is that Oberlo is quite a rigid system for third-party integrations. Shopify is the only e-commerce platform that holds Oberlo. So, if your ecommerce store is created on another shopping cart, you either migrate to Shopify, or you can forget about selling your stuff via Oberlo.
Dropified Ease of Use
Like Oberlo, you will not find any free starter package in Dropified. The best you can expect from here is a free trial and lasts roughly 2 weeks. After that, if you want to keep using Dropified, you will have to go with the paid plan that costs almost $39 per month, including nearly all the tools.
The best thing about Dropified is inclusivity. In extension to a native Shopify app, the platform is available in the form of add-ons for WooCommerce, CommerceHQ, and gearbubblePRO, which gives this platform a plus one, as compared to Oberlo.
The above add-ons are sill nothing if we compare this thing t all the renowned dropshipping businesses. But it is still a better deal as compared to Oberlo.
The Dropified app is available via the Shopify App Store. Hence, installation should be as quick as searching for the app and consequently hitting Install. It hardly takes a minute or two to connect Dropified to your online store.
Now, we will talk about the list of features Oberlo and Dropified offers; there are many similarities between the integration of their parts. Still, there are differences as well.
---
Key Features of Oberlo
Oberlo allows you to import and sell items from Oberlo Supply MarketPlace and Aliexpress.com.
There are tons of features this platform offers. Some of the features are mentioned below: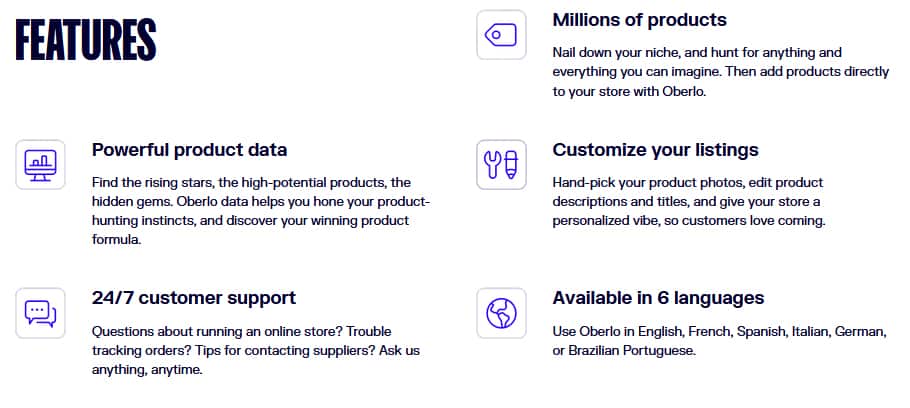 It has a relationship with existing products and suppliers' change to find the most suitable price while maintaining the product you sell in your shop.
You get various user account possibilities to get guidance by giving access to your online store quickly.
It has an option for the personalization of products (title, description, images).
Oberlo manages the rest to ship the product to your customer.
Oberlo offers quick import of Aliexpress and Oberlo Marketplace products. Just 1 click on the Oberlo icon, and the product is ready to be published in your online shop.
You can automate the stock update and prices by Oberlo. That avoids selling a product out of stock or with a bad price, so Oberlo is practical support to prevent making a mistake.
EPacket filter to unable content with importing products with short delivery times. That prevents unpleasant surprises with delays too long for the reception of products.
Key Features of Dropified
If you have already used Aliexpress, you must know that it takes a lot of time to import the products when deciding to import them to your store. That is because AliExpress has many manufacturers and sellers; this makes this platform a jam-packed website.
You can easily avoid this when using Dropified. It allows you to import your product quickly, and it goes the same in the product selling part. The efficiency and integration of Dropified are excellent, making it a possible choice for dropshippers.
Dropified consists of two distinct parts; they are chrome extension and the web application. Dropified tool gives you access to the following features:
A quick backup to attach products to wish lists from a simple search
Achievement of easy orders
Smart supplier changeover (e.g., out of stock)
A broad range of customization options for ordering
Capacity to add customized tracking URLs for your clients
Opportunity to add personalized order notes to suppliers (remove price or promotion indication, for example)
Follow-up of requests
Integrated captcha resolver
Eliminating backgrounds from your images for products
More than 30 catalogs with a large number of product choices!
Class research for Aliexpress, Amazon, SammyDress, Overstock, Walmart, Bling, Wish, and eBay
Access to supplier evaluations for quick search and smart registration
Brilliant order execution in one click
Enhancement to your Shopify shop products
Quick referencing
Grouping products with different Aliexpress suppliers, orders placed in one click
Rapidly add products from multiple sites to your Shopify store.
You get an Automatic alert for products and price changes.
You also get an automatic addition of surcharge for products.
While the features somewhat integrate, Dropified offers a lot more than Oberlo does features. If we talk about the pricing plans of Oberlo and Dropified, you will observe a significant difference.
In this part, Oberlo dominates Dropified. Oberlo offers more affordable pricing plans as compared to the Dropified plans.
There is one thing which we already mentioned about Oberlo, and that is the free starting package if offers. Dropified does not offer anything like that.
---
Oberlo Vs. Dropified: Pricing
Oberlo Pricing Plans
The Starter package offers dropshipping basics for free. They include; order numbers syncing, sales reports, import list, inventory updates, product statistics, automated product pricing, the Oberlo Chrome extension, complete monthly orders, and up to 500 products.
The Basic package requires $29.90 a month. That will give you the captcha solver, orders fulfillment monitoring, affiliate program, real-time orders tracking, order numbers syncing, sales reports, import list, inventory updates, products statistics, automated product pricing.
The Oberlo Chrome extension completes monthly orders, plus up to 10,000 products.
This pack costs nearly $79.9 per month. You should expect few features from Oberlo include; multiple staff accounts, a captcha solver, orders fulfillment monitoring, affiliate program, real-time orders tracking, order numbers syncing, and sales reports.
The Oberlo Chrome extension completes monthly orders, plus up to 30,000 products.
Dropified Pricing Plans
The Builder package takes $47 per month when billed monthly or $39 per month when billed yearly. It benefits in-app photo editing, AliExpress Captcha Solver, order fulfillment monitoring, 1-click auto fulfillment, bulk editing product option.
Other features like import product reviews from Vendor, 1-click save for later, save original product information, product customization, product and inventory sync, and many other features.
The Premier Package akes upto $127 per month when billed monthly or $97 per month when billed annually. It integrates all the Builder plan features with TubeHunt, CallFlex, unlimited high-speed captcha solver, and advanced profit dashboard.
Dropified Black Package costs upto $167 per month. This supplements all the Premier plan features with quarterly Dropified black magazine, Dropified marketplace – 1st access, group volume pricing for high-quality products, GrooveKart platform: 3-month pass, regular sample kits sent out.
---
🌟 Oberlo Vs. Dropified FAQ
✅What is Oberlo?
Oberlo is the premier solution for all dropshippers globally, offering around 85 million items on different platforms. Various online merchants use Oberlo to discover highly profitable products from kinds of suppliers. If you want to grow your eCommerce business, then you can easily join Oberlo for free.
✅What is Dropified?
Dropified is a powerful tool that helps you run your dropshipping business smoothly and sell better products. Dropified makes dropshipping very easy as it has everything which is required for the dropshipping business.
✅Is Dropified better than Oberlo?
Both Dropified and Oberlo are the great dropshipping platform at their place. If you want to join Oberlo, then it is important to remember that it limits the monthly order that you can place. But if this is not a big issue for you, then you can easily join Oberlo. At the same time, if you want to grow your eCommerce business significantly, then Dropified is the best platform.
✅Does Oberlo work in all countries?
You can use Oberlo from any country and grow your business. Your geographical location is not important when you run any dropshipping business as you do not need to worry much about physical products.
---
Conclusion: Oberlo Vs. Dropified 2023 | Which one should you choose?
After going through the features, pricing plans, and other aspects of Oberlo and Dropified, we observed that Dropified offers many more features than Oberlo. The integration of Dropified is much stronger than Oberlo, which makes it a potent tool. But, if we talk about affordability, Oberlo offers much more in that price range and provides a free starter package.
So, it is up to you to go with which platform. If you want a mighty tool ten go with Dropified. If you want an affordable tool, then go with Oberlo. The choice is all yours. That is it with our latest review of the two powerful dropshipping platforms Oberlo Vs. Dropified. Which platform would you go with? Do not forget to let us know in the comments below.🙂
Affiliate Disclosure: This post may contain some affiliate links, which means we may receive a commission if you purchase something that we recommend at no additional cost for you (none whatsoever!)