There are many media tools available that help our businesses reach higher growth in less time. These platforms help online businesses, but marketing is one of the essential elements of offline corporations.
Today, we present you with our ✅Ocoya review of an all-in-one social media automation tool.
We constantly search for third-party tools that can help reach our businesses to a more extensive audience set. But, if you are targeting a larger audience, what source can be better than social media?
Some people would say that social media platforms like Facebook, Instagram and, Twitter are highly overrated. But that claim would be wrong.
If people make most of the social media platforms to target the best, it is for their business benefit. An excellent social media automation tool will offer you content writing, scheduling, analytics, and campaigns.
And guess what?
Ocoya has all those features and more than that! These platforms are getting appreciated in their own time, and there is nothing terrible in that.
Other than this, you get a source where more people are likely to know what you do! You can use excellent copies to make your product description or headlines even more attractive. What's more?
We will see all about Ocoya and how it benefits our business in the following section.
---
Detailed Ocoya Review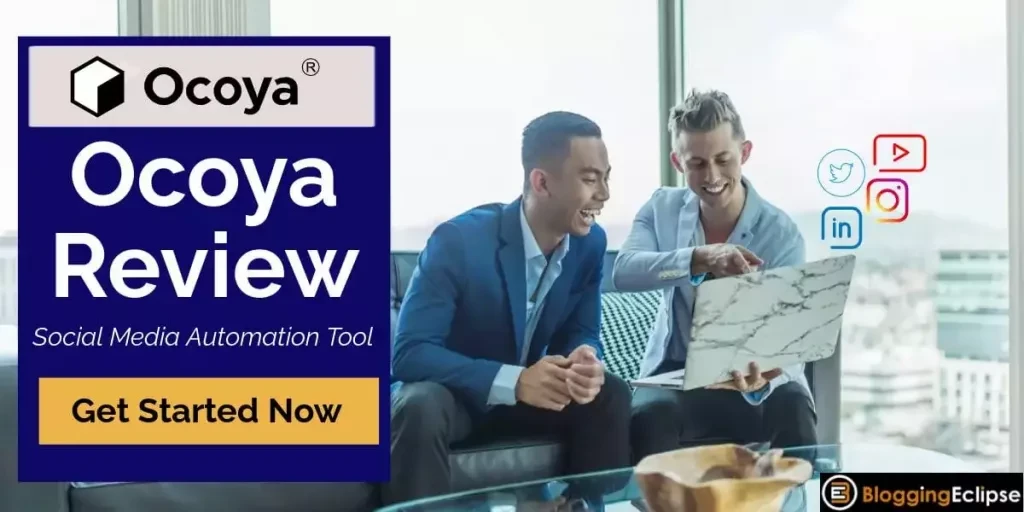 Ocoya is an all-in-one social media automation tool that helps in publishing, content optimizing, content curation, and AI copywriting using Travis.
It is the best option for all marketers looking forward to increasing their traffic, especially for the affiliate marketers who are in constant need of good copies and engaging content. With the help of Ocoya, you get to know your marketing insights.
The best feature of Ocoya is Travis.AI and its God mode. It helps to generate content very quickly. Additional features for publishing social media content with images and AI text + AI-based hashtags are unique and innovative.
Ocoya fulfills all the basic requirements of social media marketing. With the help of Ocoya, you can save hundreds of bucks on the monthly purchases of tools!
In Ocoya, you get:
You get to access the insight of your selling products and what makes your customers get attracted to them. Ocoya provides insights on what describes your brand using the storytelling quotes.
Ocoya filters down the best hashtags for your products to reach a more extensive set of audiences. They measure your hashtag's success and determines only the ones that are best for you! When you get the best for your business, your profit margin automatically increases.
They analyze your customer's behavior and measure what time is best for your posts! In that way, you can reach more people in a short time!
With that said, let us look at its unique features that make Ocoya stand out from its competitors!
---
Key Features of Ocoya
With Ocoya, you can access the following features:
#1. Hashtags
Hashtags play a vital role in your social media posts. It can direct your posts to the correct audience.
When we use specific hashtags, the posts automatically appear in the feeds.
That is the great thing about Hashtag analysis! Ocoya, make sure that AI analysis every image and makes sure that you get the most relevant hashtags.
#2. Images/ GIFs
While posting something on social media, you need to make sure that the image of posts is attractive enough. With this social media automation tool, you get several third-party apps integration. One of them is Canva; you can use the tool to create images from scratch.
Even if you want to build logos for your companies, you can easily do it on Canva. You can also use Ocoya's inbuilt editor if Canva is a little too much for you.
#3. Captions
Every captain of the posts makes sure your users stop and check out your post for a while. With Ocoya, get captions that are personalized to your images. Generate captions to sell your products or service effectively.
#4. Scheduling
If you do not want to post something right now, you can set a schedule to post it later! Ocoya suggests some optimal timing slots to maximize your traction.
#5. Support
Unlike other social media platform tools that you can only integrate with Instagram and Facebook, Ocoya is an all-rounder. They have partnered with all social media platforms like Instagram, Facebook, LinkedIn, Twitter, and many more.
#6. KPIs
Ocoya formulated some KPIs for all the marketers. Please have a look at them as Ocoya also offers you suggestions to improvise.
---
Marketing Funnel KPIs
CPM: The CPM model analyzes the result of your advertising post's impression. Like how many people saw the advertisement and how many people got attracted by it.
CPC: Ocoya measures the price you pay for each click in your PPC marketing campaigns.
CTR: You get a clear insight into the number of clicks you received per ad and post.
CTA: The analytics dive into a call-to-action signals your audience to take specific steps and do something in particular.
SSoV: Socially share of voice checks how well your campaign works as compared to the competitors.
ER: The engagement rate of Ocoya is typically measured in likes, reactions, comments, shares. In that way, you get to know how many people are genuinely interested in your posts and campaigns.
Impressions: Impressions help you to know how many ties your ad was displayed, regardless of its clicks.
Engagement: You can also get to know how many people interacted with your advertisement and the engagement rate of your current and previous posts.
Growth: In aquaria, you get measurements and improvements on an MoM (month-over-month) basis.
Reach: Ocoya also measures how many times a user has been to your ad. In that way, you get to know about the test pattern of your particular audience.
Applause: The average number of favorites or likes your posts receive on social media.
Amplification: You also get to know how many influencers and spokesperson advertises your brand and product currently on all social media channels.
Virality: Under this section, you get to know the possibility of how likely your posts can become viral? What are the chances of their success rate? And other questions related to their virality.
Likes: In this, you get to know how many audiences are interested in your products and are willing to move further.
Followers: The people who follow your page are likely to be your most loyal customers. With this option, you can keep a check on your followers.
Shares: Under this section, you get all the information related to the broadcast and how many people share your stuff among different platforms and groups.
---
Ocoya Integrations | Ocoya Review
---
Ocoya Pricing Plans (Lifetime Deal in just $59)
You can either purchase the monthly plan or the yearly plan. But, there is only one plan for all, including solopreneurs, small teams, and organizations. Foe now Ocoya is offering its very special lifetime deal on AppSumo. hundreds of Sumolinks have grabbed this one-time deal, Get it now with 60 fays full Appsumo money back guarantee.
You get three basic plans that are Silver, Gold, and Diamond. If you decide to purchase the annual plan, you get a 20% discount.
The pricing plans of Ocoya are highly affordable. But what makes them more affordable is their lifetime deal on AppSumo!
Ocoya AppSumo Lifetime Deal🚀
AppSumo is currently offering an excellent deal on Ocoya. In just $59, you get full access to all the features, that too for a lifetime!
If you are a person who knows how to save their bucks, then do not miss this AppSumo excellent discount opportunity at any cost!
---
How is Ocoya Different from Similar Tools in the Market?
Instead, most social media automation tools focus on the latter end of the digital marketing funnel, posting, and analytics.
Ocoya also provides the same services, but it also offers the content creation part. With the help of Travis.AI, you can generate hundreds of copies for your social media platforms!
There are other tools also that offer this feature, but their credit is limited.
The ultimate goal of Ocoya is to conquer everything related to content marketing. And without a doubt, they are performing very well in the area.
---
Ocoya Customer Support
Ocoya offers a 24/7 live chat service! Its customer care executives are very supportive of every query and resolve issues in the minimum time possible. Other than that, you also get a ticket system, mail, call option to connect with their executives!
In that section, Ocoya has also provided addresses of its offices:
Largo Augusto 3, 20122, Milan, Italy.
Perkunkiemio g. 19, 12129, Vilnius, Lithuania
Very few similar tools offer an excellent customer care service like Ocoya.
---
🌟 Ocoya FAQ
👉What is Ocoya?
Ocoya is a #1 social media automation tool for advertisers, marketing agencies, and ecommerce experts in medium-sized enterprises.
👉Is Ocoya free?
Yes, Ocoya has a free plan that never expires for everyone. You can see pricing plans or schedule a demo to learn more about how Ocoya can help your business.
👉Does Ocoya have an API?
Presently providing closed-beta mode with our private API and with limited access.
👉Where can I find a demo?
Sign up for a demo to learn how to get the most out of Ocoya for your business.
---
Conclusion: Ocoya Review 2021 | Should you really buy this social media automation tool?
Ocoya is one of the most excellent all-in-one social media automation tools that we have used so far. Its primary feature Travis.AI is commendable and offers unlimited word usage.
Do not miss the chance of Ocoya's Lifetime deal on AppSumo. That was it in our Ocoya review. For any questions related to the tool, you know where to comment.🙂