Your web presence is critical when it comes to marketing your business online.
A well-designed landing page can increase conversions and sales.
A landing page is essentially a single-page website that leads visitors into a conversion funnel.
Landing pages usually include option forms and lead magnets such as free ebooks, white papers, or guides.
Landing pages are an essential part of your marketing build-out. Their primary purpose is to drive visitors to a specific website with the intention to entice a particular call to action.
---
Benefits of high converting landing page
Reach your business goals by promoting new products and discounts, attracting new customers, reaching your niche market, and so much more with the help of well-built landing pages.
Compel visitors to take a call to action with your landing page and, in turn, boost your conversion rate.
Build your brand awareness with a stellar landing page!
Use your brand's designs and tone and tweak them into your landing page.
This increases your brand presence immensely.
---
Who are landing pages most beneficial for?
When it comes to the internet, there is no doubt that Google has a significant impact on how people find your website.
However, when looking at SEO and PPC, it's essential to consider other factors. One of these is the use of landing pages. Landing pages can be beneficial in different scenarios.
If you have an eCommerce store, they can help with conversions by directing customers to specific products or services. They also allow you to offer special deals and promotions to specific groups of users.
For example, if you sell software, you could create a landing page that offers a free trial version of your product.
This will give potential buyers a chance to see what they would get from using your software before they buy.
You can also use them to promote your blog posts. You can direct readers to specific posts within your site with a simple link on your homepage.
This way, you can keep your readers engaged and interested in what you have to say.
---
Why should you have a mobile-optimized landing page?
It is very important to be where your audience is, and as of now, most people prefer browsing on their phones rather than looking for something on their desktops.
But there is a difference in conversion rates. It is seen that desktop views convert more than mobile ones. The biggest reason for this unusual situation is that most pages are not mobile-friendly.
Thus visitors have trouble accessing them, which leads to fewer conversions. This is one of the main reasons for optimizing your landing pages to be mobile-friendly.
Get the leg up you need and gain the advantage over your competitors!
---
Tips to make landing page mobile-friendly
Don't just copy and paste landing pages designed for desktops. Create specific landing pages for mobile devices to ensure a high conversion rate.
Keep your landing page copy and to the point. Audiences who view content on their phones are more likely to have a shorter attention span and respond better to short and crisp copy.
Make sure your CTA is the first thing your viewers see by keeping it at the top of the page. This is how you grab their attention and make them act on your CTA.
Keep your layout simple, easy to take in, and clutter-free. A simple interface with do you wonders by making your content the center of attention.
Avoid using too many visuals, adding to the point above. Keep it simple, don't overwhelm your viewers or distract them.
The best part about creating a landing page is that you can always edit it later, so don't worry if you feel like you missed out on some details. Even if trends change or if there is something you may want to add, remove or change, you can easily edit your landing page with multiple tools available.
---
Do you want to build a conversion-optimized landing page?
There are many ways to design a landing page. The first thing you need to decide is whether you want to go with a template or create one yourself.
If you choose to use a pre-designed layout, you can simply copy and paste the code onto your WordPress dashboard.
However, if you prefer to create a custom landing page, you can use any number of tools available online.
Build a landing page without spending hours creating it yourself. There are a lot of tools available on the market that take away the hassle of making intricate pages for you by doing all the work themselves!
A landing page builder is a tool that allows you to create, edit and preview your website's landing page.
It can be used as an alternative or complement to the standard WordPress editor.
In this article, we will show you two such landing page builders o help you which one will suit your needs better.
Let's get into it!
---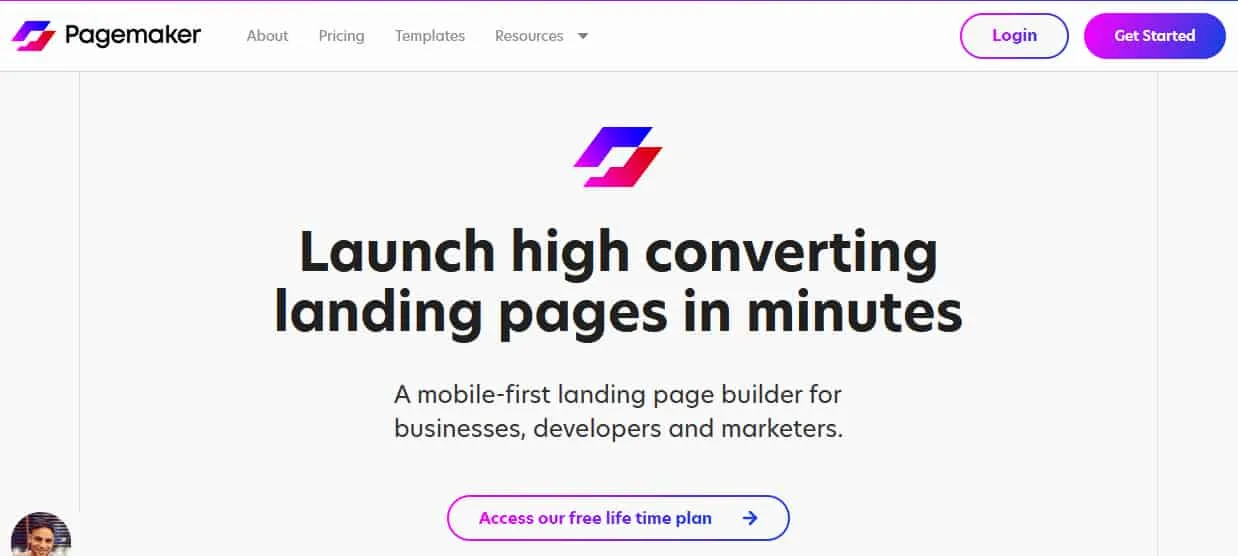 Pagemaker.io is a mobile-first page builder that doesn't require you to code and is extremely easy to use.
Choose from more than five hundred pre-made templates, make and launch your very own high converting landing page in 15 minutes!
Use our special Pagemaker coupon code and enjoy a 30% discount on all monthly or yearly subscriptions. Limited time offer.
Start your free trial.
Pagemaker.io has been around for over a decade, and its team is also behind making apps that serve more than 1,000,000 users presently.
---
Key Features of Pagemaker.io
Pagemaker is filled with stellar features designed to help you make the perfect landing page for your business.
Easily collaborate, internally or with your clients, and grow your team with Pagemaker's multi-user feature while saving a lot of time by re-using saved modules while building your landing page.
Store videos and images securely and upload them easily with Pagemaker's cloud-based gallery to make eye-catching landing pages.
With Pagemaker, you can integrate any app you may need e to make eye-catching, high-converting landing pages.
With built-in analytics Pagemaker, a user can track everything, including conversions, clicks, visitors, and more. Rise above the ranks on Google with its SEO optimization tools available on-page.
Track your visitor's behavior and click-through rates with our easy-to-use tracking tools and send coupons automatically by emailing them to your prospect's inbox using Pagemaker.
Additionally, it delivers content to your visitor at record speed and, in turn, increases your page speed by using geographically distributed servers that work in sync.
Send visitors from one web address (URL) to another when they perform a specific, intended action on your landing page with Pagemaker's URL Redirector and increase conversions by showing personalized text-based on visitor GEO's with Dynamic Text Replacement Tools and build a sense of urgency and scarcity using Pagemaker's scarcity countdown timers.
Pagemaker has a selection of over 1,000 fonts that help take your landing page to a whole other level. It lets you generate and export leads and analytics with a click and send them directly to your inbox.
With Pagemaker, a dedicated email support team is made available to you 24/7 that answers any questions you may have.
It also offers custom Javascript/CSS/HTML codes, which allow you to embed everything from pricing widgets to forms, videos, and much more.
---
Swipe Pages is an AMP (Accelerated Mobile Pages) builder that allows you to build optimized and high converting landing pages without the use of coding using easy drag and drop mechanisms, over 25 high-quality modules, and multi-screen editing.
With the drag and drop interface, marketers can easily create eye-catching, unique landing pages without writing more than a few sentences of copy!
---
What are AMP's?
AMP's are specifically designed to make your website load faster and make your content available to users who skim pages and do not particularly have the time to wait for complex elements to load.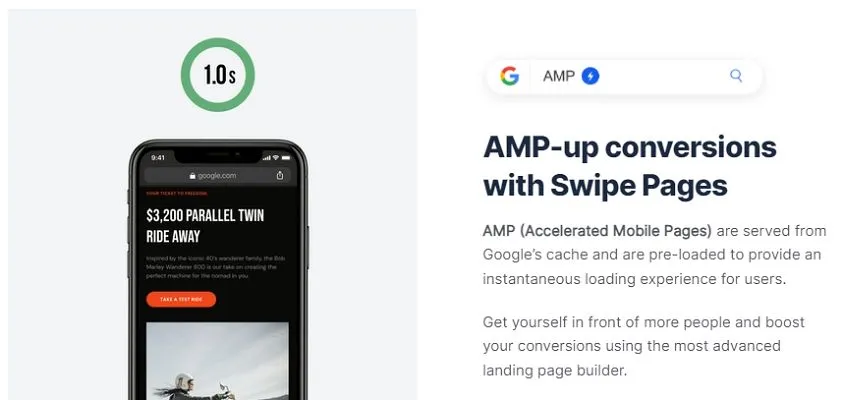 This is possible as AMP's essentially remove elements like animations, ads, and videos and only display the content.
AMP's usually require coding and a lot of backend work, but with Swipe Page's, its as simple as dragging and dropping!
---
Key Features of Swipe Pages
With Swipe Pages, you will get the following features.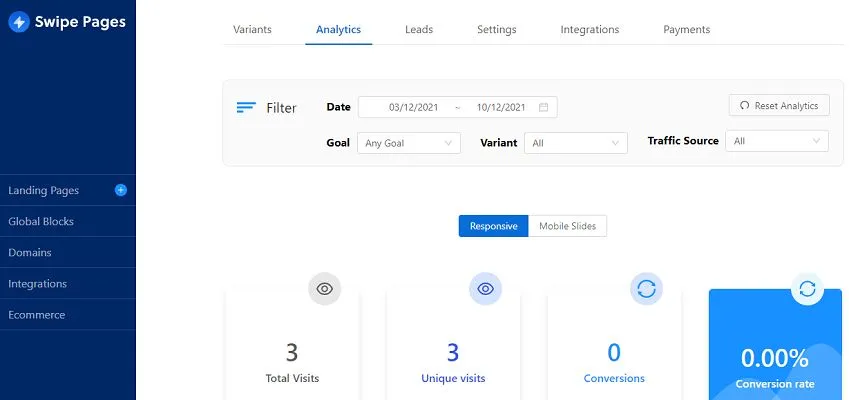 Customize your page to match any device with ease using Swipe Page's responsive breakpoints and use over 25 elements, including tailor-made modules, image carousels, multistep forms, among others.
With drag and drop, editing features. Additionally, you can also easily add pricing tables for your different pricing plans and other table needs.
Swipe Pages also allows you to duplicate or create your landing pages with utmost ease. Other complementary features like cut/copy/paste, multiple selections, editing, undoing and redoing keyboard shortcuts, and timers, etc., are included by default.
Choose from over 40 mobile-optimized AMP landing page templates that fit your niche and easily customize them with over 80 prebuilt blocks and 1000+ pre-installed Google fonts. Get responsive typography supports responsive units like pixels (px), ems, and rems.
Create your custom domain and also receive a free SSL certificate that helps you build trust with your clients by showing them that they're connecting to an authentic site.
Swipe Pages also includes CDN servers that guarantee speed while also providing integration with Amazon AWS and Digital Ocean that in turn guarantees maximum uptime so that you don't miss customers.
Swipe Pages' A/B testing tools allow you to easily test different target customers by dynamically replacing text using queries. It helps you avoid committing when you aren't sure if you'll be making sales.
Swipe Pages protects all your passwords with Google SSO and has multiple integrations with applications like Google Analytics, Facebook pixel, Zapier, HubSpot, MailChimp, Zoho, Campaign Monitor, Constant Contact, and ConvertKit.
Swipe Pages Includes a lead magnet to help you reel in customers and lead bypass, which lets you send lead data straight from Swipe pages into your CRM without having to store them there first.
Use Swipe Pages' date range filters to analyze your data over ant specific time period and measure the success of each landing page by tracking its conversion rates at different levels using variant performance tracking. Additionally, track leads and get notifications via email.
---
Pagemaker Vs. Swipe Pages: Usage & Design
Pagemaker.io and Swipe Pages are both easy to use and figure out with Swipe Pages having a distinct 'Drag and Drop interface.
The main difference is the availability of certain commands and resources.
Pagemaker.io has over five hundred pre-made templates for you to choose from, while Swipe Pages has over forty.
Both platforms have media galleries, fonts, and modules, but Swipe Pages offers you access to professional images, has options for animations and more.
---
Pagemaker Vs. Swipe Pages: Conversions, Tracking & Support
Both platforms offer CDN optimization, custom domains, testing and tracking, different integrations, and dynamic text replacement. Each platform has tracking and analytical mechanisms in place for different packages. Both Pagemaker.io and Swipe Pages offer email support, but for Swipe, Pages offers 24/7/365 live chat support, and Pagemaker.io offers a 'Dedicated Success Manager' for their agency plan patrons.
---
Pagemaker.io Pricing Plans
Pagemaker offers 3 plans in all, Free, Pro, and Agency. The one thing that stands out in page maker is that it has a free plan that you have lifetime access to with most of the defining features.
Get 5 campaigns, access to unlimited traffic and templates with Pagemaker's Free Plan.
For $25/ month, get 15 campaigns, 5 custom domains, and the same access as the free plan with its Pro Plan, and for $70/month, get the same access with 75 campaigns and 25 custom domains with its agency along with added benefits for both.
Additionally, get an extra 30% off if you opt for yearly billing.
---
Swipe Pages Pricing Plans
Swipe Pages also offers 3 plans. The thing that sets Swipe Pages apart from Pagemaker is that all these plans are paid for.
The Startup Plan is priced at $29/month and gives the user access to innovative pages and AMP's along with 1 custom domain, 20,000 traffic, unlimited landing pages and conversions, and MUCH more.
For $59/month, the Marketer Plan all the access of the startup plan but with 5 custom domains and 50,000 traffic and additional services like 5 client and team subaccounts, A/B testing, dynamic text replacement, and more.
Its most extensive plan, i.e., the Agency Plan, is priced at $119/month and has all the features of the Marketer Plan with additions of 500,000 traffic and unlimited custom domains, client and team subaccounts, global blocks, and additional services like 1:1 onboarding, 1 hour CRO consultation, a design review, and priority phone support.
Similar to Pagemaker, save 40% by opting for yearly billing.
---
🌟 Pagemaker Vs. Swipe Pages FAQ
✔ What is a Swipe Page?
Swipe Pages is a high-quality yet reasonably priced landing page builder. Swipe Pages can help you convert more ad clicks into leads and sales by creating instant-loading Google AMP landing pages.
✔ What is Pagemaker?
Pagemaker.io is the world's first eCommerce landing page editor. Create stunning landing pages in minutes by utilizing our extensive collection of templates and modules.
✔ How much does Pagemaker cost?
A free lifetime plan with limited features is available. More features and unlimited templates are available for a monthly fee of $20.
✔ How much discount is Pagemaker offering?
Pagemaker offers a 30% discount on annual billing.
✔ Is Swipe Pages free?
Swipe Pages pricing begins at $29.00 per month per user. There is a free version available. Swipe Pages provides a free trial period.
✔ How much discount is Swipe Pages offering?
Swipe Pages offers a 40% discount when billed annually.
---
Conclusion: Pagemaker Vs. Swipe Pages 2023 | Which is the best landing page builder?
Now that we have seen all the features and benefits both Pagemaker and Swipe Pages offer, both platforms offer similar features with stellar quality but where they majorly differ is when it comes to pricing Pagemaker's Plans are more economical when compared to plans offered by Swipe Pages.
Pagemaker also offers more template options for you to choose from. While Pagemaker might be the economical and stylistic choice, Swipe Pages offers more tech support and more in-depth features.
To wrap it up, both platforms serve different target audiences.
So, if you are a newbie, don't need a lot of campaigns, or are more design-focused, Pagemaker may be the ideal platform for you.
But if you are looking to invest a lot of time and want quality and personalized service, Swipe Pages maybe your preferred platform, especially in its Agency Plan.
What do you think is the best platform for you?
Which plan intrigues you the most?
Let us know in the comments.🙂